Andrei Iosivas comes from a diverse family background. His mother is from the Philippines, and his father is from Romania.
Iosivas parents met in Japan and had Andrei there but later moved to Honolulu, Hawaii when he was four years old. He attended Punahou School during his formative years and now identifies as an American.
Andrei Iosivas is a renowned American football wide receiver playing for the Cincinnati Bengals in the National Football League (NFL).
His football journey began with Princeton's junior varsity team, where he showcased his talent during his sophomore year.
His initial junior season was interrupted by the COVID-19 pandemic, leading to a gap year. However, he made a strong comeback in 2021, earning the distinction of second-team All-Ivy League.
Iosivas began his professional journey after being selected by the Cincinnati Bengals in the sixth round as the 206th overall pick in the 2023 NFL draft.
He achieved his first career reception during the Bengals' victory against the Arizona Cardinals in Week 5, making a notable 9-yard contested sideline catch.
Subsequently, in Week 6, he scored his first receiving touchdown in a game against the Seattle Seahawks.
Andrei Iosivas Parents: Father Mihai & Mother Evelyn
Andrei Losivas' parents, Mihai and Evelyn, fell in love while living in Japan. Soon after, they had a son named Andrei in 1999.
Andrei's father, Mihai, originally hails from Romania, where he faced the challenges of the aftermath of the fall of the Berlin Wall.
After completing his master's degree in computer science in the mid-90s, Mihai went to Japan to pursue his career in the field.
While in Japan, he met his future wife, Evelyn. Evelyn, who is Filipino, possesses various skills, including English, Tagalog, and Japanese proficiency.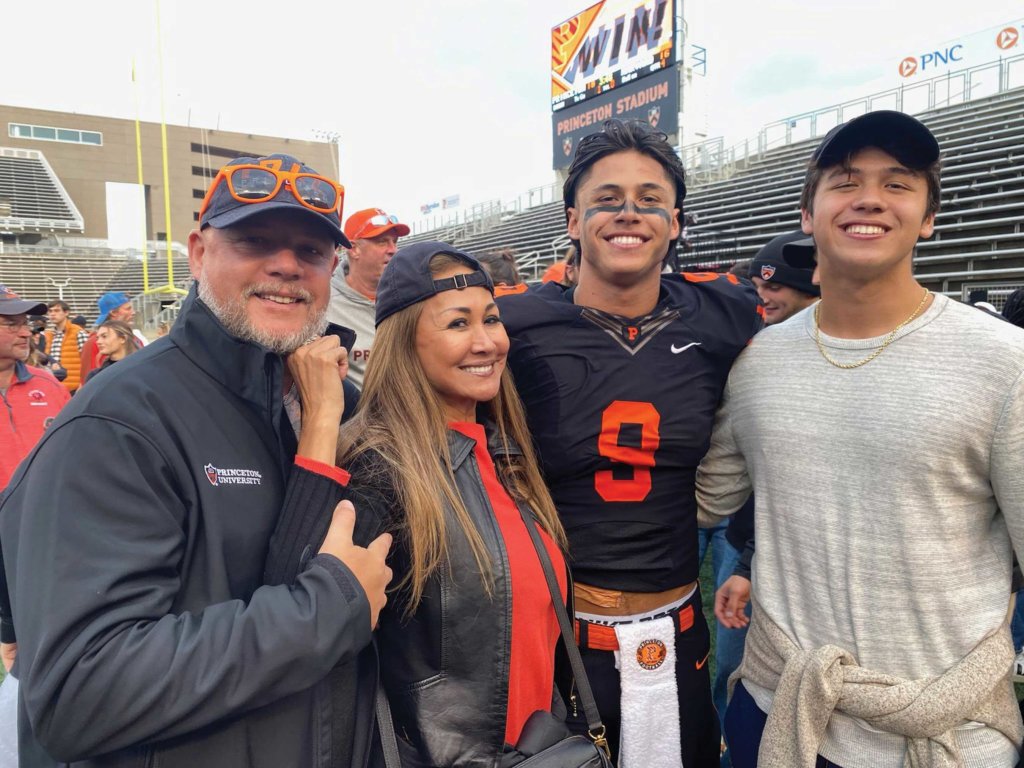 The family eventually relocated to Hawaii when Andrei was four and his younger brother Alexandru was just two. During their time in Hawaii, they discovered Andrei's talent for football.
Mihai recalls that not a single week went by without Andrei playing football. He fell in love with the sport once he started playing flag football at age five.
In an interview, Mihai expressed that football is Andrei's first love and that he only started running track to get faster for football.
Mihai and Evelyn have supported Andrei's football aspirations since he was young. Even now, they take hours-long flights just to attend their son's games.
Ethnicity
Andrei Iosivas comes from a family with a rich ethnicity. The football player comes from Romanian ethnicity from his father's side and Filipino descent from his mother.
His parents fell in love when they were in Japan but later moved to the United States.
Being an immigrant, Andrei and his parents now identify as American, but they remain proud of their cultural roots.
Despite his diverse heritage, Iosivas proudly represents the United States, where he honed his skills and embarked on a promising career.