When it comes to receiving passes, plucking them from a towering height is the easiest way to bypass all other plays.
As such, there's no better way to do that than to have a tall, sturdy receiver on your side. So keep reading as we look 'up' to the 10 Tallest NFL Receivers in History.
Receivers are primarily tasked to catch forward catches from the quarterback. While a receiver has to be fast, having a towering presence will always lead to an advantageous path towards scoring a touchdown.
Keeping that in mind, let's look at the 10 Tallest NFL Receivers in History.
10 Tallest NFL Receivers in History
The following list is compiled from various trusted sources such as NFL.com and Football Perspective.
Before we gander into the specifics, here is a quick snapshot of the 10 Tallest NFL Receivers in History.
| | |
| --- | --- |
| Name | Height (in feet and inches) |
| 10. Randy Moss | 6 ft 4 inches |
| 9. Charle Young | 6 ft 4 inches |
| 8. Vincent Jackson | 6 ft 5 inches |
| 7. Calvin Johnson | 6 ft 5 inches |
| 6. Malcom Floyd | 6 ft 5 inches |
| 5. Jeremy Shockey | 6 ft 5 inches |
| 4. Plaxico Burress | 6 ft 5 inches |
| 3. Boyd Dowler | 6 ft 5 inches |
| 2. Andrew Glover | 6 ft 6 inches |
| 1. Harold Carmicheal | 6 ft 8 inches |
10. Randy Moss
Starting off our list, Randall Eugene Moss is one of the best wide receivers the game has ever seen. Moreover, with a towering presence of 6 ft 4 inches, Moss dominated the NFL for 14 seasons.
During his 14-year-long career, Moss played for Minnesota Vikings, Oakland Raiders, New England Patriots, Tennessee Titans before bidding farewell to the San Francisco 49ers.
Moss created history in 2007 by recording 23 touchdown receptions, the highest single-season touchdown reception in the NFL. What's more, with 156 regular-season touchdown receptions, Moss ranks second on the all-time regular-season touchdown reception list.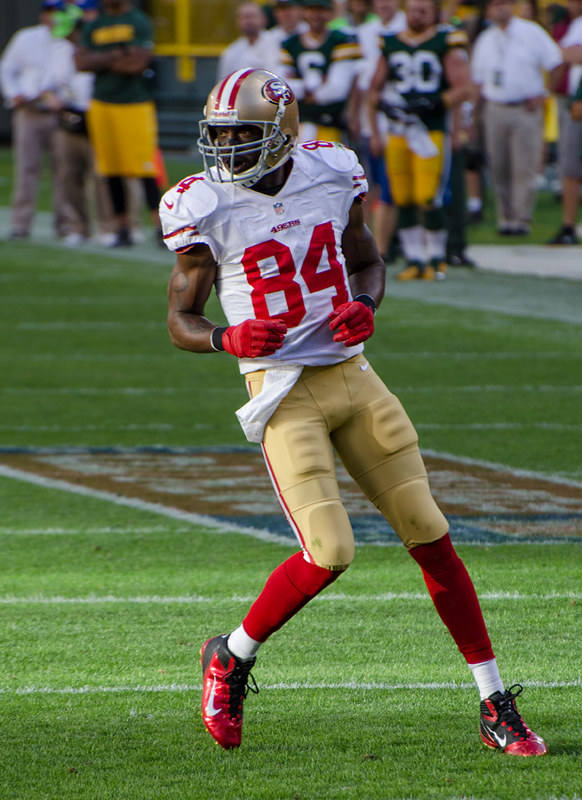 Moss's excellence on the field was unmatched, so much so that the word "mossed" has found its place in the football lexicon.
Furthermore, Randy Moss is a name that is fondly remembered as a dominant athlete who conquered aerial battles, especially when it comes to securing contested catches.
While he never got his hands on the elusive Super Bowl ring, he was instrumental in leading the 49ers to two Super Bowl finals. In recognition of his continued dominance on the field, Moss was inducted into the Pro Football Hall of Fame in 2018.
9. Charle Young
Another athlete with a 6 ft 4 inches height measure, Charle Young, is a former American tight end who succeded in the NFL for 13 seasons.
Young started his footballing career as a 'young' star who had already amassed impressive numbers during his collegiate career. Moreover, Young dominated the collegiate circuit, earning him a unanimous first-team All-America in 1972.
Furthermore, in light of his magnificent collegiate career, Young was inducted into the College Football Hall of Fame in 2004.
You may also enjoy reading about the top 10 Fastest NFL Players of This Year.
Equally impressive in his professional career, Young led the 49ers to a Super Bowl title, overcoming the challenge put forth by the Cincinnati Bengals in 1981.
Furthermore, the three-time Pro Bowl attendee was pivotal in immortalizing the final 89-yard drive in the 1981 NFC Playoffs, famously referred to as "The Catch."
8. Vincent Jackson
For 12 ruthless seasons, Vincent Terrell Jackson established himself as an imposing athlete on the field. Soaring high at 6 ft 5 inches, Jackson was a wide receiver for the San Diego Chargers and Tampa Bay Buccaneers.
After being drafted in the second round of the 2005 NFL Draft, Jackson made his professional debut for the San Diego Chargers against the Oakland Raiders.
While his first season in the NFL was a hit and miss, he would gradually establish himself as a dynamic presence on the field.
Eventually, as the years passed, Jackson grew into his gameplay and became the go-to wide receiver for the teams he represented. Furthermore, Jackson was a top-tier athlete who earned himself three Pro Bowl selections during his 12 seasons in the NFL.
The NFL community received deeply saddening news on the morning of February 15, 2021. Jackson, who lit up the league with his towering presence and mesmerizing enigma, was found dead at the Homewood Suites in Brandon. Jackson lost his life at the young age of 38.
7. Calvin Johnson
"Megatron" of the NFL, Calvin Johnson Jr., possessed the perfect mix of physical attributes.
Not only is he gifted with a 6 ft 5 inches presence, his exceptional catching ability powered by his tremendous speed, strength, leaping ability, and body control meant that he was a nightmare to handle for the opposition defenses.
During his eight seasons in the NFL, Johnson played for the Detriot Lions, where he displayed a level of dominance that only the best of the best can produce.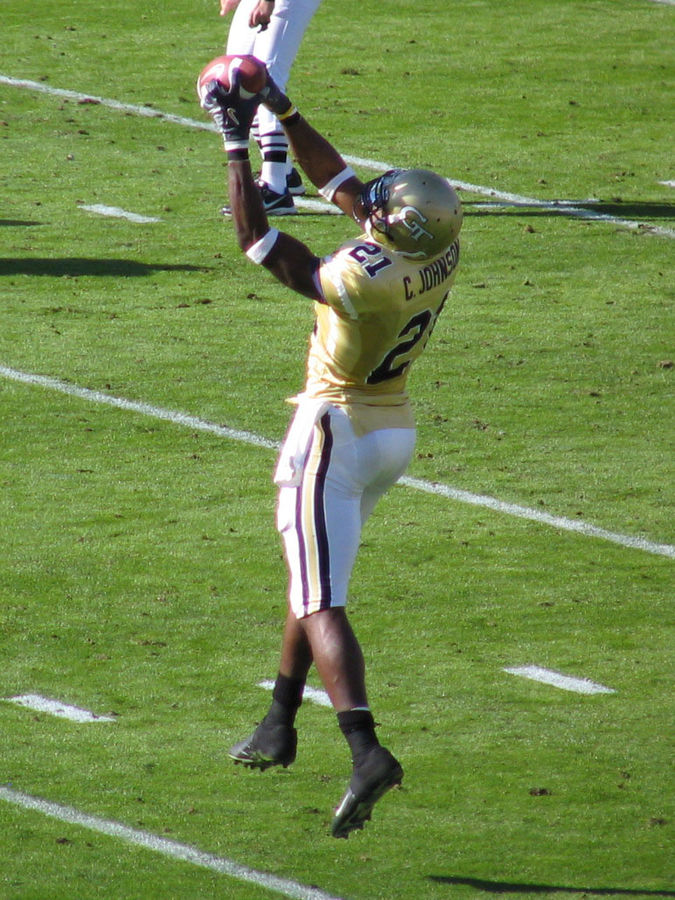 To shed some light on his illustrious career, Johnson was the receiving yards leader for two consecutive seasons in 2011 and 2012. Furthermore, he had three first-team All-Pro call-ups to his name.
In addition to that, with 11 games, Johnson holds the NFL record for 100-yard games in a season. Similarly, he also holds the record for consecutive games with 10 or more receptions, having recorded the feat in four consecutive matches.
"You either leave as a hero or live long enough to become a villain." Johnson decided to do the former as he retired while still in his prime in 2015.
Finally, in light of his glorious career, Johnson was inducted into the 2018 College Football Hall of Fame and the 2021 Pro Football Hall of Fame.
6. Malcom Floyd
Another one-club man on our list, Malcom Maiuu Floyd, is a former wide receiver who represented the San Diego Chargers for 11 seasons in the NFL. The 6 ft 5 inches athlete started his NFL journey after being selected by the Chargers as an undrafted agent in 2004.
A promising prodigy, Floyd was an All-Metro and Offensive MVP of the league during his high school career. However, despite his notable achievements, Floyd was omitted in the 2004 NFL Combine.
After signing for the Chargers in 2004, Floyd made his professional debut against the Kansas City Chiefs. Floyd played admirably on the field, recording 321 receptions during his 11-year-long career.
Furthermore, he covered 5,550 receiving yards and has 34 receiving touchdowns to his name. The talented wide receiver called it quits on June 9, 2015 – retiring with a memorable career under his name.
Similar:10 Tallest NFL Quarterback in History.
5. Jeremy Shockey
If ever there was an athlete that resembled a superhero, it would be Jeremy Charles Shockey.
During his prime, Jeremy was almost a carbon copy of Marvel's Thor, with a tall frame of 6 ft 5 inches and a muscular build to go along with his innate talent on the field.
Winner of the inaugural Pepsi NFL Rookie of the Year in 2002, Shockey 'shocked' opponents with his ability on and off the ball.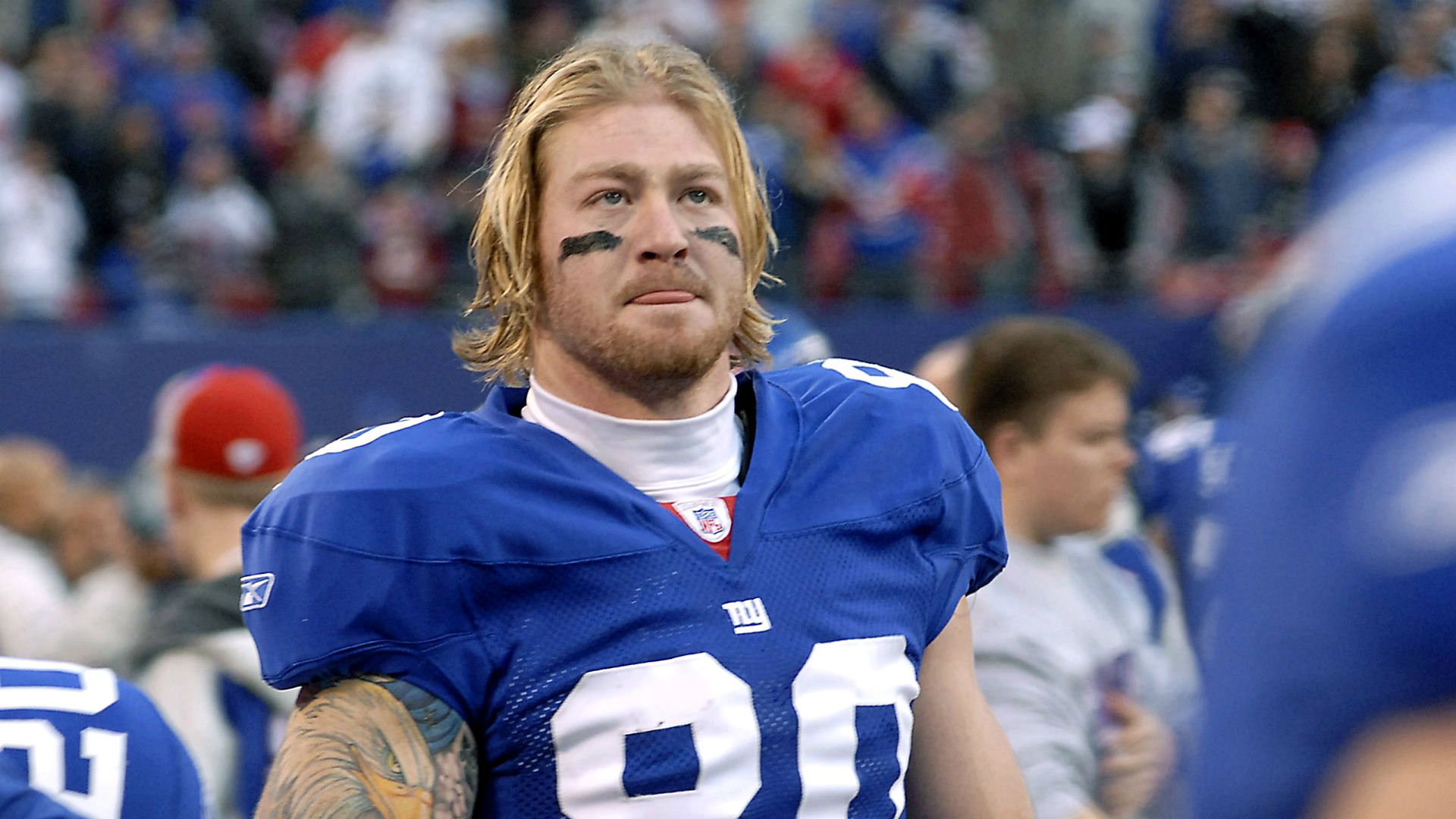 Having started his career with the New York Giants, Shockey also played for New Orleans Saints and Carolina Panthers during his nine years in the NFL.
Possessing a wide range of skillset, Jeremy established himself as a force to be reckoned with on the field. Furthermore, he was called up for four Pro Bowls in his first five seasons in the NFL.
While his first Super Bowl ring was eerily controversial, the history books will read two Super Bowl rings in Jeremy's name.
Jeremy ended his career with the Carolina Panthers, amassing an incredible 547 receptions, 6,143 receiving yards, and 37 receiving touchdowns during his illustrious journey in the NFL.
4. Plaxico Burress
As a wide receiver, nothing is more surreal than the feeling of receiving the Super Bowl-winning touchdown. And nobody knows that better than Plaxico Antonio Burress – a towering athlete of 6 ft 5 inches who caught the match-winning touchdown in Super Bowl XLII.
Over his 12 years in the NFL, the Virginia-born athlete terrorized defenses week-in-week-out. Moreover, the eighth pick of the 2000 NFL Draft, Burress played for the New York Giants, New York Jets before hanging up his cleats representing the Pittsburgh Steelers.
Buress missed two seasons while serving a 20 months prison sentence because of a weapons charge conviction in 2009. But, despite the adversities, Burress came back with a point to prove the 2011 season. And so he did, showing the world that he was still a capable wide receiver.
You may also be interested in the 10 Tallest NFL Player in History
3. Boyd Dowler
At number 3, Boyd Hamilton Dowler is a former wide receiver and punter who played in the NFL for 12 seasons.
Standing at 6 ft 5 inches, Dowler was an instrumental figure in the Packers' domination during the 1960s. Moreover, the Wyoming-born athlete led the Packers to five NFL championship victories before clinching the first two editions of the Super Bowl.
Given his significant contributions in forming a dynasty with the Packers, Dowler has been permanently inducted into the Packers Hall of Fame.
2. Andrew Glover
Measuring at 6 ft 6 inches tall, Andrew Glover is the second-tallest athlete on our list. Moreover, Glover had a brief playing career spanning over just 3 seasons in the NFL.
His career began after Los Angeles Raiders initially drafted Glover in the 1991 NFL Draft. In his relatively brief career, Glover played for Minnesota Vikings and the New Orleans Saints as well.
The Lousiana-born athlete is one of the leading advocates for preventing brain injuries in the NFL. He and his wife were the leading plaintiffs in a class-action lawsuit against the NFL.
1. Harold Carmichael
The Burj-Khalifa of receivers, Lee Harold Carmichael, is the tallest receiver in the history of the NFL. Standing supreme at 6 ft 8 inches, Carmicheal played for 13 seasons in the NFL.
During his 13-year-long career, Carmicheal represented the Philadelphia Eagles for 12 years before moving to the Dallas Cowboys for his final hurrah.
The four-time Pro Bowl player is one of the finest the sport has ever seen. With numerous achievements to his name, Carmicheal will always soar through the history of the NFL.
While he never won the coveted Super Bowl during his playing career, he etched his name as a Super Bowl Champion as an administrator for the Philadelphia Eagles in 2017.
Conclusion
While several factors come into play in the NFL, being a tall and sturdy wide receiver can always be a solid foundation to build on.
Not every tall player will reach the expected 'heights' in NFL, and it is never the wrong place to start. So, on that note, we come to the end of our list of the tallest NFL Receivers in History.