Many might not know this, but the Kansas City Chiefs head coach Andy Reid has an older brother. Growing up in Los Feliz, California, Andy's early football influences were his brother, Reggie, and his friends.
Reggie was also a football player and played for his high school team. He adored the Los Angeles Rams of the NFL, and his brother learned the same as he idolized his elder brother.
He had also thought of being a professional player someday, but as it happened, it could not come to fruition.
Comparing their playing careers, Andy had the better as he played college football for BYU Cougars and Glendale CC. While Andy set out to become a famous NFL coach, Reggie eventually lagged.
Following in his brother's footsteps, Andy played high school football for John Marshall High until 1975. Despite his colossal weight, Andy ran well and played mainly as the offensive tackle.
After graduating, Reid enrolled in the Glendale Community College and played collegiate football before transferring to the BYU Cougars two years later.
Although he did not get many chances to play, he developed his analytical and strategic skills by learning from his head coach LaVell Edwards, and offensive coordinator, Doug Scovil.
Andy Reid Brother: Reggie Reid
Andy Reid was born to his parents, Walter and Elizabeth, on March 19, 1958, in California, United States. Apart from him, his parents had given birth to his elder brother, Reggie, who is ten years older.
Andy's mom, Liz, was a radiologist. Similarly, his dad, a World War II veteran, worked as a background artist in movie sets at birth. Maybe because of this, both Reggie and Andy were huge cinephiles.
Despite frequently going to movies and games, the brothers did well academically. Their mother, Liz, especially emphasized her kids' education and was not much of a sports fan.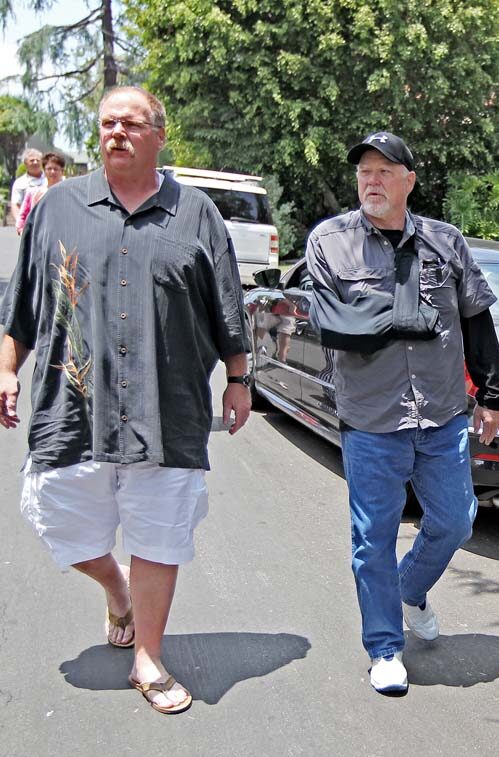 On the other hand, their dad permitted them to play and enjoy games, be it baseball or football. The LA Dodgers ground was nearby their residence, so they frequently went to watch their players play.
However, their favorite was football. Initially, Reggie, too, wanted to be a professional football player but had to let it all go after he crashed his motorcycle and paralyzed his arms when he was just 23.
He was pursuing a graduate degree in geology then and eventually decided to dedicate himself fully to that discipline. After earning a degree, Reggie worked for a federal government geologist and regulated mineral resource companies.
Reggie also has a third-degree black belt in Aikido and worked for many years as an instructor.
Andy Reid Has Five Children With His Wife, Tammy
The two-time Super Bowl-winning head coach Andy Reid is married to Tammy Reid. The two met while attending Brigham Young University in the late seventies.
Tammy was born on November 6, 1959, in New York and raised in Tennessee. Besides, she spent a great deal of her teenage years in Arizona.
According to Tammy, she and Andy often attended tennis sessions in their college, and her first impression of him was that he was cute and confident. They often played badminton and tennis together, strengthening their bond.
A year after Andy's graduation, the lovers married in 1981. They had five children together- three sons and two daughters. Sadly, their oldest son, Garrett, died from a heroin overdose in 2012.
Everyone from Andy's family is a member of the Church of the Jesus Christ of the Latter-day Saints.