Josh Lowe is yet to make Anna Spencer his wife. Josh and Anna went official with their relationship in 2021.
The Tampa Bay Rays outfielder Josh Lowe made his MLB debut in 2021. But long before his debut, the Georgia native with his brother was making noise in the minor leagues.
Born and raised in an athletic family, Lowe's first love was football. It was only in high school Lowe began playing in the baseball team alongside his brother Nathaniel.
A regular starter for the Rays, Lowe is expected to have a breakthrough season. And with Kevin Kiermaier moving to Toronto Blue Jays, pressure is on for Lowe to prove himself.
The Rays have started the season on a high note. Currently placed on top of the league, Rays had the longest winning streak to open the season in the last three decades.
Lowe and Co. will hope to carry the same momentum for the rest of the season.
Anna Spencer, Josh Lowe Wife, Or Girlfriend?
Anna Spencer is not Josh Lowe's wife but is his girlfriend. Josh Lowe's girlfriend, Spencer, was born on August 1, 1997.
She is a Florida native and graduated from Florida State University in 2019.
Prior to her graduation, Anna worked as a media production intern for the leading Hollywood production company Skydance Media.
Her other works in the field of marketing came at Claire-ity: TV Show and SoulCycle Inc. after her graduation.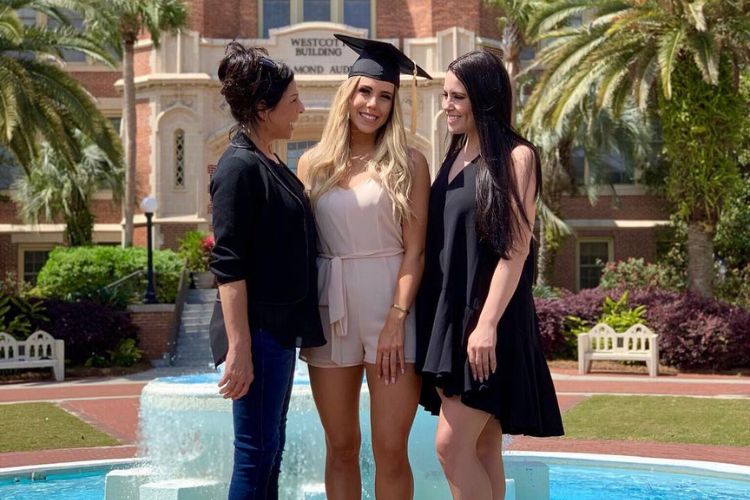 At present, Anna works as a senior sales executive at Medical Diagnostic Laboratories in Tampa, Florida, which she joined in 2021.
This is her second time working in a medical institution, having worked at PÜR LIFE Medical as a sales and office manager for nine months between October 2020 and June 2021.
While at Florida State University, Anna was part of the Kappa Alpha Theta Sorority, the famous women's fraternity. She has shared a few posts from her time in the sorority on her Instagram.
Born to Barbara and Mark Spencer, Anna also has an older sister named Mary Elizabeth Spencer. Like her younger sister, Elizabeth is also a graduate of Florida State University, having earned her degree in Retail Merchandising and Product Development.
Josh Lowe And Anna Spencer Relationship Timeline
Josh Lowe and Anna Spencer's relationship took off in early 2021.
The baseball player, notorious for giving only a few details of his life, went public with his romance in February 2021. He shared a picture of him with Anna in his arms at the Tampa Bay Buccaneer's game.
Two months later, Anna confirmed her romance with the Rays' player by sharing a picture of her attending the Rays' spring training session in April.
On September 10, 2021, Anna shared a series of posts for her man, congratulating him for his MLB debut at Fenway Park against Boston Red Sox.
Throughout the 2021 and 2022 seasons, Anna was pictured attending Rays' games with her family and friends.
The couple is often seen spending time with each other's family members. Josh has attended a few family events in Spencer's household, and Anna has also been pictured with Josh's family.