Kevin James Kiermaier has been a professional Major League Baseball center fielder for the Tampa Bay Ray since 2013.
Successfully, from his debut game till today, Kiermaier has managed to keep his position as one of the best defensive center fielders despite several injuries.
Additionally, Kevin Kiermaier started grabbing awards from his early career. He won the State Championship award during his high school, the NJCAA Al-American, in his college.
Moreover, he won the Rawlings Gold Glove Award thrice and a Platinum Glove Award in his career because of his extraordinary game playing.
We can expect more Glove Awards from this highly talented athlete in the upcoming future.
Before we go further to know about Kiermaier's career and personal life, let us briefly go through the quick facts.
Kevin Kiermaier | Quick Facts
| | |
| --- | --- |
| Full Name | Kevin James Kiermaier |
| Birth Date | April 22, 1990 |
| Birth Place | Fort Wayne, Indiana, United States of American |
| Known As | Kevin Kiermaier |
| Religion | Unknown |
| Nationality | American |
| Ethnicity | White |
| School | Bishop Luers High School |
| University | Parkland College |
| Horoscope | Taurus |
| Father's Name | Jim Kiermaier |
| Mother's Name | Chris Kiermaier |
| Siblings | Two brothers, Steve Kiermaier and Dan Kiermaier |
| Age | 33 years old |
| Height | 6 feet 1 inch (185 cm) |
| Weight | 95 kg (210 lbs) |
| Eye color | Crystal Blue |
| Hair color | Brown |
| Profession | MLB Player |
| Team | Tampa Bay Rays |
| Position | Defensive Center Field |
| Jersey Number | 39 |
| Marital Status | Married (to Marisa Moralobo) |
| Children | A Son, Karter James Kiermaier |
| Net Worth | Estimated $15 million |
| Social Media | Twitter |
| Merch | Shirts, poster |
| Last Update | June, 2023 |
Kevin Kiermaier | Early Life, Education, and Family
Kevin Kiermaier was born on April 22, 1990, in Fort Wayne, Indiana, to parents Jim Kiermaier and Chris Kiermaier. He has two brothers, Steve Kiermaier and Dan Kiermaier.
Moreover, Kiermaier finished his high school studies at Bishop Luers High School in his hometown. There, he started his baseball career, playing for his school's team.
Then he enrolled at Parkland College, played college football, and also won awards there. Not to mention, he received a scholarship offer from Purdue University, but he opted to stick with Parkland College.
Kevin Kiermaier | Amateur Career
The American baseball player started his journey toward Major League Baseball in high school. He played for the school's baseball team and won the state championship in Kevin's senior year.
Further, Kiermaier received offers from many colleges for their football teams and had almost attended Purdue University.
However, he changed his decision and attended Parkland College, where he joined the National Junior College Athletic Association (NJCAA).
Not to mention, Kiermaier won the NJCAA Championship and also received the NJCAA All-American award.
Matt Olson Bio: Family, Career, Net Worth & Stats>>
Kevin Kiermaier | MLB Draft
In the 2010 Major League Baseball (MLB) Draft, the Tampa Bay Rays drafted Kevin Kiermaier in the 31st round. He received an offer for Purdue again, but Kevin decided to stick with the Rays.
Furthermore, during the 2013 season in Class AA and Class AAA, Kiermaier received the Best Defensive Player in the Rays and the Most Valuable Player of the Class AA Southern League.
Tampa Bay Rays (2013 – Present)
The Rays considered Kiermaier as their top defensive outfielder, including the major leagues and minor league affiliates.
On September 30, 2013, he made his MLB debut in a wild-card tiebreaker game. He played against the Texas Rangers and the Cleveland Indians, leading Baseball America to name Kevin as the tenth-best prospect in the Rays' Minor League system.
Also read Charlie Morton Age, Stats, Contract, Rays, Injury, Married, Wife, Net Worth.
2014-2015
Kevin hit his first major league home run against Mike Morin on May 18, 2014. At the end of the 2014 season, he was one of the finalists for the Gold Glove Award, finishing 108 games in total.
Subsequently, in 2015, Kiermaier led all the MLB outfielders by reaching 100 MPH nine times, whereas all the others combined reached the same speed 27 times.
Not to mention, Kiermaier finished the 2015 season with 42 saved defensive runs. According to Baseball-Reference, his overall defensive Wins Above Replacement was ranked third in the American League.
In addition, Kiermaier received many awards for his outstanding performances. He received the Fielding Bible Award, and Gold Glove Award for American League center fielders. The award is given to the best overall defensive player, the American League Platinum Glove Award.
2016
Kiermaier began his 2016 season by doubling his walk rate and increasing his power. Unfortunately, on May 21, he fractured two bones in his left hand during a match against Detroit Tigers.
However, Kevin resumed his limited workouts on May 27 after surgery.
As luck would have it, Kiermaier was still one of the best defenders in all of baseball despite missing a considerable amount of time.
In addition to that, Kiermaier finished the 2016 season with 105 games and received the Gold Glove Award for the second time.
David Ortiz Net Worth, Age, Height, Stats, Wife, Jersey, Hall of Fame, Instagram.
2017-2018
After the end of the 2016 season, Kiermaier signed an extended six-year contract with the Tampa Bay Rays.
But sadly, Kiermaier suffered from a hairline fracture in his right hip and had to sit out for at least two months. Kevin announced the unfortunate news on June 9.
Nonetheless, even after a second sit-out, he still managed to take place as one of the best defensive center fielders. He was in second place in the Defensive Runs Saved at center field with 22, which was his lowest number of saves.
Considering his time off because of his injury, Kiermaier did not make it one of the finalists for the Gold Glove Award for the first time as he did not reach the innings requirement.
Shortly after Kiermaier was recovering from his hip injury, he tore a ligament in his right thumb while sliding.
Unlikely, he finished the season with only 88 games, but he received the Wilson Defensive Player of the Year award despite his injuries.
Also read Mallex Smith Age, Stats, Contract, Trade, News, MLB, Net Worth, Girlfriend.
2019-2020
After the challenging seasons, in 2019, Kiermaier won his third Gold Glove Award. Henceforth, he became the third outfielder to win three Gold Glove Awards since 2011.
By 2020, Kiermaier became the longest-tenured player for the Rays and the only active player managed by Joe Madden.
Furthermore, in the American League Championship Series, Kiermaier got hit in the hand by a pitch and had to sit out for games 4, 5, and 6. However, he returned for game seven, and the Rays advanced to the World Series.
To top that off, Kiermaier hit a home run against Clayton Kershaw of the Los Angeles Dodgers in the 2020 World Series. Tampa Bay finished the season with the best record in American League.
But unlike the other season, he did not make it to the finalists for the Gold Glove Award, even though he had given his best.
"I feel like what I did out there, defensively, was under-appreciated this year." Kiermaier said in an interview with ESPN.
Having said that, fans from around the world still love Kiermaier, regardless of the final result.
Kevin Kiermaier | Injuries
Below you will find the list of injuries faced by Kevin Kiermaier. It is a simplified and detailed interpretation of the already-mentioned specifics.
2014 – Kiermaier missed two games due to minor neck stiffness.

2016 – He fractured two bones in his right hand in a crazy catch attempt. His right hand bent completely backward.

2017 – Kiermaier made a slide that turned out to be pretty ugly as it caused a hairline fracture in his right hip.

2018 – Not even a month after his last injury, he injured his right thumb during a slide into the second in April.

2018- Kiermaier was hit by a pitch in the same year and suffered a fracture in his right foot.
2020 – In the sixth inning by Houston Astros, Kiermaier suffered a hand injury by a hit-by-pitch and was forced to leave the game. The X-Ray reports, however, did not show any complications.
Kevin Kiermaier | Jersey
Kevin Kiermaier wears jersey number 39 for the team Tampa Bay Rays. You can purchase his jersey on the website of MLB Shop.
Billy Lush Bio: Baseball, Coaching, Death & Family>>
Kevin Kiermaier | Marriage and Personal Life
The professional MLB player tied the knot with his long-time girlfriend, Marisa Moralobo, on November 10, 2017, after Kevin's proposal on February 11, 2017.
The lovely wedding ceremony was held in St. Petersburg in Florida with close friends and family. It was a dream come true for Kiermaier.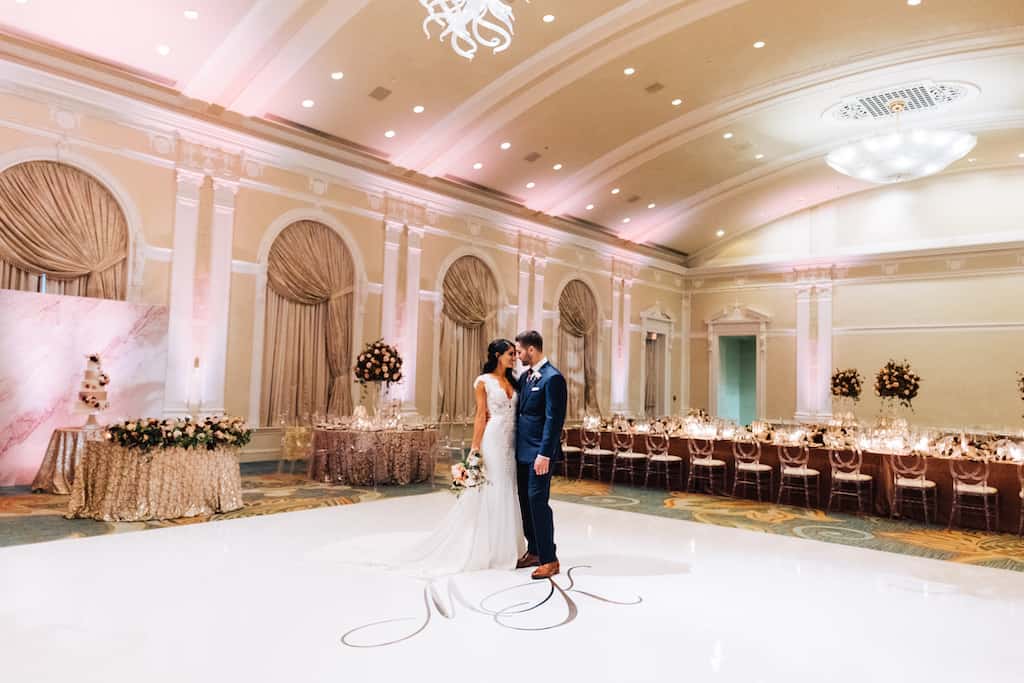 Moreover, the following year was a cherry on top for the beautiful couple. They announced that they were welcoming a new member into their family of two in a cute Instagram post.
In November 2018, Marisa gave birth to a beautiful baby boy. The new parents named him Karter James. Also, they are expecting another child in March 2021.
And like Kevin, his wife is also a sportsperson. Marisa is a college-level volleyball player who won the Conference Player of the week in 2013.
Karter James and I watchin mommas charity softball game supportin her just like she does for me all season! Love my family! pic.twitter.com/rHJrmGPBhx

— Kevin Kiermaier (@KKiermaier39) March 2, 2020
The daughter of Eddie Moralobo and Gale Moralobo had an excellent athletic career for three years at Warner University.
It seems that Moralobo and Kiermaier are perfectly happy in their relationship, both on and off-screen.
Moreover, there haven't been any rumors regarding their affairs outside of marriage.
Kevin Kiermaier | Highlights
You can watch Kiermaier's defensive highlights:
Kevin Kiermaier | Net Worth and Salary
With all the extended contracts with Tampa Bay Ray, Kevin's salary as of 2020 is $10,166,667, including the signing bonus. Similarly, in 2019 his salary was $8,166,667, which has comparatively increased.
Kevin is worth a total of $54,000,000.

However, facts regarding his net worth are not exact in any websites, but it is reported that the net worth of the celebrated defensive player is estimated to $15,000,000 as of 2018.
Henceforth, we can assume that his net worth was more than $15,000,000 in 2020; because with each passing season, Kevin's salary has been increasing.
Tim Beckham Age, MLB, Stats, Contract, Net Worth, Mariners, White Sox, Dating.
Kevin Kiermaier | Physical Appearance
The top-tier defensive center fielder is blessed with a gorgeous set of crystal blue eyes. He has short brown hair with the right amount of facial hair.
Kiermaier is 6 feet 1 inch (185 cm) and weighs 95 kg (210 lbs). He captivates his audiences with his skills topped with his charming personality.
Kevin Kiermaier | Bobblehead
Kevin Kiermaier has a bobblehead figure of himself, like many other MLB players. Here is his bobblehead:
Kevin Kiermaier | Fangraphs
Visit Fangraphs to watch Kiermaier's MLB statistics.
Kevin Kiermaier | Social Media Presence
Twitter (@KKiermaier39) – 81.1K Followers.
Common Questions
Is Kevin Kiermaier still injured?
No, Kiermaier suffered from injuries three times, as reported; therefore, he missed few games. But at present, he is excellent.
How fast is Kevin Kiermaier in the field? What is his statistic like?
Kevin is one of the center outfielders to register a throwback into the field at 100 miles per hour.
At present, Kevin Kiermaier maintains a career statistic of 106 stolen bases, 75 home runs, 293 runs batted in, and a batting average of .249.
Did Kevin Kiermaier play for other MLB teams apart from the Tampa Bay Rays?
No, Kevin started his MLB with the Rays and stuck with them. However, he played for the affiliate teams in minor leagues and received offers from other MLB teams.
Which team did Kevin Kiermaier play baseball for in 2016?
Kiermaier has been associated with the Tampa Bay Rays since 2013. Therefore, he played for the Rays in 2016.