The professional basketball player Anthony Edwards and his girlfriend Jeanine Robel have become the center of attention in the media after the player agreed to a lucrative deal.
In a video, he expressed his trust in Jeanine Robel as the only woman he relies on and informed other women not to make any moves on him.
Having initially played high school basketball at Therrell High School, Anthony Edwards later transferred to Holy Spirit Preparatory School.
He then made a commitment to the Georgia Bulldogs and had an outstanding freshman season, playing 32 games and averaging 19.1 points per game.
Impressed by his performance, the Minnesota Timberwolves selected him as the first overall pick in the 2020 NBA Draft.
Recently, on July 3, 2023, he agreed to a five-year rookie extension contract with the Timberwolves worth $205.9 million.
Anthony Edwards Girlfriend Jeanine Robel: Age And Instagram Explored
The Minnesota Timberwolves shooting guard Anthony Edwards is currently in a relationship with Jenaine Robel.
According to reports, they have been dating for several years, despite a seven-year age difference.
Jeanine was born on January 24, 1994, making her 29 years old.
On the other hand, Anthony Edwards was born on August 5, 2001.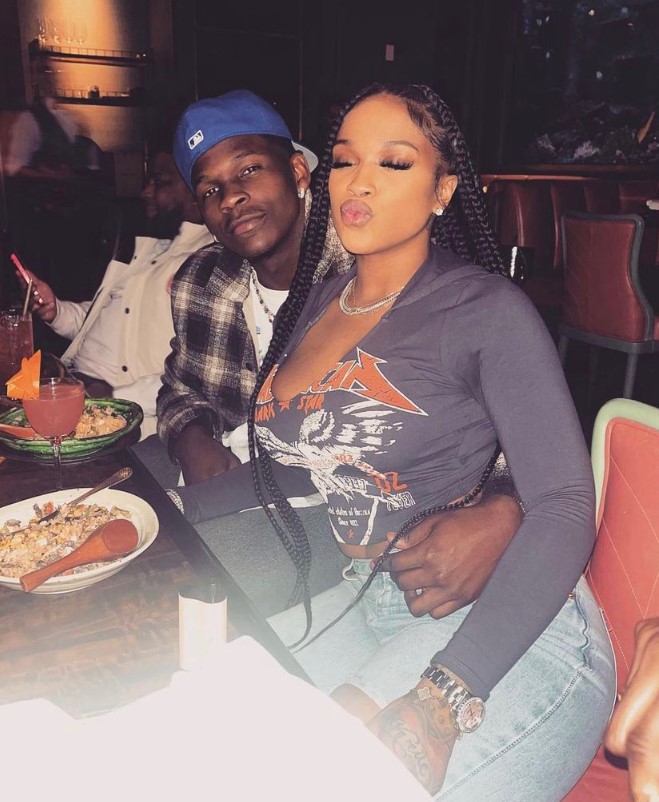 Jeanine Robel is frequently seen accompanying Anthony Edwards, although the couple doesn't often share pictures with each other on social media.
Our investigation indicates that she does not have an Instagram account, although there is a possibility that she may have a burner account and prefer to remain anonymous.
During a game against the Houston Rockets on January 22, 2023, Anthony recorded his then-career high of 44 points.
When asked about his exceptional performance in a post-match interview, Anthony dedicated the win to his girlfriend, saying, "My girlfriend's birthday is in two days, and she's going out of the country, so I had to put on a show for her."
Rookie Contract Extension
The Georgia-born player has agreed to a five-year designated rookie maximum contract extension worth $205 million.
According to reports, this deal will result in an average annual salary of $41 million for him.
After agreeing to the contract, he posted a video with his girlfriend saying, "She the only one that's coming up, look she new to the table, so I'm a little green for her, everybody else the light is the same color as my damn jacket."
Previously, on November 29, 2020, he had signed a four-year rookie scale contract with the Timberwolves, valued at $44.27 million.
The contract saw him earn an average annual salary of $11 million.
Whilst playing three seasons with the Timberwolves, he averaged 21.8 points, 5.1 rebounds, and 3.7 points per game in 223 games.