Named the NBA G League Most Improved Player in 2021, Anthony Lamb currently plays as a small forward for the Golden State Warriors.
Anthony was born in 1998 to a 17-year-old mother named Rachel Lamb, who faced a challenging upbringing.
When Rachel became pregnant with him at 16, her father presented her with two options: give up the baby for adoption or leave the house.
Rachel fled to her aunt's home in Rochester, New York, where Anthony was born.
Anthony's biological father, Nate Larkins, was not present in his life until Anthony was preparing to enroll in college.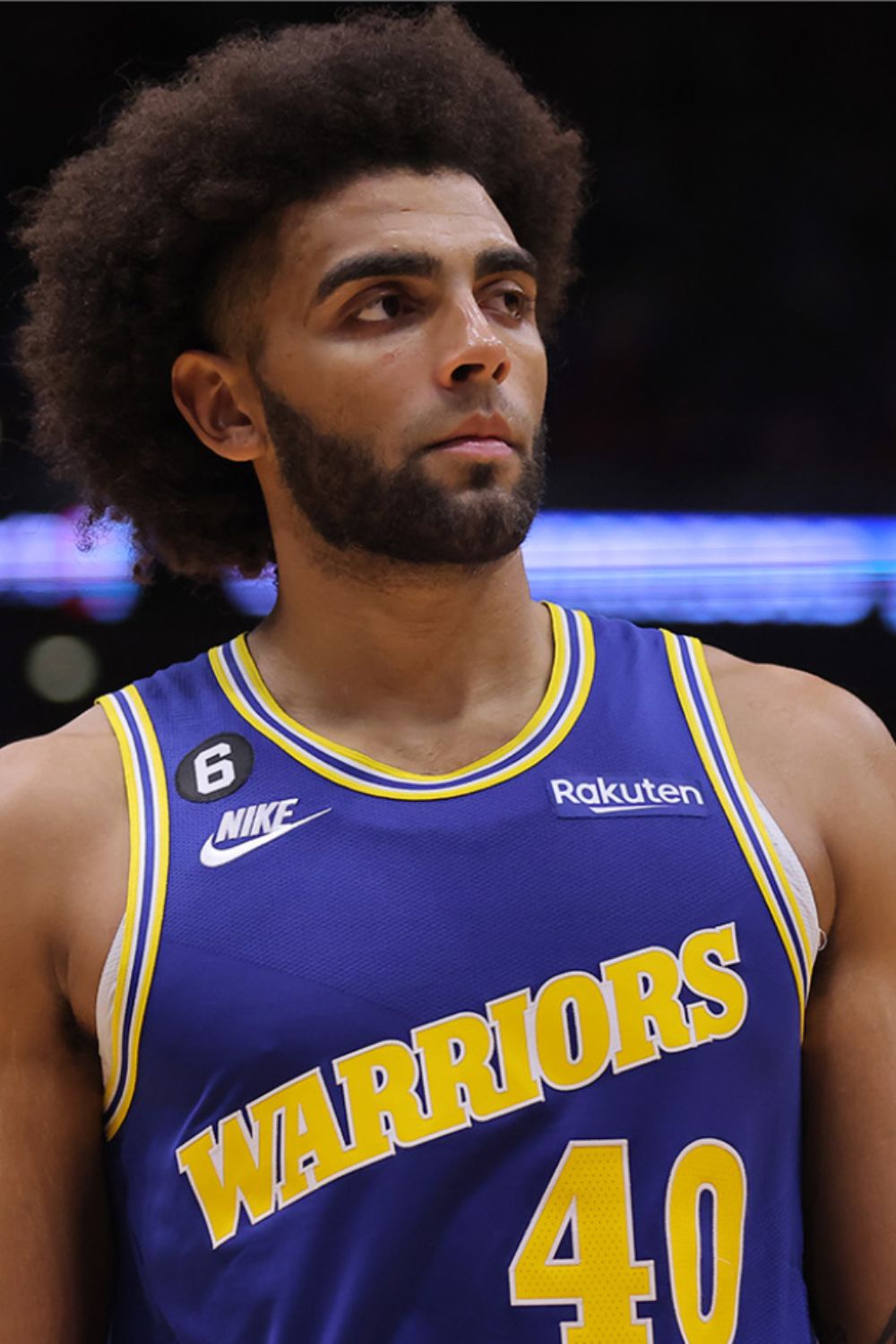 Despite the challenges, Lamb excelled in basketball and became a standout player at the University of Vermont.
After playing in the NBA G League, Lamb made his NBA debut in 2021 for the Rockets.
Lamb has struggled with depression and suicidal thoughts and has been open about his experiences.
Former UVM swimmer Kendall Ware accused Lamb of sexual assault while at UVM; however, he has denied the claims.
This article will explore all the details about Anthony Lamb's family, mental health, sexual assault allegations, etc.
Quick Facts
Full Name
Anthony Miles Lamb
Known As
Anthony Lamb
Birthdate
January 20, 1998
Age
25 Years Old
Birthplace
Rochester, New York, United States
Father's Name
Nate Larkins
Mother's Name
Rachel Lamb
Siblings
Four
Nationality
American
Marital Status
Unmarried
Girlfriend
N/A
Height
6 feet 6 inches/ 198 cm/ 1.98 m
Weight
227 lbs/ 102 kg
Zodiac Sign
Aquarius
Profession
Professional Basketball Player
Education

High School: Greece Athena (Greece, New York)
College: Vermont (2016-2020)

NBA Draft
Undrafted (2020 NBA Draft)
Awards & Achievements

NBA G League champion (2022)
All-NBA G League Third Team (2022)
NBA G League Most Improved Player Award (2021)

Playing Career
2021- Present
Current Team

Golden State Warriors (2022-now)
Santa Cruz Warriors (G-league team of the Warriors)

Position
Small Forward/ Power Forward
Jersey Number
40
Salary
$500k
Net Worth
$800k-$1 Million
Social Media
Not Active
Last Update
March 2023
Anthony Lamb's Family!
Anthony Lamb was born on January 20, 1998, to Nate Larkins and Rachel Lamb, who was only 17 at the time of his birth.
He grew up with his mother, younger half-brother Timothy, and stepfather for nearly a decade.
When he was seven years old, Lamb discovered that the man he had known as his father all along was not his biological father.
It wasn't until November 2017 that Lamb finally met his biological father, Nate Larkins.
Struggle of His Mother Rachel
Anthony Lamb bears his mother's last name and holds her in high regard as an inspirational figure.
His mother, Rachel, had a rough life growing up. Her mother committed suicide when she was eight years old after arguing with her alcoholic father.
Following the incident, Rachel's behavior became worse, resulting in multiple stays in a juvenile detention facility and even once being put under house arrest.
When Rachel became pregnant with Anthony at 16, his father invited a couple looking to adopt over to the house to meet his daughter.
No way was Rachel going to give her baby to them or anyone else. Then her father gave her only two options: give the baby up for adoption or get kicked out of the house.
Rachel fled to her aunt in Rochester, New York, on November 1, 1997. Anthony was born two weeks after Rachel's 17th birthday the following January.
To sustain themselves, she has worked in various occupations, including certified nursing assistant, nurse, carpenter, commercial roofer, and even worked as an Uber driver.
Meeting With His Biological Father He Never Knew
As Lamb prepared to enroll in Vermont as a high school senior, his life took an unexpected turn.
Rachel was in a relationship when she became pregnant in Florida, but she also had sexual relations with someone else around the same time Anthony was conceived.
Rachel's sister, Julie, encouraged her to contact the other man, Nate Larkins, whom she found through online research.
After years of no communication, Rachel contacted Nate Larkins on Facebook at her sister's urging.
She shared some photos of Anthony, which resembled Larkins' children.
Nate Larkins' then-girlfriend discovered Rachel's messages, cutting off contact for over a year until Rachel reached out again to apologize for any intrusion.
Although Larkins had ended his relationship with his girlfriend, she had damaged his phone and erased a significant amount of his data.
After Anthony committed to Vermont, Rachel, and Larkins agreed to a paternity test, which revealed a 99.9 percent match between Anthony and Larkins.
Larkins reached out to Lamb to apologize for not being there, and they bonded over text messages.
Anthony Lamb And His Father, Nate Larkins, Finally Met In 2017
After some initial hesitation, they arranged to meet at the Hyatt Regency Coconut Point during Vermont's Gulf Coast Showcase tournament in November of his first year.
They shared a dry sense of humor in Anthony's hotel room and joked to ease the tension.
Larkins jokingly remarked, "I'd love to grab you and kiss you, but you're 6-5," and joked that he was the source of Lamb's basketball talent since he played junior college basketball.
Their first meeting was filled with jokes and laughter, and Larkins happily embraced Lamb as family.
Through this newfound relationship, Lamb also gained three new siblings- Tyrese, Naomi, and Nate Jr and a grandmother, Dorothy.
During his visits to Florida, Anthony met and spent time with all his half-siblings.
While Larkins has been supportive and available, he respects Anthony's wishes regarding their contact and does not intrude.
Education
Anthony Lamb graduated from Greece Athena High School in New York, where he had an impressive senior season averaging 30 points and 17 rebounds.
He helped lead the team to a number-one ranking in the New York and Section V Class AI final.
After finishing high school, Lamb attended the University of Vermont and played basketball for four years.
During his time there, he became a standout player, scoring 1933 points (5th all-time at Vermont), recording 160 blocks (also 5th all-time), and ranking 8th in rebounds with 765.
Career
Anthony Lamb was awarded the title of NBA G League Most Improved Player in 2021, and in 2022, he was named to the All-NBA G League Third Team.
On March 11, 2021, he made his debut in the NBA, playing for the Rockets against the Sacramento Kings, where he played for nearly 14 minutes but only managed to score three points.
He achieved a career-high score of 26 points while playing for the Warriors against the Magic on January 7, 2023.
Anthony Lamb's Struggle with Depression
Anthony Lamb has opened up about his struggle with depression and suicidal thoughts.
In Dec. 2018, he contemplated suicide by jumping off the Francis Scott Key Bridge in Washington, D.C., during a two-day break between games.
He described feeling depressed and emotionally paralyzed and stated that moment as his lowest point.
Lamb credits the school's full-time sports psychologist, Ari Shapiro-Miller, as a crucial paternal figure and sounding board during his darkest moments.
Vermont is one of the few schools to employ a full-time team psychologist, and Shapiro-Miller is available to all of the school's 400-plus student-athletes.
He attends every Vermont practice and game, and his work with Lamb and other athletes has been invaluable in helping them address their mental health issues.
Vermont coach John Becker also played an essential role in Lamb's life by helping him process his childhood experiences and teaching him how to channel his emotions positively.
Sexual Assault by Anthony Lamb at the University of Vermont?
In December 2022, former UVM swimmer Kendall Ware and two other students sued the University of Vermont for mishandling cases of "student-on-student harassment and sexual assault."
Ware alleged that Anthony Lamb forced a physical relationship on her on September 7, 2019, during an off-campus party and accused UVM of failing to hold perpetrators accountable.
The lawsuit doesn't name Lamb as a defendant but accuses UVM and several school administrators, including athletic director Jeff Schulman, of mishandling reports of the assault.
In January 2019, Lamb and Ware started dating but broke up after six months.
The following school year, Ware attended an off-campus party hosted by the Vermont men's basketball team, including Lamb.
While trying to mend their relationship, Lamb forced Ware, which she considers an assault. Lamb was a junior, and Ware was 19 at the time.
Ware reported the alleged rape and two other instances of sexual misconduct, including an incident where Lamb filmed her during intimacy without permission, to UVM's Title IX Office on October 7, 2019, hoping the school would investigate.
The complaint filed in U.S. District Court in Burlington alleges that the athletic director and other employees "steered" Lamb's accuser away from filing a formal complaint and misled her about the available remedies and potential consequences for Lamb.
The lawsuit also alleges that the university continued to use Lamb in its sports advertisements despite an investigation into his alleged "sexual misconduct".
As per the Athletic, Lamb has denied the accusations, stating that the allegations made against him are false, and he has always been cooperative with any investigation into the matter.
The Golden State Warriors, Lamb's current team, stated that they conducted their due diligence before signing him and will act accordingly if any new information arises.
Net Worth & Contracts
Anthony Lamb holds an estimated net worth between $800k-$1 million. Most of his earnings are primarily from his basketball career.
Anthony Lamb was undrafted in the 2020 NBA Draft on November 18, 2020, and became an unrestricted free agent.
He then signed with the Detroit Pistons on December 2, 2020, but was released 12 days later.
Lamb was then picked sixth overall by the Cleveland Charge in the NBA Development League Draft on January 11, 2021, but was traded to the Rio Grande Valley Vipers on February 25, 2021.
On March 8, 2021, Lamb signed a two-way contract with the Houston Rockets and the Rio Grande Valley Vipers.
The Rockets extended a $1.49 million qualifying offer to Lamb on July 31, 2021, making him a restricted free agent.
After playing in the NBA Summer League in 2021, Lamb signed another two-way contract with the Rockets on September 5, 2021, but the Rockets ended it on October 18, 2021.
He then signed a 10-day contract with the San Antonio Spurs worth $85578 on January 6, 2022, before returning to the Rockets on March 23, 2022, on another two-way contract.
The Rockets declined his qualifying offer on June 29, 2022, making him an unrestricted free agent.
On October 5, 2022, he signed a contract using Exhibit-10 worth $1.83 million, with the Golden State Warriors joining Stephen Curry, Klay Thompson, and Draymond Green.
The Warriors converted the contract to a two-way contract on October 15, 2022.
After the 2022-23 season, Lamb will become a restricted free agent, and the Warriors have the option to meet his qualifying offer of $2.29 million.
Relationships & Social Media Presence
Many fans are curious about the Warriors' small-forward relationship status.
According to some sources, Anthony Lamb is not currently dating anyone, whereas other sources cite that he might have a secret relationship.
He previously dated Kendall Ware, a former Vermont swimmer, for six months in 2019.
Lamb is currently not active on any social media. However, there are some fan pages on Instagram which is dedicated to him.
Popularity Graph
The graph above represents the search interests of Anthony Lamb over the past twelve months.
Frequently Asked Questions (FAQs)
Is Anthony Lamb related to Jeremy Lamb?
Although he shares the same surname, Anthony Lamb is not related to Jeremy Lamb, a former American player in the NBA.
Did Anthony Lamb get drafted in the NBA?
Lamb went undrafted in the 2020 NBA Draft.