Antonio Brown has hit the media since last year. The reasons range from his performance on the pitch and off on his personal life. The wide receiver is currently a free agent in the National Football League.
In private life, he has been linked with a few women and is single right now. However, no lady has been Antonio Brown's wife as he has not married yet.
The former Pittsburgh Steelers' man had been in a relationship with Chelsie Kyriss since 2012. Moreover, he has had three children with her. Besides, he has one daughter with Wiltrice Jackson.
Also, his fifth kid was born to Shameika Brailsford. He had broken up with Chelsie once in 2017. However, they restored had their relationship a year later.
Brown had been accused of cheating by Chelsie on multiple occasions. Accordingly, the couple had a bust-up and separated in late 2019. There were some legal suits between them.
Furthermore, Kyriss blamed him for being a bad father and an irresponsible partner. This article focuses on all the affairs and relationships Brown has had throughout his life.
Early Days
Antonio is the son of Eddie Brown. Eddie is regarded as the best player in the history of the Arena Football League.
Antonio played collegiate football for Central Michigan from 2007- 2009. He had the college's record 305 receptions, 3,199 receiving yards, and 22 touchdowns.
Pittsburgh Steelers
The Pittsburgh Steelers poached him in the sixth round of the 2010 NFL draft. Reportedly, the deal was worth $1.28 million. He debuted against the Tennessee Titans in September.
The Steelers lost to the Green Bay Packers in the Super Bowl XLV. Besides, Brown's first career touchdown reception came against Julian Edelman's New England Patriots in October 2011.
Brown was listed in the Pro Bowl 2013's squad as a receiver and a punt receiver. Moreover, he was ranked eighth in the NFL Top 100 Players of 2015.
And he came fourth in the same list in 2016 and 2017. His 2017 contract extension with the Steelers made him the highest-earning wide receiver in NFL.
Leaving the Steelers
Later, after the 2018 season, Brown was unsatisfied with his role at the Steelers. Accordingly, he was traded to Oakland Raiders in March 2019.
Jon Gruden was the coach there. However, things did not go well there too. In September 2019, he joined the New England Patriots with a one-year $15 million contract.
Recent career
Brown had to undergo several allegations and personal troubles during late 2019. Consequently, the Patriots released him from the team. After that, Brown once publicized about retiring. But as of now, he wills to play again.
Was Chelsie Kyriss Antonio Brown wife?
Chelsie Kyriss is an Instagram sensation. Involvement with public media during her relationship with Brown made her a social media personality.
According to sources, she first met Brown in 2012. They had several legal bust-ups and eventually separated somewhere at the end of 2019.
Kyriss formerly worked as a teacher. Then, she had served as a salesperson and customer representative. However, she could not pursue her dream of becoming a model.
Besides, her profession when she was with Antonio is not clear. But it was since then the light of media shed upon her. Let's uncover the details of her personal life and relation with Antonio.
Quick Facts
Full Name
Chelsie Kyriss
Birth Date
September 1, 1989
Birth Place
Springboro, Ohio, United States
Nickname
Chelsie
Religion
Christianity
Nationality
American
Ethnicity
Caucasian
Education
Springboro High School
Sinclair Community college
Georgia Perimeter College
Horoscope
Virgo
Father's Name
Todd Kyriss
Mother's Name
Lynn Kyriss
Siblings
One Brother
Brother
Christopher Kyriss
Age
32 years old
Height
5 feet 6 inches (168 cm)
Weight
65 kg (143 lbs)
Bra Size
36B
Build
Curvy
Eye color
Dark Brown
Hair Color
Blond
Profession
Customer Service Representative (former)
Teacher (former)
Sexual Orientation
Straight
Marital Status
Unmarried (single)
Ex-Boyfriend
Antonio Brown
Kids
Autonomy
Ali
Apollo
Kellen
Brooklyn
Net Worth
$200 thousand
Social Media
Twitter, Instagram
Merch
Jersey, Trading Cards, Posters
Last Update
December, 2021
Early Life, Family, and Education
Kyriss was born in Springboro in Ohio states. Todd and Lynn Kyriss are the name of her parents. Also, Todd handles the duty of operations at Elite Sportswear, Pennsylvania.
Besides, Kyriss has a brother named Christopher Kyriss. Christopher is married to Beth Kyriss. She is a nail care studio's owner. Chelsie was raised with her brother in Springboro. Also, the Kyriss family belongs to Caucasian ethnicity.
She went to Springboro High School. After that, she joined Sinclair Community College. Soon she graduated from college in 2010.
Likewise, she enrolled at Georgia State University Perimeter College. Accordingly, she has received a Bachelor's degree.
Career and Profession
Kyriss's professional career began as any other ordinary individual. She started working as a marketing official when she was in college.
Her sales job started as early as 2009. Later, she began to serve as an associate teacher at a daycare center. She taught at Adventures Through Learning.
During her early days, Kyriss always wanted to be a model. However, she never had an active pursuit of a career.
But once, she had sought a modeling job at a talent agency called Explore Talent. Accordingly, she had submitted her portfolio there. Her dream remained in the dark as she received no offers from any of the modeling campaigns.
In 2010, she started working as the assistant manager at a store named Baker's Footwear Group. It was a real upgrade after serving more than a year in sales. Moreover, she was issued the role of the store's manager later.
After two years, she served as a customer representative at Wilton Brands Inc. Consequently; she had the chance to improve her ability to deal with people.
Over the years since then, she started getting recognition in social media. Soon, it took no time for her to establish herself as an Instagram influencer.
The light shed on her as she started getting recognition as Antonio Brown's girl. At the same time, she appeared on different media and public screens. Accordingly, she dragged a ton of fans towards her on social media, mostly Instagram.
Chelsie Kyriss: Almost Antonio Brown's Wife
According to sources, Kyriss met Brown for the first time when she had just joined Wilton Brands Inc. It was sometime in 2012.
Besides, the couple had the chance to meet each other by virtue of a common friend. However, the common friend is still unknown.
They were attracted to each other on their first meet. Since then, they have been dating each other. Besides, the couple uploaded the photos together on social media.
Also, they have traveled to many places together. They were also seen having a good time together on vacations in their photos.
Antonio Brown and Chelsie Kyriss' Children
Kyriss has five kids altogether. Among them, two are from her previous relationship. Kyriss had a husband earlier than meeting Brown.
With him, she had two children. Kellen Green and Brooklyn Green are the children from the earlier relationship.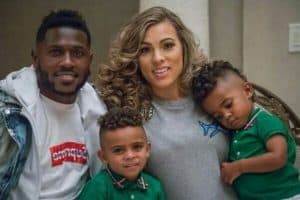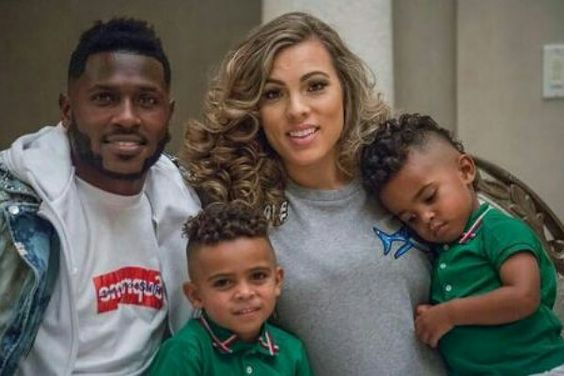 Besides, Antonio and Chelsie have three children together. The first, Antony, was born in 2014. Soon, they welcomed Ali in 2015. Later, they gave birth to their third child, Apollo, in 2017.
Initially, it was reported that Antonio Brown was dating singer Stephanie Acevedo, and the duo even had planned to move in together in Miami. However, Antonio kicked Stephanie out, just to create a deeper relationship with Chelsie.
Antonio Brown's wife: What went wrong?
The 8-year-long relationship between Antonio and Chelsie suffered some hindrances and issues on its journey.
Brown allegedly had a relationship with Jena Frumes back in 2017. During that period, Kyrisis was pregnant with their third child Apollo on the way.
The alleged infidelity made Chelsie leave Antonio. Accordingly, the couple was separated for a while. Later, in 2018 Antonio's relation with Jena ended after the two broke up. Consequently, they were again reunited.
Again, the couple broke up somewhere around the middle of 2019. Also, Antonio was found tweeting, "No more white woman 2020."
This time, Antonio had accused Kyriss of cheating. However, Chelsie denied the blames straightaway. Besides, she criticized Antonio, calling him a bad father and an incompetent partner.
Kyriss has posted several allegations to Brown on her social media. She had dragged the attention of the press. She could not keep quiet, seeing all the accusations her ex-partner put on her.
Moreover, there was news that Brown tried to evict Chelsie from his home in Florida. He even took legal action against her by filing the suit in December 2019. He had told that his "former girlfriend" refused to vacate his property after separation.
In contrast, Kyriss filed a lawsuit against Antonio. She demanded that Brown should bear primary custody and child support for their kids.
She added that he needed mental treatment and counseling. Later, in February, Antonio apologized to Chelsie through an Instagram post.
What's between Antonio Brown and Bills Jordan Poyer?
As we all know, Bills Jordan Poyer is married to Instagram model Racheal Bush. However, as confirmed by Bush herself, she cheated on Poyer before marriage.
In the meantime, there are loads of rumors floating that state that Bush cheated on him with Antonio Brown. Furthermore, Sports Gossip believes that it was the reason for the trade between Bill and Brown that made it fall.
Rachel slept with Antonio Brown right before her wedding. She convinced Poyer to stay with her. Poyer slept with Summer Rae over the 4th of July wknd….and she ended the relationship. Summer supposedly has a video of this in their home in Miami.
— MonKadaE4 (@E4Kada) July 28, 2018
Net Worth & Salary
Krysis started the profession as an assistant teacher. Then, she was a marketing official until she became the store manager. But according to reports, she stopped working some years after she was in a relationship with Brown.
As of 2021, Chelsie Krysis has a net worth of $200,000.
Likewise, Brown had gifted her a Porsche in January 2019. Similarly, her ex-partner Antonio has a net worth of $25 million. Besides, he had earned $17 million when they were together in 2019.
Social Media Presence
No doubt, Chelsie was a social media sensation once. Currently, she is active on Twitter and Instagram. However, her Twitter account is protected. Moreover, it is said that she runs the social media accounts of her kids too.
Also, she has deleted all the pictures of Brown from her Instagram account. She did it after separating from Brown. After all, it has become a ritual in modern-day's breakup.
Instagram: 112,000 followers
Twitter: 342 followers (Protected)
What did Antonio Brown do to his wife, Chelsie Kyriss?
Antonio Brown and Chelsie Kyriss are now separated since the middle of 2019. There have been several issues, including legal suits between them. Notably, Chelsie had filed a lawsuit against Brown for child support and primary custody.
Did Jena Frumes become Antonio Brown's wife?
Brown was in an affair with Jena Frumes back in 2017. Jena is an Instagram influencer, model, and actress. Besides, she also has a massive following on YouTube too.
The 31-year-old has a net worth of around $250,000. Moreover, they broke up soon in 2018. Besides, she is currently dating the singer Jason Derulo.
The sources speculated that Antonio was dating Frumes just to piss off Chelsie. However, he had told Jena that he left his pregnant girlfriend forever.
Moreover, in an interview, Jena said that Antonio tried for years, but he could not make the relationship work.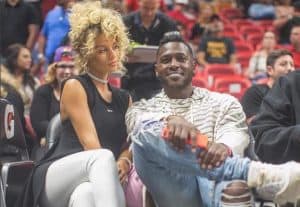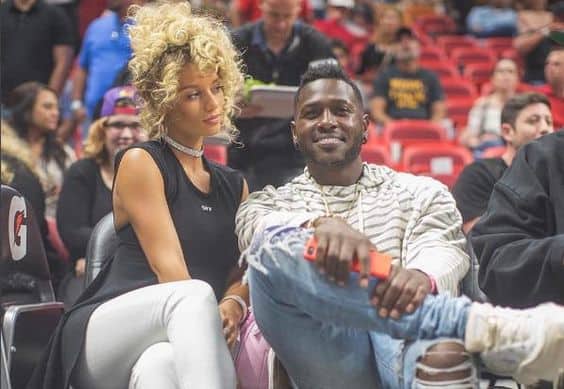 Eventually, the bust-up with Chelsie was solved. And, Brown left Frumes to be back with Chelsie. This left Frumes in shock because she was planning to move in with Antonio.
She tweeted, "When you get used for a publicity stunt by someone you genuinely liked just to piss their ex off, that's life, I suppose."
Was Wiltrice Jackson Antonio Brown's wife?
Antonio was not married to Wiltrice Jackson. But he had one of his daughters, Antaniyah, with her. The couple has had several disputes, including custody battles.
Both the couple prioritized their daughter. Furthermore, Brown was alleged to pushing Jackson down to the ground. It happened in January 2019 when she demanded pay from Antonio for a hair appointment.
However, Brown's representative denied all the accusations of violence alleged to Brown. Eventually, Jackson was denied additional child support. Similarly, Brown took custody of their child.
Daughter
Jackson and Antonio welcomed a beautiful daughter, Antanyiah. The name refers to 'priceless one' in Latin. She is currently in middle school.
Moreover, she is a runner and has interests in basketball and baseball. Antonio shows up during her games and cheers for her.
The relation between Antonio and Antanyiah is robust as a diamond. She also posts rap videos and rants on her YouTube channel.
Social Media Presence
Instagram: 1,514 followers
Was Shameika Brailsford Antonio Brown wife?
Brown was once in a relationship with Shameika Brailsford. With her, he had a son, Antonio Brown Jr., in 2008. With her, too, Brown had several legal disputes. Brailsford had sued Brown in 2012 for not taking care of their son.
Besides, Brailsford took out all her frustrations with Brown through social media. Through a series of Instagram posts, she claimed that Brown only cares about money. She alleged Brown of taking the son with him against their agreement.
Son
Antonio Brown Jr. is their son. Notably, he is the eldest son of Antonio. AB Jr. is involved in athletics like his father. He plays football at his school. Moreover, his dad is his real-life role model.
Commonly Asked Questions
Was Antonio Brown in Drake's God's Plan?
Indeed, Antonio Brown was in Drake's God's Plan six minutes video. In that video, Brown had a cameo appearance, and he and Drake helped a few women go on a shopping spree at Saks Fifth.
What are Antonio Brown's 40-yard dash time and vertical jump?
As a wide receiver, Antonio Brown has 4.48 seconds as his 40-yard dash time and has a vertical jump of 33 1⁄2 inches (0.85 meters).