One of the most-watched sports, Football, has its fair share of legends and Julian Edelman is one.
With high respect in the football world, Julian has made the win up to 3 Super Bowl championships and many other awards.
American Football wide receiver and punt returner for the New England Patriots of NFL Julian has marked himself as one of the topmost players among his teammates.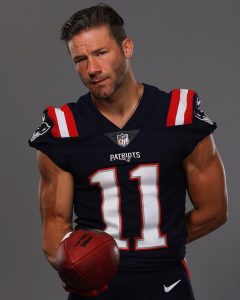 Furthermore, his teammates also named him The Energizer Bunny, showing a keen interest in sports and bringing full energy on the ground.
We have more to talk about, Julian Edelman. So stay with us until the end of the article. But before that, let's have short quick facts about Julian.
Quick Facts
Full Name
Julian Francis Edelman
Birth Date
May 22, 1986
Birth Place
Redwood City, California, United States
Nick Name
Julian Edelman, Minitron, The Energizer Bunny
Religion
Christian
Nationality
American
Ethnicity
Mixed
Education
Woodside High School

College of San Mateo

Kent State University

Horoscope
Gemini
Father's Name
Francis Edelman
Mother's Name
Angie Edelman
Siblings
2
Age
36 Years Old
Height
5 ft 10 in
Weight
89kg
Hair Color
Brown
Eye Color
Blue
Build
Athletic
Profession
Football Player
Current Team
NFL
Position
Wide Receiver
Marital Status
No
Ex-Girlfriend
Ella Rose
Kids
1
Net Worth
$25 million
Books
Relentless
Social Media
Instagram, Twitter, Facebook, Youtube
Merch
Jersey, Posters, Rookie Cards, Autograph
Last Update
November, 2022
Julian Edelman; Early Life, Family, Parents
In the Redwood City of California, United States, Julian Edelman was born on May 22, 1986.
Raised and grown up by Francis Edelman and Angie Edelman, he spent his childhood with two siblings; sister Nicole Edelman and brother Jason Edelman.
Looking at the academic records he graduated from Woodside High School in the year 2005. After spending one year at the College of San Mateo, Edelman could not complete his degree.
However, this NFL player, later on, joined Kent State University to earn a degree in business management. With this in mind, 13 years after he joined Kent State, he completed his degree in 2019.
In one of the interviews, Julian spoke about why a university degree is necessary for him! He said
'It is important to me that I make my parents proud as I fulfill a promise that I made to them that I would, one day, be a college graduate.'
Moreover, he also joined the college to set an example for his daughter as to why having a degree is important.
Julian Edelman; Age, Height, and Physical Appearance
Julian Francis Edelman, by birthname, is quite famous for his nickname, which includes Julian Edelman, Minitron, The Energizer Bunny.
As of 2022, Julian is 36 years old, born under the sun sign Gemini.
In fact, people with this sun sign are believed to be juggling various passions, hobbies, careers, and friend groups.
The native American football player has a mixed ethnicity of German, 1/8th Ashkenazi Jewish, 1/8th Greek, Irish, English, Polish and Belgian.
With a blue pair of eyes, this Energizer Bunny has a brown color. Furthermore, he possesses a stunning body with a height of 5 ft 10 in weighing 89kg.
Likewise, he possesses a tattoo on his right arm. There appears a tattoo in which 'EDELMAN" is written out in calligraphy.
Does Edelman have a daughter? Who is Ella Rose, wife or ex-girlfriend?- Personal Life
Edelman has always been very personal with his life. He rarely reveals his personal experience with social media.
However, it's not that easy to escape celebrities' personal life with media. For those who don't know about Ella Rose, She is one of the widely recognized Swedish models.
Apart from being a model, she came to the limelight after having a love relationship with Julian Edelman.
During the year 2014-2015, these couples made headlines for their fascinating love life.
Unfortunately, the relationship did not last as long as expected. They both had many on-again and off-again relationships and finally ended things.
When Julian was with Adriana, Ella announced her pregnancy, and the father of the baby was no other than Julian himself.
In the beginning, this NFL player denied the child's paternity. So, this forced Ella to claim a case regarding child paternity in L.A. Country Superior Court in July 2016.
Ella Rose, Ex-girlfriend of Julian Edelman: Age, Daughter, Model, Instagram >>
Later on, Edelman accepted the responsibility for his child, and the case was withdrawn. On November 30, 2016, the couple welcomed their first child Lily as a daughter.
Both of them shared their happy moments on their social media accounts.
From different reports, it has been said that Julian traveled from Los Angeles to California to see his newborn baby. So, this sets an excellent example of a father's love for their children.
Current Relation between Julian and Ella
Both parents have promised to take responsibility for their daughter. However, Lily's parents never married each other, and the reason is still unknown.
They both are serving as co-parents of their child and are good friends of each other. These couples are no more in a relationship. Nonetheless, Julian is supporting Ella and Lily financially.
Who is Julian dating now? Is he getting married?
After parting up with Ella, the 36 year NFL player started dating Brazilian model Adriana Lima.
The couple nearly dated for a year and later split after a disagreement regarding the child and long-distance residence.
Edelman resited in Boston while Lima lived in Miami. In fact, Julian is looking for a stepmom who'll accept and help to raise his daughter Lily. Currently, there's no rumor of linking up with other girls.
Julian Edelman: Career
Early Career
Julian started his career as a quarterback at the high school level. He set a record of 2,237 yards and 29 touchdowns passing during high school, 964 yards, and 13 touchdowns rushing.
While attending the College of San Mateo, he threw 1,312 yards and 14 touchdowns. After spending one year at San Mateo, Edelman joined Kent State University and was three years starter at quarterback.
Being a Golden Flashes leading passer in his senior year, the native American completed 56% of his passes, i.e., 153 of 275 passes for 1820 yards with 13 touchdowns and 11 interceptions.
Professional Career
With an excellent achievement in the early stage of this NFL player, there was no return. Considering his college exploits, the path to the NFL became a little challenging for Julian.
He was not even invited to showcase his abilities at the 2009 NFL Combine. Despite being rejected by the NFL, the native Americans started private workouts for various teams.
Hence, the New England Patriots selected him in the 7th round of the 2009 draft. Later on, he signed a 4-year contract with the Patriots on July 16, 2009.
At the beginning of his rookie year, Julian played against New York Jets with eight receptions and 138 yards. All through the season, he recorded 37 receptions, 359 yards, and one touchdown.
For the next 3 seasons (2010-2012), Julian continued working and improving various game aspects. The young man resigned his contract with the Patriots for four years more.
In 2013, the wide receiver set history, recording 105 receptions for 156 yards and six touchdowns—this led the Patriots to the AFC Championship game.
The Patriots defeated Seattle Seahawks to win Super Bowl XLIX receiving 109 yards on nine receptions.
Despite foot surgery in 2015, Julian's efforts to win Super Bowl LI and many other games were priceless. This made him rank on 'The NFL Top 100 Players of 2016'.
<<Cris Collinsworth Early life, Family, Wife, Career & Net worth>>
Following an ACL injury in 2017, the wide receiver missed the entire season game and was placed on the injured reserve list.
After his comeback in the 2018 season, Edelman caught ten passes for 141 yards with a victory over Los Angeles Rams in the Super Bowl LIII. With this achievement, Julian became the first wide receiver and Jewish to be named Super Bowl MVP.
Again for one more time, Julian resigned from a two-year contract with the Patriots in the year 2019. He completed his regular season with 100 receptions for 1117 yards and three touchdowns.
Julian continued his 2020 career with the Patriots. He also suffered from knee surgery and was placed on the reserved list for the 2020 season.
Retirement
After suffering from different injuries and surgeries, the wide receiver announced his retirement on April 12, 2021.
He thought of retiring from his career after the Patriots decided to discontinue the contract with Julian due to his physical weakness.
After announcing his retirement, Edelman did a podcast interview about his career, including Pardon My Take and Green Light with Chris Long.
Julian Edelman: Outside Football
Julian is not only successful with his football professional but is also involved in various activities. The 32-year young man has published various books like Flying High, Flying High 2, and Relentless.
Furthermore, he owns a clothing brand that collaborated with Joe's Jeans on a line of shirts and jeans and Cutters Sports on a football gloves line.
The story doesn't end here. The Energizer Bunny is seen on different Tv shows and in ads. Some of his Tv episodes include Dramedy Ballers of the HBO sports and America's Next Top Model.
Moreover, he has presented himself twice at the Grammy Awards and his teammates Malcolm Butler and 2019 Devin McCourty.
Julian is also a part of the puma advertisement campaign in 2015. Also, Julian was featured in NFL Network special show NFL Going Global: Edelman & Amendola with Danny Amendola.
Julian Edelman: Career Stats
| Season | TM | GP | REC | TRG | REC/G | YDS | AVG | YDS/G | TD | LNG |
| --- | --- | --- | --- | --- | --- | --- | --- | --- | --- | --- |
| 2009 | NE | 11 | 37 | 54 | 3.4 | 359 | 9.7 | 32.6 | 1 | 29 |
| 2010 | NE | 15 | 7 | 14 | 0.5 | 86 | 12.3 | 5.7 | 0 | 40 |
| 2011 | NE | 13 | 4 | 8 | 0.3 | 34 | 8.5 | 2.6 | 0 | 11 |
| 2012 | NE | 9 | 21 | 32 | 2.3 | 235 | 11.2 | 26.1 | 3 | 56 |
| 2013 | NE | 16 | 105 | 151 | 6.6 | 1,056 | 10.1 | 66.0 | 6 | 44 |
| 2014 | NE | 14 | 92 | 134 | 6.6 | 972 | 10.6 | 69.4 | 4 | 69 |
| 2015 | NE | 9 | 61 | 88 | 6.8 | 692 | 11.3 | 76.9 | 7 | 59 |
| 2016 | NE | 16 | 98 | 159 | 6.1 | 1,106 | 11.3 | 69.1 | 3 | 77 |
| 2018 | NE | 12 | 74 | 108 | 6.2 | 850 | 11.5 | 70.8 | 6 | 36 |
| 2019 | NE | 16 | 100 | 153 | 6.3 | 1,117 | 11.2 | 69.8 | 6 | 44 |
| 2020 | NE | 6 | 21 | 39 | 3.5 | 315 | 15.0 | 52.5 | 0 | 49 |
| Career | | 137 | 620 | 940 | 4.5 | 6,822 | 11.0 | 49.8 | 36 | 77 |
Julian Edelman: Net Worth and Salary
Julian Edelman has earned a fair amount of salary with his profession. Most of his income source comes from football games.
At present, different sources have revealed that this wide receiver player's net worth is around $25 million.
During the early start of his career, he signed a 4-year contract with the Patriots worth $48700. Immediately after four years of completion, he resigned from the deal with the Patriots worth $17 million.
Again during the year 2019, he signed a 2-year extension contract with the Patriots worth $18 million.
Likewise, he has earned around $9 Million from his endorsement deals like Puma, Google Glass, etc.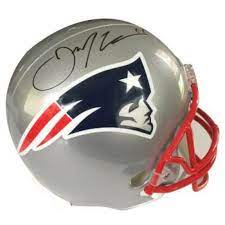 Besides Football, he has published various books, owns a clothing brand, and appeared in multiple T.V. shows and ads.
Also, the wide receiver was named a menswear style ambassador by the Council of Fashion Designers of America during men's fashion week in New York.
Julian Edelman: Social Media Presence
Julian is surrounded by love not only on the ground but also on various social media platforms. He has a massive amount of fan followings on these platforms.
Most of his social media is filled with his recent career highlights. Edelman is very strict with his personal life and rarely shares stuff related.
However, you can see Julian posting pictures of his daughter lily time and often.
Instagram – 2.8 million followers
Twitter – 1.4 million followers
Facebook – 1.3 million followers
Youtube – 131k subscribers
Some FAQs
Is Julian a Bread Lover?
He has not grown bread on his face. However, he is a bread lover.
Did Julian Edelman play defense?
It is nearly impossible for a single player to be able to play all. However, Edelman in recent days has been kept in a defense role after running from several injuries.
Is Julian Edelman a Hall of Famer?
No, Julian is not a Hall of Famer.
What are the Jersey Numbers of Edelman?
He wears Jersey Number 11.
Which is the last game of the wide receiver?
Before his retirement, he played with the Patriots. Julian played against Denver Broncos before retiring from his career.