In the history of football, Archie Griffin is the only athlete to win the Heisman Trophy twice.
To begin with, Archie didn't make the football team because of his non-athletic appearance. But, as the saying goes, appearances aren't everything.
His incredible football abilities stunned the people who questioned Griffin's athleticism. As a result of this, he went on to become a football icon, winning back-to-back awards and breaking several records.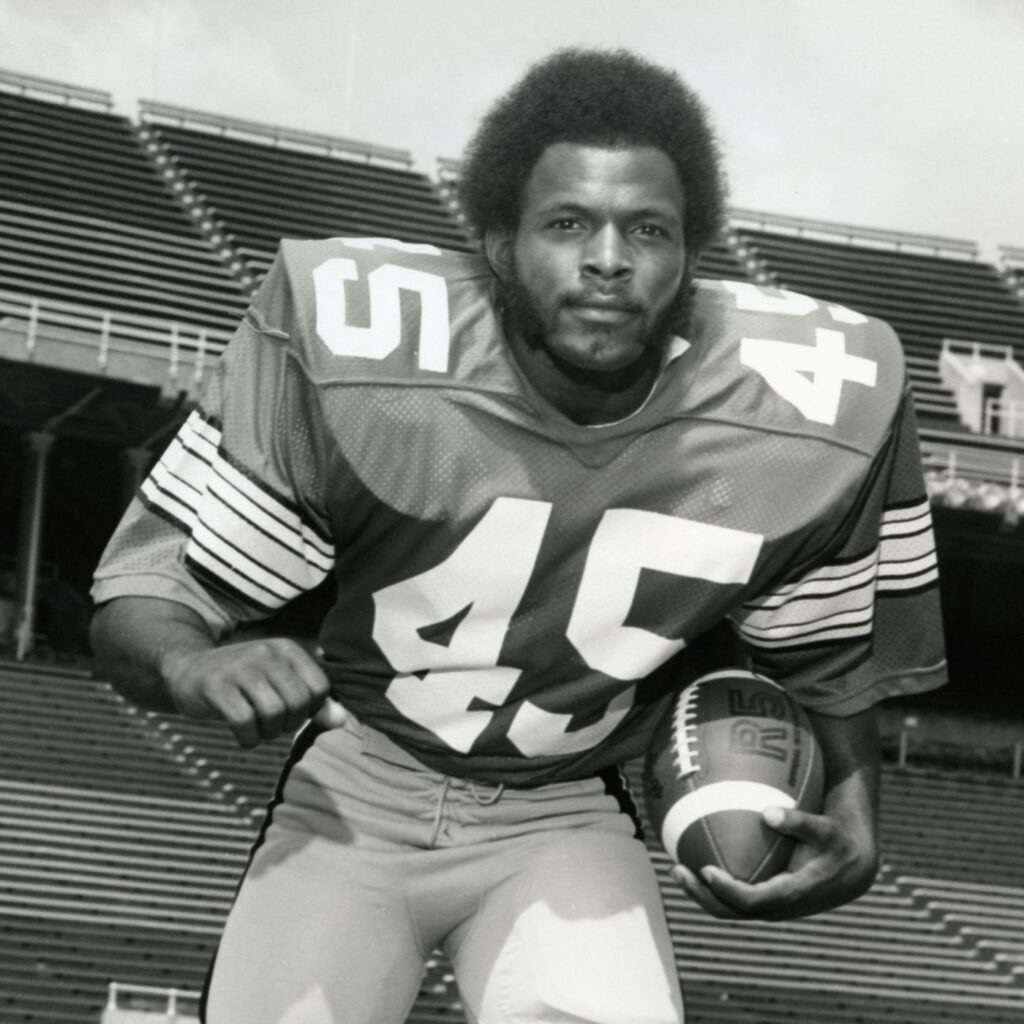 Griffin has a long list of achievements and honors, including the prestigious Heisman Trophy, Walter Camp Award, Maxwell award, and so on.
This article will take you through Archie Griffin's historical journey from a football aspirant to becoming a football legend. Also, learn about his childhood, net worth, career, and relationships.
But before we get into it, let's look at some quick facts about him.
Quick Facts
Full Name
Archie Mason Griffin
Name

Archie Griffin

Nick Name

Tank, Butterball

Date of Birth
August 21, 1954
Age

68 years old.

Birth Place
Columbus, Ohio
Nationality

American

Ethnicity

Black

Zodiac Sign

Virgo

Height
5 ft 9 in (1.75 m)
Weight
189 lb (86 kg)
Hair Color

Black

Eye Color

Black

Father's Name
James Griffin
Mother's Name
Margaret Monroe Griffin
Siblings
Six brothers and a sister: Jimmy, Larry, Daryle, Duncan, Raymond, Keith (brothers), and Crystal (sister)
High School
Eastmoor High School
Education

Graduate

University
Ohio State University
Marital Status

Married

Wife
Bonita Griffin
Marriage Year

1987

Children

Four; Adam Griffin, Anthony, Andre & Adam Griffin

Grandchildren

Three; Kamron, Diante, and Adrien Grifffin

Profession

Former NFL Player

Position

Running Back

Jersey Number

45

Leagues

National Football League (NFL)

NFL Draft
24th overall pick in the first round of the 1976 NFL Draft by the Cincinnati Bengals
Debut Year

1976

Retirement

1985

Playing Teams

Cincinnati Bengals (1976–1982)
Jacksonville Bulls (1985)

Major Achievement

Two times recipient of the Heisman Trophy

Awards and achievements

Maxwell Award (1975)
Two times Big Ten Most Valuable Player (1973, 1974)
Three times First-team All-American (1973–1975)
Ohio State Buckeyes No. 45 retired

Net Worth

$3 million

Social Media

None

Merch
Autobiography
Last Update

May 2023
Archie Griffin | Early Life
The NFL legend, Archie Mason Griffin, was born in Columbus, Ohio, on August 21, 1954. He was born as the middle child to James Griffin (father) and Margaret Monroe Griffin (mother).
Archie comes from a big family, with six brothers and a sister. Jimmy, Larry, Daryle, Duncan, Raymond, and Keith are his brothers, and Crystal is his only sister.
It seems athletics was in the blood of Archie's family: all four of his brothers played collegiate football, and two of them went on to play in the NFL.
However, it was hard for Archie's father to raise this big family. A decent education was the finest gift Griffin's father could offer his children, so he worked tirelessly to provide for his family.
At one time, he worked three jobs, driving a sanitation truck during the day, cleaning a school at night, and working in a steel factory.
His father's effort was worth it, as Griffin's family is now a legacy at Ohio State University, where Archie and his brothers have made major contributions to college football.
Education
Archie attended Eastmoor High School in Columbus, where he wanted to play for the school football team. But, he was small and overweight then, and the coach did not consider him a footballer.
He started to go to the gym to come into shape and finally stepped onto the team when one of the members was injured.
Griffin was Eastmoor High School's starting halfback for the following three years, where he earned all-district accolades as a junior and was named to the All-State Team after guiding the team to the City Championship in 1972.
Apart from excelling in the field, Griffin excelled in his classroom, making him a top student in the high school.
Age, Height & Weight
The NFL star was born on August 21, 1954, making him 68 years old. People born in August are Virgo.
Furthermore, Archie was born in Columbus, Ohio, and identifies as an American of black ethnicity. Also, Griffin is 5 ft 9 (1.75 m) tall and weighs around 189 lb (86 kg).
Griffin was short and overweight in his childhood. This was the sole reason why he was rejected from the school team, but he was dedicated to becoming fit and healthy, so he started to work out at young age to attain that athletic figure.
Archie Griffin| College Career
Griffin aspired to attend Northwestern University but was convinced to play for Ohio State instead.
Archie was unstoppable in his college, smashing records upon records. He carried for at least 100 yards in 34 games throughout his four-year college career, including an NCAA record 31 times.
In addition, Griffin, along with Brian Cushing, is one of just two players in college football history to start four Rose Bowl games.
Archie Griffin | Professional Career
The Cincinnati Bengals drafted Archie Griffin in the first round of the 1976 NFL Draft as the 24th overall pick. This embarked on Griffin's NFL journey, and he played for seven years (1976–1982), all with the Bengals.
He was briefly a member of the Jacksonville Bulls of the United States Football League after being released by the Cincinnati Bengals.
Know about popular Cincinnati Bengals player Evan McPherson who debuted in league with a high goal percentage. Picked up in the 2021 NFL draft, the player has already made his mark in the league>>>
Archie Griffin | Post Retirement
After retiring from the NFL, Archie Griffin promptly returned to Ohio State University. He served as the Director of Athletics' special assistant in 1985.
In 1987, he was promoted to Assistant Athletic Director. He was appointed Senior Associate Athletic Director at Ohio State University in 1994.
Archie served as CEO and president of the Ohio State University Alumni Association for eleven years; he stepped back in 2015. He is currently a senior advisor at the Office of Advancement at Ohio State.
Archie Griffin | Awards and Achievements
Two times Heisman Trophy (1974, 1975)
Two times Walter Camp Award (1974, 1975)
Two times Sporting News Player of the Year (1974, 1975)
Two times UPI Player of the Year (1974, 1975)
Maxwell Award (1975)
Two times Big Ten Most Valuable Player (1973, 1974)
Three times First-team All-American (1973–1975)
Three times First-team All-Big Ten (1973–1975)
Ohio State Buckeyes No. 45 retired
The Archie Griffin Legacy
Archie is best known for winning Heisman Trophy twice. Following his contribution, he has been honored and inducted into several halls of fame for his contribution to the football field.
Griffin was inducted into the College Football Hall of Fame in 1986. Likewise, he was inducted into Ohio State's Varsity O Hall of Fame in 1981.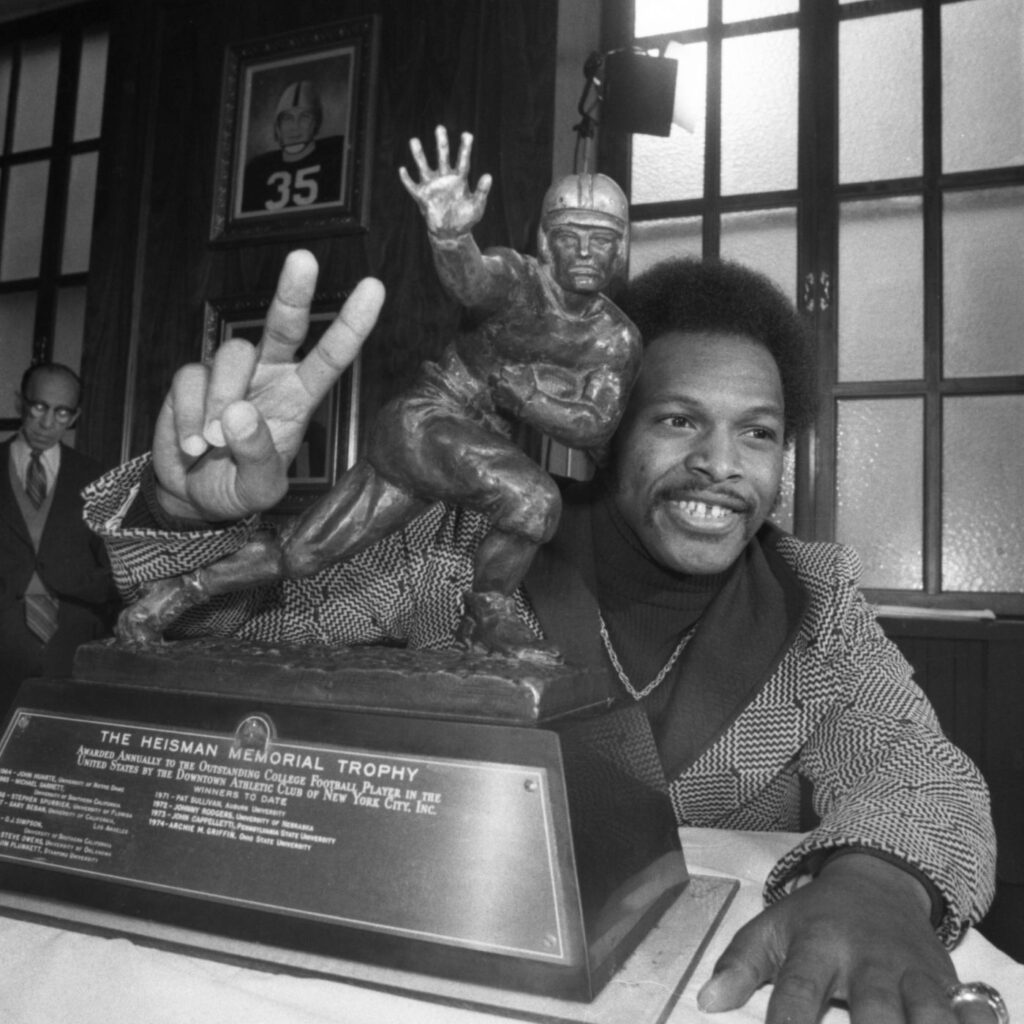 He was inducted into the Rose Bowl's Hall of Fame in 1990. In addition, his uniform number, 45, was retired in 1999.
Griffin was honored with a place in the High School Hall of Fame in 1996. Eastmoor Academy honored him by renaming their field the "Archie Griffin Field."
Apart from this, he was honored on January 1, 2014, in recognition of the 100th Rose Bowl Game, and participated in the Rose Parade on January 2, 2014.
All the players want to be the best at their position. However, very few of the players achieve greatness. Learn about the Top 10 Best NFL Hall of Famers >>>
Autobiography: The Archie Griffin Story
Archie published his autobiography, Archie: The Archie Griffin Story, on January 1, 1977. Through this autobiography, he wanted to share his life story, lessons, and learnings.
Throughout the 192 paged book, he explains how he developed such a strong sense of self-worth. He has written about his journey from being a bullied child who was never considered a footballer to becoming one of the legendary footballers.
The Bankruptcy
Archie Griffin and his brother filed for bankruptcy in 1981 after their debt ballooned when their business venture failed terribly. The brothers had started an athletic shoe business, but it failed, leaving them in debt.
The duo had a debt of about $ 1 million while their assets just totaled $200 K.
Archie Griffin | Wife and Children
Wife, Bonita Griffin
Archie Griffin is married to Bonita Griffin. Unfortunately, not much is known about how the couple met and how the love story began.
But, it is known that the couple married on March 21, 1987, and is blessed with four children: Adam Griffin, Anthony, Andre & Adam.
Children
His eldest son, Adam Griffin, followed in his father's footsteps to play in the NFL. He showed exemplary talent in his school days. He was an All-District player in high school.
Due to his impressive specs, he was added to the Ohio Football team in 2010. But he was redshirted for the entire season. This did not discourage him; he came stronger and even won the Iron Buckeye award for the winter of 2013.
But unfortunately, Adam faced a shoulder injury in 2013, which marked the end of his football career before it even started.
His other son, Andre, also played running back at Ohio State from 1998 to 2001. The NFL legend currently serves as an assistant coach at Ohio Northern University and was previously the Head Coach at Lima Senior High School.
Apart from Adam and Andre, little information about his other children is available. His other children likely chose a different path from him.
Grandchildren
Archie has grown quite old now to have his grandchildren. He has three grandsons: Kamron, Diante, and Adrien. On top of that, his grandchild is also walking in his footsteps.
His grandchild, Dianté Griffin, announced in April 2022 that he is accepting the agreement from Ohio State University to play for its football team. Diante is the son of Archie's son, Andre Griffin.
The Griffin has been a staple name in Ohio, and Diante has continued the Griffin legacy.
Social Media Presence
Archie Griffin was born before the internet era and is not acquainted with them. Thus, he has no social media handles. However, there are some fan pages and fan clubs of Archie Griffin that you can join to get connected with his life updates.
Archie Griffin | Net Worth and Salary
The net worth of Archie Griffin is estimated to be $3 million. It would be only fair to assume that his NFL career significantly contributed to his fortune.
He has also earned a good fortune from his investments, sponsorships, and endorsements.
When we say the richest NFL player's net worth, who pops into your mind, and how much do you think they make? Let's find out more about it, 12 Richest NFL Players & their Net Worth>>>
Frequently Asked Questions (FAQS)
What are the overall NFL statistics of Archie Griffin?
In his NFL career, Archie Griffin has a total of 2808 rushing yards with 4.1 yards per carry. He has seven rushing touchdowns.
How did Archie Griffin win the Heisman twice?
In 1974, Griffin was a junior at the University of Georgia when he earned the Heisman Trophy for his 1,700-plus running yards and 12 touchdowns.
For the second time in his career, he was selected the Big Ten's Most Valuable Player after rushing for 1,450 yards and leading Ohio State to a fourth consecutive Rose Bowl appearance. He was awarded the Heisman award for the second time for his contribution.