Armando Bacot is one of the college basketball power forward/center players for the North Carolina Tar Heels of the Atlantic Coast Conference (ACC) who has recently been cast on an American action-adventure mystery teen drama Netflix series called Outer Banks.
Armando Bacot is one of those fine collegiate athletes who are not in a professional line yet, but he has undoubtedly bloomed with his learning experience.
At the 2018 FIBA Under-18 Americas Championship, Bacot represented the United States under-18, basketball team.
He led his team to a gold medal by averaging 7.8 points and 5.0 rebounds per game.
Well, currently, he has been playing for the team in affiliation with Atlantic Coast Conference. There are many more facts and details to be revealed about him.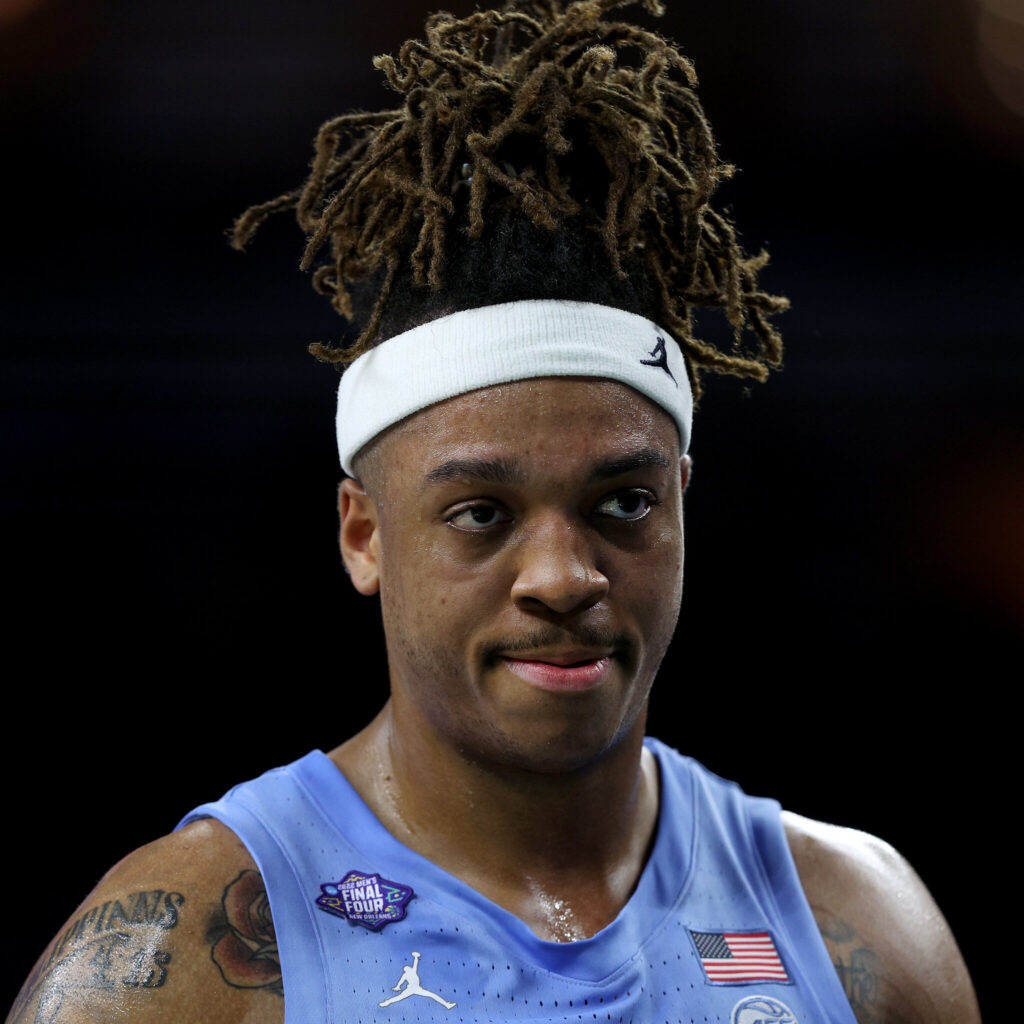 Hold your tabs on this article and keep reading until you finish. Also, feel free to comment in the box below if any facts go missing or are mistaken.
But before taking a rundown of his life, let's have a glance at the must-known quick facts about the smarty power forward guy, Armando Bacot.
Armando Bacot | Quick facts
| | |
| --- | --- |
| Full Name | Armando Linwood Bacot Jr. |
| Birth Date | March 6, 2000 |
| Birth Place | Richmond, Virginia |
| Nick Name | The Pill |
| Religion | Not known |
| Nationality | American |
| Ethnicity | Black |
| Education | Trinity Episcopal School, IMG Academy, University of North Carolina |
| Horoscope | Pisces |
| Father'sName | Armando Bacot Sr. |
| Mother'sName | Christie Lomax |
| Siblings | Azhane Bacot |
| Age | 23 Years Old |
| Height | 6'10" (208 cm) |
| Weight | 240 lb (109 kg) |
| Shoe Size | Not known |
| Hair Color | Black |
| Eye Color | Black |
| Jersey No. | 5 |
| Build | Athlete |
| Marital Status | Single |
| Girlfriend | Not known |
| Position | Power forward/ center |
| Profession | NBA player |
| Net Worth/ Endorsements | Not known/Jimmy's Seafood, |
| Salary | Not known |
| Currently Plays for | North Carolina Tar Heels |
| League | Atlantic Coast Conference |
| Active Since | 2019- present |
| Social Media | Twitter, Instagram |
| Last Update | March, 2023 |
Armando Bacot | Early Life and Parents
Starting with the basics, Armando Bacot was born on March 6, 2000, to his parents, Armando Bacot Sr. and Christie Lomax, in Richmond, Virginia.
He is not the only kid in the family, as he has his sibling by his side, Azhane Bacot.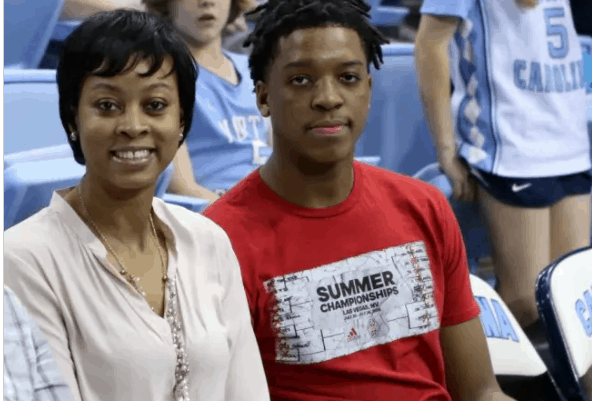 Armando is an American by nationality and has black ethnicity. Well, nothing much has been revealed about his childhood, family, and early life on the internet.
But yes, Armando's father always remained there to support him since his birth. He pushed him harder against all those limits and wanted to see him reach the top.
He was the biggest fan of Armando. His mother is in the real estate business.
To Add, Armando went on to attend Trinity Episcopal School and completed three years of high school. Following that, he went to IMG Academy and completed his senior year for the accomplishment.
High School Career
Armando was on for three varsity seasons at Trinity. He carried single-game career-highs of 47 points and 22 rebounds.
Initially, he performed 64 games, gathering 1,510 points, 759 rebounds, 145 assists, and 215 blocked shots. And as a junior, he appeared for 29 games.
Achievements and Highlights
Armando was titled to the 2018- All-Metro first team and 2018 all-state first team.
He was named the '2018 VISAA League-Co Player of The Year and an all-league first team.
He also won the 2018 Richmond Times-Dispatch Player of the Year.
Armando was titled USA Today All-Virginia first team and 2018 Max Preps All-America first team.
Armando Bacot | Recruiting
Well, after passing out of high school, Armando received many offers from Duke, Kansas, Oklahoma State, and Villanova.
Still, he chose the University of North Carolina over all of these. He committed to the college on August 6, 2018.
To talk about overall recruiting rankings, Rivals rated Armando as a five-star recruit, 247 sports rated him a four-star, and ESPN rated him a five-star.
Bacot on choosing the University of North Carolina
During a table talk with THI, Tar Heels Illustrated, Armando, his father, and his mother were asked a few questions. We have tried to sum up their views and opinions based on their answers.
The storyline started from here. Roy Williams, the renowned coach for North Carolina Tar Heels, paid a visit at Trinity to meet Armando six or seven times.
Also, Roy tried making time for Armando and his parents whenever the family made not such an official visit to UNC.
Not only that, to be honest, the sole and whole reason for getting sold to UNC was coach Roy. He texted Armando whenever possible and was willing to take him under his guidance.
Roy showed a particular belief in him that made Armando go for UNC.
Moreover, according to his mom, Roy was a brilliant coach and a family man. He kept his eyes on his watch while talking to her just because his wife cooked fried fish for him, and he knew he had to go home and be on time.
Armando's father was utterly proud of sending his son to UNC as he knew when it comes to bigs four or five, the college has an excellent track record. They produce great men and great citizens.
In an interview, when asked about whom he would want to bring in 2019 with him to Chapel Hill, he took three names, "Cole Anthony and my two IMG Academy teammates, Josh Green and Jeremiah Robinson-Earl."
Armando Bacot | College Career
Armando scored 22 points and 14 rebounds in a 75–61 win over the Elon Phoenix men's basketball team.
He also took the lead against the Oregan Ducks men's basketball team with a season-high six blocks, and other scores go as 23 points and 12 rebounds.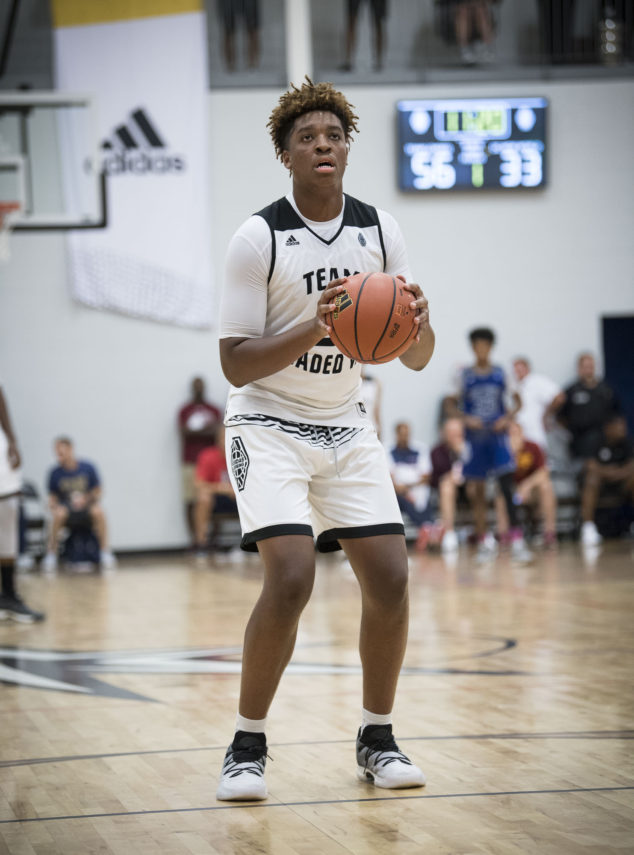 Armando was all set to go well in his college career, but he faced a left ankle injury in a game against Ohio State on November 29, 2019.
And as a result, he had missed some time. He was back for the next game against Virginia Cavaliers men's basketball, but then that turned out to be a loss for his team.
Likewise, Armando was benched out for North Carolina's home victory against Wake Forest on March 3, 2020.
As a freshman, he amassed 9.6 points and 8.3 rebounds per game and had 11 double-doubles. He was the second freshman from Tar Heels to achieve that.
Roy's view on Armando Bacot
Roy takes Armando as a conditioned athlete. Moreover, Yoy was stunned to see Bacot changing his body drastically within a year and a half.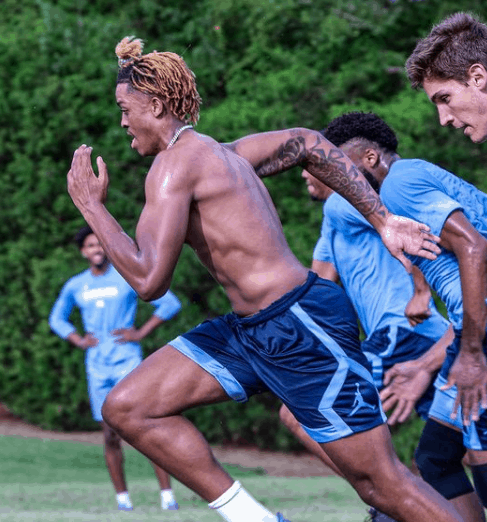 Bacot is going to be that person who can score around the rim a little better and defend better. He also has the utmost speed but must be confident and target his aim.
Armando Bacot | National Team Career
Bacot participated in the 2018 FIBA Under-18 Americas Championship for the United States under-18 basketball team. He notched 7.8 points and 5.0 rebounds, assisting his team in winning the gold medal.
And, guess what, Armando gave his gold medal to his father on father's day. His father was overwhelmed with the success that he was achieving.
Not to mention, he is one of those 24 players to get named to the 2018 USA Basketball Men's Junior National Select Team that participated in the NCAA Next Generation Sunday at the 2018 NCAA Men's Final Four.
Back in 2019, during the Tar Heels game against Ohio State, Armando suffered a left ankle injury in the first half. During the match, he filled his ankle and injured his knee.
In addition to that, two teammates had to come and help him off the floor. He was then taken to the locker room. UNC coach Roy Williams stated that his ankle was swollen.
[read another famous player, Alex, in the link below!]
Alex Albon: Net Worth, Girlfriend, Nationality & Red Bull >>
Recent Controversy
Recently in February 2021, Armando Bacot fell into controversy alongside his fellow teammate, Day'Ron Sharpe. They were celebrating their victory of North Carolina over Duke.
However, in their short 11-second video in snap chat, Bacot and Sharpe were seen celebrating without their masks. In their celebration, some were seen with masks while others weren't.
Altogether, UNC Chancellor Kevin Guskiewicz stated that they would punish those violating the COVID-19 protocols.
Armando Bacot | Age, Height, and Horoscope
Being born on March 6, 2000, Armando is twenty-one years old. Though, for the kids born in 2000, it is effortless to calculate the age.
Armando stands 6 feet 10 inches tall and weighs around 109 kg. He is quite the tall and lanky guy whose body type completely suits a basketball player.
His height is a god-given gift, and his playful personality is a god-given charm. And all in all, he has talent and skill, making him a potential prospect.
To put it on briefly, Armando keeps a dreadlock hairstyle, and he slays that. You can look into the picture where he has posed, portraying an uncompromising swaggy attitude.
Armando falls under the sun sign of Pisces. And indeed, he is a true Piscina. All his nature, personality, and ideology align with that of a Piscina.
He is a sensitive guy with a kind heart who believes in hard work. He is creative, intuitive, and honest at the same time.
Armando Bacot | Personal Life
Well, those who have seen Armando playing must have a few questions running through their mind about him.
Does he have a girlfriend or a special someone?
Well, after surveying the best possible internet sites, we are not able to conclude at a point. By that, we mean there is no exact answer to this.
Maybe Armando does not want to clarify his relationship details in public or look at the other war around. He is just twenty-one years old.
Bacot has much more to do in his life except for this stuff. He must probably be busy growing to become a standout athlete one day and make his parents proud.
Also, looking at the scenario for apparent reasons, athleticism must come first on his priority list.
Other than that, Armando keeps himself busy. He often parties and clubbing with his friends, but he focuses mainly on his practice and gym sessions.
All we can say is, Good to go, Armando Bacot!
Armando Bacot | Social Media Presence
We can catch him on Instagram and Twitter. He seems relatively active there, but he is not available on Facebook.
Well, Armando took to social media and tweeted about the importance of voter turnout. He has also marched on Franklin Street this summer with hundreds of others in a Black Lives Matter peaceful protest for social justice.
You can surely follow his social media handle and keep an eye on his activities. Scroll down and click on the link given below.
Instagram– @armando with 138k followers
Twitter– @igets_buckets35 with 54.4k followers.
[Hello readers, hop on to yet another exciting article on Becca Longo below!]
Becca Longo Bio: First Ever Female to Earn College Football Scholarship>>
Armando Bacot | FAQs
Who is Armando Bacot's brother?
The basketballer's brother is King Bacot. He is only eight years old but already dominating the basketball game in his school. Furthermore, the younger Bacot has a great deal of knowledge regarding basketball and is well known for his skills.
Has Armando Bacot been drafted into the NBA?
No, the athlete is yet to be in an NBA Draft. Armando has announced that he will not enter the 2022 NBA Draft and will instead return to UNC's senior season in 2022-23.
Does Armando Bacot have tattoos?
Yes, the power forward has hand tattoos. He has numerous tattoos on his right arm and neck that are visible to others.
What are Armando Bacot's college statistics? What is his free throw percentage?
Armando Bacot depicts college statistics of an average of 10.9 points, 8.0 rebounds, and 1.0 assists. Likewise, he features a free throw percentage of 66.4.
What class is Armando Bacot?
Armando Bacot is a class of 2019 5-star center from Bradenton, FL, committed to North Carolina.