Alex Albon is a Thai-British racing driver who competes in Formula One for Williams Racing under the Thai Flag. Alex won third place in the 2014 Eurocup Formula Renault 2.0 season. He has been with Red Bull in Formula One since early 2019.
After spending two years in Formula One, he was demoted to a test and reserve driver role with Red Bull for 2021, and Sergio Perez took his seat.
Alex returned to Formula One in 2022, driving for Williams, with whom he is due to stay for 2023.
The professional F1 racer has been impressive with his highest performance. He is the first Thai F1 driver to take a podium at the World Championship.
He was also given the Rookie of the Year award on his debut season in Formula One 2019.
Before we head into details about the player's career and personal life, here are some quick facts about him.
Alex Albon | Quick Facts
| | |
| --- | --- |
| Full Name | Alexander Albon Ansusinha |
| Birth Date | March 23, 1996 |
| Age | 27 Years Old |
| Place of Birth | London, England |
| Known As | Alex Albon |
| Nationality | British-Thai |
| Ethnicity | White-Asian |
| Profession | Professional F1 Racing Driver |
| Education | Ipswich School |
| Father's Name | Nigel Albon |
| Mother's Name | Kankamol |
| Siblings | Four |
| Marital Status | Unmarried |
| Girlfriend | Lily Muni |
| Children | None |
| Height | 6 ft 10in / 186 cm / 1.86 cm |
| Weight | 172 lbs / 78 kg |
| Birth Sign | Aries |
| Eye color/ Hair Color | Brown/ Black |
| Current Team | Williams Racing |
| Social Media | Instagram, Twitter, Facebook |
| Net Worth | $1 Million |
| Last Update | November 2023 |
Alex Albon | Early Life, Family, & Education
The professional F1 racer, Albon, was born into a family of car racers in London, England.
He is the son of proud parents, father Nigel Albon, a former racing driver, and mother, Kankamol.
Albon has a big family of 5, including himself. They grew up together in Bures, Suffolk, with his younger brother, Luca, and three sisters, Chloe, Zoe, and Alicia.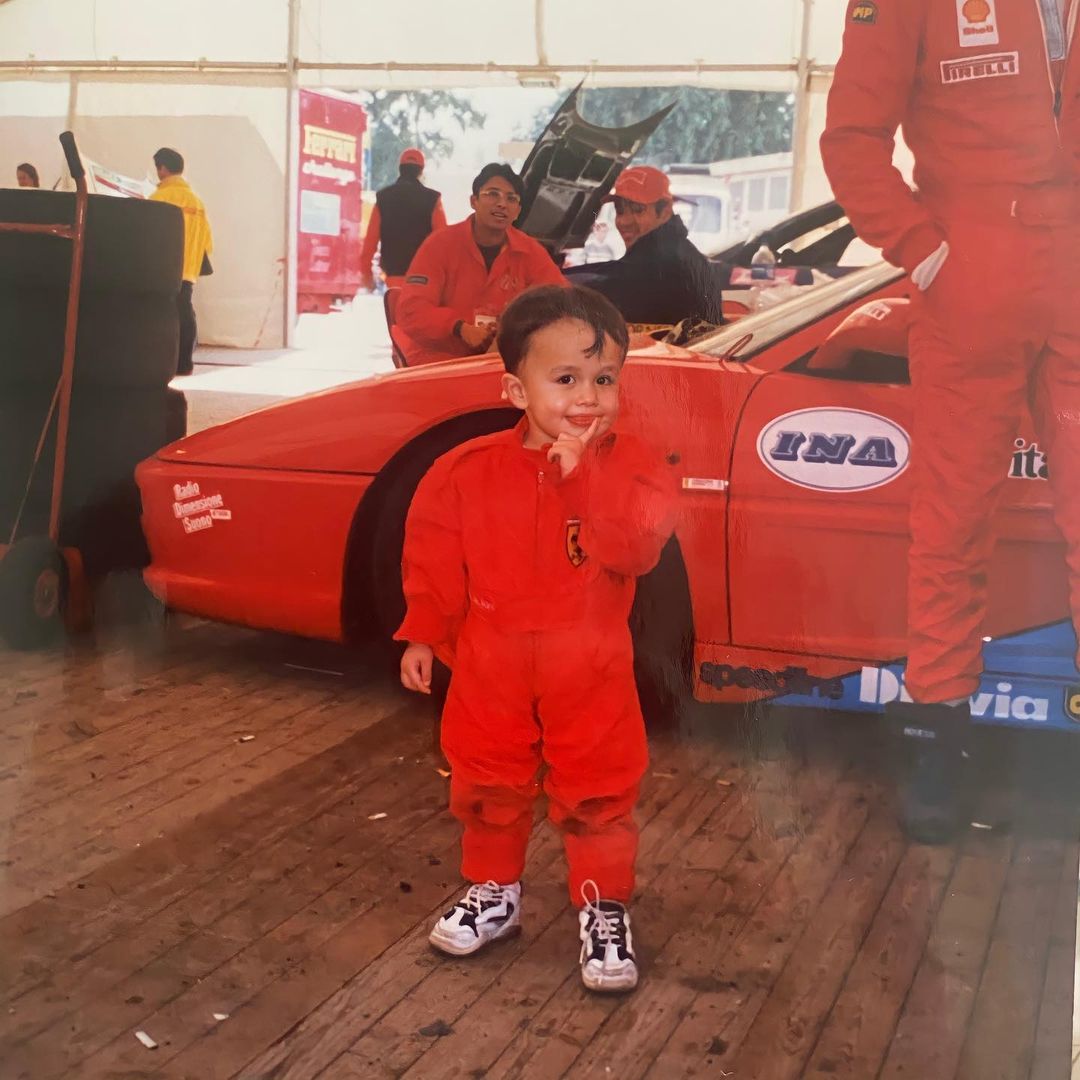 His father is from Britain, and his mother is from Thailand; hence, he holds dual nationality of British and Thai. But he races under the Thai flag and practices Buddhism.
As for his education, the F1 racer attended Ipswich school while growing up in Bures, Suffolk. However, he dropped from school to pursue his dream of being a professional racer.
Alex Albon | Height, Weight, & Age
The London-born car racer is athletically built and tall. He stands 1.86 meters tall and weighs around 172 lbs.
Likewise, Albon was born on March 23, 1996, which makes him 27 years old. His birth sign is Aries.
Alex Albon | Career
Well, as it's said, there is no age to start learning. However, in Albon's case, he began to compete in the local kart race championships at eight.
Additionally, to add more surprise, he won the local Hoddesdon Championship in 2005 when he was just eight.
Albon participated in various national-level competitions under cadet class. He managed to secure the 1st position in Kartmasters British Grand Prix.
He participated in the Super 1 National Honda Cadet Championship in 2006 & 2007 and secured first and second positions.
By 2008, Alex had moved to the KF3 class and stayed there until 2010. Meanwhile, in that time, he managed to win various kart championships, including Kartmasters British Grand Prix, Formula Kart Stars Championship, KF Winter series, CIK-FIA World Cup, and many more.
Later, he graduated to KF1 in 2011 and secured the second position in WSK Euro Series and second at CIK-FIA World Championship.
The kid who started racing in his early teens graduated from Formula Renault 2.0 Eurocup series in 2012.
At Formula Renault 2.0 Eurocup Series, he drove alongside many other talented European drivers for Epic Racing. However, out of 49 racers, he finished in the 38th position.
After a tough year in 2012, Alex joined KTR to race in the 2013 Eurocup Formula Renault 2.0. He raced alongside Yu Kanamaru and Ignazio D'Agosto. He managed to finish in 16th position out of 36 in the competition.
Albon changed to European Formula 3 in 2015, hustling at Signature with partner Dorian Boccolacci. He secured seventh overall with two pole positions, 187 points, and five podiums.
At the year-end of 2015, he participated in post-season testing with ART Grand Prix. Later, he raced for ART in GP3 and secured four wins in 2016, where he claimed runner-up in the championship.
Formula 2 Championship
Albon graduated from the FIA Formula 2 Championship with ART in 2017. He made his debut in Bahrain in a feature race and finished sixth. Later, at the Monaco round, he qualified second on the grid.
However, considering safety measures, the grid was divided into two groups. Albon was placed in group B and made an impression with his performance.
He managed to get the best timing in the group. In the meantime, Alex, unfortunately, finished the race in 4th position due to being stuck behind slower-moving racers.
In the sprint round, Albon finished the race in the sixth position despite starting the race fifth on the grid.
Albon met with an unfortunate accident during mountain bike training and sustained a broken collarbone. Thus, this injury kept Alex out of the Baku round.
Well, Albon was back from injury during the fifth round of the championship after going through a successful surgery. Also, he took part in a practice session and finished eighth.
Feature Races
Albon qualified 4th in the Feature Race. Nonetheless, he got promoted to third on the provisional starting grid after the third player was disqualified. He managed to finish the race fifth.
He started the sprint race as fourth on the grid and secured his first podium in Formula 2.
Later, in the sprint race, he secured another podium of his career at the season finale in Abu Dhabi. In the final lap, Leclerc took over him, securing second place.
An auto racing team from France, DAMS, signed Albon to partner with Nicholas Latifi for the 2018 season. This was a massive break for the racer, meaning he was marked as a full-time driver.
Albon started the feature race at the fourth position and finished the sprint race at the 13th position in Bahrain.
In the next round at the Baku, he started the feature race from the pole and clinched his first win in Formula 2. However, in the sprint race, he finished in the 13th position.
He again started at the pole position at the Spain round but finished fifth in the feature race and secured the second position in the sprint race behind Jack Aitken.
Furthermore, in the Monaco round, he collided with Nyck de Vries in the feature race and subsequently crashed with Campos' Roy Nissany in the sprint race. It was the round to not remember for the Thai driver.
He finished fifth in both races at the Red Bull Ring. However, Albon won the feature race at Silverstone. He twice won the sprint race at the Hungaroring and secured the feature race at Sochi.
Despite good performances, his title-winning chances went in vain when he finished the feature race and the sprint race in 14th and 8th, respectively.
He finished the drivers' championship in 3rd position, just behind George Russell and Lando Norris.
Formula E
Nissan e. Dams signed Albon for the 2018-2019 Formula E season. However, Alex was released from his contract even before the season started.
Nonetheless, it was for his good as he was released to drive in Formula One (F1) season for Torro Rosso.
Formula One
Alex Albon became just the second Thai driver to compete in the F1 when he signed for Torro Rosso for the 2019 season of Formula One.
He joined the team alongside Daniil Kvyat. He finished ninth in Bahrain Grand Prix and secured his first points.
Subsequently, in China's race, he finished tenth and won the Driver of the Day award.
During the Monaco round, he collected another point after finishing 8th. Meanwhile, Albon didn't finish inside points consecutively three times at the Canada Grand Prix.
The last poor performances were overseen by an outstanding performance in the 2019 German Grand Prix. Alex finished in the sixth position in a rain-hit race. In the following race in Hungary, he managed to finish tenth.
Red Bull signed Albon in 2019 to replace Pierre Gasly in the team. He was to replace Pierre from Belgian Grand Prix. During his first race with Red Bull, he finished in 5th place.
The Thai racer finished 6th in Italy and Singapore. Followed by the 5th position finish in Russia. The impressive run continued with Albon registering his career-best 4th position in Japan.
In Brazil, he finished the race in the 14th position after Lewis Hamilton overtook him by causing a collision.
In the season finale at Abu Dhabi, he finished 6th, and his opening season was in 8th position with 92 points.
He was awarded Rookie of the Year at the FIA Prize Giving Ceremony.
2020 Season
In the 2020 season of Formula One, Albon started well until he collided with Lewis Hamilton while overtaking him for 2nd position. In the Styrian Grand Prix, he finished 4th.
Alex finished 5th and 6th in Hungarian Grand Prix and Belgian Grand Prix, respectively.
Similarly, four places behind his teammate Max Verstappen, Albon qualified fifteenth in the Italian Grand Prix.
Albon became the first Thai driver to take the podium at the World Championship after clinching his first podium in F1 at the Tuscan Grand Prix. Later, he took his second podium at the Bahrain Grand Prix.
However, in 2021 he was demoted to reserve and development driver. Sergio Perez took his place.
Due to this, Alex, in one of the interviews, spoke that "it hurts" and mentioned that he is not giving up and hopes to return to the F1 with Red Bull in 2022.
After completing his 2021 DTM campaign, he took on a coaching role for AlphaTauri driver Tsunoda beginning from the 2021 Turkish Grand Pix.
2022 Season
Albon returned to a Formula One race seat in 2022 with Williams; he replaced George Russell and partnered with former Formula 2 teammate Nicholas Latifi.
After his return in his first race for Williams, the Bahrain Grand Prix, he out-qualified Latifi and finished in the thirteenth position.
Albon was penalized after a collision with Lance Stroll when he was in the twelfth place in the final laps of the Saudi Arabian Grand Prix.
In the Australian Grand Prix, he scored his first points for Williams by finishing tenth. At the Emilia Romagna Grand Prix, he started at last because of a brake fire but was able to secure eleventh in the race.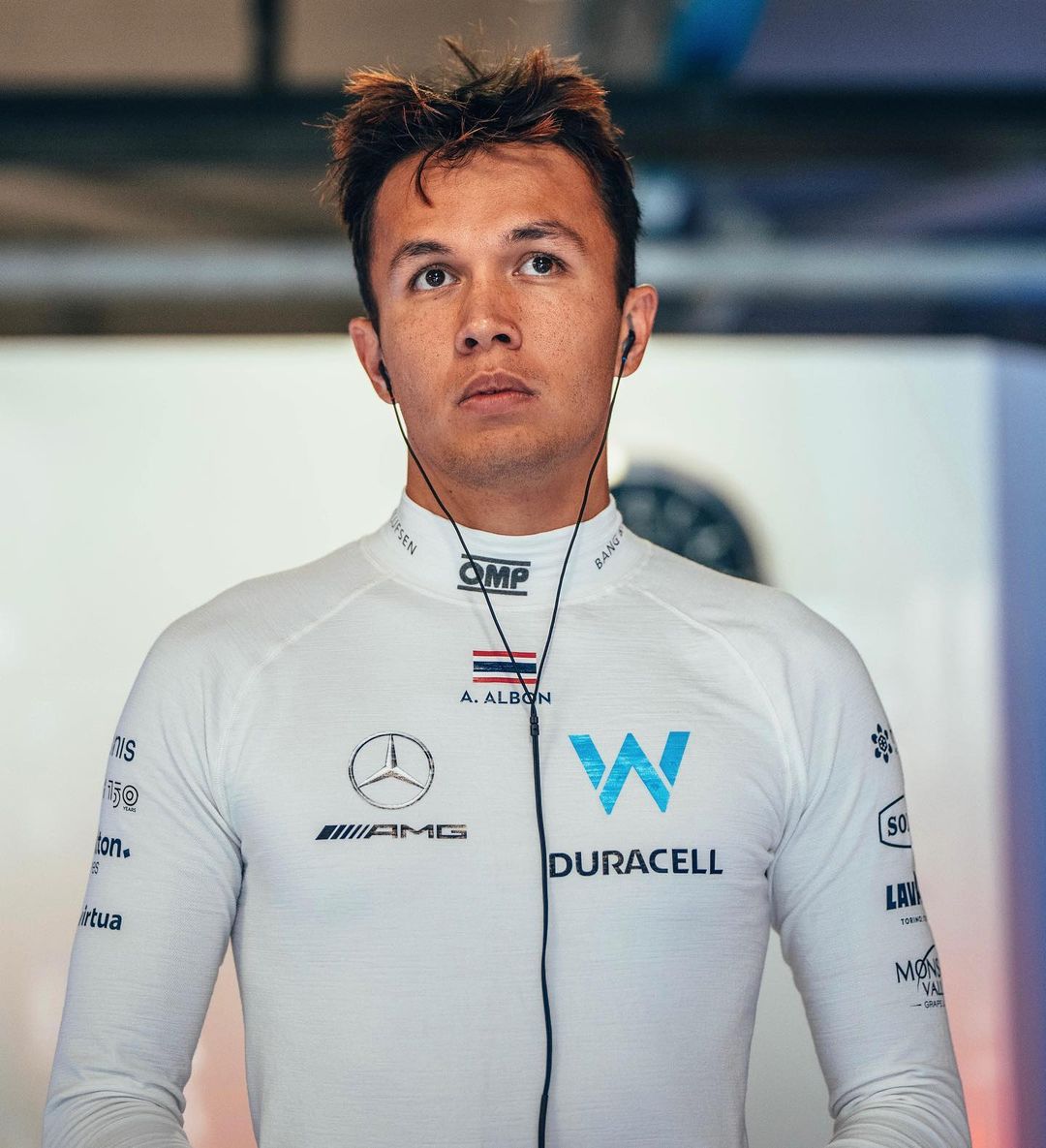 He was hospitalized for precautionary checks and suffered no serious injuries.
Alex suffered no serious injuries after the collision with Yuki Tsunoda and Esteban Ocon as Sebastian Vettel hit him from behind in the British Grand Prix.
He reached Q3 for the first time at the Belgian Grand Prix with the Williams, securing 9th and starting sixth due to grid penalties for other drivers.
Alex Albon had to withdraw from the Italian Grand Prix as he suffered appendicitis and was replaced by Nyck de Vries.
Williams later disclosed that Albon suffered anesthetic-related respiratory failure following his surgery but was recovering well.
After that, he raced in the Singapore Grand Prix, Japanese Grand Prix, United States Grand Prix, and the Sao Paulo Grand Prix but was unable to secure points.
Alex ended the season with 19th in the World Driver's Championship, scoring 4 of Williams' 8 points.
Williams retained Albon for 2023 on a multi-year contract and will partner with Logan Sargeant, who replaced Nicholas Latifi.
Achievements
Podium at 2018 Silverstone Formula 2
First Thai driver to take the podium at World Championship
Rookie of the Year award in 2019
Alex Albon | Relationships, Girlfriend & Children
Alex seems to be a very romantic and loving person. Nonetheless, he is yet to get married. But the F1 racer is currently dating a professional athlete Lily Muni (golfer).
It is believed that the couple has been together since 2019 and enjoy each other's company. The lovely couples often go out on vacations and explore different places.
Alex Albon | Net Worth, Salary, & Endorsements
The Thai racer has an estimated net worth of around $1 million. The major part of his earnings comes from a base salary of $6,50,000.
In addition to that, he earns from brand endorsement deals. Albon has endorsed brands like Edifice Watches, Moose Craft Cider, and PTT Lubricants. Red Bull and MDM Designs also sponsor him.
Social Media Presence
The young racer is quite active on his social media. He is very popular on Instagram, sharing photos from his racing track and racing cars. The racer has 1.8 million followers on his Instagram.
View this post on Instagram
Alex has over 751.5k followers on Twitter and often shares his memories from past events, present race videos, and other fun stuff. He also has a Facebook with around 400k followers.
Furthermore, he even has social media for his pets. You can find his adorable animals on Albon_Pets, with 103k followers.
Popularity Graph
Alexander Albon Ansusinh is a professional Thai-British racing driver for the Williams.
The above graph shows Albon's popularity over the past twelve months.
Frequently Asked Questions (FAQs)
Has Alex Albon sustained an eye injury?
No, Albon has not sustained an eye injury in his racing career.
Has Alex had any felony charges?
Alex Albon has not been charged with any felonies, but his mom was jailed when he was just 15 years old.
What is the profession of Albon's girlfriend, Lily Muni?
Lily Muni has been a professional golfer on the LPGA Tour since 2019. She has secured wins like the 2012 Randy Wise Junior Open, the 2013 PING Phoenix Junior at ASU Karsten, the 2015 Polo Golf Junior Classic, and the 2017 Minnesota Invitational.
How Albon and Lliy met?
According to some sources, it is said that Lily watched a Netflix show, 'Drive To Survive.' On social media, Lily started following several F1 drivers, including her boyfriend, Alex. That's how she met Alex Albon in the first place.
Since then, they have been together and actively post pictures of each other on social media.