Belarusian professional tennis player Aryna Sabalenka is not yet married to Konstantin Koltsov but has been together with him since 2021.
They were first romantically in June 2021. Their shared love for sports is evident, as Sabalenka recently beat Madison Keys to reach the Wimbledon semi-finals.
On the other hand, Koltsov is a former ice hockey player who has competed in two Olympic Games.
Sabalenka's tennis journey began at the young age of 6, and she made her first appearance at the ITF Circuit in Belarus in 2012.
On January 28, 2023, she secured her first Grand Slam women's singles title at the Australian Open, becoming the first player competing under a neutral flag to achieve this milestone.
While on the court, Sabalenka embodies focus and seriousness to display her best game.
Off the court, she prefers to embrace a more relaxed and carefree demeanor, describing herself as a "normal person" during interviews with the Women's Tennis Association.
Sabalenka frequently shares glimpses of her personal life on Instagram, showcasing moments spent with Koltsov.
Their adventures include traveling the world together and enjoying evenings out, as depicted in the photos she shares with her followers.
Aryna Sabalenka Husband- Is She Married To Konstantin Koltsov?
Sabalenka and Koltsov made their relationship Instagram official in June 2021, with Sabalenka sharing a heartwarming picture on June 19.
The photo captured Koltsov kissing Sabalenka on the cheek while she smiled at the camera.
In the caption, Sabalenka expressed her appreciation for having someone who understands her "madness" and playfully questioned whether Koltsov would ever get bored with her.
She added a laughing emoji and a red heart to convey her affection.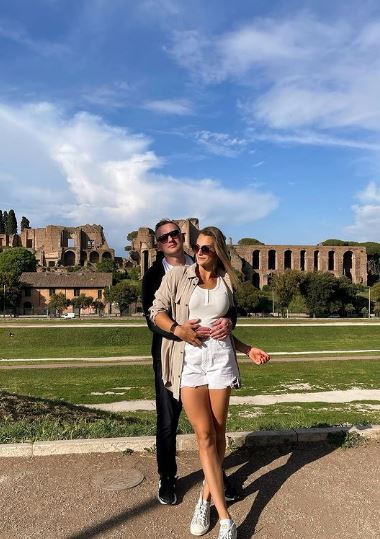 In May 2022, the couple embarked on a memorable trip to Rome, Italy. Sabalenka delighted her followers with several Instagram posts showcasing their adventures together.
The pictures featured them posing in front of iconic landmarks like the Coliseum and the Trevi Fountain, as well as enjoying delicious gelato, capturing their joyous moments in the Eternal City.
Their next destination was Fort Lauderdale, Florida, in July 2022. Sabalenka shared a delightful beach photo, where she sported a green bikini while holding hands with Koltsov.
With his other arm wrapped around her waist, they radiated happiness and relaxation. The joint Instagram post conveyed their enjoyment, as Sabalenka captioned it with "Having fun on the beach 🏝."
Through their social media posts, Sabalenka and Koltsov have offered glimpses of their shared adventures and joyful moments, allowing fans to witness their beautiful bond.
A Brief On Konstantin Koltsov
Koltsov hails from Minsk, Belarus, which is also the birthplace of Sabalenka, as stated in her WTA profile.
With a professional ice hockey career spanning 18 years, Koltsov represented Belarus in the IIHF World Championships and the Winter Olympics in 2002 and 2010.
Additionally, he had the opportunity to play for the Pittsburgh Penguins in the NHL for three seasons after being drafted by the team in 1999.
From 2008 to 2016, Koltsov showcased his skills in the Kontinental Hockey League.
Reportedly, Koltsov has three children from a previous relationship, namely Daniel, Alexander, and Stefan.
In a December 2022 Instagram Story Q&A session, Sabalenka interacted with her fans.
When asked if she believed she would make an amazing stepmother, she responded with a touch of uncertainty, saying, "I don't know … I guess yes," accompanied by a photo of a little boy kissing her cheek.
She further mentioned that Stefan, one of Koltsov's children, loves her. Sabalenka tagged Koltsov in the picture, emphasizing their connection.
Although Koltsov's Instagram account is private.
However, glimpses of their relationship can be seen on Sabalenka's account through the numerous snapshots she shares.