No female wrestler has ever dominated her division with the same zeal as Beth Phoenix.
Beth Phoenix is a professional wrestler and color commentator from the United States. She is a three-time WWE Women's Champion and a former WWE Divas Champion.
Phoenix knew her calling as a young girl while watching WWE with her grandmother on weekend mornings was to crush the competition in pursuit of in-ring glory.
She had already broken ground by high school, becoming the first female member of her varsity wrestling team.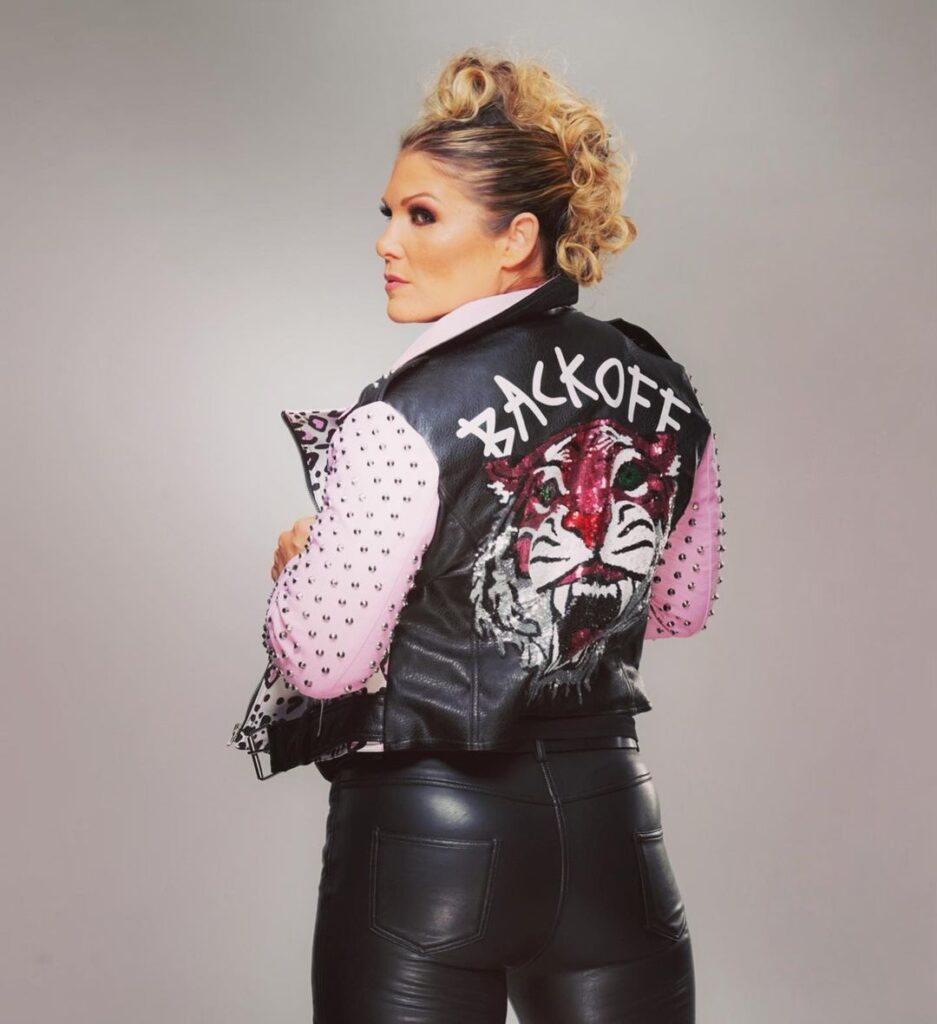 Beth wrestled for several independent promotions after making her debut in May 2001. She also performed at the first Shimmer Women Athletes shows.
In 2004, the wrestler began working for Ohio Valley Wrestling (OVW), and in October 2005, she signed a developmental contract with WWE.
She won the OVW Women's Championship twice while there, though OVW does not officially recognize her second reign.
Let's explore more about Beth Phoenix. But before getting into details, we will look at the quick facts about her.
Quick Facts
Full Name
Elizabeth Kociański
Birth Date
November 24, 1980
Birth Place
Elmira, New York, U.S
Residence
Elmira, New York, U.S
Nationality
American
Education
Canisius College, Notre Dame High School
Zodiac Sign
Saggitarius
Father's Name
Not Available
Mother's Name
Not Available
Siblings
Not Available
Age
42 years old
Height
5 feet 6 inches
Weight
62 kg
Ring Names

Beth Phoenix
Fabulous Firebird
Firebird
Phoenix

Profession
Professional wrestler
Billed From
Buffalo, New York
Debut
May 2001
Net Worth
$4 million
Marital Status
Married
Husband
Edge
Children
2, Ruby Ever Copeland and Lyric Rose Copeland
Salary
Not Available
Social Media
Instagram, Twitter
Merch
Glamazon (Music)
Last Update
May, 2023
Early Life & Family
Polish parents raised Beth Phoenix in Elmira, New York.
Beth Phoenix won a coloring contest when she was eleven years old, and the prize was tickets to a World Wrestling Federation television taping. This is when Kociaski fell in love with professional wrestling.
Her favorite wrestlers include Bret Hart, Sgt. Slaughter, Owen Hart, and Ted DiBiase. Kociaski went to Notre Dame High School in Elmira, where she ran track and played tennis.
In her senior year, Beth was crowned prom queen. Kociaski holds a bachelor's degree in criminal justice and public relations from Canisius College in Buffalo, New York.
While wrestling in OVW, Kociaski also worked as a waitress at Lights Bakery and Coffee Shop, a local restaurant known to Elmira residents.
Early Career
Beth Phoenix began wrestling on the scholastic wrestling team at Notre Dame High School.
Beth was the first female varsity wrestler in the history of the school. In 1999, she won the North-East freestyle women's championship and the New York State Fair Tournament.
The wrestler was also a member of the USA Wrestling, freestyle, and Greco-Roman wrestling organization at the time.
Her life goal was to become a professional wrestler, and she believed having a solid amateur background would help her achieve that goal.
Don't miss out; Naomi "Wrestler" Bio: WWE, Net Worth & Personal Life
Beth Phoenix: Age & Body Measurements
Phoenix is 42 years old and was born on November 24, 1980, in Elmira, New York, United States of America. Every year on November 4, she celebrates her birthday.
Phoenix stands at 5 feet 6 inches tall. She is 68 kg in weight.
Professional Career
Phoenix made her main roster debut as a face on the May 8, 2006, episode of Raw by attacking Mickie James while James was assaulting Trish Stratus.
Following this incident, James chastised Phoenix for "ruining everything" and questioned why she had arrived in the first place.
A week later, Stratus formally introduced Phoenix, who attacked a distracted James on his behalf.
When James finally managed to flee, Phoenix claimed that James had "ruined her life" and that she would not let her get away with it before labeling her a "psycho."
Beth attacked James after her match with Torrie Wilson on the following episode of Raw.
In October, she defeated Michelle to win her first WWE Women's Championship at No Mercy.
On the October 22 episode of Raw, she retained the title in a two-out-of-three falls match in which Candice Michelle was injured by Beth shaking the rope, resulting in her falling off the top turnbuckle and breaking her clavicle.
Injuries
Beth suffered a legitimately fractured mandible during a match with Victoria on the June 5, 2006, episode of Raw but could continue the game and win despite the injury.
Phoenix's jaw was completely severed, and subsequent surgeries rendered a portion of her face permanently paralyzed.
She spent a year recovering from surgeries and getting a titanium plate and nine screws placed in her jaw, but Beth was only out of action for two months because she returned to OVW rather than the main roster.
Phoenix returned to OVW on August 16, 2006, after being injured on the main roster and defeated Serena.
Beth began competing for the OVW Women's Championship regularly, unsuccessfully challenging champion ODB in a battle royal and a four-way match won by Serena.
Also, read about; Levan Saginashvili Bio: Record, Stats & Wrestler
Phoenix joined WWE as a part-time color commentator in 2018, primarily for women's events, from January 16 to April 3, 2018, for the 1st season of the WWE Mixed Match Challenge.
Phoenix served as a commentator for the WWE Women's Tag Team Championship match between defending champions Nia Jax and Tamina and The Boss 'n' Hug Connection (Bayley and Sasha Banks) on March 10, 2019, at the Fastlane pay-per-view.
After their defeat, Jax and Tamina attacked Banks and Bayley; Beth came to their aid, soon joined by Natalya, but Jax and Tamina still overpowered the four.
Beth accompanied Natalya to her match against Jax the next day on Raw, eventually causing a disqualification by attacking Jax.
Full-time NXT Commentator
Phoenix replaced Percy Watson on the NXT commentary team on May 15, 2019, alongside Mauro Ranallo and Nigel McGuinness.
It was her first time as a full-time commentator and her first time commenting on matches that did not involve women.
Her first NXT TakeOver as an announcer was NXT TakeOver: XXV, which took place on June 1, 2019.
She was a member of the commentary team when NXT went live on September 18, 2019, and the show's runtime was increased from 50 minutes to 120 minutes.
Phoenix returned to WWE Day 1 to assist her husband, Edge, in his match against The Miz. The couple then began a feud with The Miz and Maryse, culminating in a mixed tag team match at Royal Rumble, which the former won.
Media Appearances
Phoenix, Candice Michelle, and Layla El were featured in the February 2009 issue of FLEX Magazine. Phoenix has made an appearance in nine WWE video games.
She debuted in WWE SmackDown vs. Raw 2009 and has since appeared in WWE SmackDown vs. Raw 2011.
In addition, she has also appeared in WWE SmackDown vs. Raw 2010, WWE '12, WWE '13, WWE 2018, WWE 2019, WWE 2020, and WWE 2K Battlegrounds.
On November 9, 2021, Beth announced that her debut EP, Stone Rose & Bone, would be available on all streaming platforms on November 12, 2021.
Beth Phoenix: Retirement
Phoenix officially retired from wrestling in 2012, but she has made a few cameo appearances.
The Hall of Famer has competed in two Royal Rumble matches and a couple of tag team matches, an eight-person tag match in 2019, followed by a failed attempt to win the Women's Tag Team Championship with Natalya six days later at WrestleMania 35.
Add Phoenix's NXT statement to the mix, and many people are convinced the former Divas Champion is getting ready to wrestle again.
Phoenix revealed that she had been cleared and had discussions about a possible return to the ring.
Who is Beth Phoenix's husband?
Edge and Beth Phoenix have long been regarded as one of WWE's power couples. They will compete as a tag team for the first time at the Royal Rumble, eleven years after they began dating.
Edge and Beth Phoenix have two daughters, Lyric Rose Copeland and Ruby Ever Copeland, who were both born before the couple married. Ruby was born in late May 2016, while Lyric was born in 2013.
Marriage
On Edge's 43rd birthday, October 30, 2016, the couple tied the knot and became husband and wife.
Edge was married for the third time, and Beth Phoenix was married for the second time. The pair has been married for more than five years.
Their romance began in 2010 after Phoenix's divorce from former WWE star Joey Knight was finalized.
Edge thanked Beth Phoenix in his Hall of Fame speech in 2011, and six years later, Beth Phoenix joined him, making them the first couple to be inducted into the Hall of Fame together.
Things have changed dramatically for the couple since their marriage. Edge made his iconic return to the 2020 Royal Rumble after retiring prematurely in 2011.
Edge has been a huge success story since his return. He played high-level matches, won the Royal Rumble once more, and appeared in his second WrestleMania main event.
What Is Beth Phoenix Net Worth?
Beth Phoenix's net worth will be around $4 million in 2022. This includes her property, money, and earnings.
Her primary source of income is her wrestling career. Phoenix has amassed a fortune through her various sources of income, but she prefers to live a modest lifestyle.
As a color commentator for WWE's black and gold brand, NXT, she earns $300,000 per year.
She held the WWE Divas Championship once and the WWE Women's Championship three times during her time in the WWE.
In 2017, Beth Phoenix became the WWE Hall of Fame's youngest inductee. The WWE signed her to a Legends contract.
In 2018, Phoenix competed in the women's Royal Rumble match, becoming the first wrestler to compete in both the men's and women's matches.
Achievements
Phoenix received the "Slammy Award" for Diva of the Year on December 8, 2008. On February 27, 2017, WWE announced that Phoenix would be inducted into the WWE Hall of Fame as part of the 2017 class.
Her induction made her the first female inducted within five years of her retirement, and she and her husband, Edge, were the first real-life couple to be placed.
Phoenix lost the title to Victoria Crawford during her reign, only to reclaim it later; OVW does not officially recognize Crawford's reign, so Phoenix is considered to have had a single, uninterrupted power.
The wrestler was also the first woman to be inducted into the George Tragos/Lou Thesz Professional Wrestling Hall of Fame in 2019, which is dedicated to professional wrestlers with an amateur backgrounds.
People also like to read about; The Top Ten Wrestlers of All Time
Social Media Presence
Beth Phoenix is active on various social media platforms. The wrestler uses her social media to connect with her fans and followers.
She often posts pictures giving updates about her life to her fans and followers. Below are the links to her social media;
Frequently Asked Questions (FAQs)
Who is Beth Phoenix to Natalya?
Beth Phoenix and Natalya, also known as The Divas of Doom, are WWE tag teams on the Raw brand. Phoenix and Natalya first worked together in late September 2010, when the latter was Divas Champion and feuding with LayCool.
Why did Beth Phoenix retire?
Phoenix retired and left WWE in October 2012 due to creative dissatisfaction with the treatment of women in WWE. In addition, to focus on her family life with her boyfriend and later husband, Adam Copeland, known in WWE as Edge, with whom she had two daughters.
What is Beth Phoenix's real name?
Phoenix was born Elizabeth Kocianski on November 24, 1980, in Elmira, New York, USA. She is an actress best known for her work on WWE Smackdown!