Levan Saginashvili, nicknamed Georgian Hulk, is a professional Arm wrestler. He is seven times World Arm Wrestling Champion (WAF), six times European Arm-wrestling champion, a Top 8 2019 winner, and the World Cup 2017 winner.
Saakashvili is a versatile Arm-wrestler and competes in both the left and proper Arm categories. Thus, people in Georgia often compare him to Sylvester Stallone.
An Arm-wrestling sport where strength and endurance are everything. Levan has learned to master these techniques to his advantage. Hence he looks forward to dominating the scene in years to come.
Moving on, he defeated his high-ranking Canadian opponent, Devon Larratt, on June 25, 2022, to claim victory in the King of the Table 4 tournament in Dubai.
This article will find more information about the Arm wrestler, including his early life, career, height, marital status, etc.
Also, here are some quick facts about the player before we head further into the details.
Levan Saginashvili | Quick Facts
| | |
| --- | --- |
| Name | Levan Saginashvili |
| Birth Date | 15 September 1988 |
| Birth Place | Georgia |
| Age | 35 Years Old |
| Gender | Male |
| Nickname | Georgian Hulk |
| Zodiac sign | Virgo |
| Chinese Zodiac | Dragon |
| Nationality | Georgian |
| Ethnicity | N/A |
| Build | Athletic |
| Hair Color | Brown |
| Skin | Fair |
| Height | 6'3″/1.91 m/191 cm |
| Weight | 170 kg/370 lb |
| Biceps | 60 cm |
| Forearm | 50 cm |
| Preferred Hand | Right and Left |
| Profession | Arm wrestling |
| Relationship status | Single |
| Social Media | Instagram, Twitter |
| Net Worth | $1 Million |
| Merch | Arm Wrestling e-book |
| Last Update | December 2023 |
Levan Saginashvili | Early Life & Background
Levan Saginashvili was born on September 15, 1988, in Georgia. The Arm-wrestler has been quite secretive regarding his parents and siblings.
Levan was interested in sports from an early age. Hence, he started playing football in the local town of Georgia.
Saginashvili hated going to school but enjoyed studying geography and learning a new language. Levan was only ten years old when he learned Russian.
The Arm-wrestler mostly remained quiet in class and sat rigidly. As a result, the teacher thought he didn't know anything about the Russian language.
Levan didn't have any background in the sport of Arm-wrestling. In short, Levan got into the sport by mistake after joining a gym and being motivated to try it by his trainer.
Later, he started watching YouTube videos and idolized Ronnie Coleman, an American retired bodybuilder.
Levan Saginashvili | Career
Early Steps
Levan Saginashvili began Arm wrestling at 20. Before that, he dreamt of becoming a footballer and played local games in the neighborhood.
However, after his teen years, Saginashvili joined a gym to improve his physical skills. Then, he saw an Arm-wrestling table in the fitness club for the first time.
Levan was noticed by Khutsishvili when he was working out in the gym, who revealed that his hand was ideal for Arm-wrestling.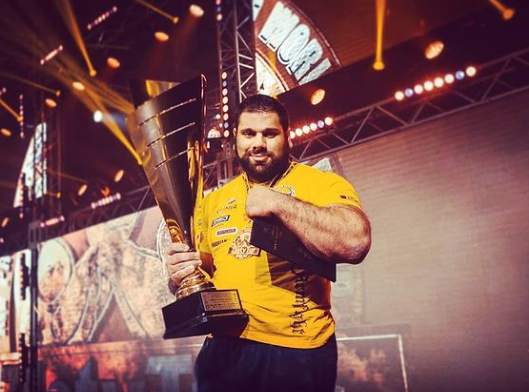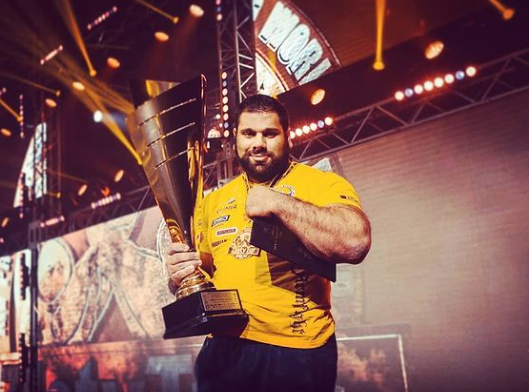 Yet, Saginashvili had second thoughts about the whole Arm-wrestling idea. He had never known about the hobby of sport as a career. Hence, Levan started searching more about Arm-wrestling over the internet.
Later, he decided to try Arm-wrestling since he was troubled with football due to injuries. Also, the coach had instilled faith in Levan when he spoke for the first time.
Rise To The Top & Peak Career
Levan never looked back after his first podium finish. The Arm-wrestler made his debut in 2012 at the Georgian National Arm-wrestling Championship, where he came second in the Left-Hand Senior Men from the 100 kg group.
In 2013, he won the World Police and Fire Games Gold medal in Northern Ireland. Levan was awarded the merit of the first degree by The Ministry of Internal Affairs of Georgia.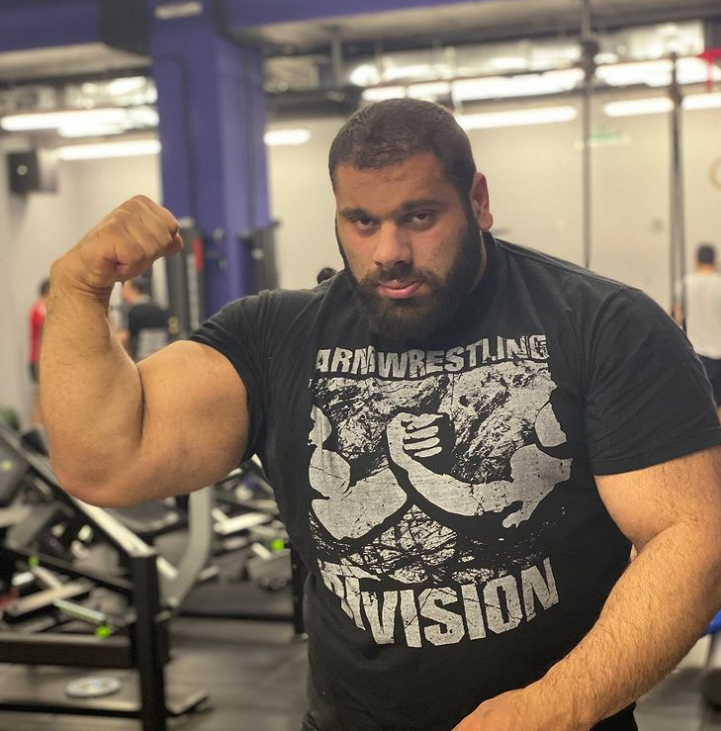 Moreover, Saakashvili won the Georgian National Arm Championship in the 100 kg category and repeated the same result in the 36th World Arm-wrestling Championships (WAF) 2014, held in Vilnius, Lithuania.
Levan completely dominated his rivals, the majority in the recent matches. In 2018, he won against Dmitry Trubin 6-0 at the Vendetta All Stars #50 in Rumia, Poland.
He captured a victory against Russian Arm-wrestler Vitaly Laletin at the 19th international tournament "ZLOTY TUR CUP."
Dominating The Competitions
Levan had a brilliant 2014, winning everything the sport could throw at him. Hence, his biggest priority was continuing the same form in 2015 too.
He produced an impressive performance at the 37th World Arm-wrestling Championships 2015. Saakashvili finished top in the birth hand categories at the event held in Asia.
The Arm-wrestler secured second in the right-hand category for the Senior Men in the 110 kg group. Unfortunately, he lost first place to Genadi Kivikvinia.
But, he redeemed himself by placing first in the left-hand category for the Senior Men in the 110 kg group.
Levan believed that the most challenging part of being at the top was to stay at the top. As a result, he kept working and training hard.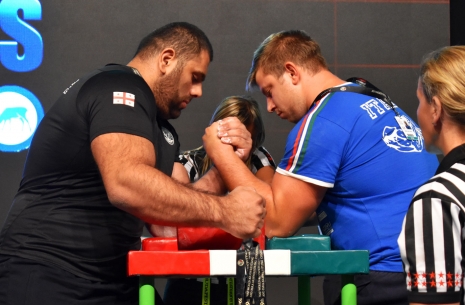 Saakashvili finished fifth in the right-hand category at the 39th World Championships 2017. However, he cruised to a gold medal in the left-hand category for Senior Men in the 110 kg group.
Similarly, Levan completed 2017 with first place in two major events. He secured Gold in XIV Professional World Cup and 17th Zloty Tur 2017. Thus, Levan finished 2017 strong with momentum for 2018.
Saakashvili used the momentum to complete command in 2018. He finished first in both hand categories in the European and World Championships.
Levan Saginashvili | Vendetta
Levan dominated the competitive scene for almost a decade. Thus, he started focusing on more challenging events after 2018. One was called "Vendetta All-Stars #50, " which took place in Poland.
Therefore, he decided to test his abilities in the right Arm category. Levan clean swept the best of six series, winning 6-0 against his rivals Dmitry Trubin.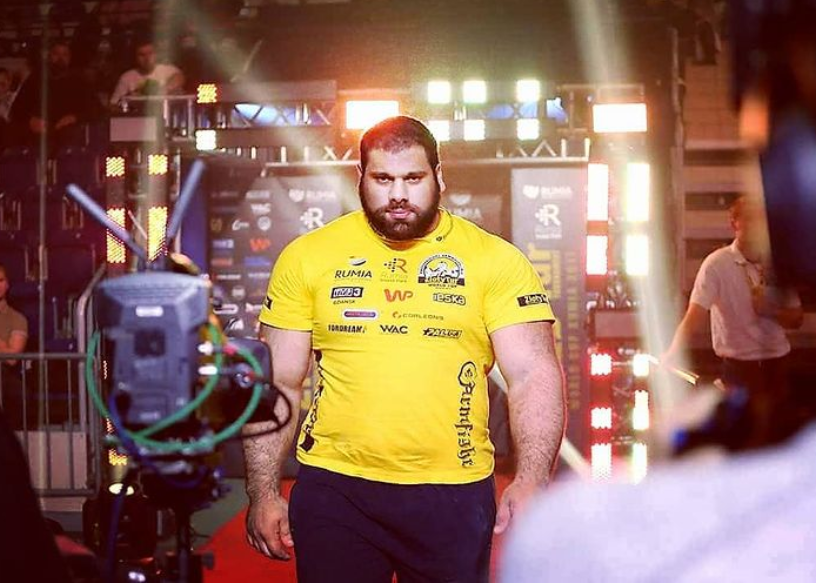 Saginashvili participated in "The Vendetta" 2019, which featured eight best players in different categories. He continued his winning streak after defeating Vitaliy Laletin 6-0.
Devan stood up to any challenge life threw at him. This character sets him apart from other athletes in the same generation.
Levan Saginashvili | Idols And Inspiration
Levan Saginashvili admired John Brzenk as an Arm-wrestler known for his commendable grip strength.
John was the absolute World Champion despite only weighing 100 kg. At the age of 35, he is still competing against the world's best Arm wrestlers.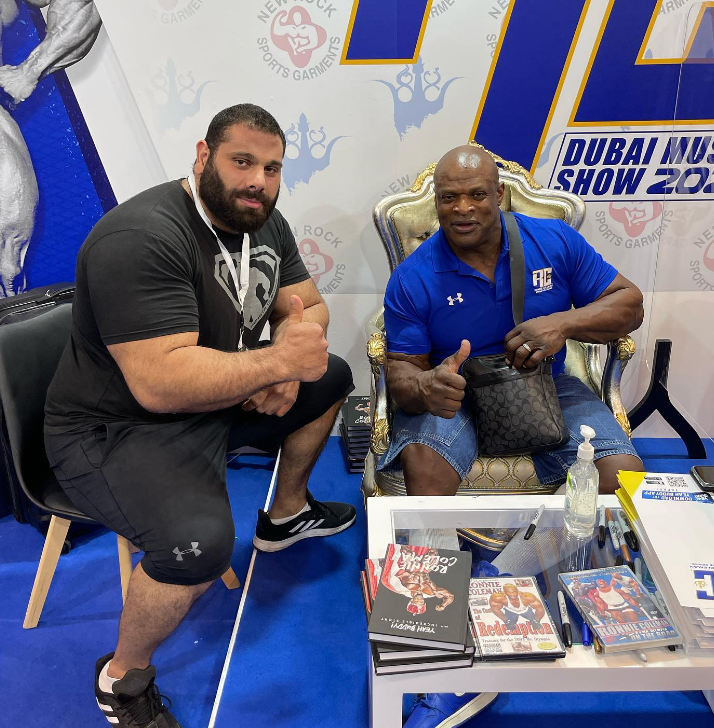 For over 30 years, he has ranked at the top of the world ratings.
Likewise, Levan admired the character John Brzenk showed in sports. Despite being at the top, he was a true gentleman at the table.
Levan Saginashvili | Marital Status
According to several sources, Devan isn't married or in any relationship with anyone. However, it's hard to believe the athlete is single because of his charming personality.
On the other hand, many of his close friends believe he is secretly dating. However, he has avoided public appearances with his girlfriend.
Nonetheless, Devan has made no signs of his possible relationship. There are no photos on Instagram either.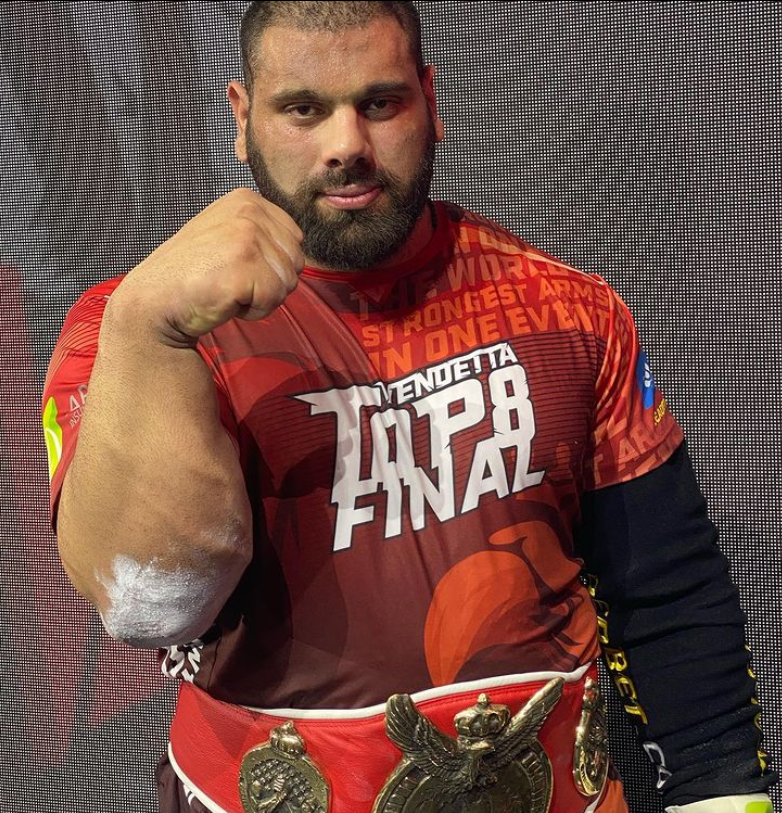 Besides, Devan has always focused on getting better at Arm-wrestling. As a result, he might be dedicated to training rather than getting into love or marriage.
The young Arm-wrestler has maintained the distance between his professional and personal life.
Levan Saginashvili | Age, Height, And Training
Saginashvili achieved immense success in national and international Arm-wrestling tournaments. It is a sport that requires endurance, strength, and power.
Levan has a large build with remarkable flexibility and strength in his hands. Over time, he's gathered various techniques to make his hands stronger.
Similarly, the athlete is tall at 1.91 m and weighs 370 lb. Talking about other body measurements, he has an inhuman Arm size, with a wrist size of over 13 inches.
Levan needed to maintain his weight close to 150 kg/330 lbs to stay fit. Recently, his parents revealed that they were concerned about his growing size.
However, Devan is confident that he wants to stay in his 170s/374s and trains consistently. He has strict workout routines and diet plans to maintain his body.
He has developed himself to be strong and endure anything. As a result, he has Biceps measuring 60 cm and forearms of 50 cm.
Moreover, he is seen with his training partner to ensure that he does all the workouts and training properly.
Levan Saginashvili | Net Worth & Earnings
Levan has been successful in winning national and international tournaments for a decade.
He has won the World Arm-wrestling Championship seven times, the European Arm-wrestling Championship six times, the Top 8 in 2019, and the World Cup in 2017.
Not to mention, his latest career achievements are four straight clean sweeps of "The Vendetta."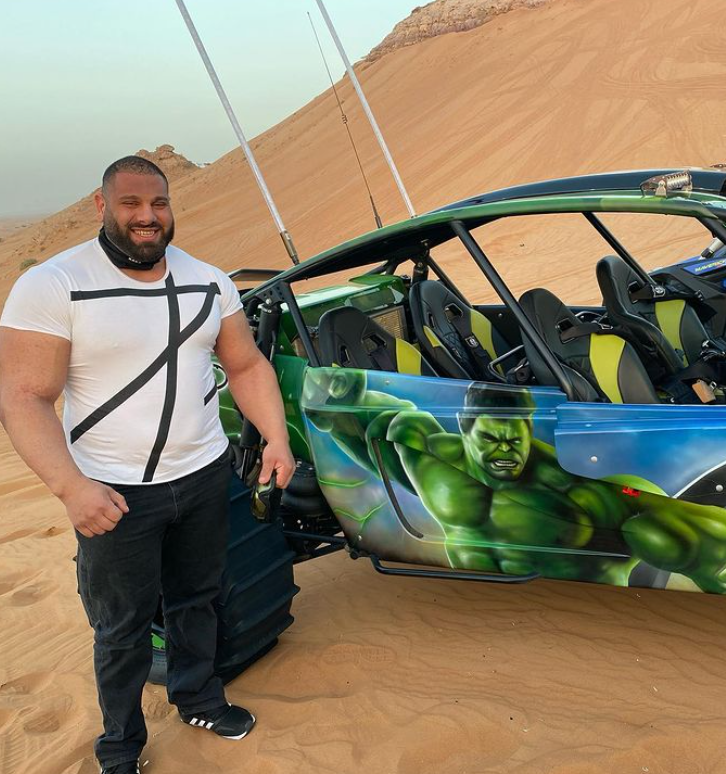 Therefore, we can assume that Levan has gathered sizable earnings from the prize pool of these competitions. However, there are no exact details on his net worth and salary.
Research says that the average prize pool for Arm-wrestling has ranged per year. It was around $5,000 in the 2000s and raised to $100,000 in 2014.
So, we can assume that Devan made a similar amount in that range. His net worth in 2023 is $1 million.
Levan Saginashvili | Social Media
The professional Arm-wrestler is only active on Instagram. His social media post includes pictures from national and international Arm-wrestling events.
Instagram: 149k Followers
View this post on Instagram
Levan Saginashvili | Popularity
Saginashvili is a renowned Arm-wrestler who has won the World Arm Wrestling Champion (WAF) seven times and the European Arm-wrestling champion six times.
The graph shows his search trend for 12 months.
Levan Saginashvili | Frequently Asked Questions(FAQs)
Does Levan Saginashvili love cooking?
Despite appearing in a cooking show, Levan cannot and hates cooking. However, his mom still cooks for him to this day.
What does Levan intend to do with the prize money from "Vendetta"?
Levan wants to buy a small apartment in Tbilisi with the Top-8 prize money.
Has Levan appeared in movies?
Levan is not a professional actor. However, he has played for one of the popular Netflix shows, Extraction 2.
Has Saginashvili ever fought against Larry Wheels?
Saakashvili has not fought with Larry Wheels yet.
What is the grip strength of Levan?
Levan can curl with 110 lb dumbbells, incline press with 176 lb dumbbells, bench press 485 lb, and squat and deadlift 705 lb.