The Serbian volleyball player Bianka Busa has one younger brother named Boris Busa. Both the siblings have a close bond and are the biggest cheerleaders of each other.
Bianka and her brother not only share the same family blood, but they also are in the same profession. Boris is also a professional volleyball player.
Both siblings are blessed with one of the best and most supportive parents, who have been with them in every ups and downs of their life.
Reflecting upon Bianka's achievements so far, she is regarded as one of the most prominent players. She has represented her home country in numerous championships to date.
For instance, the wing spiker has competed at the Women's European Volleyball Championship (2015,2017), the 2016 Summer Olympics, and more.
Also, Bianka has a record of winning gold medals in the 2018 FIVB Volleyball Women's World Championship and other competitions.
Likewise, Bianka's brother has also made many records in his profession. Like his sister, he has also established himself as one of the best male players for the volleyball team in his home country.
The Serbian volleyball player is not the only child of her parents. She has a younger brother named Boris Busa.
Bianka Busa Brother Boris Busa
Boris was born on 25 April 1997 in Serbia and is currently 26 years old. His birth sign is Taurus.
Bianka's brother stands tall at 6 feet and 6 inches (2 meters), which is an advantage for a volleyball player.
Boris has played volleyball for many teams to date. He started his career playing for Partizan Belgrade. Then, he played for Mladi Radnik Požarevac and then for Vojvodina Novi Sad.
The player played for the Croatian team HAOK Mladost Zagreb before joining the Swiss team Lindaren Volley Amriswil in the 2022/2023 season.
Who Is Boris Busa Dating?
Bianka's younger brother, Boris, is in a romantic relationship with Mika Grbavica. Mika and Boris have been dating for a long time, as per the impression of their social media post.
The couple frequently shares travel pictures on their respective Instagram.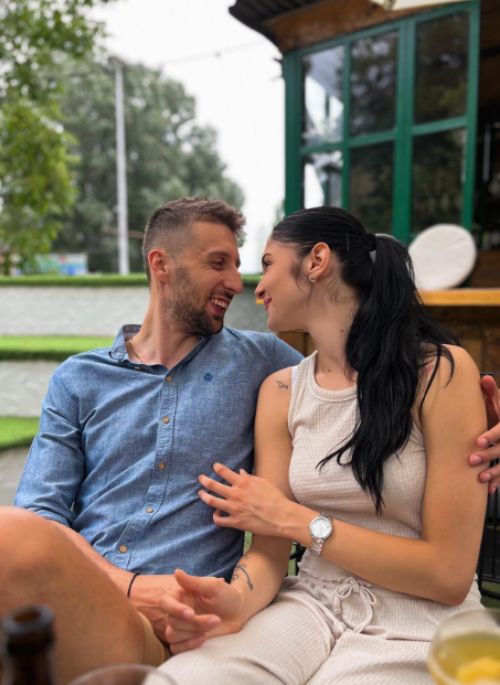 Just like Boris, his girlfriend, Mika, is also a professional volleyball player. She plays as an opposite hitter for German club Dresdner SC.
Mika,20, also plays for the Croatia National team. Due to her recent contributions to the team, many predict her to be a big name in volleyball in the coming years.
Bianka And Boris: Age Gap And Family Tree
Bianka was born on 25 July 1994, and her brother was born on April 25, 1997. Therefore, the two have an age gap of 3 years.
Despite the age gap, Bianka and Boris are more like friends than siblings. Audiences even confuse them for boyfriend and girlfriend.
Bianka has shared many pictures with her brother, Boris, on her Instagram handle.
Looking at their bond and love, it is evident that their father and mother raised them in a peaceful and loving environment.
Unfortunately, there is no information regarding the Busa siblings' parents.