American former professional football inside linebacker Blake Martinez is the eldest son of his parents, Marc and Carissa Martinez. He has two younger siblings: a brother and a sister.
Blake's father, Marc, encouraged him to play football from an early age while his mother provided all the support and encouragement he needed.
Recently, the former NFL player has been barred from the marketplace app Whatnot following accusations that his business engaged in fraud.
Martinez had previously left the league, after seven seasons to focus only on selling Pokémon cards.
The former professional American football player Blake Edmon Martinez started his college career with Stanford Cardinal in 2012. Later, his professional career began in December 2015 when he got accepted in the Senior Bowl.
The same year, he made it into the NFL draft with the Green Bay Packers. There he made six come-back tackles in his regular-season debut.
Moreover, the inside linebacker signed a three-year contract with the New York Giants in 2020.
However, after an ACL injury, he signed up for the practice squad of the Las Vegas Raiders in October 2022.
Suddenly, the 29-year-old took early retirement from professional football after seven seasons in 2022.
Blake Martinez Parents: Marc And Carrisa
Blake Martinez was born and raised in Tucson, Arizona, to his parents, father Marc and mother Carrisa Kiki.
The mother of Blake, Carrisa, is in the real estate business. She is a real estate agent at Russ Lyon Sotheby's International Realty in Arizona.
Kiki attended Sabino High School and later graduated from the University of Arizona. Mrs. Martinez is active on Instagram, however, has kept the account private.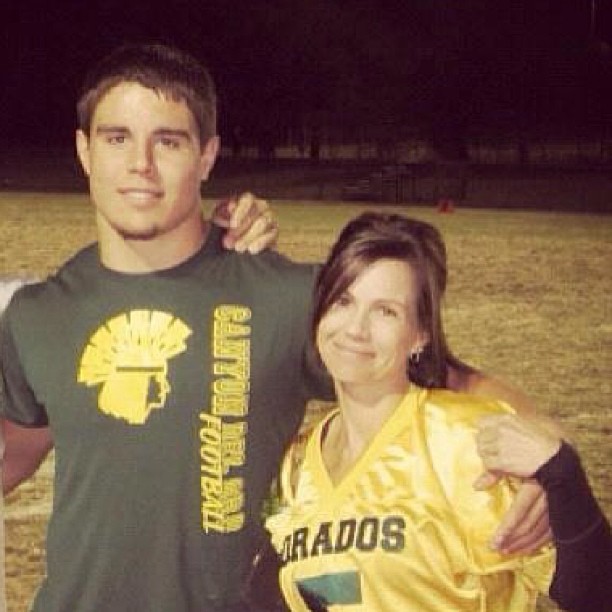 Moreover, Blake's father, Marc, was a big-time football player in high school. Later, he tore his knee in his senior year, which backed him from joining football as a profession.
However, Mark instilled his dream in his elder child. Initially, the former NFL star was into soccer, but as he grew older, his father's influence with American football slowly nudged him into the sport.
"I played soccer as well, and I really like soccer," Martinez said in an interview. "And that was like my main thing that I love to play. I love to play pick up stuff whether at recess or with my buddies." He added.
Blake Martinez: More On His Scamming Scandal
Martinez had just signed a contract with the Las Vegas Raiders before he decided to retire and devote himself entirely to Pokémon cards.
He reportedly had sold a rare Pokemon card that lured him into the business.
How It Started
The former linebacker started Blakesbreaks, a business with 20 employees that streamed live footage of its workers opening packs of trading cards for 16 hours per day.
Martinez's business reported total sales of more than $11 million.
"Every single day when I wake up, my shoulder doesn't hurt, and my back doesn't hurt anymore." Martinez talked about having no regrets about changing professions.
"When all that hurts are my fingers from opening, like, 1,000 packs of cards per day, I think, 'I'm going to keep doing this.'" He added.
The Accusation
Martinez and his business, however, came under criticism after a well-known YouTuber, Rattle Pokémon, published an eight-part series in which he allegedly accused Martinez and his staff of fraud.
Moreover, multiple individuals have made a number of posts on various social media sites alleging that Blakesbreaks has been deftly defrauding many of its clients.
In April, a former Whatnot vendor asked for help, alleging that Blake's Whatnot channel had taken cards out of his order that he had pulled live on stream.
However, Martinez acknowledged that the "optics" of one of his team's card breaks did not seem good. But he did not confess to breaking any rules.
Following the comprehensive investigations, Walnot has permanently banned Martinez, Blakesbreaks, and its employees from their platform.