Merril Hoge, a former professional football player, played in the National Football League for almost a decade. The Pittsburgh Steelers drafted him in the 10th round of the 1987 NFL Draft.
Aside from the Steelers, he has played for the Chicago Bears. The former footballer also serves as a head coach at Your Call Football (YCF) until 2020.
YCF was an interactive competition that allowed fans to call plays in real-time games where former NFL and CFL players competed. The participants live-stream the games while voting for plays on their smartphones.
It was formed in 2017, and Hoge has been with them since. However, since YCF's parent company moved to other sports, the competition was not hosted in 2020.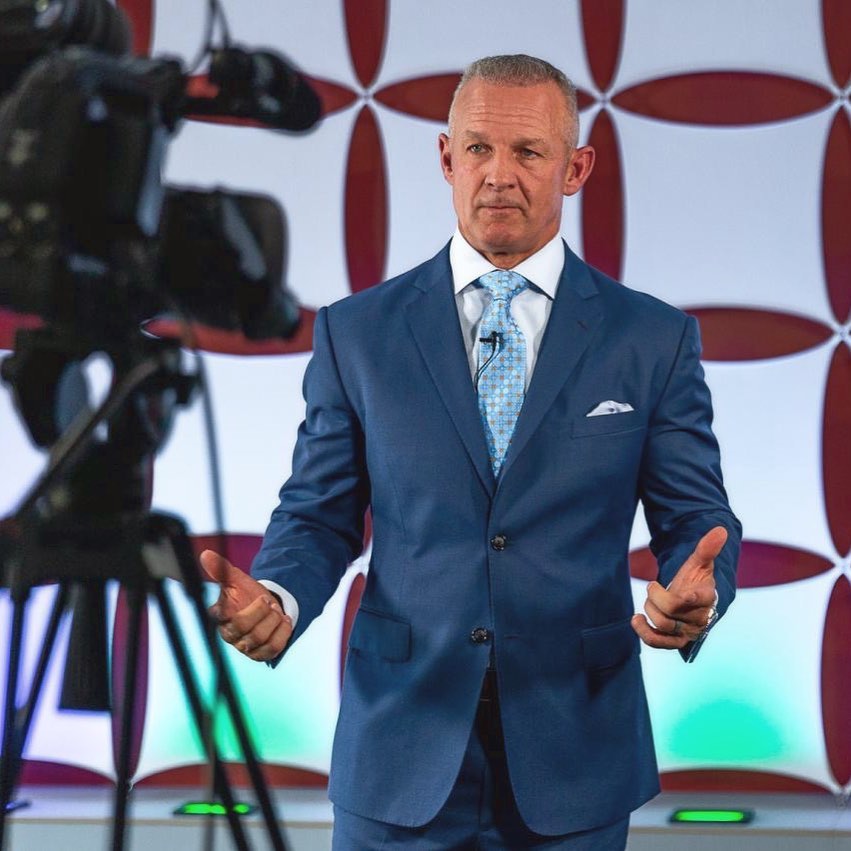 Besides that, the former NFL player worked with ESPN from 1996 to 2017. He served as a football analyst before the network laid him off in 2017.
Furthermore, in 2003, the running back was diagnosed with stage II blood cancer after complaining about recurring back pain. Following his diagnosis, he underwent chemotherapy for six months.
The former athlete put on a brave face and a positive attitude throughout the treatment. He never lost hope and even called his cancer a blessing as he would come out of it a powerful man.
Before getting into details about the former Steelers running back's life and career, here are some quick facts about him.
Quick Facts
Full Name
Merril DuAine Hoge
Birth Date
January 26, 1965
Birth Place
Pocatello, Idaho, the United States
Nick Name
Hogie
Religion
Christian
Nationality
American
Ethnicity
White
Education
Idaho State University
Horoscope
Aquarius
Father's Name
George M. Hoge
Mother's Name
Sharon Hoge
Siblings
Not Available
Age
58 years old
Height
6'2″ (1.88 m)
Weight
225 lb (102 kg)
Hair Color
Light Brown
Eye Color
Blue
Build
Athletic
Profession
Former NFL Player, Analyst & Head Coach
Former Teams
Pittsburgh Steelers, Chicago Bears
Position
Running Back
Active Years
1987 – 1994
Marital Status
Divorced
Ex-Wife
Toni Hoge
Kids
Two; Kori and Beau Hoge
Net Worth
$6 million
Social Media
Instagram, Twitter
Merchandise
Rookie Card,

1992 Topps Gold Card

Jersey Number
33
Last Updated
April, 2023
Merril Hoge | Early Life, Family, And Education
Merril Hoge was born in Pocatello, Idaho, the United States. His parents are George M. Hoge and Sharon Hoge.
The former athlete grew up in a relatively normal home with loving and caring parents. The footballer's mother and father were very supportive of his career.
They always encouraged him to dream big and never give up. As a result, Merril was fond of football from a young age and started his practice early on in life.
Hoge attended Highland High School and played high school football for them. He was an exceptional player for the school's team.
After graduation, he chose to stay in his hometown and attend the Idaho State University. During his collegiate career, the running back's mother passed away. He was only 19 years old then.
Although he was devastated, he knew his mother would want him to continue with his life and football. So he played four seasons for the Idaho State Bengals before moving on to the NFL.
Learn More About Former Steeler's Tight End, Vance McDonald Bio: Wife, Net Worth, Injury, Covid & Steelers >>
Merril Hoge | Age, Height, And Weight
Since the running back was born on January 26, 1965, he is 58 years old as of April, 2023. As a former athlete, Hoge takes great care of his health and diet.
Similarly, he works out often and is very ripped in his mid-50s. Despite his diagnosis and heart surgery, he is quite fit and has a toned physique.
Besides that, he is 6 ft 2 in (1.88 m) tall and weighs 212 lb (96 kg). Likewise, his overall look is incomplete without his light brown hair color and blue color eye.
Merril Hoge | Football And Broadcasting Career
College Career
Hoge played collegiate football for the Idaho State Bengals. The exceptional running back was a three-time all-conference selection.
Moreover, he made an NCAA record in 1985 after recording 2,113 all-purpose yards and 192.1 average per game. Moreover, Hoge's college stats include a record of 5,453 all-purpose yards and 31 touchdowns.
Hoge graduated with a major in Education and a minor in Health and Fitness before entering the NFL draft.
NFL Career
The Pittsburgh Steelers drafted the running back in the 10th round of the 1987 NFL Draft. He was the 261st pick overall.
Hoge played for the team from 1987 to 1993 before moving on to the Chicago Bears. However, after suffering life-threatening concussions, the footballer was forced to retire.
TV Career
After he retired from NFL, he served as a football analyst for ESPN in 1996. After a long career with the network, he was laid off in 2017.
Thereafter, he became the head coach for Your Call Football and former NFL coach Mike Sherman.
You Might Be Interested In ESPN Sports Analyst Kirk Herbstreit Bio: NFL, College, Wife, ESPN & Net Worth >>
Concussion, Surgery, And Cancer Treatment
Concussion
In 1994, Merril suffered a concussion in a pre-season game while playing for the Bears. The team's doctor cleared him to play five days later on a telephone call.
He did not re-examine the football player, who still had post-concussion symptoms. A month later, he suffered another concussion in a game against the Buffalo Bills, which proved to be very severe and dangerous.
Here watch Merril Hoge Discusses The Bad Science Behind CTE >>
Hoge blacked out, had to be resuscitated as he stopped breathing, and underwent a brief cardiac arrest. Moreover, he was kept in the intensive care unit for 48 hours.
After waking up, he did not even recognize his wife and had no recollection of his then 14-month-old daughter.
Likewise, he suffered from many post-concussion symptoms like memory loss, confusion, brain fog, and headaches.
He sued the Bears' doctor for allowing him to go back in the field without proper re-examination.
Surgery And Cancer
Aside from that, in 2002, the ESPN analyst was in a car accident where he hurt his shoulder. As a result, Merril had to undergo surgery to repair a torn ligament.
While visiting his doctor for a six-month examination of his torn ligament, he told his doctor about a recurring back pain bothering him a lot.
Hence, the doctors ordered some tests to determine the root of the problem. During the process, they diagnosed Merril with stage II Non-Hodgkin lymphoma.
Thereafter, he underwent chemotherapy, and the doctors gave him a 75-80% chance of prolonged remission.
Currently, he helps many other people going through cancer and helps raise money for charities that benefit cancer patients.
Merril Hoge | Girlfriend, Marriage, Wife, And Kids
Merril Hoge is married, but he has kept his wife's details very covert. Although he has shared very few photos of her on Instagram, he has never mentioned her by her name or even tagged her.
Hence, information regarding their first meeting and marriage is minimal. Nevertheless, the two seem very much in love and happy.
They do not have any kids together. However, Merril has two children from his previous marriage with Toni Hoge.
Their names are Beau and Kori. Both of them are happily married and well settled in their lives. Moreover, Kori has four kids of her own.
Beau played collegiate football for the BYU Cougars before retiring from football. On the other hand, Kori is a professional photographer.
Don't Forget To Check Out NFL Running Back Le'Veon Bell: Family, Early Life, Career & Stats >>
Merril Hoge | Net Worth, Salary & Earnings
There is self-evidence that Hoge earns quite a satisfying amount of money from his professional career. The former running back has earned most of his wealth through his National Football League and broadcasting career.
Hoge's net worth is estimated at $6 million. Likewise, Merril reportedly earns $2.5 million in salary per year.
Besides that, he served as the head coach of Your Call Football, which paid him a hefty amount.
He is the author of two very successful books, namely Brainwashed: The Bad Science Behind CTE and the Plot to Destroy Football and Find a Way: Three Words that Changed My Life.
Besides that, the cancer survivor is invited to different events to share his motivational story. Furthermore, he won a $1.55 million in court settlement after suing the Bears' doctor.
Moreover, he earns his fair share through endorsements and sponsorships. In conclusion, he lived a comfortable and lavish life.
You might be interested: Thea Andrews Bio: ESPN, Jay Wolf & Net Worth
Merril Hoge | Social Media Presence
Instagram: 11.4k Followers
Twitter:157.4k Followers
Merril Hoge | FAQs
Is Merril Hoge in the Hall of Fame?
No, the running back is not inducted into the Hall of Fame. Nevertheless, he is considered a great NFL player and a strong Steelers' alumni.
What happened to Beau Hoge?
Beau decided to end his football career following an undisclosed injury. Initially, he was coming up with a plan to play.
However, Merril announced recently that his son has retired and moved on from the football game. Furthermore, he will be focusing on getting his MBA at BYU.
When did Merril Hoge play for the Steelers?
Hoge played for the Steelers from 1987 to 1993.
What happened to Merril Hoge?
Hoge suffered from non-Hodgkin's lymphoma illness in 2003. With the illness, he had to miss several games of the Pittsburgh Steelers.
Has Hoge played for Super Bowl Championship?
Hoge has not played for the Super Bowl Championship.
Did Hoge play for Mid Penn Bank Celebrity Golf Tournament?
Hoge plays for Mid Penn Bank Celebrity Golf Tournament on July 10th and 11th 2019 at Hershey Country Club. The tournament will benefit two amazing charities, PA Breast Cancer & the Breast Cancer Research Foundation.
How is Merril Hoge creates his tie knot?
Hoge wears enormous necktie knots. Generally, he wears large necktie knots.