Will Carlos Sainz be able to make his first 2023 podium finish? While he hits the track, his fans are more curious about who his sister is.
Carlos Sainz Vázquez de Castro was born on September 1st, 1994, in Madrid, Spain. He also goes by the names Carlos Sainz Jr.
He currently drives for Scuderia Ferrari in the Formula One championship along with his teammate Charles Leclerc.
Sainz's career as a driver dates all the way back to his childhood when he initially drove GoKarts.
The driver later started moving up to the ranks of Formula BMW, GP3, and now Formula 1.
Even though considered a number 2 driver for the Ferrari, Sainz has shown his amazing prowess as a driver. He is constantly proving that he should not be underestimated.
Other than motor racing, the driver loves soccer and can be seen golfing and also skiing.
In May 2023, ahead of the Monaco GP, he injured his upper right leg during a charity football game, but the injury was not serious.
The street track of Monaco is considered to be one of the most difficult tracks in motorsports, where overtakes are very rarely seen.
It's high time for the Ferrari drivers to prove their worth, and Monaco GP could be the one for the Spanish driver.
Who Is Blanca Sainz Vazquez?
Blanca Sainz Vazquez is the eldest among the Sainz siblings. The Spaniard driver is the middle child and he also has a younger sister Ana Sainz who recently got married.
Carlos' sister, Blanca Sainz, who is one year older than him, is serving as a General Manager of the David Lloyd Serrano since September 2022.
She seems to be a very hardworking woman as she has worked at Reebok Sports Club and Tracy Anderson Method, to name a few.
Blanca is a perfect example of beauty with brains as she has a double bachelor's degree.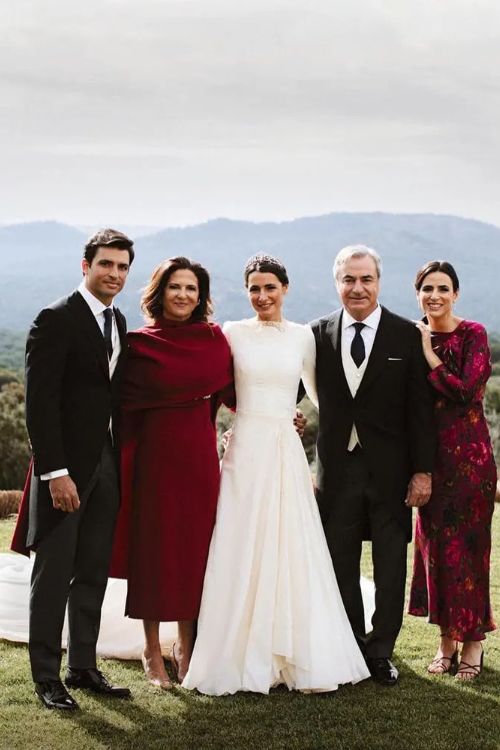 She got her BA in European Business, Finance, and General from Universidad Pontificia Comillas.
Similarly, her second degree was in International Business from Northeastern University. She was done with both of her bachelor's degree by 2015.
Blanca is reportedly getting married on June 9 this year at her father's farm in Cebreros, Avila. Her younger brother, Ana also tied the knot to Rodrigo Fontcuberto in the same place.
Meet Carlos Sainz Father: Carlos Sainz Sr.
The formula 1 racing driver was born to Carlos Sainz Sr. and Reyes Vázquez de Castro Sainz.
The pair shares three children together; two daughters and one son.
Sainz Sr. is a former Spanish rally driver, who won World Rally Championship drivers' title with Toyota in 1990 and 1992.
In Formula Ford, he experienced his first taste of motorsport while continuing to play football and squash.
Sainz Sr. was a law student but did not finish his studies and pursued his interest in motorsport.
During his professional career, he drove for Ford, Toyota, Lancia, Subaru and Citroen.