Bodybuilder John Brown is a proud husband to wife Miriam and father to three, who has continued to develop a business in the same field.
He currently runs "Cane Protein," a healthy diet for any athlete, along with his sons.
Father of Amon-Ra St. Brown, an American football wide receiver for the Detroit Lions, is a bodybuilding legend.
He became a world champion bodybuilder, dominating his sport and securing victory in every available title.
However, despite winning the Mr. World title three times and being crowned Mr. Universe twice (in 1981 and 1982), John Brown did not receive the fame and recognition he deserved, eventually fading into obscurity.
Nevertheless, his legacy lives on through his three sons, each of whom inherited his athletic prowess and has succeeded as an American football player.
Setting them apart even more on the field are their distinctive names and upbringing.
Named after Egyptian gods, his sons, Equanimeous Tristan Imhotep, Osiris Adrian Amon-Ra, and Amon-Ra Julian Heru, are making him proud.
Son Equanimeous plays for the Chicago Bears in the NFL, while Osiris plays college football at Stanford.
John Brown's Wife, Miriam Brown
Miriam Brown hails from Germany and first encounters John at a Cologne fitness trade show.
They eventually fell in love, married, and started their family. They gave birth to three children and raised them to be better versions of themselves.
The fact that German is Miriam's native language played a crucial role in her children growing up bilingual and becoming proficient in German.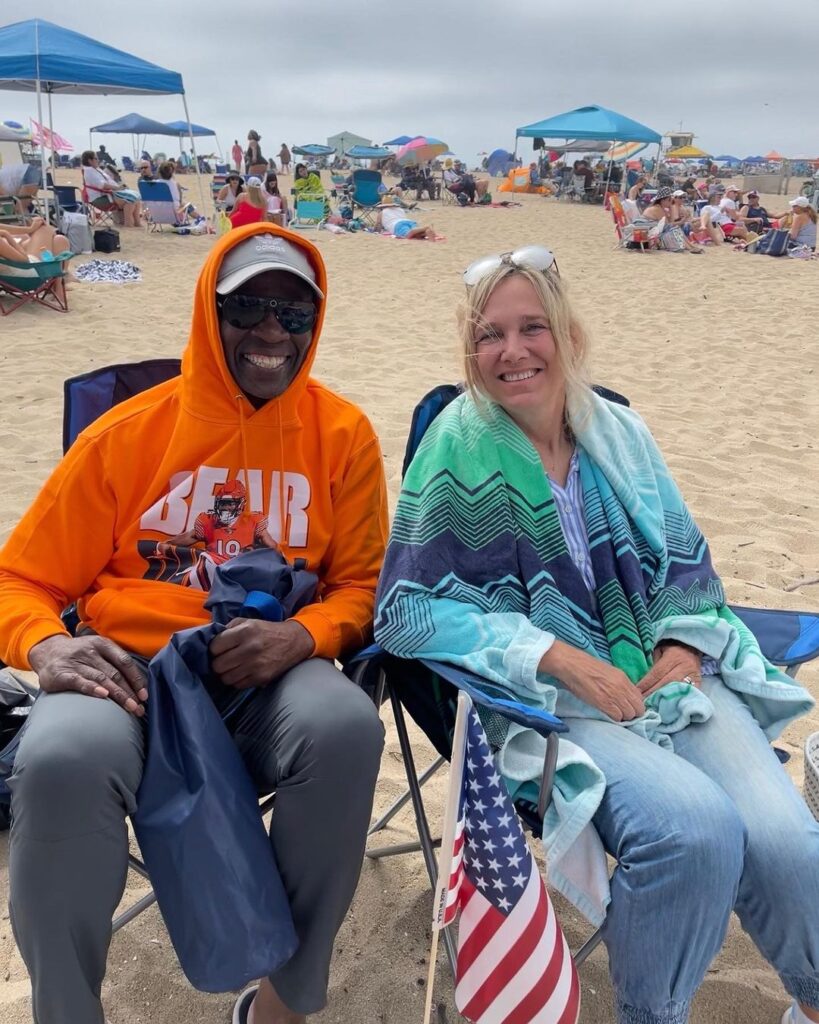 Unlike her husband, she emphasized education and language mastery, so she enrolled their children at the Lycee International de Los Angeles, where they acquired fluency in French.
Miriam is active on social media, especially Instagram, where she shares pictures of her family and lifestyle with h000 followers.
John Brown Age: How Old Is The Bodybuilder?
The details regarding his birthdate are unknown, but he celebrates his birthday on February 17 and is believed to be over 60 years old.
Struggle For Success
Raised in the notoriously brutal and violent Los Angeles suburb of Compton, John Brown initially focused on American football, taking up weightlifting at 14 to enhance his performance on the field.
His interest in weightlifting sparked at 14 when inspired by his love for comic books, he aspired to attain the impressive physique of the superheroes he admired.
At 16, he entered the Mr. Watts contest, which lacked age divisions, pitting him against adult competitors.
Remarkably, he secured 3rd place in the contest, surpassing seasoned men who had been involved in the sport for years.
Following this achievement, Brown wholeheartedly committed himself to weightlifting.
Facing limited equipment, he resourcefully crafted a wooden bench press and gathered unused weights from his community.
His self-education on muscle-building techniques involved avidly reading muscle magazines.
Despite challenges, he incorporated workouts at Compton Community College into his routine.
Shortly after, he rose to prominence within the local circuit and subsequently advanced to compete at the state and regional levels.