Who is Brandon Lowe brother? Is he related to Nathaniel Lowe? Fans of the MLB player are curious to find out about his personal relationship.
Brandon Norman Lowe, an American baseball player, was born on July 6, 1994, in Newport News, Virginia.
He is a professional baseball second baseman for the Tampa Bay Rays of Major League Baseball (MLB).
Lowe was drafted by the Tampa Bay Rays in the third round of the draft, and, despite a prior injury, he made his debut in 2016 with the Bowling Green Hot Rods.
He finished the season with a batting average of .248, five home runs, and 42 RBIs in 107 games.
The player was eventually promoted to the major league's Tampa Bay Rays and got his first big league hit on August 15, 2018, followed by his first career home run on August 28.
In his debut season, Lowe played primarily at second base but also appeared in 15 games in the outfield.
On March 20, 2019, Lowe extended his contract with the Rays for six years and achieved the first multi-homer game against Toronto Blue Jays.
A few months later, Lowe was named as a reserve for 2019 a few months later Major League Baseball All-Star Game, marking his first All-Star appearance.
Is Brandon Lowe Related To Nathaniel Lowe?
Many fans may be confused and think that Brandon Lowe and Nathaniel Lowe are brothers, but in reality, they are not brothers and are not even related to each other.
Although they share the same surname and both play in the MLB, Brandon, and Nathaniel Lowe are not related.
Nathaniel is a first baseman for the Texas Rangers of Major and was born on July 7, 1995.
He was selected in the 13th round, with the 390th overall selection, of the 2016 MLB draft.
He eventually made his professional debut with the Hudson Valley Renegades of the Class A Short Season New York-Penn League.
Nathaniel grew up with his brother Josh Lowe to their parents, Wendy and David Lowe, in Norfolk, Virginia, U.S.
On the other hand, Brandon Lowe grew up with his older sister Breanne Lowe, raised by their parents, Tom and Caron Lowe.
Hence, the two players are not related even though they shared the same last name.
Brandon Lowe Wife Madison
The player is currently married to Madison Martin, who was a college softball player for the University of Maryland.
They met while they were both student-athletes at the university and dated for years before getting married.
The couple got engaged on November 2016 and eventually married on late December 2017.
Madison did her master's degree at the University of Maryland, College Park, and is a former collegiate softball player.
Later, she pursued her passion for baking and opened her own bakery shop in June 2020.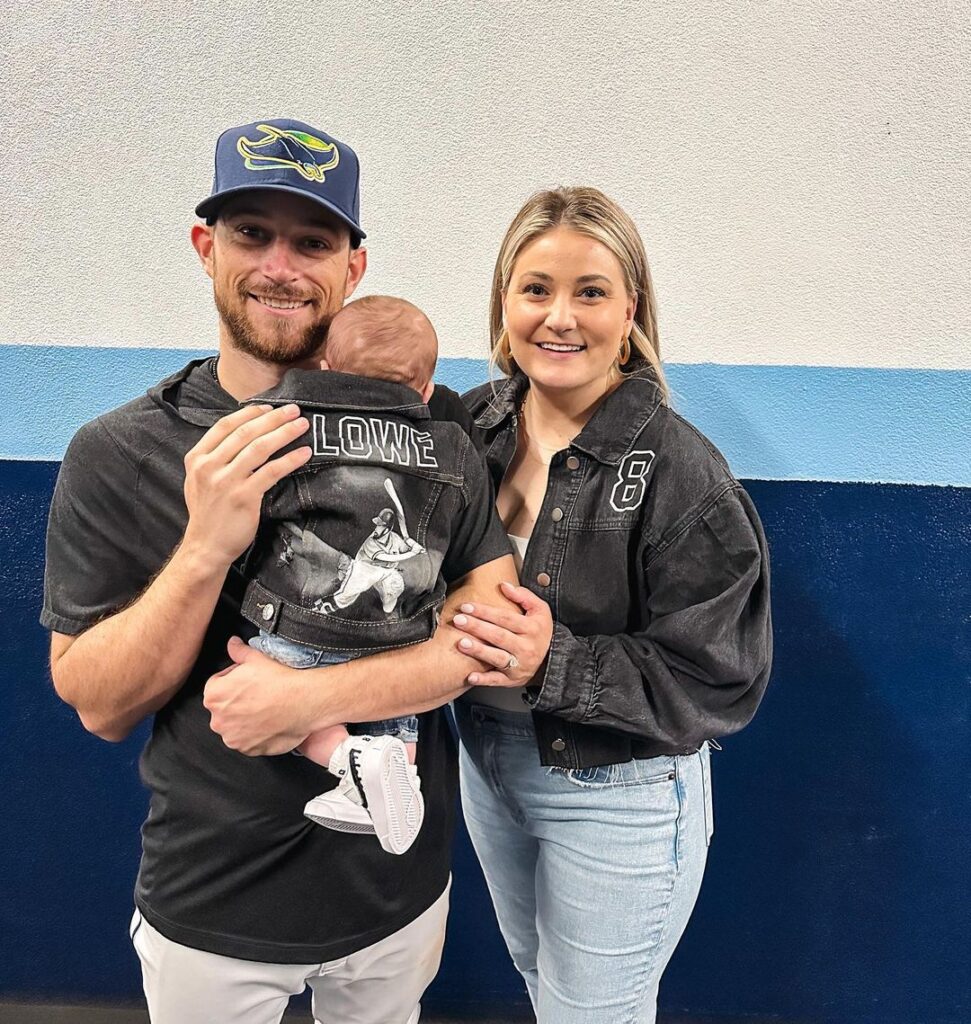 As she shared on her website, Sweet and Lowe Bakery was created after she started posting her desserts on her personal social media account.
As she began to receive more and more requests from friends for orders, she decided to turn her passion for baking into a business.
In June 2020, Sweet and Lowe Bakery was officially launched.
She has mentioned that baking helps her relieve stress and feel relaxed, even during busy and hectic schedules.
Brandon and Madison welcomed their first child Emmett Dean Lowe on January 23, 2023.