Major League Baseball (MLB) has cherished hundreds of legendary figures since its initiation in 1876 in Cincinnati, Ohio, the United States. Figures like Francisco Lindor, Manny Machado, Corey Seager, Noah Syndergaard, and Kris Bryant time have proved themselves as one of the greatest players of all time based on their performances.
Around 30 United States and Canadian teams compete for the MLB title. Out of them, picking up the best of the best is not convenient. So, Who are the best baseball players of all time? You might want to see some of your favorite picks in the following lists.
We have prepared the list of Top 10 Best Baseball Players of All Time who are already retired.
Here Is What We Provide.
Top 10 Best Baseball Players of All Time
10. Roger Clemens
Boston Red Sox, Toronto Blue Jays, New York Yankees, Houston Astros
2x World Series / 1x NL MVP
Starting our list, the number 10 spot is taken by 1986 AL MVP "Rocket" Roger Clemens.
Although his career is full of controversies, from getting special treatment to steroid use, one thing can't be denied that Clemens is one of the best pitchers MLB has ever seen.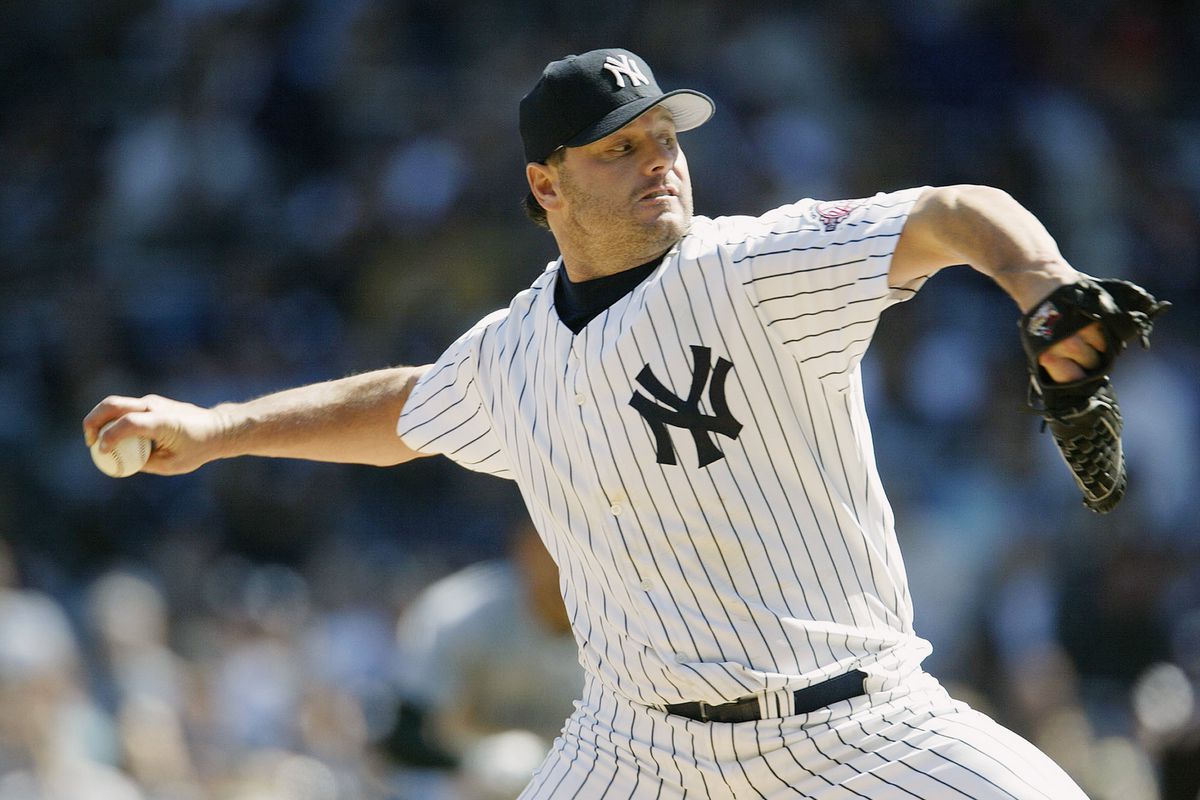 Clemens is a record 7-time CY Young Award awarded to the league-best pitcher. He also holds the record for two 20 strikeouts in a single game.
Clemens is the first pitcher in MLB history to record 350 wins and 4,500 strikeouts. Later, he finished his career with 354 wins and 4,672 strikeouts.
Likewise, his career WAR of 139.2 is ranked second among pitchers and 8th on the all-time list. Clemens led the league in ERI 7 times and strikeouts 5 times. Over his 24 seasons as a pro, he recorded an ERA of 3.13.
Roger Clemens racked up his career, becoming 2 times World Series champion and with 11 All-Star appearances.
9. Stan Musial
St. Louis Cardinals
3x World Series Champion/ 3x NL MVP
Stan Musial is regarded as a consistent and productive hitter in MLB history.
Musial played 22 years for the Cardinals winning three World Series titles and 3 NL MVP awards. He is also the second joint-most 24-time All-Star.
Likewise, he also has 7-time NL batting champion and two times NL RBI leader awards to his name.
Stan Musial finished his career with a .331 batting average, 475 home runs, and 1951 RBI. Similarly, Musial's career of 3,630 hits and 724 doubles rank him second in the respective category.
After his retirement, he served as St.Louis vice president. Later, in 1969 Musial was inducted into the Baseball Hall of Fame.
9 Baseball Players Who Came Out As Gay >>
8. Walter Johnson
Washingon Senators
1x World Series, 2x AL MVP
Walter Johnson, one of the greatest pitchers, is next on our list. No other pitcher during his era dominated as he did.
Over his 20 years as a pro, Johnson led the league in strikeout record 12 times.
Moreover, his 110 career shutouts record is still left to be broken. Likewise, his record of 3,058 strikeouts stood for 56 years.
Similarly, Johnson 164.5 WAR ranks first among pitchers, whereas his 417 wins place him second on the all-time wins list.
In 1923, he became the first member of the 3,000 strikeout club.
Later, Johnson ended his career with 2 MVP awards, 1 World Series title, and 3 triple crown champions.
In 1936, he was among the inaugural members of the Baseball Hall of Fame, earning his spot on our 'Best Baseball Players of All Time' list as well.
7. Lou Gehrig
New York Yankees
6x World Series/ 2x AL MVP
Lou Gehrig is the first player in MLB history to have a jersey number retired by the team. In 1939 Yankees retired his number 4.
He finished his career with a 340 batting average and 493 home runs, and 1995 runs batted in.
Over his career, Greig won 6 world series titles. He is also two time MPV, 7-time All-Star, and a one-time triple crown winner.
From 1925 to 1939, he played in 2,130 consecutive matches for the Yankees. The record stood for 60 years. Greig could have extended his streak but was forced to retire due to disease.
Similarly, he gave an iconic speech as "Luckiest Man on the Face of the Earth" in Yankees Stadium during his retirement. Later, he was into Hall of Fame in the same year.
6. Ty Cobb
Detroit Tigers, Philadelphia Athletics
1x AL MVP
Ty Cobb is also called one of the best baseball players during the dead-ball era by several historians and media.
Cobb's career batting average of .366 is the highest of all time. Likewise, he also holds the record for most batting champion with 12 and stealing homes with 54.
Cobb is the youngest player to record 4,000 hits and score 2,000 runs in MLB history. Later he finished his career with 4,191 hits and 2245 runs, ranking second on the all-time list of the respective category.
Cobb played a total of 3,035 over 22 seasons which place him 5th on all-time games played.
Furthermore, Cobb is one time MVP and triple crown. Cobb is an inaugural member of the 1936 Base Ball Hall of Fame and has made it to the 6th greatest baseball player on our list.
5. Ted Williams
Ted Williams couldn't play in 3 seasons of his prime due to military service at WWII and the Korean War.
But his career accomplishments are still enough to rank him in 5th place. He is often regarded as the purest hitter in baseball history.
Moreover, his career on-base percentage of .482 ranks 1st on the all-time list. He is also the last player to bat above .400 in a single season.
Likewise, Williams finished his career with 521 home runs placing him on 20th on the all-time list with a batting average of .344.
Williams earned triple crowns and MVPs twice in his career. Furthermore, he is a 6-time batting champion, 4 times home run leader, and RBI leader.
Similarly, in his 19 years as a pro, he was All-Star each season. Later, in 1966 he was elected into the Hall of Fame.
4. Hank Aaron
Indianapolis Clowns, Milwaukee/ Atlanta Braves, Milwaukee Brewers
1x World Series, 1x NL MVP
Hall of Fame slugger and a great power hitter, Hank Aaron, are next on our list of best baseball players.
He is famous for breaking the Babe Ruth home runs record. Aaron 755 home runs rank him second on aal time home runs list.
Likewise, he is the all-time leader in RBI with 2,297 runs, total bases with 6,856, and extra-base hits with 1,477. These records themselves show the legendary power of Aaron.
Similarly, he is a 3-time Gold Glove, 2-time NL batting champion, four times NL home run leader, and NL RBI leader.
Furthermore, he won NL MVP and World Series in 1957. Aaron also holds the record for most All-Star appearances with 25.
Later, in 1982 he was enshrined into the Baseball Hall of Fame. Likewise, to honor Aaron Hanks, MLB introduced the Hank Aaron award to the league's best offensive player since 1999.
3. Barry Bonds
Pittsburgh Pirates, San Francisco Giants
7x NL MVP
Next on our list is 14-times All-Star Barry Bonds. He is a popular figure in Baseball, one for his playing career and another for the steroids scandal.
Sadly, in 2013 although eligible for the Hall of Fame, he didn't receive enough vote required to be an inductee. BBWAA voters mentioned his use of PED reason behind it.
But we can't forget the legacy Bonds left in Baseball. Moreover, Bond was a superb all-around player, making him one of the best players in Baseball.
He is regarded as a phenomenal hitter. The Giants' player holds the record for most career home runs with 762 and a single-season record with 73 home runs in 2001.
Likewise, for his defense, he has received 8 golden glove awards. Moreover, Bonds is the first and only player to rack up 500 home runs and 500 stolen bases.
Even though Bonds don't have World Series on his resume, he is a coveted 7 times NL MVP winner. He also holds a record for most silver slugger awards with 12.
2. Willie Mays
New York/ San Fransico Giants, New York Mets
1x World Series, 2x NL MVP
Talking of incredible all-around baseball player Wille Mays is the perfect example.
Although Mays's offensive number may not match other players, his all-around performance ranks him second on our list of 'Best Baseball Players' of all time.
He is placed sixth in all-time home runs scored with 660. He led the NL in home runs 4 times.
Likewise, from 1957 to 1968, Mays won an outfielders record 12 straight golden glove awards. Similarly, he led in the stolen base on three occasions.
He was an All-Star for 24 consecutive seasons from 1954 to 1973. Likewise, it's tied second for All-Star appearance.
Furthermore, he is a two-time All-Star MVP and won NL MVP in 1954 and 1965. Similarly, he won his only World Series in 1954.
In 2017, the World Series MVP award was renamed into the Willie Mays World Series MVP award by MLB.
In 1979, Mays was inducted into the Baseball Hall of Fame.
1. Babe Ruth
Boston Red Sox, New York Yankees, Boston Braves
7x World Series Champion/ 1x AL MVP/ MLB All-Time Team
Babe Ruth holds the greatest position, if not one of the best baseball players of all time. Moreover, he is also famous among those who don't follow Baseball.
Although starting his career as a pitcher later, Ruth shifted into one of the best hitters of all time.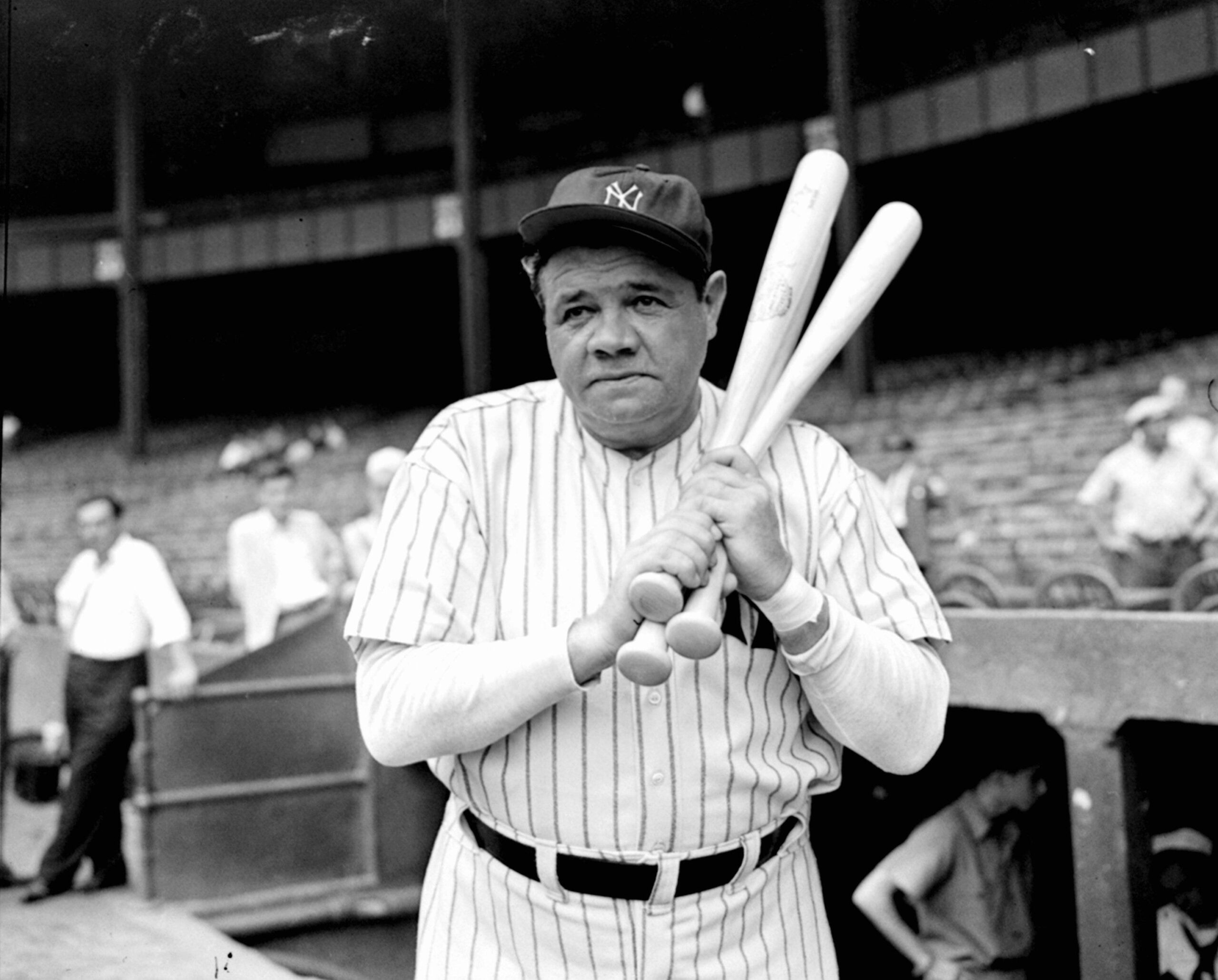 Over his career, he led the AL in home runs 12 times. In 1927, he set a then-record 60 home runs in a single season.
Other than that, Ruth's .690 slugging % ranks all-time best. Likewise, his 714 home runs rank third on the all-time list, whereas his 2,214 RBI ranks second.
Ruth was also an excellent pitcher finishing his career with an ERA of 2.28, ranking third among starters and 17 shutouts.
He won 3 World Series with Red Sox and later went on to win the next 4 with the Yankees.
Ruth only won AL MVP once. He would have definitely won many. But rules at that time allowed the player to win the award one time only.
He was a celebrity figure in the USA for his on and off-the-field popularity. Moreover, Ruth was the first-ever athlete to have an endorsement deal.
Conclusion
The players on the list were selected based on their stats and accomplishment in their careers.
No active or modern era players make our list of the all-time best baseball players.
Interestingly, more than half of the players have previously served in the USA military.
Did I miss any of the best players in Baseball? Please let me know in the comments below? I will try adding more players to the list. Also, did any of the players above are from your favorite teams? Let me know.
Also, Read
– 10 Baseball Players With Best Career Batting Average
– 13 Best Female Baseball Players in the World