Brandon McManus wife, Nadia McManus, previously ran a Pilates class. The couple is a parent to three kids, including a set of twins.
The college sweethearts, Brandon and Nadia, tied the knot in 2016, a few weeks after Brandon won Super Bowl 50 with the Broncos. A destination wedding that took place in the Dominican Republic.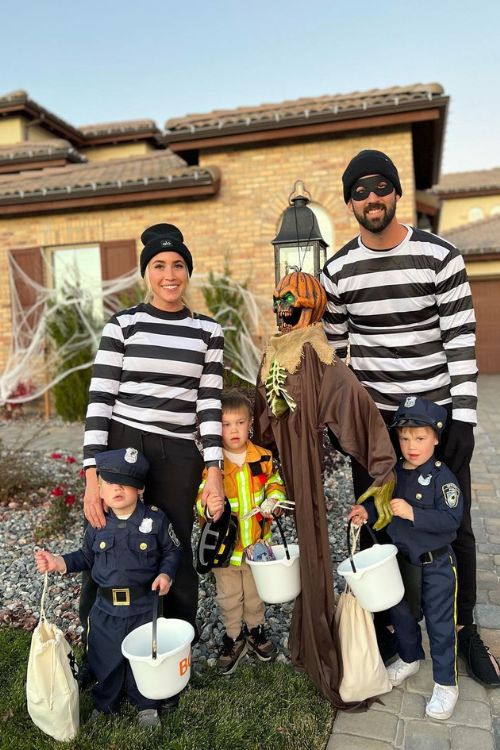 Three years after their wedding, the couple welcomed a set of twins, and a year later, they introduced another baby boy.
Their three kids are regularly seen on Brandon's Instagram, a page filled with his quirky fashion style.
The nine-year partnership between Denver and Brandon ended on Tuesday after he announced the team had released him.
The last remaining member of the Broncos' Super Bowl victory, McManus will have many options on the table.
Brandon McManus And Wife Nadia McManus Met At Uni
Brandon McManus' wife, Nadia McManus, met the man of her dreams through her roommate at Temple University.
The former Denver Broncos player, Brandon McManus, was the best friend of the man Nadia's roommate was seeing at the time. And despite thinking she wouldn't fall for Brandon, Nadia fell and fell hard.
Born on December 19, 1990, Nadia Isabella McManus (nee Spencer), like her husband, is a Philly native.
Soon after getting to know each other, the couple started dating, and by the time 2015 came rolling in, the two were ready to take their relationship to the next level.
The wife of former Broncos player Nadia is a Pilates instructor and used to run a business named Pristine Pilates LLC.
But for the past few years, Nadia might've stopped her pilates classes as the website no longer operates.
After dating throughout college and after Brandon started his NFL career, the kicker popped the big question to Nadia on his 24th birthday on July 25, 2015.
Brandon went down on one knee at the Denver Botanic Gardens during what was supposed to be a double date.
The former NFL player and Nadia kept the engagement short and tied the knot on March 4, 2016, in the Dominican Republic.
Brandon And Nadia Share Three Kids
The former Denver Broncos kicker and his wife, Nadia, share three kids, including a set of twins.
The couple experienced parenthood for the first time in 2019. Before giving birth to their kids, Brandon and Nadia were parents to two fur babies who previously regularly appeared on Brandon's Instagram handle.
On January 18, 2019, Nadia gave birth to a set of twins whom they named Caden and Luca. And a few months later, we saw the twins in a caddie uniform.
Surprisingly it wasn't a football jersey but a sport Brandon is passionate about.
Six months after celebrating their first birthday, Luca and Caden were met by the news of their little brother's arrival.
On July 2, 2020, Brandon and Nadia welcomed another baby boy, Oliver Caden. Brandon, a fairly private man, treats his fans to photographs of his kids time and again.
Last year, the entire family participated in the Halloween celebration. Two of their three kids dressed up as cops, and one reprised his role as a firefighter with the couple, Nadia and Brandon, dressing up as robbers.
Recently, Oliver and the twins appeared in the photos shared by Brandon on Mother's Day. He shared a series of family photos, including a trip to Disneyland.