The Camryn Bynum family is very diversified. Bynum grew up in California but has an immense love for Filipino culture, which he inherited from his mother's family.
Camryn Bynum was born to Jennifer and Curtis Bynum on July 19, 1998, in Corona, California. Bynum grew up with four siblings: Cierra, C.J., Caiya, and Caleb.
California-born Camryn is a football player who plays as a safety for the Minnesota Vikings of the National Football League (NFL).
The Minnesota Vikings picked Bynum 125th overall in the 2021 NFL Draft. The player made his regular-season debut against the Bengals in Week 1 overtime. In his debut, he recorded two solo tackles.
Moreover, the safety played college football in California. Furthermore, Camryn was chosen second-team All-Pac-12 Conference after recording 63 tackles, one interception, and nine passes broken up.
From 2017 through 2020, Bynum was the first Golden Bear to start all 42 games at cornerback.
The Camryn Bynum Family Is Filipino
Camryn Bynum was raised in California; however, he greatly respects Filipino culture, which he inherited from his mother's family.
Moreover, Camryn has always been proud of his Filipino heritage. After all, he is among the few Filipino players in the NFL.
Additionally, Bynum and his third-generation Filipino-American mother, Jennifer, invited more than 200 people to his homecoming in Levi's Stadium.
For Jennifer, having all of them cheer for her kid in Levi's Stadium in 2021 with their flags flying in the air made her very proud.
The safety team traveled to the Philippines earlier in 2022 to help those in need when Typhoon Megi wrecked the island of Leyte.
In addition to that, the Island of Leyte holds a great memory for Camryn, where he spent time with his late great-grandmother.
Camryn Bynum, Brother: A Former Player
Camryn Bynum has four siblings. Among them is his oldest brother, C.J. Bynum, a former player who played during his high school years at Centennial.
During high school, the older brother was the second-team all-state lineman as a junior. As a senior, he became a first-team all-conference offensive lineman.
Not only that, Bynum's brother is a three-time conference champion. In 2014, C.J. was a member of the Dixie State football team.
Moreover, the brother played football at Lindenwood, participating in all 11 games and playing ten of them. However, on the 11th game at Lindenwood, the player did not appear in the contest.
C.J. did not continue football after college, but he seems to be more engaged in dirt bike riding.
Does Camryn Bynum Have A Wife?
Yes, Camryn Bynum has a wife. Bynum married Lalaine on March 2, 2023, at a private beachside in the Philippines with their closest family and friends.
"She simply enjoys life; just like me, she doesn't take many things too seriously," Camryn said.
The bride and groom picked rose pink décor with white and gold elements and chose to write their own beautiful handwritten vows.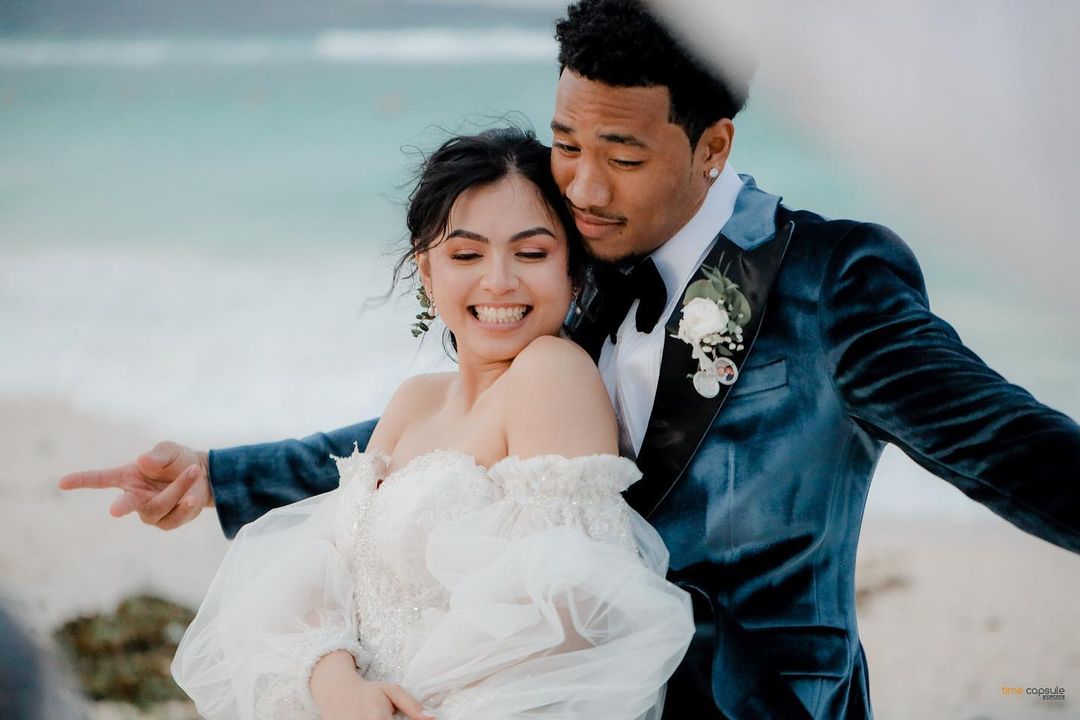 During the party, the pair did their first dance to Deborah Cox's "Nobody's Supposed to Be Here."
Lalaine Bynum follows Christianity, as her bio on Instagram says, "Seek beauty in all forms." Romans 12:2.
Moreover, she also runs the nonprofit organization Bynum Faith Foundation, which serves families in need locally and internationally.