The professional racing driver, Carlos Sainz, has recently grabbed headlines due to his highly publicized breakup. Speculation about the cause of the split has emerged, with fans speculating that cheating may have been the cause.
Carlos Sainz Vázquez de Castro, commonly known as Carlos Sainz Jr. or simply Carlos Sainz, is a Spanish racing driver currently competing in Formula One for Scuderia Ferrari.
He was born on September 1, 1994, and is the son of Carlos Sainz Sr., a two-time World Rally Champion.
Sainz began his racing career in 2012 when he participated in the British and European Formula 3 championships with the Carlin team.
In 2014, he joined DAMS for the Formula Renault 3.5 season. There he emerged as the champion. This success paved the way for his entry into Formula One with Toro Rosso.
After his stint with Toro Rosso, Sainz moved to McLaren for the 2019 season, parting ways with Red Bull Racing.
During the 2019 Brazilian Grand Prix, Sainz achieved his first podium finish in Formula One, securing third place. Following the 2020 season, Sainz transferred to Ferrari.
Sainz's breakthrough came at the 2022 British Grand Prix, where he secured his first pole position in Formula One and claimed his maiden career victory.
Carlos Sainz Cheating
Carlos Sainz recently made headlines on June 1, 2023, but not for a good reason. Rumor has it he may have cheated on his long-time girlfriend, Isa Hernaez, while in Monaco.
These rumors gained momentum after Sainz surprisingly stated that he no longer had a girlfriend. During a public address, he mentioned, "When I'm at home, I take time to spend with my family, my dog, my girlfriend if I have one."
After these speculations, an F1 reporter named Matthew J. Thompson tweeted that Sainz had ended his relationship with Isa and was now apparently single—the couple dated for six long years.
Although rumors about Carlos Sainz's infidelity had been circulating for some time, they have recently gained more traction.
Through their admirable research ability, fans have identified the women Carlos likely cheated with. According to them, she is the London-based model Mia Brown.
Brown added a flame to the speculations when she posted several pictures wearing a Ferrari cap on her Instagram.
As Sainz currently drives for Ferrari, fans quickly connected the dots and concluded that he might have been involved with Brown, causing the rumors to attract even more attention.
However, the individuals in the rumor have remained silent. Isa Hernáez attended the 'Elle Eco Awards' in Madrid on June 7, 2023, marking her public return. During the event, she opened up about her current state, expressing that she is enduring a downpour.
However, she chose not to delve into the specifics of their breakup, declining to share details or reasons for their separation.
When asked for further information about their relationship's end, she maintained her silence, stating that she had never discussed the matter and had no intention of doing so now.
Relationship Prior Breakup
Carlos dated Isa for more than half a decade. Isa is a journalist and lifestyle influencer known for her Instagram account.
She posts about fashion, travel, and motivation. Her content has attracted 205k followers. She hosts a podcast with another journalist called 'Esta de Moda' (It's Fashionable).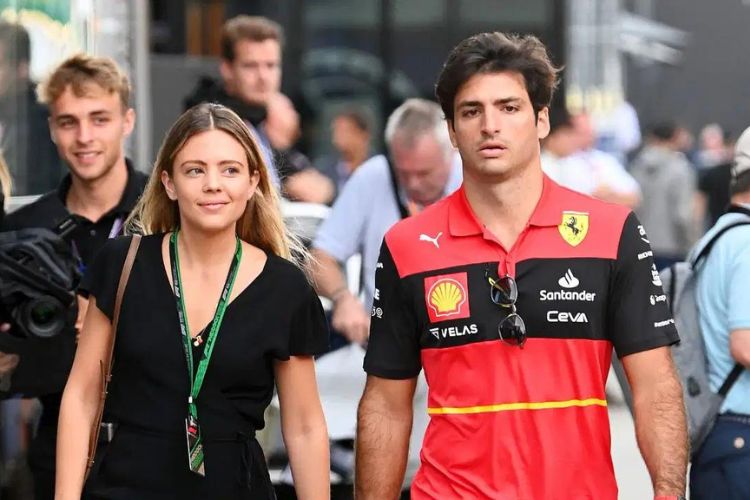 Carlos Sainz and Hernaez had been rumored to be dating since 2017. However, they never revealed how they met.
Despite trying to keep their relationship private, the media caught their romantic moments during race weekends. Nevertheless, all this secrecy has come to an end after six years.