The Boston Celtics fans must regret firing American-Nigerian basketball coach Ime Udoka after their recent vulnerable defense.
On May 21, 2023, the Celtics lost 102-128 against the Miami Heat, with Gabe Vincent scoring the game-high of 29 points.
Meanwhile, Jayson Tatum recorded a team-high of just 14 points for the Celtics.
Celtics is currently 3-0 down in the Eastern Conference Finals, and no team has ever come back from that stage to win the series.
And now, all the Celtics fans can do is hope for a miracle to happen. Game 4 of the Conference Finals is scheduled on May 24, 2023, and ESPN has predicted Celtics to win the game with a 72% chance in their favor.
On the other hand, the Heat will aim to clean-sweep the finals on Tuesday.
Fans Express Their Emotions After The Loss
After their loss on Sunday, fans and analysts reacted to the loss and conveyed their dismay on social media.
A Celtics fan stated they should have suspended Ime Udoka rather than fired him.
Another fan believed the Celtics would not have been in this tough spot if he was still their coach.
I said on Undisputed before the season started that the Celtics would miss Ime Udoka's coaching, especially on the defensive end. Do they ever.

— Skip Bayless (@RealSkipBayless) May 22, 2023
Fans were also quick to make different kinds of hilarious memes of the decisions made by the Celtics board.
Why Was Ime Udoka Fired? Former Celtics Coach Affair
The Boston Celtics hired Ime Udoka as the head coach on June 28, 2021, and he led the team to their first NBA Finals since 2010 in his first season after winning the Eastern Conference title.
On September 22, 2022, the team officially announced they had suspended Ime Udoka for the entire 2022-23 season.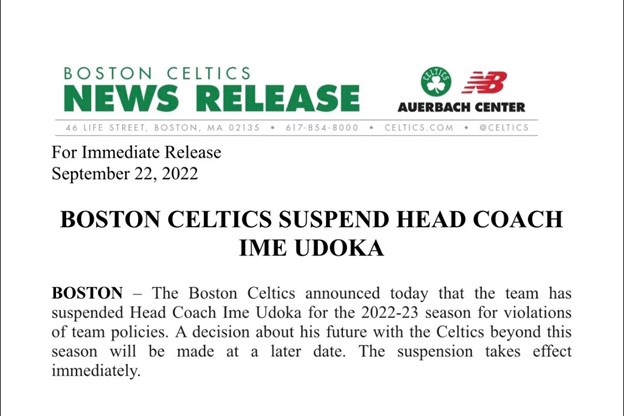 The reason behind this was his involvement in a physical relationship with a female staff member of the Celtics, which was considered a violation of the franchise's guidelines.
Later, it was also disclosed that he made "unwanted comments" toward the staff member after their affair.
The Celtics named Joe Mazzulla their permanent head coach, replacing Udoka on September 16, 2023.
Udoka publicly responded, "I want to apologize to our players, fans, the entire Celtics organization, and my family for letting them down."
He further stated, "I am sorry for putting the team in this difficult situation, and I accept the team's decision. Out of respect for everyone involved, I will have no further comment."