Chandler Hutchison is a bold and courageous American professional basketball player for the Sioux Falls Skyforce of the NBA G League.
Hutchison was labeled MW Player of the year in 2018, and he earned MW All-Defensive Team in 2018.
Further, he was named First-team All-MW for two consecutive years in 2017 and 2018.
Additionally, he's an ethical 3-point shooter, solid rebounder, credible contributor, and can run the pick and roll.
He's well-distinguished for leadership since his high school days; he possessed the natural scoring proficiency and could score in the paint.
Excavate further details about the American-born, professional player Chandler Hutchison below.
Also, have a quick look at the enlightening quick facts beneath.
Quick Facts
Full Name
Chandler Hutchison
Birth Date
April 26, 1996
Birth Place
Mission Viejo, California
Nick Name
Young Pip
Religion
Christianity
Nationality
American
Ethnicity
Unknown
Education

Mission Viejo High School
Boise State University

Horoscope
Taurus
Father's Name
Charles Hutchison
Mother's Name
Tanya Hutchison
Siblings
Two (brothers) and One (sister)
Age

26

years old
Height
6 feet 6 inches
Weight
95 Kilogram (210 lb)
Jersey no.
22 (for Sioux Falls Skyforce)
Hair Color
Black
Eye Color
Black
Body Type
Athletic
Profession
NBA G League player
NBA Draft
2018 / Round: 1 / Pick: 22nd overall
League
NBA G League
Active Years
2018–present
Sexual Orientation
Straight
Marital Status
Not available
Girlfriend
Not available
Kids
None
Net Worth
$5 million
Position
Small forward / Shooting guard
Current Team
Sioux Falls Skyforce
Social Media
Instagram
Merch
Basketball Card
Last Update

March, 2023
Chandler Hutchison: Early Life & Education
A young athlete was born in Mission Viejo, California, on April 26, 1996.
He follows Christianity and holds American nationality. His zodiac sign is Taurus.
Chandler is born to supportive parents Charles and Tanya Hutchison.
He's blessed with two brothers who step up their game following Chandler. Therefore, the Hutchison boys are hardworking and passionate.
Chandler also has a sister Erice who is a Pepperdine grad.
Thus, they are the proud parents of the athlete son who got drafted due to his hard work and ability in the 2018 NBA.
Furthermore, he attended Mission Viejo High School and Boise State University.
In the meantime, he was a Top-10 finalist for the Jerry West Award and Top-30 finalists for the Naismith Trophy at Boise State University.
Chandler Hutchison: Basketball Career
High School Career
Chandler Hutchison enrolled at Mission Viejo High School, located in Mission Viejo, California.
Likewise, as a junior, he logged 13.8 points and 4.8 rebounds, and his supporting numbers assisted Mission Viejo High School in reaching the regional quarterfinals of the CIF Southern Section 1AA Tournament.
During his senior year, he was rated No.80 in the ESPN Top 100, ranked the No.7 prospect in California, and a consensus 4-star recruit by 247 Sports.
Moreover, he assisted the team in leading the CIF Southern Section title game and regional quarterfinals of the CIF State Championship event with 19.5 points.
College Career
Chandler Hutchison attended Boise State University, where he played for Boise State Broncos men's basketball team representing the University.
Similarly, in freshman season, he logged 3.1 points per game and commenced in the NCAA Tournament match against Dayton.
In his sophomore year in 2015-16, he logged 6.8 points and 4.1 rebounds per game.
Accordingly, he recorded 17.4 points, 7.8 rebounds, and 2.6 assists per game in the junior season.
Then, in his senior year, he averaged 20 points and added 7.7 rebounds per game.
Therefore, he was named to the First-team All-Mountain West Conference. In the meantime, he was labeled MW Players of the Year and earned honors from the media.
Professional Career
Chicago Bulls
Chandler Hutchison was drafted in the 2018 NBA draft with the 22nd overall pick by the Chicago Bulls.
Later, he officially signed with the Chicago Bulls in July 2018.
Likewise, he made his debut with the Bulls in October 2018 and played for only three minutes against the Philadelphia 76ers.
Consequently, he suffered an acute injury in his right foot in January 2019.
After the occurrence, he was assigned to the Bulls' affiliate Windy City Bulls of the NBA G League to rejuvenate his injury in December 2019.
Washington Wizards
Chandler Hutchison was traded to Washington Wizards in a three-team trade in March 2021.
Later, in August 2021, he was traded to San Antonio Spurs, and after months of the stint, he was waived by the Spurs.
Phoenix Suns
Hutchison signed a two-way agreement with Phoenix Suns in September 2021.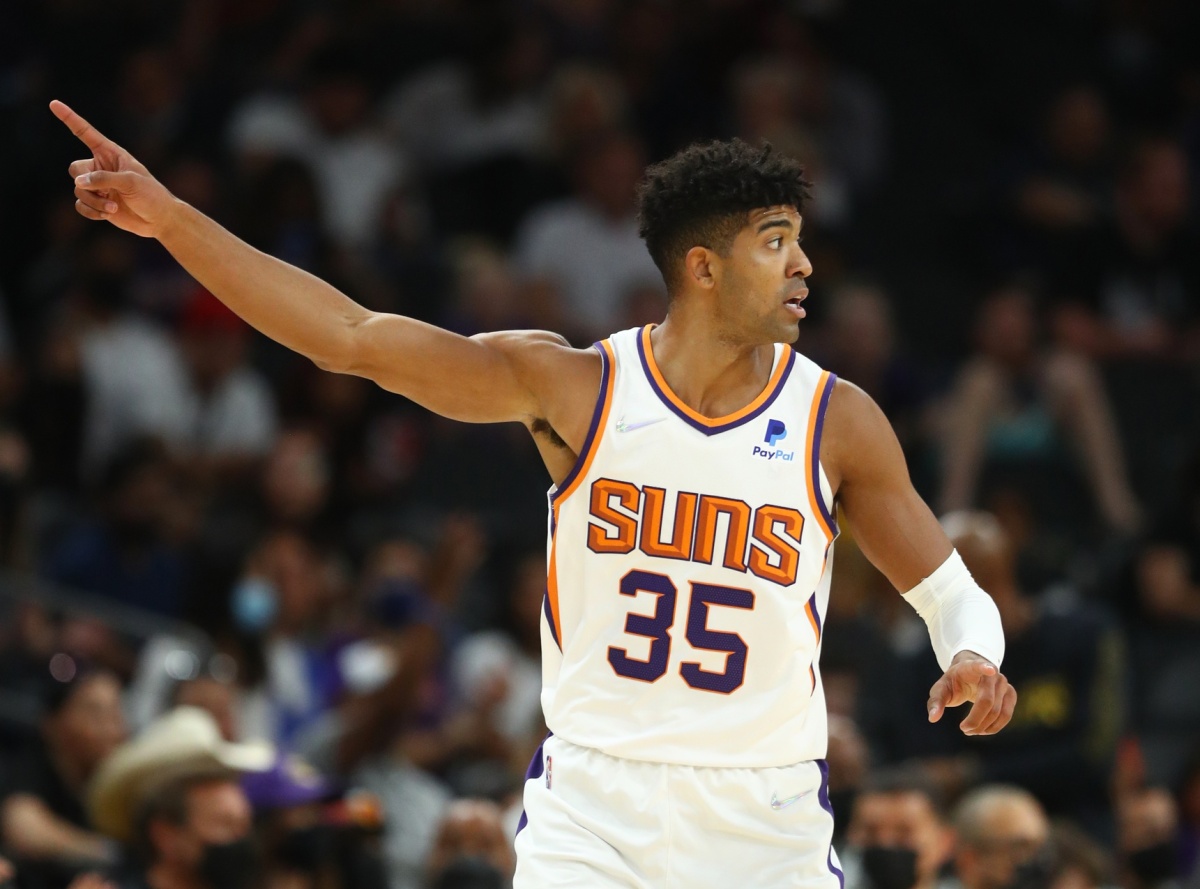 After appearing in six games and about 23 minutes with the Suns, the team waived him in January 2022.
Excavate everything about Terence Davis Bio: Career, Net Worth & NBA>>
Sioux Falls Skyforce
As Hutchison was waived by the Suns, later in February 2022, he was acquired by the Sioux Falls Skyforce.
Awards & Achievements
First-Team All-MW two times ( 2017, 208)

MW Player of the Year (2018)

MW All-Defensive Team (2018)
Net Worth & Salary
The polished 6'6″ small forward/shooting guard Chandler Hutchison has a net worth of $5 million.
Addressing his income, in 2021-22, his estimated salary was $204,727 with the Phoenix Suns. Thus, he was making 72.87 percent better fortune compared to 2020-21.
Therefore, he's the 98th best-paid forward and 241st best-paid player in the 2021-22 season.
Likewise, his past salary in 2920-21 was $2,443,440 with the Washington Wizards.
In 2019-20, his estimated salary was $2,332,320 with Chicago Bulls, and in 2018-19 he amassed around $1,991,520 with the Bulls.
Therefore, his cumulative earning with NBA teams during several junctures was $6,767,280.
Apart from that, he earns a decent fortune from an endorsement deal to fortify his salary.
Nike speculates that Hutchison has what it takes to epitomize both on and off the court.
Therefore, he'd get an endorsement deal with Nike to strengthen his income.
Age, Height & Weight
An ideal and sensational player, Chandler Hutchison, was born on April 26, 1996, and estimating his birth date, he is 26 years old.
Furthermore, he stands at an elevated height of 6 feet 6 inches (1.98 m) and weighs around 210 lb (95 kg). An American-born phenom has a wingspan of 7'1."
Anticipating his strength, he has got to progress in his weight which would be advantageous in dominating the arena.
Additionally, he has the courage of his convictions, and his outlook is refreshing.
He looked irresistible when he grinned, and there's ordinary, and then there is Hutchison. Thus, he prefers a simple and somewhat dope appearance.
Hutchinson, with buzzcut plus shape-up hairdo, hit a different level of impression. Moreover, he adores experimenting with his hair, giving them trendy styles and cuts.
Social Media Presence
A young and generous player, Hutchison has a verified Instagram, and at present, he's only accessible on Instagram.
He seems coolest and the hottest with an athletic build and tremendous length surveying his Instagram picture.
Also, the other notable aspect, he is a traveling zealot and has a picture of him in a different spot rejoicing his vacation.
Hence, find him on his social media sites to get notified shortly about the player's on-court and off-court updates.
Uncover everything, Tomas Satoransky Bio: Awards & Net Worth>>
Who is Chandler Hutchison's Girlfriend?
The flashy and graceful player Chandler Hutchison is precisely single and relishing his solo life.
Further, as he's on his fresher days, he has his career in front of him, and perhaps he wishes to focus on his profession over romance.
Additionally, there exists no evidence that could ratify his past relationship. He's not been detected with any ladies from the past as well.
On the flip side, he might possess proficiency in keeping mysteries without letting a single hint to the general public.
Thus, one never knows what's cooking unless he spills the beans or welcomes someone in his life and declares it openly.
Injuries
Like an NBA Player, Chandler Hutchinson struggled for the ideal spot, and injury issues somewhat were part of the justification for being unable to capture the place.
During his tenure in NBA, he tackled horrible injuries; he struggled with a shoulder injury that ruled him out for a couple of months between 2019-20 seasons.
Later, COVID-19 ruled him out in 2021, and some unrevealed personal issues kept him sidelined.
And latest injury that drove him off the games was a left knee contusion.
Undisclosed Absence
After testing positive for COVID-19, Hutchinson had missed more playing eternities with the Chicago Bulls.
Thus, he was capable of returning to the team after a three-week absence following NBA's health and safety protocols.
But even after he was redeemed from the COVID, he had to remain out for personal reasons. And the exciting part was he never disclosed personal reasons.
Therefore, his team, Chicago Bulls fanatics, did not appreciate his decision during that stint and even called him contagious.
Indeed, this might be associated with his mental health as he was a player hustling and attempting to be the best.
Find out detailed information about Lamar Stevens Bio: NBA & Net Worth>>
Donovan & Hutchison
Chicago Bulls head coach Billy Donovan declared openly that Bulls' forward Hutchison is out with a personal issue.
Hence, something terrible was going on between Donovan and Hutchinson.
The coach even added, "the conversation with Hutchison was indisputably terrific. He handled himself like a complete pro."
Since coming back after a COVID-19, Hutchison was in the third season with the Bulls after being selected in the 2018 NBA draft.
And, he has been outside the Bulls' rotation, appearing on the floor in just three of a probable eight games.
Later, after three seasons with the Bulls, he was traded to Washington Wizards.
Frequently Asked Questions
What NBA teams does Chandler Hutchison play for?
As drafted in 2018, he played with several big teams of the NBA, and the big groups are; Chicago Bulls, Washington Wizards, and Phoenix Suns.
What's Chandler Hutchison Jersey number?
The decisive small forward/shooting guard Hutchinson wore number 15 for the Bulls, 1 for Washington Wizards, and 35 for the Phoenix Suns.
Is Chandler Hutchison good?
The young phenom Hutchison has a career-high 82.6 percent shot from the free throw during the 2020-21 season.
Yet, he's not been a strong player during his stint with NBA team compared to his days at Boise State.