Charles Wade Barkley is one of the Greatest Players in NBA History. This former American Basketball Player is named into the Naismith Memorial Basketball Hall of Fame twice!
Besides being a versatile player, he represented the USA in the 1992 and 1996 Olympic Games and won two gold medals as a "Dream Team" member. Barkley has an awe-inspiring career history.
So how did he, who was a reserve in the varsity team, went on to become one of the greatest players? Before looking into it any further, let's have a look at the quick facts.
Quick Facts:
Full Name
Charles Wade Barkley
Birth Date
February 20, 1963
Birth Place
Leeds, Alabama
Age
57 years old
Nickname
"Charles," "Sir Charles," "Round Mound of Rebound"
Religion
Christianity
Nationality
American
Ethnicity
Black
Alma mater
High School: Leeds High School

College: Auburn University

Horoscope
Pisces
Father's Name
Frank Barkley
Mother's Name
Charcey Barkley
Siblings
Darryl and John Glenn
Height
6'6" (198 m)
Weight
114 kgs
Profession
Professional Basketball Player
Former Teams
Philadelphia 76ers (1984-92)

Phoenix Suns (1992-96)

Houston Rockets (1996-2000)

Number
Philadelphia 76ers: 34, 32

Phoenix Suns: 34

Houston Rockets: 4

NBA draft
1984/ Round:1/ Pick:5th overall
Position
Power forward
Marital Status
Married
Spouse
Maureen Blumhardt
Children
Christina Barkley
Net Worth
$50 million
Social Media
None
Merch
Books, Jersey
Last Update
2021
Where is Charles Barkley from? Early Life, Childhood and Education
Charles Wade Barkley was born on February 20, 1963. His parents Frank Barkley and Charcey Barkley gave birth to him in Leeds, Alabama. Charles's parents were divorced, and his mother raised him.
His father didn't want to take the responsibility of fatherhood and abandoned them. Charles doesn't quite remember when his father left him because he was too young.
Barkley's childhood wasn't all rainbows and butterflies. He grew up poor with his mother, stepfather, and siblings. His stepfather was killed in an accident when he was 11 years old.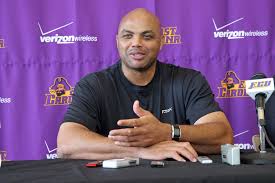 Born in a segregated town in Alabama, he was the first black baby born in an all-white hospital. Additionally, he was also one of the first black students to study in an integrated elementary school.
This caused angry white people to gather outside the school, and his grandmother had to escort Charles to school with a pistol in a purse.
Charles's mother, Charcey, worked for white families cleaning houses and cooking and had two to three jobs.
Charles had to take care of his younger brothers. Charcey would bring their kids to works when she couldn't afford a babysitter and would do some yard work, which he was paid for.
Charles attended Leeds High School standing 5 feet 10 inches tall and weighing 114kg (225 pounds) as a junior.
Although he failed to make it in varsity, he was named as a reserve. Remarkably, he grew to 6 feet 4 inches during summer and earned a spot for starting position on varsity as a senior.
You may also want to know about Magic Johnson.
Charles Barkley | Basketball Career
Regardless of his improvement, he failed to grab college attention until the state high school semi-finals.
Auburn University's assistant to the head coach Sonny Smith was present during that game. He called him and said, "there's a fat guy here who can play like the wind."
Amateur Career
Barkley played college basketball for three seasons with Auburn University. Along with basketball, he also majored in business management.
Besides, during his time in college, he received awards such as Southeastern Conference (SEC) Player of the Year (1984), three All-SEC selections, and one Second Team All-American selection.
Despite being shorter than the average center, his energy and enthusiasm earned him a spot in the center position.
During his college time, he gained fame as a crowd-pleaser who would excite his fans with dunks and blocked shots regardless of his height and weight.
Moreover, these skills also earned him the nickname of "The Round Mound of Rebound" and the "Crisco Kid." Despite this fame, some people never thought he would go very far. Many thought he was an "undersized power forward with rebounding as his only discernible basketball skill."
During his three years in college, he scored an average of 14.8 points with 9.6 rebounds, 1.7 blocks, 1.6 assists, and 9.6 rebounds per game. Barkley left before his final year for the 1984 NBA draft.
Professional Career
Philadelphia 76ers
Barkley was drafted in the 1984 NBA and selected by the Philadelphia 76ers. He was chosen with the fifth pick in the first round. Despite being undersized, his incredible leaping ability and remarkable strength made him one of the game's elite rebounders.
He had joined a team where veterans such as Julius Erving, Moses Malon, and Maurice Cheeks had led Philadelphia to the NBA championship in 1983.
Under the guardianship of Malone, Barkley controlled his weight and polished his existing skills. During the regular season in the first year, he averaged 14.0 points per game.
Barkley spent eight seasons with Philadelphia. Moreover, he gained an enormous amount of fame and was one of the few NBA players to have an action figure produced by Kenner's Starting Lineup.
Phoenix Suns
Barkley was traded to Phoenix Suns in the 1992-93 season. He helped the Phoenix with its NBA's best record in his first season, leading to its first NBA final appearance since 1976 and winning the league's Most Valuable Player award.
Moreover, he was the only third player to win the award immediately after being traded. Despite leading the team to the NBA finals, they, unfortunately, lost to Chicago Bulls.
His first season was the highlight of Barkley with the Phoenix Suns.
During his last season with the Suns, their relationship had already soured. And had said that he would consider retiring if he wasn't traded to a contender. In 1996, he was traded to the Houston Rockets.
Houston Rockets
Houston Rockets was his last chance to win the NBA championship title. He joined the veteran team, which included Hakeem Olajuwon and Clyde Drexler.
His first year with the Rockets wasn't a pleasant one. For instance, he was suspended for the season opener and fined $5,000 for shoving Charles Oakley.
His involvement with the Rockets led him to conference finals in the 1996-97 season. But unfortunately, he failed to win the NBA championship.
Injuries continue to follow Barkley, and his basketball career came to an end when he ruptured his left quadriceps tendon in 1999.
As basketball meant so much to him, he refused to make his last basketball memory an injury and returned after four months for one last game in 2000.
Olympics
Barkley competed in the 1992 and 1996 Olympic games. For both the games, they won gold medals as members of the United States men's basketball team.
The Dream Team, as it was called for the United States men's basketball team 1992, featured active NBA professionals. It was the first time NBA players participated in the Olympics as it had previously prevented NBA players from participating.
You may also be interested in reading about Draymond Green.
Charles Barkley | Career stats
Charles Barkley | Post-basketball
After retiring from basketball, Barkley joined Turner Network Television as an analyst in 2000. He covers the NBA during pre-game and halftime.
Moreover, he is also a part of Inside the NBA; a post-game show was Barkley, Shaquille O'Neal, Ernie Johnson Jr., Kenny Smith recap and comment on the games.
He has also appeared in TV shows in Space Jam, Saturday Night Lives, Suits, and Modern Family.
In 2002, he published a book titled " I May Be Wrong, But I Doubt It" and Who's Afraid of a Large Black Man?" in 2006.
Charles Barkley | Controversies
Being an outspoken person and a man with strong opinions, Barkley is considered one of the most controversial basketball history people.
In 1991, during a game against New Jersey Nets, a fan was shouting racial slurs at him. Infuriated at him, he tried to spit at him, but mistakenly, he spits on an innocent girl.
In 2009, Barkley was arrested for drunk driving and running a red light. He served five days in jail.
The most recent controversy came in 2020, and Shaquille O'Neal, when they defended the cops, shot Breonna Taylor. He said her death should not be compared to other deaths due to police brutality, and "her boyfriend did shoot at the Cops."
Charles Barkley | Personality
Barkley, without a doubt, has an inspiring personality. He is described as friendly with a good sense of humor.
Many might confuse him as an arrogant person because of his outspoken personality, but this is not true. He has been a devoted husband, father, and brother.
Discipline and focus are essential to Charles, and this is the road to success for Charles. These qualities earned him the nickname "Sir Charles."
How many kids does Charles Barkley have

? Personal life and Wife

Barkley married Maureen Blumhardt, a former model, in 1989. She is currently involved in the Fresh Start Women's Foundation. It is reported they met in a restaurant in Pennsylvania in the 1980s.
In 1989, their family grew into three after giving birth to their daughter, Christina Barkley. She got her degree in journalism from Columbia Journalism School in New York. Christina has kept a lower profile throughout her life.
How much is Charles Barkley's net worth? Net Worth and Income
It is no surprise that Barkley lives a luxurious life. Coming from a poor background, he put all his effort and focus on basketball and deserves all this luxury. According to celebritynetworth.com
Barkley's net worth is $50 million.
As a basketball player, his salary was $40 million. Moreover, he was also endorsed by Nike. As a studio analyst, he earned $6 million from TNT per year.
Unfortunately, Charles is a compulsive gambler. He admitted to losing $10-30 million during his life.
Charles Barkley | Social Media
Barkley has openly expressed his views on social media. In an interview with Jimmy Kimmel, he said, "social media are for losers."
Watch this hilarious clip from the interview expressing his views on social media, and mean tweets.
He would be the last person to join social media. Besides, there are numerous fan accounts in his name. Well, this only proves that Barkley is too cool for social media!
Frequently Asked Question
Is Charles Barkley a republican or a democrat?
Barkley had supported the Republicans but later switched to democrat during the Obama administration. Moreover, he has been a critic of President Trump since his nomination.
He identifies himself as an Independent, not supporting either.
Is Charles Barkley featured in NBA 2K Games?
No, Charles Barkley has not featured in NBA 2K games. He has openly spoken to boycott it as they are not paid NBPA residuals.
Where did Charles Barkley go to college?
Charles Barkley attended Auburn University from (1981-1986). There Barkley played collegiate basketball for three seasons.
What position did Charles Barkley play?
Charles Barkley played in power forward, small forward and center position.
Does Charles Barkley have a ring?
Charles Barkley hasn't won any championship rings.
Where does Charles Barkley live?
Charles Barkley currently lives in Scottsdale, Arizona.
What year did Charles Barkley retire?
Charles Barkley retired in 2000.
How much is a Charles Barkley card worth?
Charles Barkley's card is worth $0.34.