The former UFC Lightweight Champion, Charles Oliveira da Silva, is a 3rd-degree black belt Brazilian Jiu-Jitsu practitioner.
Hailing from Brazil, Oliveira's martial arts journey started with Brazilian Ju-Jitsu during his youth, earning numerous championship titles.
He transitioned to MMA, where he continues to compete in the Lightweight division within the UFC in 2007.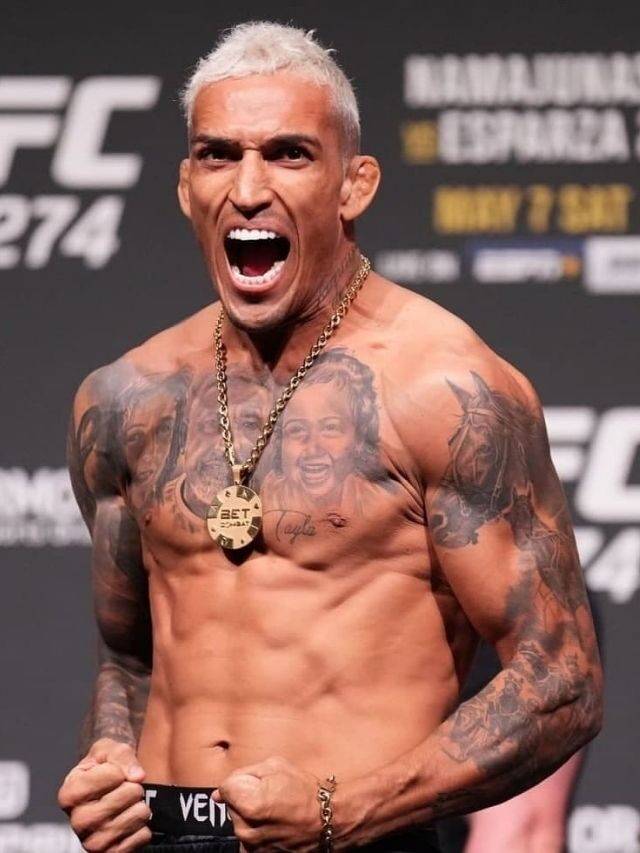 Out of several notable achievements, Oliveira holds the most submission wins in the organization's history at 16. Similarly, he also holds the record for the most finishes at 20.
As of this writing, he ranks at No. 1 in UFC lightweight rankings and holds the position of No. 8 in the UFC men's pound-for-pound rankings.
Quick Facts
Full Name
Charles Oliveira da Silva
Known As
Charles Oliveira da Silva
Nickname
do Bronx
Birthdate
17 October 1989
Age
33 Years Old
Birthplace
Guarujá, São Paulo, Brazil
Current Residence
Guarujá, Brazil
Father
Not Known
Mother
Ozana Oliveira
Siblings
Hermison Oliveira
Nationality
Brazilian
Marital Status
Married
Spouse
Talita Roberta Pereira (m. 2014-Present)
Built
Athletic
Sexual Orientation
Straight
Eye Color
Dark Brown
Hair Color
Black
Height
5 ft 10 in/178 cm/1.78 m
Weight
155 lb/70 kg
Ethnicity
Not Known
Horoscope
Libra
Religion
Christian
Profession
MMA Fighter
Education
Not Known
Association
UFC
Division
Lightweight (2008-2011/2017-Present)/Welterweight (2008)/Featherweight (2012-2016)
Reach
74 in/188 cm
Team
Chute Boxe Academy Macaco Gold Team
(2008–2018)
Trainer
Diego Lima
Years Active
2008-Present
MMA Total Fight
44
MMA Total Wins
34
Net Worth
$5.5 Million
Salary
$750,000 (Base)
Social Media
Instagram, Twitter
Last Update
September 2023
Early Life
Born in the favela of Vincent de Carvalho in Guaruja, Sao Paulo, Brazil, on 17 October 1989, Charles Oliveira da Silva had to face numerous challenges growing up.
Not much is known about his parents and his origin. However, it is known that his mother is Ozana Oliveira, and he grew up with his only sibling, Hermison Oliveira.
Charles initially aspired to be a soccer player, but at age 7, he was diagnosed with rheumatic fever and a heart murmur which created difficulty for Charles in walking and sometimes lost mobility in his legs.
Doctors even warned that he could become paraplegic, a condition relating to paralysis of the legs and lower body.
Nevertheless, these setbacks fueled Oliveira's desire to become successful. His parents also insisted on involving him in sports programs, and just after two years, he began to recover.
At 12, a neighbor named Paulo introduced Charles to Brazilian Ju-Jitsu, and soon after, he began training under Roger Coelho.
Unfortunately, Paulo died in a crossfire shootout in Vicente de Carvalho when Charles was 14.
Despite their unwavering spirit to enroll their son in a sports program, their financial instability took a toll on his parents. Nevertheless, the BJJ gym's coach offered Charles free training through a social program.
Career
Charles Oliveira garnered early success in Brazilian jiu-jitsu from 2003 to 2006. He then transitioned to MMA in 2007 and received his black belt in Brazilian jiu-jitsu in 2010.
He achieved a remarkable record of 12-0 in Brazil, showcasing a combination of submissions and knockouts.
In his amateur MMA debut, Oliveira quickly submitted Rui Machado with an armbar just 15 seconds into the first round.
Fast forward to 2023, and he has been in 44 total fights with 34 wins and nine losses.
He was set to fight Beneil Bariush at UFC 288 on May 6, 2023, but had to withdraw due to injury.
He emerged victorious in the first round via TKO on the rescheduled bout for UFC 289 in the co-main event on 10 June 2023 at Rogers Arena in Vancouver, British Columbia, Canada.
This impressive win earned Oliveira his thirteenth Performance of the Night bonus award.
Personal Life
Charles Oliveira has been married to his wife, Talita Roberta Pereira, since 2014 and shares a daughter named Tayla Oliveira, who was born in 2017.
The happy family of three resides in Gauruja, where Charles actively participates in local charities.
He identifies as a Christian.
Charles used to wear eyeglasses constantly in the past because of nearsightedness. Nevertheless, he was able to fight without them stating that it didn't hinder him in the ring.
It was not until October 2022 that he revealed that he had undergone corrective eye surgery and now has 100% perfect vision.
Interestingly, in February 2023, Charles announced that he would join OnlyFans, to provide content to his fans, including his workouts, training regime, and more.
Net Worth
According to Wealthy Gorilla, Charles Oliveira has an estimated net worth of around $5.5 million as of September 2023.
The majority of Oliveira's wealth comes from his accomplishments in the UFC octagon.
In his highly awaited fight against Islam Makhachev at UFC 280 on October 22, 2022, Oliveira earned a base salary of $750,000.
In addition to his base pay, he received $500,000 from pay-per-view earnings and an additional $32,000 from promotions.
This resulted in a total earning of $1.29 million for the fight, making it a significant financial success for Oliveira.
On July 10, 2023, Charles scored the 20th finish of his UFC career, finishing Beneil Dariush in the first round.
The finish, which extended his own record for most stoppages in the UFC, also earned him a $50,000 Performance of the Night bonus.
do Bronxs
Oliveira's nickname, "do Bronx," has a unique origin.
It comes from the slang term "Bronx," which is used to refer to favelas and impoverished neighborhoods.
In an interview, he explained that the nickname originated when he participated in an amateur tournament.
At the time, he was known simply as Charles Oliveira. However, during jiu-jitsu championships, people would often refer to him as being from the "Bronx" or the favela.
Inspired by this, he adopted the nickname "do Bronx" to reflect his background and where he came from.
Unknown Facts
Charles won the Sao Paulo championship in 2004 and the Copa Nação Jiu-Jitsu in 2005.
He received his black belt in Brazilian Jiu-Jitsu in 2010 under Ericson Cardoso and Jorge Patino.
He made his professional debut at the Predador Fight Championship promotion in March 2008.
Frequently Asked Questions (FAQS)
How much money did Charles Oliveira lose for missing weight?
Due to missing weight by half a pound and being stripped of his lightweight title, Charles Oliveira potentially incurred a significant financial loss. Estimates suggest that he may have missed out on as much as $2 million, including the purse for the fight and potential pay-per-view bonuses.
Why did Oliveira lose his belt?
Oliveira was not able to retain his lightweight belt after failing to make 155.5 pounds at the weigh-in ceremony in June 2022. The Brazilian champion had two more opportunities, but he was unable to drop the half-pound needed to meet the regulation weight.