Cody Ceci developed his ice hockey skills by competing against his older sister and younger brother during his childhood.
Today, he currently plays for the Edmonton Oilers in the National Hockey League.
The Ottawa Senators selected the defenseman in the 2012 NHL Entry Draft, which marked the beginning of his NHL career.
Over the six-year course of his tenure with the Senators, he scored 32 goals in addition to contributing 86 assists in 440 games.
On July 1, 2019, the Senators traded him to the Toronto Maple Leafs, with Ben Harpur, Aaron Luchuk for Connor Brown, Nikita Zaitsev, and Michael Carcone.
He featured in 56 games for the Maple Leafs and recorded 1 goal and 7 assists in the 2019–20 campaign.
After that, Ceci joined the Pittsburgh Penguins for the 2020–21 campaign, where he registered 4 goals and 13 assists.
He currently plays for the Edmonton Oilers, and as of this writing, in 80 games, he has contributed 14 assists and 1 goal.
Ceci plays alongside Leon Draisaitl, Zach Hyman, and Kailer Yamamoto for the Oilers.
Cody Ceci Sister: Chelsea Ceci
The Canadian-born player grew up as the middle child in the family, with an elder sister named Chelsea and one younger brother named Cole.
His sister, Chelsea Ceci, was born in Ottawa, Ontario, Canada, on November 22, 1991. She also reportedly played ice hockey like his brothers.
The age gap between Cody and his sister, Chelsea, is two years. On the other hand, the age gap between Cody and his brother, Cole, is three years and three months.
As per IMDb, she has acted in several films, like Confessions of a Dangerous Mind (2002), Outrage (2003), and Blue Mountain State (2010).
In terms of her personal life, Chelsea is married and has one adorable son.
Family Of Cody Ceci
Cody Ceci was born to Karen Sylvester-Ceci & Parri Ceci on December 21, 1993, in Ontario, Canada.
In the mid-1980s, Cody's father, Parri, played football as a receiver and was the 1984 Vanier Cup MVP.
During his time with the Guelph Gryphons, he made a record for the longest touchdown catch with an 89-yard reception.
The Calgary Stampeders drafted him in the 1984 CFL draft, but his football career ended due to a knee injury.
According to the sources, he works for the federal government as a database administrator.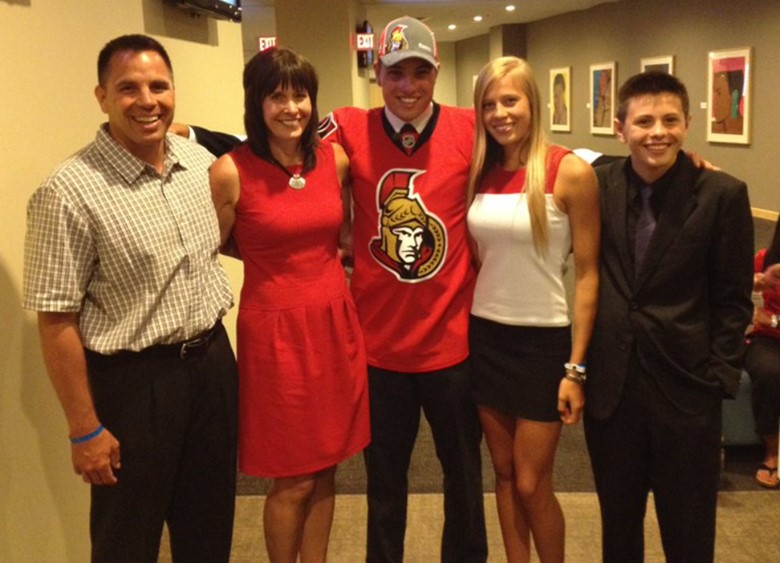 Cody's parents and even his grandmother regularly attend his and his younger brother's hockey games.
Karen, the mother of Cody, has described herself on her Twitter bio as "Busy hockey mom to York University Lions, Cole Ceci, Ottawa Ice, Chelsea Ceci and Edmonton Oilers, Cody Ceci."
Cody's mother was a figure skater and got all of his children to play ice hockey when they were young.
However, details regarding Karen's education and profession are unknown.
Younger Brother: Cole Ceci
Cody has a younger brother named Cole (born: March 4, 1998), who is following the family sports tradition and pursuing a career in ice hockey as a goaltender.
During the 2015-16 season, Ceci played for Ancaster Avalanche in the Greater Ontario Junior Hockey League.
He also briefly played for Hamilton Bulldogs & Guelph Storm as a goaltender before joining the Oshawa Generals.
Ceci also played for the Erie Otters in 21 games in the Ontario Hockey League.
He later joined York University and has been playing for their ice hockey team, competing in USports since 2019-20.