Oregon cornerback Christian Gonzalez has three sisters Melissa, Samantha, and Lily Gonzalez. His two older sisters are track and field athletes.
Like his fellow draft prospect Bryce Byresee, Christian Gonzalez comes from a family blessed with athletic genes. One of his sisters has even represented Colombia in the Olympics.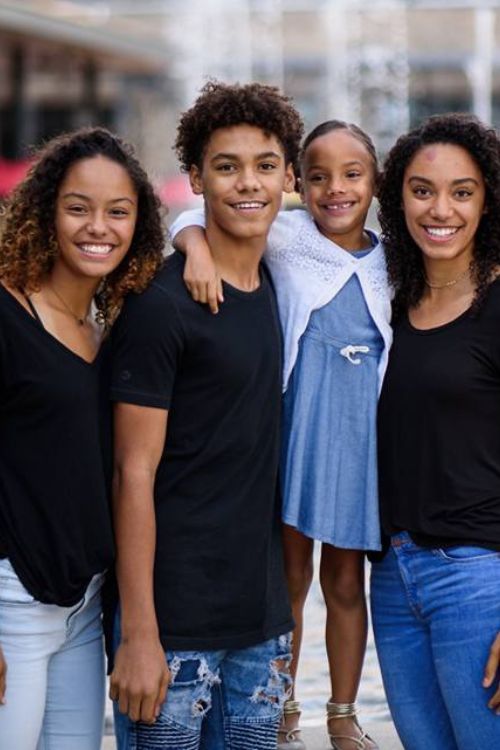 The 20-year-old cornerback was born to parents Hector and Temple Gonzalez and is their third child. The NFL prospect's younger sister, Lily Gonzalez, is one of his biggest cheerleaders.
With the NFL Draft nearing, there is a lot of hype surrounding Christian being selected in the first round of the 2023 draft. The other name that is making noise is CJ Stroud, who many believe to be the No. 1 pick in the 2023 Draft.
Christian Gonzalez Sisters Are Professional Athletes
Christian Gonzalez knows what it's like to grow up with professional athletes.
His sisters, Melissa and Samantha, are known names in track and field athletes. His youngest sister has also shown interest in sports and regularly attends her brother's games.
Melissa Gonalez Represented Colombia In The 2020 Olympics
Born on June 24, 1994, Melissa Gonzalez is eight years older than his brother Christian. The oldest kid in the Gonzalez family, Melissa, set the tone for her siblings with her discipline and work ethic.
She graduated from the University of Texas in 2015 with a degree in sport management and finished in the top 10 percent of her class. Before joining the University of Texas, she attended Creekview High School.
At Creekview, Melissa was a track team captain. Even after her graduation, Melissa continued to rise in her sports.
A 4x400m relay specialist, Melissa, has represented Colombia in various international competitions. In 2016, Melissa won gold at the South American U-23 Championship, and in 2022, she placed first at the Ibero-American Championships.
Melissa is available on Instagram with the username @melissagonzalez5 and boasts a following of 25.3k. The Olympian is married to Arizona Cardinals quarterback David Blough, with the two tying the knot in 2019.
Earlier this year, in February, Melissa and David, via their Instagram handle, announced they were expecting a new addition to the family pretty soon.
Samantha Gonzalez Is A Former Track Star Of The University of Miami
Like her sister, Samantha Gonzalez has had a fair share of success in track and field.
After graduating from Creekview High School, she joined the University of Miami to continue her career in track and field.
In 2019, Samantha won the women's 400m hurdle and set the fastest NCAA time.
She is available on Instagram with the username @samantha_gonzalez14 and has previously shared pictures with her siblings.
In September 2022, Samantha announced she had returned to training camp after taking a few months' break from the sport.
Last year, in May, she participated in a competition in Colombia but couldn't get a podium finish.
Lily Gonzalez Is The Youngest Sister Of Christian Gonzalez
Lily Gonzalez is the youngest of four siblings.
And despite being the youngest, Lily is already showing her siblings she is ready to be the next star of the family.
Last year in June 2022, Lily Gonzalez finished first in the long jump, 100m, and third in the 400m. In October 2022, Lily traveled to Autzen Stadium with her parents to cheer on her big brother.
Christian Gonzalez Parents, Hector, And Temple Gonzalez
Christian Gonzalez's parents, Hector and Temple Gonzalez come from a mixed background.
His father, Hector Gonzalez, is a former basketball player from a Colombian background. Hector played for UTEP Miners and later for the University of Texas.
Hector is available on Twitter with the username @hefagovi21 and recently shared clips of Christian from the NFL Combine.
Christian's mother, Temple Gonzalez, is a multilingual school teacher at DeWitt Perry Middle School and has shared several photos from her workdays on her Facebook handle.
A supportive mom, Temple has shared several photos of her four precious angels on her social media page, giving all of them equal love.