Ty Lucas was instilled with a strong sense of discipline from an early age, thanks to the guiding influence of his parents, Samantha and Cody Lucas.
This sort of upbringing is not much of a surprise, considering his father's background in the military and his mother's roles as a coach and teacher.
The influence of his parents' respective professions, where discipline is a cornerstone, shaped Ty's character.
So, it's no wonder that Ty Lucas learned the value of responsibility and diligence early.
Ty Lucas, a skilled long-snapper for the Clemson Tigers, pledged his commitment to the university in 2018, marking the commencement of an impressive journey.
His first appearance in collegiate football was against Charlotte, where he made a notable debut.
Demonstrating his versatility on the field, Ty excelled in his primary role and showcased his prowess by gaining three yards in his first career carry against Wofford.
During the 2021 season, he actively participated in two games, making valuable contributions on special teams in one and engaging in five offensive snaps in another.
The season unfolded with Ty's impactful return on special teams against S.C. State, further solidifying his role as a crucial player for the Clemson Tigers.
Ty Lucas Parents: A Fusion of Military Service and Education in Family Dynamics
Ty Lucas, born to Samantha and Cody Lucas, has a family background that uniquely blends military service and education.
His father, Cody, dedicated his service to the U.S. Army, specializing as a signal advisor for the 1st Security Forces Assistance Bridge.
Meanwhile, Samantha, Ty's mother, has seamlessly combined her roles as a coach and a teacher, as per her Instagram bio.
Growing up, Ty was predominantly under the nurturing care of his mother, especially during his father's military service.
His upbringing is a blend of military discipline and the nurturing guidance of an educator and coach, creating a unique and dynamic environment that has undoubtedly shaped his character over the years.
Lucas' family dynamic extends beyond Ty, as his parents have two other children: a younger son, Landon, aged ten, and a younger daughter, who is seven.
Unexpected Emotions: Ty Lucas's Journey from Routine Signing to Heartfelt Surprises
Ty Lucas parents beam with pride at his accomplishments and eagerly anticipate the promising future that lies ahead for their son.
One poignant moment that etched itself into the family's memory occurred during Ty's signing ceremony with Clemson University in 2018.
Initially intended to be a routine event, the occasion took an unexpected turn, transforming into a profoundly emotional experience for the Lucas family.
As Ty prepared to sign on with Clemson as a preferred walk-on for football, he received an unexpected surprise—a video call from his father, Captain Cody Lucas, who was deployed in Afghanistan.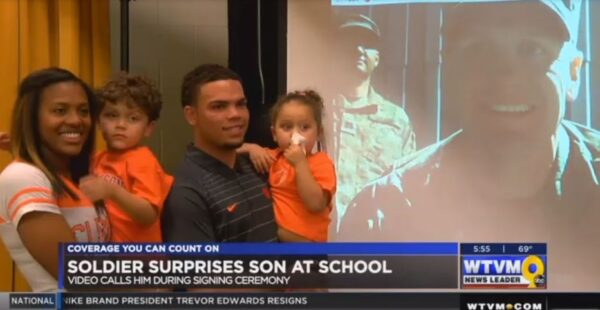 The unexpected connection with his father added a deeply emotional layer to the event, leaving Ty profoundly moved.
Reflecting on the surprise call, Ty expressed,
That hit me emotionally. I was not expecting that at all. My dad has been everything for me. From football to school to teaching me things about life. It's just, he's been everything.
Captain Lucas, separated from his family for 9 to 12 months due to deployment, added a poignant layer to an already emotional day.
Ty, his mother, and the entire family found themselves navigating a whirlwind of emotions, highlighting the significance of familial support.