The year is 2018; the Blues are in turmoil, with their season in danger of being a bust. Thus, a necessary decision has to be taken, relieving the head coach, Mike Yeo, of his duty and assigning assistant head coach Craig Berube as the interim caretaker.
One would have imagined Berube's impact on St. Louis Blues. To explain, the Alberta native not only picked up his fallen team but also led them to the Stanley Cup in 2018. Since then, Craig has been serving as the head coach of the Blues of the NHL.
However, the Alberta native enjoyed some brilliant moments in his career before winning the Stanley Cup. Berube was a former professional player who reached the Stanley Cup finals twice.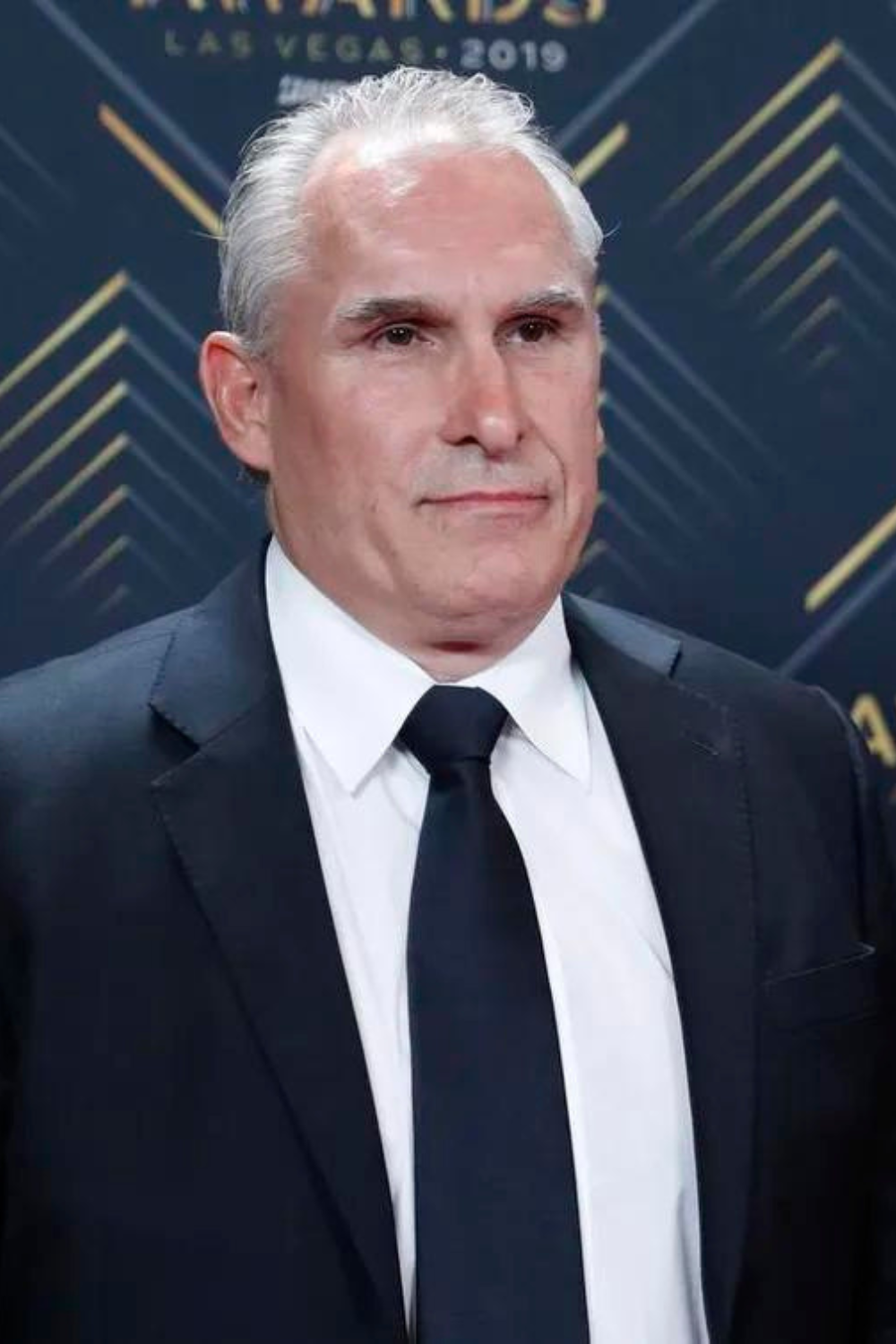 His team, the St. Louis Blues, lost 4-2 against the Colorado Avalanche on January 23, 2023, and will be competing against Arizona Coyotes on February 12.
So, we have written this article to enlighten our readers about Craig's previous playing career and coaching endeavors.
Besides, you will also find details regarding his early life, parents, salary, net worth, nationality, contract, age, height, kids, wife, and social media.
Let's start with his quick facts.
Quick Facts
Full Name
Craig Berube
Birth Date
December 17, 1965
Birth Place
Calahoo, Alberta, Canada
Nick Name
Chief
Nationality
Canadian
Ethnicity
Native American
Horoscope
Saggitarius
Father's Name
Roger Berube
Mother's Name
Ramona Berube
Siblings
Not available
Age
57 Years Old
Height
6'1″/1.85 m/185 cm
Weight
93 kg/205 lb
Hair Color
Grey
Eye Color
Black
Build
Athletic
Marital Status
Married
Spouse
Rebecca Bricker Berube
Children
Three (Two sons and a daughter)
Sons' Name
Jake Berube
Nashota Berube
Daughter's name
Charlotte Berube
Current Affiliation
Ice Hockey (National Hockey League)
Profession
Retired Ice Hockey Player
Ice Hockey Coach
Current Position
Head Coach for St. Louis Blues
Teams Coached
Philadelphia Phantoms, Philadelphia Flyers, Chicago Wolves
St. Louis Blues
Net Worth
$10 Million
Clubs
St. Louis Blues, Philadelphia Phantoms (Managerial), Crowsnest Pass Timberwolves, Prince Albert Raiders, Bridgeport Sound Tigers (Player)
Merch
Rookie Card, Autograph
Last Update
December 2023
Early Life & Family
The professional coach, Craig Berube, was born on December 17, 1965, in Calahoo, Alberta, to supporting parents Roger Berube and Ramona Berube.
Unfortunately, we could not find much information regarding his family or siblings.
Berube is a Canadian by nationality, while his ethnicity is First Nation descent. At the same time, his religious beliefs are unknown.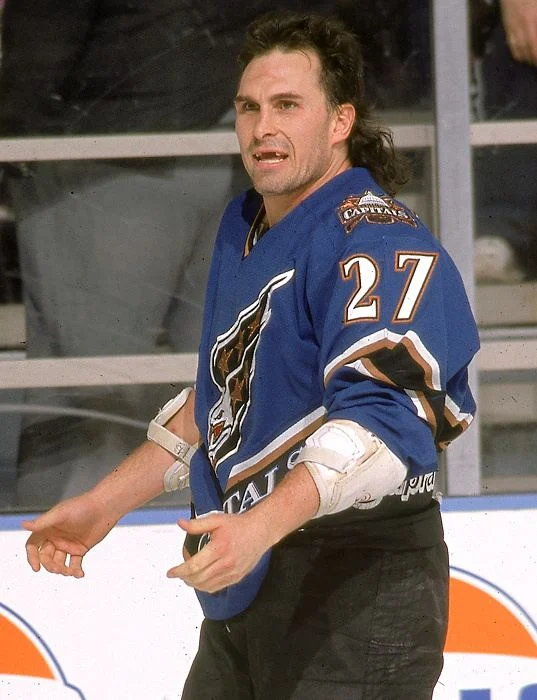 Moving on, like most other Canadian kids, young Berube also wanted to become an ice-hockey player. Thus, he spent most of his childhood practicing in the local rinks with his father.
The Alberta native worked hard to improve his game whenever he had free time. He played one season in the Pacific Junior Hockey League (PCJHL), where he scored nine goals, 33 points, and 24 assists in 33 games.
As a result of his impressive performances, teams in the WHL wanted the young prodigy's services.
Professional NHL Career
Berube started his professional career in the Western Hockey League (WHL) with the Kamlooops Jr. Oilers in 1982, where he earned a total of four starts throughout the season.
However, his second season was impressive, as he played in 70 games, scoring 11 goals, 31 points, and 20 assists. After that, Craig played for another four years in the WHL and AHL, sharpening and developing his skills.
By the time of the 1986 NHL Draft, most expected the Alberta native to get picked at some stage. Unfortunately, the 6'1″ winger remained undrafted but was ultimately picked by the Philadelphia Flyers.
Craig spent another five years with the Flyers alternating between their development franchise, Hershey Bears. One of Berube's most memorable moments was with the Flyers as they reached the 1987 Stanley Cup finals.
But unfortunately, they lost the series to Edmonton Oilers.
Later, the 57 years old played for the Toronto Maple Leafs and Calgary Flames before landing at Washington, where he had a memorable career.
Craig was one of the most essential players during the Capital's 1998 Stanley Cup Finals run.
After that, the Alberta native spent the rest of his career alternating between the Capitals, Islanders, and Calgary Flames before retiring in 2004 as the Philadelphia Phantoms' player-assistant coach.
Coaching Career
After retiring in 2004, Craig took a well-deserved break from professional ice hockey. In 2006, he was offered the Philadelphia Phantoms' head coach role, which he duly accepted.
However, just before the start of the 2006-07 season, the Philadelphia Flyers, the Phantoms' affiliate team, promoted Berube to the Flyers' coaching staff.
The following season, the Alberta native assumed the head coach's role and remained with the franchise for a while.
Craig returned in 2013 to help the Flyers improve on their poor start after taking a short time-out. He even guided the team to the playoffs.
After that, Berube couldn't continue his successive form and was sacked a year later in 2015.
Berube managed Chicago Wolves in the American Hockey League for a year before taking on the job that would change his life. He took the role of assistant head coach of the St. Louis Blues in 2017.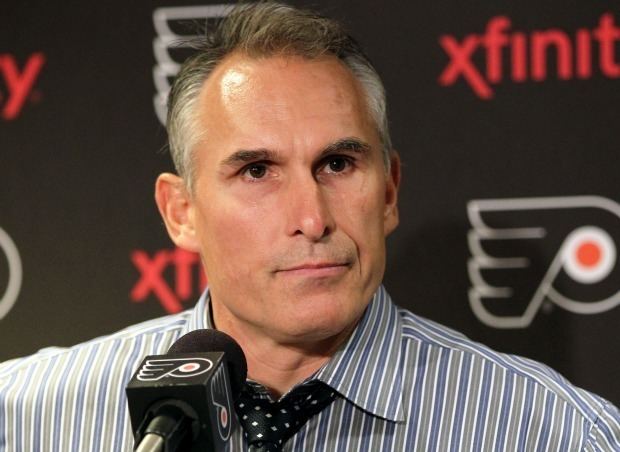 The following year, head coach Mike Yeo got sacked because Mike had to take up the role temporarily.
Subsequently, in a script that any Hollywood writer would be proud of, the Blues won the prestigious Stanley Cup in 2018. Moreover, they defeated the Boston Bruins in a hard-fought series that had to be decided in Game 7.
In doing so, Craig became only the second interim head coach in the history of the NHL to win the Stanley Cup.
Since then, he has remained with the Blues, who promoted him to their full-time head coach in 2019.
Coaching Style
Craig Berube has a very straightforward style of coaching, as he simply tells the players what he needs.
Contract With The St. Louis Blues
Berube signed a three-year contract with the St. Louis Blues on February 9, 2022. As per the contract, Craig will be with the franchise until the end of the 2024-2025 season.
According to various sources, the 57 years old earns $3 million per year with the Blues.
Talking about it, the Blues' coach has not exposed any details regarding his financial status.
But it is mentioned that Craig is financially stable and holds various branded cars, houses, and other expensive items.
Stats
| | | | | | | | | | |
| --- | --- | --- | --- | --- | --- | --- | --- | --- | --- |
| Year | GP | G | A | PTS | +/- | PS | PIM | SH | GW |
| Career | 1054 | 61 | 98 | 159 | -81 | -4.5 | 3149 | 699 | 8 |
Age, Height & Nationality
Being born in the year 1965 makes Craig 57 years old at the moment.
Similarly, the Alberta native was born on December 17, making his horoscope Sagittarius. People with this horoscope are optimistic, hilarious, fair-minded, and intellectual.
The Canadian former professional ice hockey player stands at 6'1″/1.85m and weighs 93 kg/205 lb.
First Nation
Craig belongs to the First Nations descent, the Indigenous peoples of Canada. Consequently, Berube and Ted Nolan are the only First Nations ancestry in the league.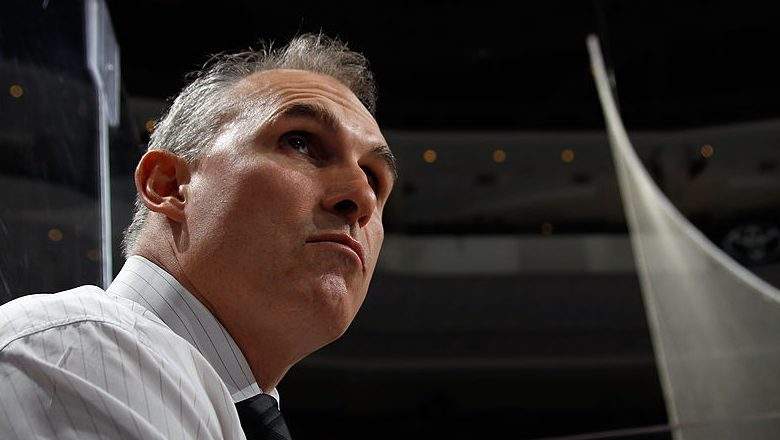 Likewise, the two were featured in an NHL when they went head-to-head as coaches in late November 2013.
Net Worth & Salary
As of 2023, Craig has a net worth of $10 million, which he has earned mainly from his career as a player and head coach in the NHL.
The Alberta native has been involved in professional hockey for over three decades. Hence, his net worth should not surprise anyone.
Moving on, Berube currently earns a reported yearly salary of $3 million with the St. Louis Blues as their head coach.
It is mentioned that Berube made around $6 million from his NHL career alone.
Locker Room Fight With Jeremy Roenick
Jeremy Roenick and Craig Berube fought in JR's first years in the NHL. Berube had the opportunity to return the punch to JR after over a decade.
Berube punched JR in the face in Philadelphia Flyers' locker room in 2014.
The rivalry started in the early 1990s when Berube had the image of a tough guy playing for the Philadelphia Flyers, and JR was a newbie for the Chicago Blackhawks.
The Beginning Of The Rivalry
Paul Holmgren sent Breube to teach Jeremy Roenick a lesson as JR ran into Ron Hextall, offending Holmgren.
Berube chased JR for a while and finally ran into him in the third period. He then challenged JR to fight, pretty much grabbing him.
A fuss was created, and the referee grabbed Berube's arm, locking him. JR was free with the option to hit or not hit his defenseless instigator.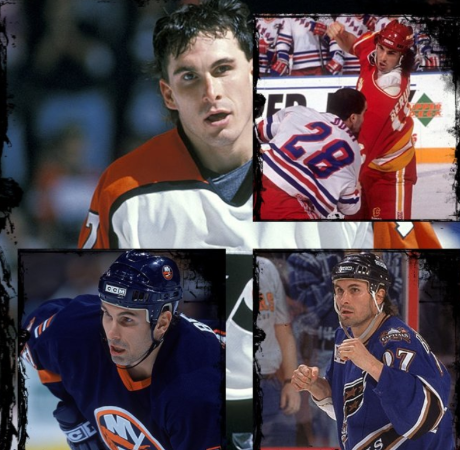 JR was young, new, and hot-minded. He chose the first option, slugging Berube and then strike him.
The rivalry continued for quite a while. Whenever Chicago Black Hawks and Philadelphia Flyers met on the ground, Berube would create a tough time for JR.
When JR got onto the ice, Berube would stand on the bench, yelling at his teammate to get off so he could chase JR around. He would jump on the ground, and the duo would run back and forth on the skate.
Berube chased Jr for around two or three years.
The duo met again, JR playing for the Philadelphia Phantoms and Berube coaching the parent club Philadelphia Flyers. The teams shared the locker room.
When Punch Returned
Berube entered the Flyers' locker room, where Jeremy was getting ready. JR greeted Berube, and Berube responded with a punch.
After the punch, the coach said, "I said ya I'd get ya." However, the feud did not go ugly.
JR and Berube, along with Boosh and Tocc, played golf later the same day.
Engagement & Married Life
Talking about his marriage, Craig is a married man who is in an extremely loving relationship with his wife, Rebecca Bricker Berube.
The couple dated each other for years before tying the knot in 1995.
Moving on to their kids, the pair have been blessed with three beautiful children: Jake Berube, Nashota Berube, and daughter Charlotte Berube.
Unfortunately, we could not find further details about their kids. The Canadian coach and his better half have kept the personal information away from the media's prying eyes.
Judging from the various pictures on the internet, the family of five seems to be in a good relationship.
Social Media Presence
Despite being a professional hockey player and now a coach, Craig is not active on social media.
Currently, Berube is fulfilling his activity as the head coach of the St. Louis Blues of the National Hockey League (NHL).
View this post on Instagram
The former star has played for significant NHL teams like Philadelphia Flyers, Toronto Maple Leafs, Calgary Flames, Washington Capitals, and New York Islanders.
Popularity
The Candian professional ice hockey coach now serves as the head coach for the St.Louis Blues in the NHL.
The graph shows his search trends in 2023.
Frequently Asked Questions (FAQS)
Was Craig Berube fired from the Philadelphia Flyers?
The Philadelphia Flyers fired Craig Berube from the head coach position on April 17, 2015. Berube served as the 18th head coach for Philadelphia Flyers. He took over the position on October 7, 2013. He left the post with a record of 75-58-28 for the club. Philadelphia Flyers general manager Ron Hextall called Breube a fine coach, nothing too spectacular or horrendous. But he questioned Berube's ability as a tactician. He also criticized Berube's moves that turned out horrible since the first season. According to Hextall, the players also sometimes felt it hard to understand Berube's thinking pattern.
Is JF Berube related to Craig Berube?
JF Berube, the goaltender for the Charlotte Checkers of AHL, is not related to a former hockey player and current coach Craig Berube.
Did Craig Berube confirm Robert Thomas' injury?
Yes, the coach confirmed Robert's injury on November 28, 2022, in a pre-match conference.
What is hockey coach Craig Berube doing now?
Craig Berube currently serves as the head coach for the St. Louis Blues of the National Hockey League (NHL).
Is Craig Berube an attorney?
No, the former player is not an attorney.
What is Craig Berube's career statistic like? What is his fight record?
During his tenure on the NHL field, Craig Berube played 1,054 games in the regular season and scored 61 goals. Likewise, he had 98 assists, 159 points, and 3,149 penalties. Moving on for his playoff season, Craig had played 89 games and scored three goals. With it, he maintained a single assist, four points, and 211 penalties. Craig Berube had 27 fights in his 10-year NHL career – 15 with Pittsburgh and 12 with St. Louis.