Crystal Dunn's husband, Pierre Soubrier, is currently facing suspension from NWSL. Pierre and Crystal tied the knot in 2018 after dating for three years.
The US soccer star has tried her best to help her husband recover from the loss of his job. Their son, Marcel, born in 2022, has also helped his dad a lot as Pierre is in charge of the dad's duties.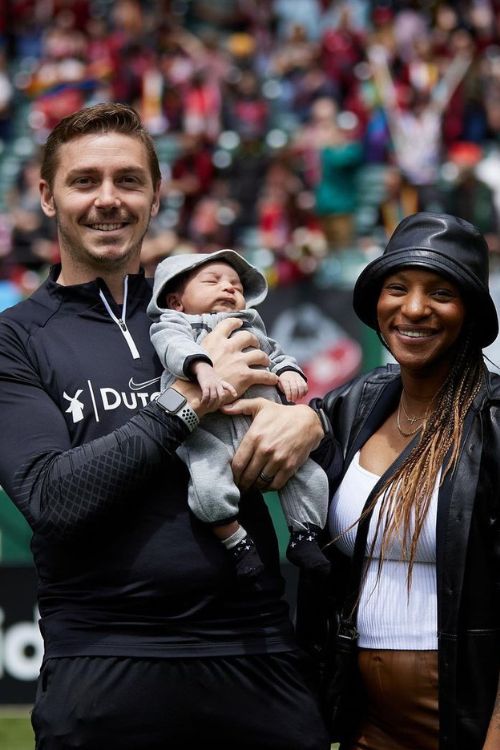 The wing-back, Crystal Dunn, is appearing in her second World Cup for USWNT. She missed out in 2015 by a small margin but got to taste the world cup glory with teammates Lindsey Horan and Alyssa Naeher in 2019.
The US team is looking to win its third consecutive World Cup title and has started off on a winning note against Vietnam. They will next face the Netherlands, with the Dutch hoping to exact revenge for the 2019 Finals loss.
Crystal Dunn Husband, Pierre Soubrier NWSL Scandal
Crystal Dunn's husband, Pierre Soubrier, was fired by Portland Thorns earlier this year in January.
The action was taken after a league investigation found Pierre had administered two players codeine without a prescription. Dr. Breanne Brown, the physician of the Thorns, was the one who reported Soubrier's wrong deed.
The NWSL suspended Pierre from the league without pay through the conclusion of the 2023 season. It was Soubrier who had admitted to Dr. Breanne Brown that he gave the two players codeine during the semifinal game on October 22.
After the news about Pierre's suspension broke, the couple released respective statements on Twitter. Pierre apologized for his action and wrote he would reflect on it.
Crystal wrote she hopes that her husband can return as a trainer in the future and thanked those who have supported them through the difficult time.
Pierre Soubrier Career Before And After The Scandal
A Quinnipiac University graduate, Pierre Soubrier earned athletic training and sports medicine degree in 2011.
After earning his degree, Pierre worked for Yale University as an Assistant Athletic Trainer and later worked for GirlsCan Football Club.
In 2015, Pierre was appointed the Head Athletic Trainer for Washington Spirit, a role he fulfilled for almost three years. US Soccer Federation appointed Pierre as the Athletic Trainer & Sports Science in 2017.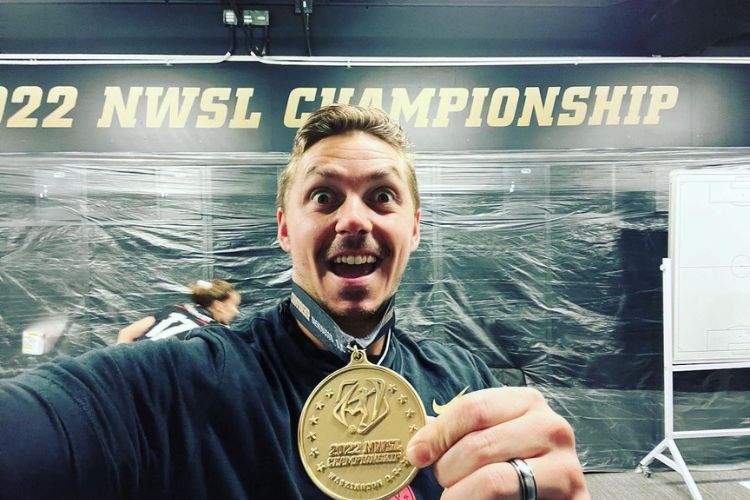 He only worked with US Soccer Federation for nine months before joining Colorado Rapids, where he gave medical coverage for U12-U19 academy teams.
In 2019, Pierre joined Portland Thorns FC as a head athletic trainer. Two years later, he was promoted to the role of Director of Medical & Performance.
After his suspension from the NWSL, Pierre has been working with PCS Wellness as a high-performance consultant.
Crystal Dunn And Husband Pierre Soubrier Relationship
Crystal Dunn met her husband, Pierre Soubrier, at Washington Spirits in 2015. It was her only second season with the club, and Pierre was appointed the Head Athletic Trainer.
It was love at first sight for Pierre, who in the latest interview with Andscape, said he was immediately drawn toward her.
The couple might have begun dating in 2015 but only went Instagram official in 2017. Holding the Chelsea shirt, Crystal captioned the post, "Today, I start my new journey… Thank you babe for all your love and support. I'll miss you so much."
While Crystal played for Chelsea, the athletic trainer didn't wait for her return to the States but proposed to her on July 27, 2017. During her time in the UK, Crystal would share several posts dedicated to her man longing for them to meet soon.
The couple tied the knot in December 2018 and were reunited in the same team in 2020 at Portland Thorns. In November 2021, the couple announced they were expecting a new family member as they posed with baby shoes.
On May 20, 2022, Crystal gave birth to a baby boy, Marcel, who has since been seen several times on his mom's Instagram handle.
In her latest interview, Crystal thanked her husband for treating her like a queen. She believes not all Black women get the chance to feel that way. The Thorns player said Black women for long have been perceived as less attractive and less feminine.
Crystal also said it was also down to Pierre's upbringing. The soccer trainer was born and raised in Ivory Coast. He grew up around West Africans until he was 11 before moving to France.