Dana White is the face behind the success of UFC. He did everything to make his show a hit, and look how hit is UFC, and its all because of his hard work.
Dana himself is a professional boxer; he started boxing at seventeen. He may be living a luxurious life, but he worked days and nights to reach his current position.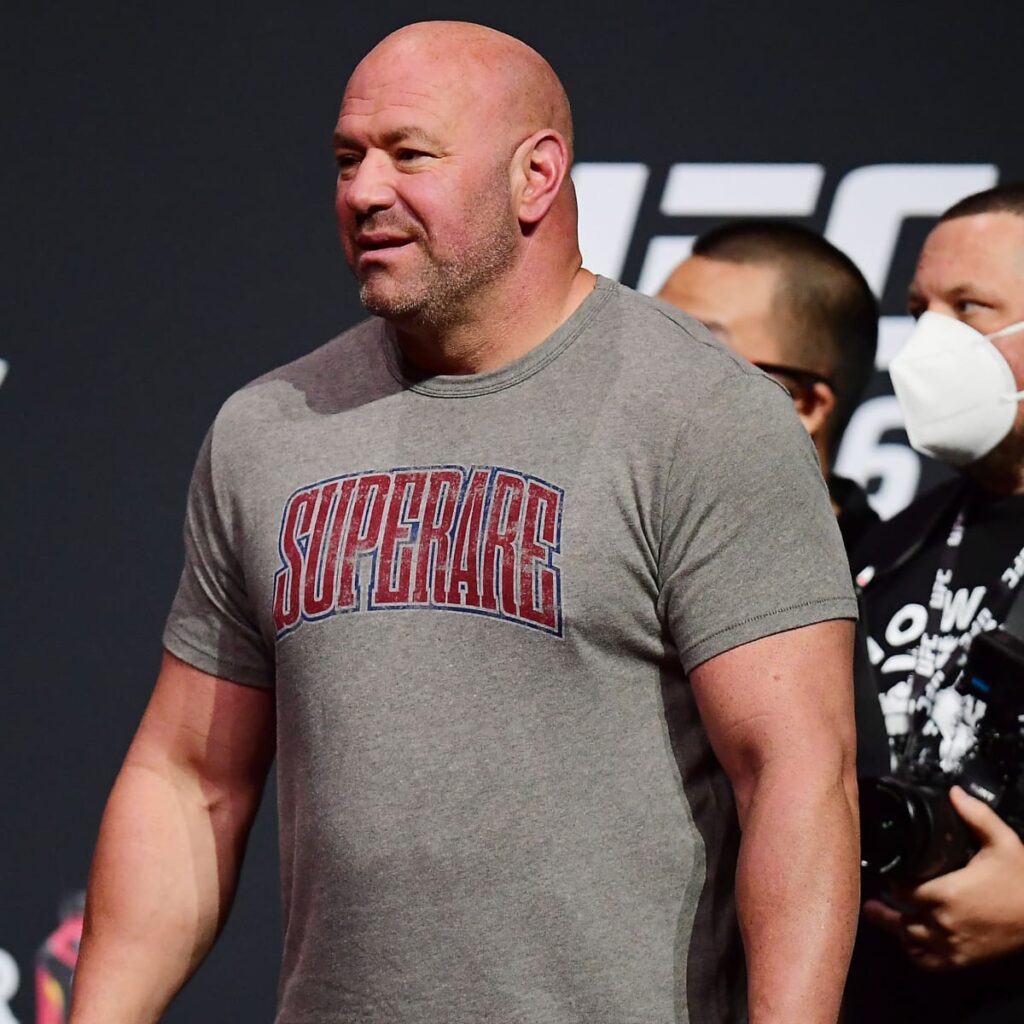 White is a success story and a motivation to many youths. But do you know how it all started? Stick with us till the end of this article to know everything about Dana, from his childhood to his love life to net worth.
But before diving deep into the article, let us not waste our time and look at the quick facts.
Quick Facts
Full Name
Dana Frederick White Jr.
Birth Date
July 28, 1969
Birth Place
Manchester, Connecticut, U.S.
Nick Name
Not Available
Age
54 Years Old
Nationality
American

Ethnicity
Irish-American

Education

Hermon High School
Quincy College
UMass Boston

Horoscope
Leo
Father's Name
Dana White Sr.
Mother's Name
June White
Siblings
Kelly White
Height
5 ft. 10 inches
Weight
88 kg
Hair Color
Bald
Eye Color
Brown
Build
Athletic

Sexual Orientation

Straight

Marital Status
Married

Wife
Anne Stella

Children
Dana III, Aidan White, and Savannah White
Profession
Boxer, President of UFC
Affiliation

UFC, MMA
Religion

Doesn't believe in religion

UFC Shares
9%
Became UFC's President in
2000
Passionate About
Sports, Gym, Boxing

Career Earnings
$500 Million

Salary
$20 Million
Merch
Paperback: Dana White, King of MMA,
Social Media
Instagram, Twitter, TikTok
Last Update
November 2023
Dana White: Early Life and Childhood
On July 28, 1969, Dana White was born to June White (mother) and Dana White Sr. (father) in Manchester, Connecticut, United States.
His father is an American, and his mother is Irish, so he grew up adapting to the values of both cultures. Along with his sister Kelly, he was raised by his mother and his mother's side of the family.
From a very early age, White was interested in boxing, and at the age of seventeen, he started boxing. White dropped out from two colleges, Quincy College and UMass Boston, during his first semester each time.
Unfortunately, White had to leave Boston and move to Las Vegas as he was constantly being threatened by two-person Whitey Bulger and Kevin Weeks.
Dana had to pay them $2500, and he didn't have any money to pay them, so to protect himself from them, he had to move to Vegas and hide from them.
Vegas White started to run a boxercise business and train ground game with his partners Fertitta brothers.
Very little did White know his life was about to change; after he began to train in Lewis's practice, he met Tito Ortiz and Chuck Liddell and became their manager. Nonetheless, from here, his new journey started.
Dana White: Career
When Dana worked as a manager for Ortiz and Liddell, he met Bob Meyrowitz. Bob was the owner of Semaphore Entertainment Group, which happened to be the parent company of the UFC.
After White knew Bob was looking forward to selling the UFC, he immediately contacted his childhood friend Lorenzo Fertitta. Lorenzo was co-founder of Station Casinos, and the main motive was to convince Fertitta to buy UFC.
It was Dana because of whom UFC got permission from the Nevada State Athletic Commission and the recognition as a sport from all the major state athletic boards.
<<<15 Best UFC Fighters of All Time>>>
Finally, in January of 2001, Lorenzo and his brother Frank bought UFC and made Dana the company president.
However, UFC was just a name, and it had no brand value. Because the previous owners were bankrupt, they sold the company for $2 million to earn some money.
Furthermore,
But Dana gave his percent to the company, and he worked days and nights to make UFC a top company. Nonetheless, his hard work paid off as UFC later turned into one successful company with a turnover of $600 million.
Later, the consortium bought UFC for $4.025 billion, and Dana got 9% of the shares. Then, Dana decided to continue his work as a President.
Not only UFC, but Dana has also established himself in other fields. In 2017, White started the Mayweather-McGregor boxing fight.
Besides, he also started Dana White's Contender Series, which is completely different from the UFC, and it allows the fighters to fight to get a UFC contract offer.
In 2019 Dana announced that he signed an additional seven years contract with UFC to be its president.
While everyone was stressing in their homes due to COVID and every major entertainment was not operating, Dana decided to continue UFC. Nonetheless, this helped in increasing UFC's fanbase.
Awards and Achievements
One time Patriot Award Winner
Leading Man of the year for ten consecutive years
World MMA
Promoter of Year
Books
Some books have been written after him to celebrate his success and inspire the youths.
One of them is, Through a mother's eye: The Dana White Story. This book is about Dana's childhood and how his mom June raised him as a single mom.
The other book is Dana White, King of MMA. Undoubtedly, this book is also about Dana, but it is something like getting to know the real White, everything about him, even if it is good, bad, or ugly.
Besides, Dana has also written a book by himself, not actually, but one book has been published that has Dana's name as an author. The book was named Do not Believe in Anything You Read. However, the entire book is covered by photographs and tweets which Dana himself clicked.
Dana White Net Worth
When Dana started his career, he had nothing but a hope to do something in life and earn good money. But today, Dana has a hefty net worth of $500 million.
Being the president of UFC, Dana has earned quite a good amount of money. Apart from UFC, he has started his business ventures. And it is expected that Dana earns around $20 million every year.
This multi-millionaire lives a lavish life, and there is no doubt. In 2016, White bought three mansions in Nevada Las Vegas. In addition, he bought a 7700 sq. ft house worth $1.8 million in October. Likewise, a $2.4 million bungalow in January and 4700 sq. ft of the house for $2 million.
Apart from that, Dana loves cars and has some luxury cars in his collection. For example, Dana has a Ferrari, classic red which cost him $180,000. Apart from that, he also added a black Ferrari to his collection worth $211,000.
His first car was Datsun 320, which he still handles with care, and he paid almost $115,000 for BMW M6 Gran.
Whenever Dana has to travel, he travels through a Bombardier jet. He has even gifted some luxurious cars to his family, like the V8 Defender worth $180,000 to his eldest son and BMW M6 worth $125,000 for his youngest son's 16th birthday.
Similarly, Dana owns a Harley Davidson, which was gifted to him by the Harley Davidson company itself. Apart from that, he also owns Ducati and Augusta.
Body Measurements
Dana White stands at 5'1″, which is quite a good height. Apart from that, he weighs around 88 kg; Dana himself is a boxer and knows how to keep his body in shape being an athlete.
However, Dana has bald hair and beautiful brown eyes, complimenting his looks. But this has not always been Dana's style, and he had black hair and a mustache.
Kay Hansen Bio: UFC & Net Worth>>
Dana is American by nationality. However, he is a Catholic, but Dana seems to be an atheist.
Dana White Controversy
Dana's life has not always been easy, and it is full of ups and downs. As he is a public figure, every move of his would be judged by the public.
Likewise, Dana had made quite a headline when he was named in a sex tape scandal. A Brazilian stripper accused him of offering her $10,000 to sleep with him for a night. She also accused him of cheating on his wife.
After the incident, the stripper's boyfriend tried to extract money from White and started to blackmail him. However, when this incident happened, Dana was unaware, and the stripper took the video without Dana's consent.

So later, the case was dismissed in 2020, and the court sent the stripper's boyfriend to jail for blackmailing White.
Dana White and Jake Paul Controversy
Jake Paul and Dana White's feud is not hidden from anyone. Nonetheless, this war started over the pay cheque as Jack was unhappy with his pay.
If you wonder who Jake is, he is one famous UFC fighter. However, Jake always makes headlines with his controversial statements.
Jake has humiliated Dana on every occasion and even released a diss track against him. On the other hand, Dana also didn't keep quiet and took a dig against Jake Paul. Both Dana and Jake might not be having a physical fight, but their war on social media grabs everyone's attention.
Dana White Personal Life
Dana is happily married to his childhood sweetheart Anne Stella. They have been married since 1996 and have been in love since their school days; let us say they were in eighth grade.
Nonetheless, he lives a lavish life with his family and even gifts some lavish items to his kids.
In 2016, White supported Donald Trump during the election. Trump has been a great investor to UFC and helped White uplift UFC; Dana supported Trump.
In 2020 he even donated $1 Million to American First Action, which supported Trump's re-election. Similarly, the same year he even joined selected groups of industry leaders to help the U.S. rebuild its economy.
Social Media Presence
Dana White is quite active on social media. He is active on all the major social platforms, Instagram and TikTok.
Recently Jake Paul's and Dana White's feud took place through Twitter when Jake called Dana an unhappy billionaire and released a diss track against Dana.
Ashlee Evans Smith Bio: Stealing, Career, Record, UFC & Net Worth>>
Apart from that, Dana keeps sharing major highlights of the UFC and tweets some controversial statements on his social media handle. Therefore, if you want to know more about Dana White, there is much information regarding him all over the internet.
Frequently Asked Questions (FAQs)
Has Dana White retired from the post of UFC president?
No, he has not. Besides, in 2019 Dana signed an additional five-year contract with the UFC and will be working as a president for more years.
Can Dana White fight?
Before Dana was the president of UFC, he was a professional boxer. Having said that, yes, he can fight, but he is surely not UFC type.
Is Dana White a gambler?
Yes, he is. People call him a pro gambler; however, Dana does gambling for a recreational purpose to freshen up his mood. In 2021, Dana went to Palms Casino Resort of Vegas and won $7 million in one night.