Fans of Darcy Moore were waiting on his illness update before the game against GSW, and Moore didn't disappoint. A week later, he took to the field for a record-matching performance.
The 27 years old key defender of Collingwood FC, Darcy Moore, was said to have broken the intercept record against Carlton.
But it was later scrapped by one, bringing it down to ten, and now he shares the record with seven other players.
Moore's performances this season have been nothing short of out of the world.
Any injury or illness will undoubtedly put brakes on his performances, which is one thing Collingwood fans wouldn't want this season.
Darcy's performance against Carlton was not a fluke, as it came against two extraordinary players, Charlie Curnow and Harry McKay.
Darcy Moore Illness And Health 2023
Darcy Moore fell ill at the end of last year due to a shock bone infection. The star player of Collingwood was diagnosed with osteomyelitis delaying the star to the pre-season.
But since then, Moore has been in top shape and hasn't missed a single game since the start of the season.
Moore has made ten appearances making 115 kick-ins, 169 disposals, and scoring 65 marks.
Last week, there were doubts about whether Darcy would start against Great Western Sydney.
The skipper was said to be battling an elbow infection. But he didn't let his team and fans down as Moore starred and shined for Collingwood.
The key defender has previously talked about injuries with the official AFL website.
Moore was lucky last season that he didn't miss out on games after hyperextending his left knee.
In the interview, Moore said for once he thought he would miss out on 12 months of action. But fortunately, it was only bone bruising and no structural damage.
In 2021, Moore missed out on considerable action after a knee injury against Melbourne. It was not only a disappointing season for Moore but also for Collingwood.
The team only notched up six victories and finished 17th in the standings. This season Collingwood will hope their star man can continue his exquisite form for the rest of the game and hopefully not face any injuries.
Darcy Moore Supposed Record-Breaking Performance Against Carlton
On May 21, 2023, Darcy Moore faced Carlton, and boy did he light up the stadium. The skipper ended the game with what looked like record-breaking 11 intercepts.
It was hailed as an AFL record, but Champion Data reduced his tally to ten, making Darcy share the record with seven other players.
He might have outright failed to clinch the record, but there's no doubt Darcy Moore was the best player on the field.
His performances this season have already given him MVP shouts.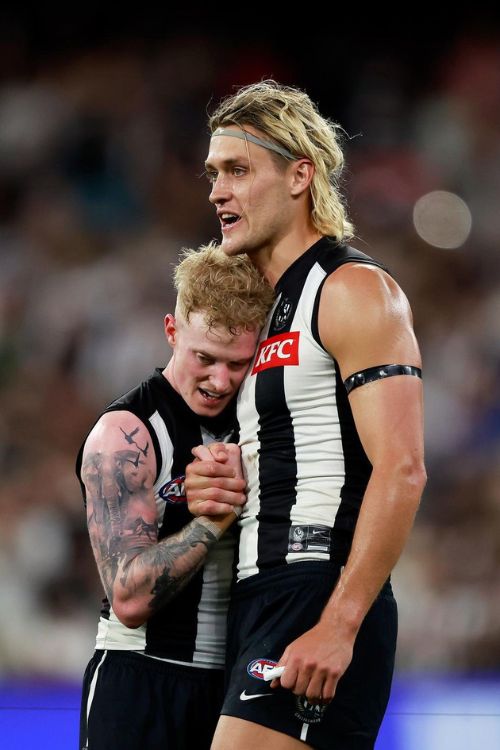 The man who doesn't like to take credit for his team's performance, Moore said he was enjoying his partnership with his teammate Nathan Murphy.
Speaking to the media, Moore said his chemistry with Murphy is the result of the hard work they have done in the past two or three years.
More performances like that on Sunday can quickly seal Moore's bid for winning the MVP honor. The 27-year-old has been nothing but spectacular for the past two years.