Darnell Jackson is an American professional basketball player who last played for Stal Ostrów Wielkopolski in the Polish Basketball League (PLK).
Jackson has been very passionate about basketball since his childhood. The main advantage while playing games for him was his height. Jackson has a massive height of 6'9″/2.06 m.
He played college basketball for the University of Kansas, including the 2008 national championship team. Unfortunately, Darnell didn't become a starter until 2007-2008, when he replaced Sasha Kaun.
Jackson was selected as the 52nd overall pick in the 2008 NBA Draft by the Miami Heat. However, he was traded to the Cleveland Cavaliers on the same day.
Darnell is one of the richest players whose earnings solely come from his basketball career. As of 2023, he has a net worth between $1 million- $5 million.
Unveil further engaging details about the American-born power forward Jeff Adrien below this article.
Before going into details, let's see some quick facts about this popular player.
Quick Facts
| | |
| --- | --- |
| Full Name | Darnell Edred Jackson |
| Known As | Darnell Jackson |
| Birth Date | November 7, 1985 |
| Age | 37 Years Old |
| Place of Birth | Oklahoma City, Oklahoma |
| Country | United States |
| Profession | Basketball Player |
| Horoscope | Scorpio |
| Nationality | American |
| Mother's Name | Shawn Jackson |
| Siblings | Evan Jackson, Ebony Jackson |
| High School | Midwest City High School |
| College | Kansas University |
| Height | 6'9″/2.06 m/206 cm |
| Weight | 115 kg/253 lb |
| Body Type | Athlete |
| Position | Power/Centre forward |
| NBA Draft | 2008 |
| Girlfriend | N/A |
| Kids | Two |
| Net Worth | $1 Million-$5 Million |
| Active Years | 2008-Present |
| Social Media | Instagram, Twitter |
| Merch | Autographed Basketball Card |
| Last Update | June 2023 |
Early Life, Education & Family
Darnell Jackson was born on November 7, 1985, in Oklahoma City, Oklahoma. He has been a sports-loving person since his childhood and started playing basketball when he was in 9th grade.
Jackson went to Midwest City High School, where she used to play the power forward position. He was considered a four-star recruit by Rivals.com. Likewise, Jackson was listed as the No. 54 player in the nation in 2004.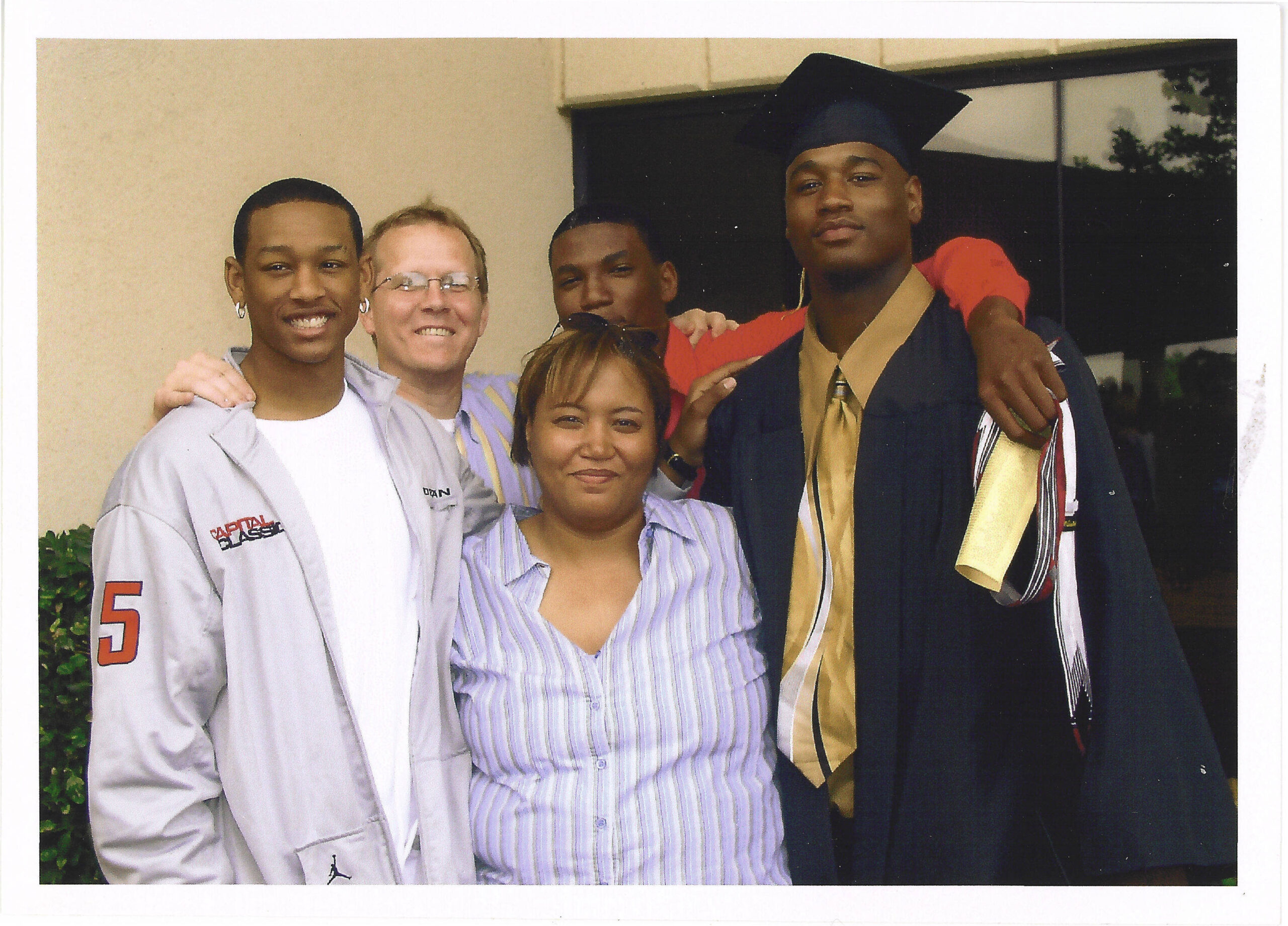 Darnell shared a close bond with his mother, Shawn Jackson. She was very strict and made sure her children did all the dishes and cleaned their room. Otherwise, she would take the belt out for being out of manners.
Darnell's father passed away when he was in eighth grade. Then, the family's responsibility fell on his mother, who worked 9-5 jobs to fulfill all the basic needs.
The former NBA player grew up with two siblings, Ebony, and Evan Jackson. Ebony attended Langston (Okla) University, while Evan attended Oklahoma City University.
Career
Jackson played college basketball for the University of Kansas for four seasons from 2004 to 2008.
College Career
Jackson was one of the most talented college players who averaged 6.7 rebounds during his senior season in the 2007-2008 season.
As a result, he attracted much attention from NBA scouts after scoring 25 points and 9 rebounds against Boston College.
Later, he was named the co-winner of the Phillips 66 Big 12 Conference Player of the week.
In his sophomore year, Jackson was suspended for nine games for accepting the illegal money of the game from Kansas booster Don Davis. Don was also a family friend of Jackson.
He led the team with massive rebounds and shooting percentages in the Jayhawk's championship season.
Professional Career
After playing in college, Darnell Jackson was drafted by the Miami Heat as the 52nd overall pick in the second round of the 2008 NBA Draft. But on the same day, he was traded to the Cavaliers.
He only got the opportunity to play five games as a debut player, where he averaged 5.4 rebounds and 5.8 points.
Unfortunately, Jackson had to face the injury during his preseason and was compelled to miss 13 regular-season games with his team, the Cavaliers.
He made his professional debut on November 25, 2008, against the New York Knicks, where he scored four points on a perfect 2-2 from the field and grabbed two rebounds.
On February 24, 2010, Jackson was transferred to the Erie Bayhawks for the NBA D- League for a shorter period. Later he was recalled to the Cavaliers after Shaquille O'Neal suffered an injury against the Boston Celtics.
He was traded to Sacramento Kings on July 21, 2010, in exchange for Jon Brockman.
In conclusion, he signed up with different teams from 2011 to 2020, including some Chinese teams.
Career History
Cleveland Cavaliers (2008-2010)
Erie Bayhawks (2009-2010)
Milwaukee Bucks (2010)
Sacramento Kings (2010-2011)
Reno Bighorn (2012-2013)
Meralco Bolts (2014)
Anhui Dragons (2015)
Rosa Radom (2016-2017)
Eisbaren Bremerhaven (2018-2019)
Stai Ostrow Wielkopolski (2020)
Highlights & Awards
Age, Height & Weight
Darnell celebrates his birthday on November 7. The former NBA player is 37 years old in 2023.
Like every other basketball player, Jackson has a towering height of 6'9″/2.06 m and weighs 115 kg/253 lb.
Net Worth & Salary
Darnell Jackson is one of the richest basketball players in the world. He played games with many teams during his career, which helped him earn a considerable income.
As of 2023, he has a net worth between $1 million- $5 million.
While playing for the Kings in the 2009-2010 season, he earned a salary of $589k, whereas Utah Jazz paid him $885k in salary in the 2012 season.
Likewise, Darnell signed a one-year deal/$916k contract with the Indiana Pacers, including an annual salary of $916k.
He had sponsorship deals with peak sports USA while he played in the National Basketball Association (NBA).
Relationship & Affairs
Coming to the most interesting part of the article, most fans are equally eager to know details about his love life and flings.
Well, the legit elite player has not opened up about his relationship status yet. But we are always after finding some goofy information about him.
As per one of his posts on his Instagram handle, the 2.06-meter guy, Darnell, is a full-time athlete and a full-time dad.
He regularly shares pictures with his two adorable children but hasn't disclosed anything about his baby mama. We'll update you if we find any information regarding his partner.
Social Media Presence
Darnell Jackson is known as an influential social media star and often interacts with his fans through live sessions. However, he doesn't have that much fan following compared to other basketball players.
Instagram: 4232 followers
Twitter: 1775 followers
View this post on Instagram
Popularity
The former NBA player played a vital role in the Jayhawk's 2008 championship season.
The graph shows his search trend for 12 months.
Frequently Asked Questions (FAQS)
How many seasons did Darnell Jackson play in college?
Darnell Jackson always used to watch others playing basketball in his hometown. However, he started playing at school when he was nine years old. After completing school games, he played at Kansas University for four-season in 2007-08, replacing Sasha Kaun in the starting lineup.
What happened to Darnell Jackson's grandmother?
Darnell Jackson is the person who likes to keep everything private. Even he hasn't revealed the name of his father. During his childhood, his grandmother was killed by a truck caused by a drunken driver in 2005.
Is Darnell Jackson's mother still alive?
Darnell Jackson's mother, Shawn, used to be a lucky charm for him in the past. His mother committed suicide at the age of 41 with an overdose of pain medication on March 25. Darnell was a mama's boy and shared a unique, captivating bond with his mom. He stated, "I don't know what will happen to me in my life, but this is not a final story. My story doesn't end with my mom. My story ends when I'm gone. "