Darvin Ham Sr. is a former professional basketball player and current coach for the Los Angeles Lakers of the NBA.
Ham played in the NBA for eight seasons total, from 1996 to 2005, before pursuing his coaching career.
The Texas Tech University alumnus was appointed the head coach for the Lakers in 2022 and is looking to lead the team back to the Finals in his first year.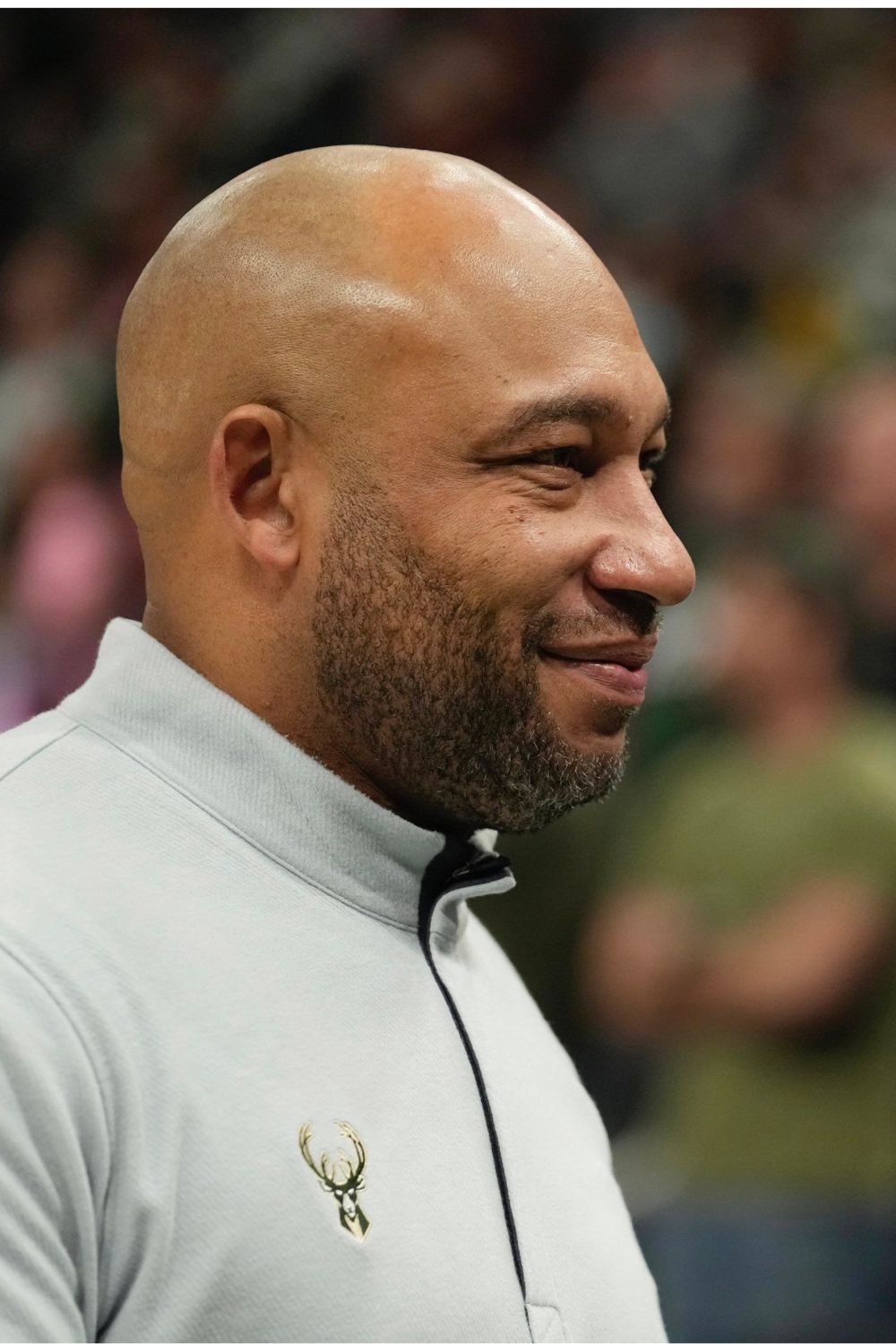 As Curry and LeBron prepare to renew a longstanding rivalry, the Lake Show head coach recently emphasized just how special that rivalry is.
It's arguably the best rivalry in the NBA or, as Ham has termed it, "the best rivalry of this generation," which is why fans are willing to pay $750 on average to book their seat for the game.
Quick Facts
| | |
| --- | --- |
| Full Name | Darvin Ham Sr. |
| Known As | Darvin Ham |
| Nickname | Ham |
| Birthdate | July 23, 1973 |
| Age | 49 Years Old |
| Birthplace | Saginaw, Michigan, United States |
| Current Residence | Los Angeles, California, United States |
| Father | Howard Ham |
| Mother | Wilmer Jones-Ham |
| Maternal Grandmother | Evalena Jackson Jones |
| Maternal Grandfather | Woodrow Wilson Jones Sr. |
| Siblings | DeRonnie Turner |
| Nationality | American |
| Marital Status | Married |
| Spouse | Deneitra Ham (m. 1998-Present) |
| Kids | Darvin Ham Jr. (1992), Donovan Ham (1997), Dominic Ham (2000) |
| Built | Big |
| Sexual Orientation | Straight |
| Eye Color | Dark Brown |
| Hair Color | Bald |
| Height | 6 ft 7 in/2.01 m/201 cm |
| Weight | 240 lb/109 kg |
| Ethnicity | Afro-American |
| Horoscope | Leo |
| Religion | Christian |
| Profession | Former NBA Player, Head Coach |
| Education | Saginaw High School, Texas Tech University, Otero JC (1992–1993) |
| Association | Los Angeles Lakers |
| NBA Draft | 1996 Undrafted |
| Playing Career | 1996-2008 |
| Position | Small Forward |
| Number | 35, 31, 21, 8 |
| Coaching Career | 2008-Present |
| Played For | Denver Nuggets, Indiana Pacers, Washington Wizards, Milwaukee Bucks, Atlanta Hawks, Detroit Pistons |
| Net Worth | $1 to $5 Million |
| Salary | Not Known |
| Social Media | Not Active |
| Last Update | June 2023 |
Early Life & Education
Darvin Ham was born to Wilmer Jones-Ham and Howard Ham on July 23, 1973, in Saginaw, Michigan.
His mother, Wilmer Jones-Ham, is the first female mayor of Saginaw, who served from 2001 to 2005.
Similarly, his father, Howard, worked on the General Motors assembly line and later served in the United States Air Force.
Darvin has spoken about his grandparents with deep respect and shared that he was raised in a household with a strong faith in Jesus Christ.
His maternal grandmother Evalena Jackson Jones was born in Ludowici, Georga 1924. Similarly, his maternal grandfather Woodrow Wilson Jones Sr., was from Mississippi.
He has shared that he still has cousins in Ludowici, Georga. He and his brother spent their summer in Georga as kids, and that's where both of them learned to play basketball together.
Ham grew up in a "blue-collar family" along with his older brother DeRonnie Turner.
Darvin was passionate about playing sports, but his father insisted on his son getting a good education.
He said he nearly joined the military, but his father insisted he attend college instead.
Brother
Darvin Ham has often spoken about his brother DeRonnie, as someone who got him into the sport of basketball.
Turner is four years older than Ham. He played basketball at Savannah State for two seasons in the early 90s.
DeRonnie graduated from the University of Phoenix with a degree in business. He then obtained a master's degree from the same university.
According to his LinkedIn profile, he currently works as a human resource policy and employee relations investigator for General Motors.
Moreover, according to Turner, Ham always dreamed of being a coach when they were younger.
Education
Darvin attended Saginaw High School, and after graduation, he went to Texas Tech University in 1993.
Interestingly, he was just 5'9" when he entered high school, and by the time he left, he was 6'5". During his sophomore year, he had a big spurt.
He won the NCAA slam dunk contest in 1996.
Career
On October 1, 1996, Denver Nuggets selected Ham as a free agent, but he was traded to the Pacers the following season for Jerome Allen in February 1997.
He then bounced back and forth to several NBA teams, including Milwaukee Bucks, Atlanta Hawks, and Washington Wizards.
Over the course of eight seasons in the NBA, he played 417 games and averaged 2.7 points and 2.3 rebounds.
Besides NBA, Ham also played in Spain and later in the Philippines, as well as in the NBA Development League in 2007 and 2008.
Wife & Children
Wife
The Lakers head coach, Darvin Ham, has been married to Deneitra Ham since 1998, and the couple recently celebrated their 25th wedding anniversary.
Darvin met his wife when he was at Texas Tech. Deneitra, a Texas native, graduated from the same university in 2003.
Ham has three children; two from his wife Deneitra and an older son from his previous relationship.
Children
Darvin Ham Jr. was born in 1992 when the coach was still in high school.
Ham and his current wife welcomed their first child Donovan Ham on January 3, 1997. Three years later, on January 24, 2000, they welcomed their son Dominic Ham.
Both of Ham's children grew up in Atlanta and attended North Atlanta High School. Donovan played at Mississippi College and majored in business administration.
Dominic, on the other hand, is a junior at the University of Wisconsin and playing for the Milwaukee Panthers. He is currently studying communications.
Ham's eldest son following his father's footsteps, served as an assistant basketball coach at Northwood University at Michigan, his alma mater from where he graduated in 2014.
He is currently an assistant coach for Cleveland Charge of the NBA G League.
Ham Sr. has three grandchildren from Ham. Jr.; Darvin Ham III, Cali, and Cataleya Moore.
Los Angeles Lakers
There is a lot of pressure on the head coach who landed his gig with the Lakers franchise that has won 18 championships.
Even though the team has arguably the greatest NBA player of all time, LeBron James, and other notable players, the NBA championship seems far for the team.
The Lakers struck first in their Western Conference Semifinal matchup against the Warriors, holding on for a nail-biting 117-112 win at the Chase Center on Tuesday night, 2 May 2023.
Anthony Davis played stellar, recording 30 points and 23 rebounds in Game 1.
He is just the fourth player in franchise history with a 30-20-5 line in the postseason.
Ham Got Shot At 14
Darvin Ham grew up in a house behind a nightclub and a liquor store. It was normal for him and his family to hear gunshots.
On April 5, 1988, Ham went to pick up a pizza with his brother, and as they were driving, the brothers got caught in the middle of a crossfire.
Ham still vividly remembers the incident. As he sat in his car, he saw a person running towards him while three others gave chase, firing weapons.
The loud sound of gunfire filled the air as bullets flew past Ham, with one ultimately striking him in the jaw.
The 14 years old underwent a successful operation and said the doctor handed him the bullet afterward and told him he was lucky to be alive.
Unknown Facts About Darvin Ham
Ham is a Christian.
He garnered national attention during the 1996 NCAA Tournament against UNC by shattering the backboard on a slam dunk. The dunk was even featured on the cover of Sports Illustrated.
Ham and his wife, Deneitra, founded Urban Youth Development, a non-profit organization, in 2003.
Frequently Asked Questions (FAQS)
How much does Darvin Ham make in a year as the Laker's head coach?
The LA Lakers head coach Darvin Ham earns approximately $5 million per year.
How did Darvin Ham get the bump on his head?
He got a bump on his head because he once got shot in the face by a stray bullet when he was 14 years old.