A well-known American sports journalist, Dave McMenamin, is rumored to be engaged to his now wife-to-be, Malika Andrews.
Recently, news of their upcoming marriage has surfaced, mainly after Malika Andrews was spotted wearing a ring.
However, neither Malika nor Dave have officially confirmed or denied these rumors. Both of them have always been private about their relationship and engagement status.
Dave McMenamin is a well-known figure in the world of American sports journalism. He has had a successful career as an NBA reporter, journalist, writer, and social media influencer.
His journey in NBA reporting began in 2005 when he started covering the league for NBA.com.
In 2009, he joined ESPN as a beat writer and television analyst, primarily focusing on the Los Angeles Lakers and Cleveland Cavaliers.
Dave McMenamin's connection to basketball goes beyond reporting. He played college basketball at the University of Limerick in Ireland and later graduated from Syracuse University.
During college, Dave was a student manager for the 2003 national championship team alongside Carmelo Anthony.
His contributions to the field of sports journalism have extended to various ESPN platforms, including NBA Today, ESPN the Magazine, The Hoop Collective Podcast, SportsCenter, Outside the Lines, and more.
Dave McMenamin Wife To-Be Malika Andrews
Malika Andrews is a well-known journalist who is engaged to Dave McMenamin. She is best known for her work as an NBA Reporter and host of ESPN's weekday NBA studio show.
Malika grew up in Oakland, California, and graduated from the University of Portland with honors. While at university, she was the editor-in-chief of The Beacon, the student newspaper.
During college, Malika received several awards for her work, including from the Society of Professional Journalists, the National Association of Black Journalists, and the Columbia Scholastic Press Association.
In 2016, Andrews won the Best Writer Award among Oregon college students, highlighting her exceptional journalism talent.
Malika began working as a sideline reporter during the 2019-20 NBA season at the ESPN World of Sports Complex in Florida. She stood out during the NBA Playoffs and was one of the youngest sideline reporters ever for a Conference Finals telecast.
Before joining ESPN in October 2018, Malika worked for a year as a reporter for the Chicago Tribune. She also served as a James Reston Reporting Fellow in the sports department at The New York Times.
Are Dave Dave McMenamin And Malika Andrews Engaged?
In May 2022, sports journalists Malika Andrews and Dave McMenamin attended an event together, sparking rumors of a possible romantic relationship.
While it is not known how they met, they may have crossed paths through their work covering the NBA.
These rumors gained traction when fans noticed Malika was wearing a ring on her finger, leading some to believe they may be engaged.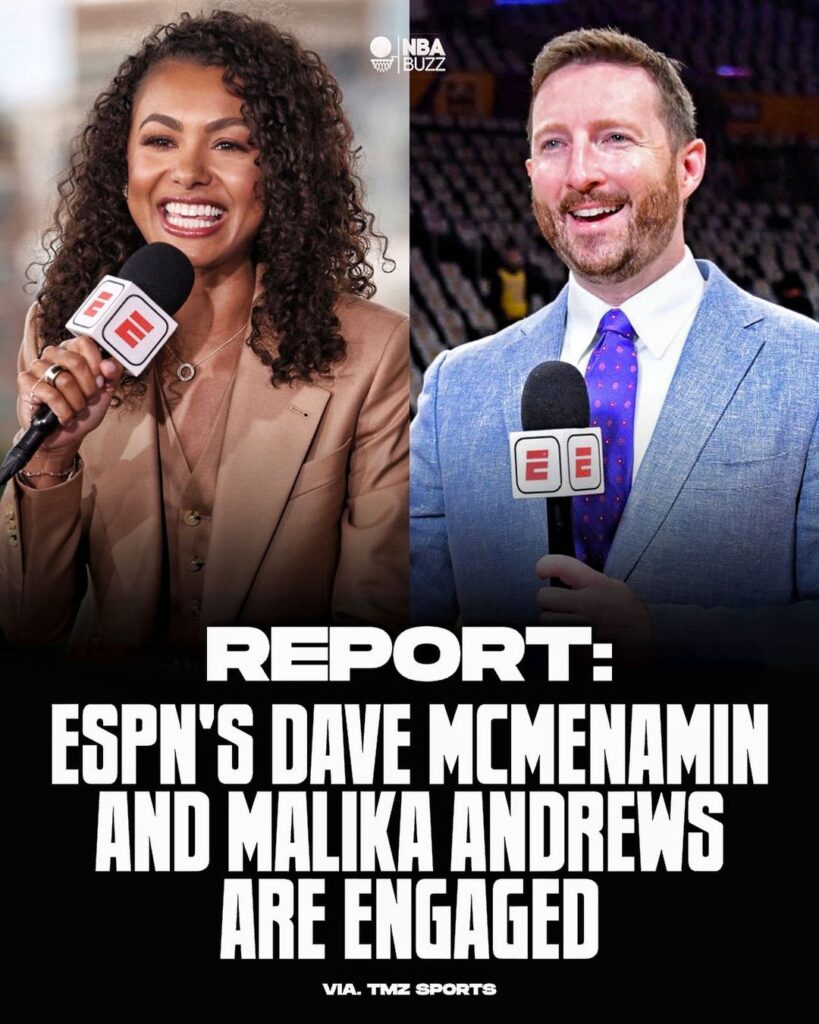 Neither Dave nor Malika have confirmed or denied the rumors about their relationship or engagement.
However, the rumors seemed to be confirmed when the official Instagram page of NBA Buzz announced their engagement.