Dave Roberts' sister, Melissa Roberts Parker, has raised a softball star with her husband, Keith Parker. Melissa is a mother to Ella Parker, a highly touted softball player.
The 51-year-old Dodgers manager, Dave Roberts, isn't the only known name in the family.
His niece, Ella, is ready to challenge him for the top spot. The Notre Dame school graduate, Ella, is committed to playing with Oklahoma University.
Dave and Melissa Roberts were raised in a family with mixed culture. Their mother has Japanese heritage, and their father came from an African-American background.
When the Dodgers won the World Series title in 2020, Dave became the first ever Asian descent manager to do so and the only second Black manager in the sport's history.
In recent games, the Dodgers manager has criticized the LA bullpen's effort and did not hesitate to voice his frustration.
The Dodgers, led by the veteran pitcher Clayton Kershaw, crumbled against the White Sox once the pitcher stepped out.
Dave Roberts Sister, Melissa Roberts Parker
Dave Roberts' sister, Melissa Roberts Parker, is married to Keith Parker. Melissa is a mother to four kids.
Her two older daughters, Mia and Ella, have excelled in softball, with Ella being a household name in the bat and ball game.
She has two other kids, one daughter, Ava Parker, and a son.
Melissa Parker Daughters, Mia, And Ella Parker
Melissa and Keith's oldest daughter, Mia Parker, is a graduate of George Washington University. While at George Washington, Mia was also part of the softball team.
Her love for softball was apparent from a young age as Mia was also in her high school, Windward School's varsity softball team, as well as the volleyball team.
Standing at 5 feet 11, Mia ranked in the top five in A-10 in doubles and the top 10 for RBIs, homers, total bases, and slugging percentage in her senior year.
She graduated with a degree in sports management in 2022 and is pursuing her master's degree at The George Washington University.
She previously worked as a sports camp counselor in 2018 and has worked as a program specialist at the University of Southern California Mailing Services.
Ella Parker Is The Next Family Star
Ella Parker might be famously known as Dave Roberts' niece, but that won't be for too long as her talent speaks for itself.
Parker recently graduated high school from Notre Dame and will continue her softball career at Oklahoma University. The talks of her becoming the next big thing in softball had already begun in 2019.
That year, Parker played 13 games with a devastating average of .605. A year later, her average dropped to .594 but played six more games.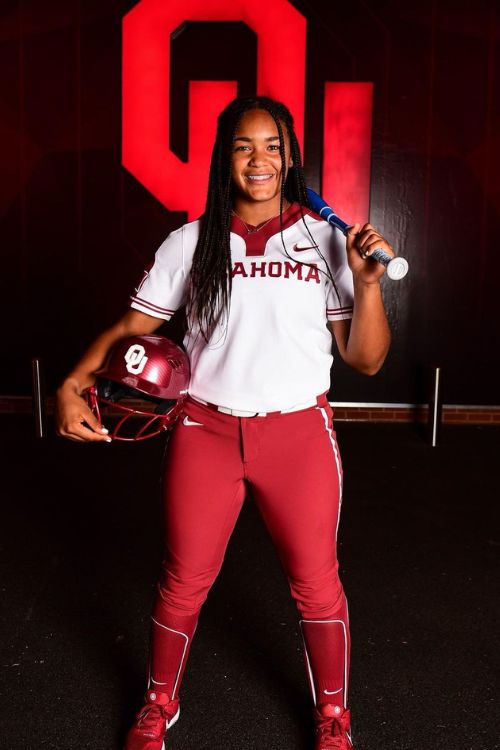 Ella's senior year was her best season, as the softball star had an average of .667 and hit 14 home runs. Parker was featured by the Los Angeles Times earlier this year.
There was nothing but compliments for the youngster from her coaches and teammates. And though many would love to be in her position, the youngster star remains humble.
Called a "Gentle Giant" by her mother, Ella will have all eyes on her as she joins the talented group of girls at Oklahoma.
Dave Roberts Parents, Waymon And Eiko
Dave Roberts' parents Waymon and Eiko Roberts, come from mixed ethnicities.
His father, Waymon Roberts, was an African-American man who previously served in the Marines.
He enlisted in the Marines in 1968 and met the love of his life while stationed in Japan. Eiko, who has Japanese roots tied the knot with Waymon while in Japan.
Waymon retired from the Marines in 1998 as a Master Gunnery Sergeant. Unfortunately, he passed away in 2017 at 68.