The wall for the premier league club, Manchester United, David De Gea, is a Spanish professional soccer player who is regarded as one of the best goalkeepers in the world. He is also the highest-paid goal-keeper and has a net worth of $75 million.
David De Gea Quintana was born in Madrid in November 1990. David De Gea entered the soccer world at the age of 13.
Besides, De Gea served as the Spain under-21 national team captain that tasted victory at the European Championship in 2011 and 13.
Despite being confirmed far-sighted, David still performs his best, plays the full 90 minutes, and keeps a clean sheet in Man United's Premier League record 9-0 win against Southampton FC.
In November 2022, David was left surprised after Spanish FA mistakenly congratulated him on his international retirement after missing out on 26-man national team squad.
For now, here are a few quick facts about the soccer player.
David De Gea | Quick Facts
Name
David de Gea
Full name
David de Gea Quintana
Nickname
Sticky Gloves
Birthdate
7 November 1990
Birthplace
Madrid, Spain
Age
32 years old
Zodiac sign
Scorpio
Nationality
Spanish
Body type
Athletic
Hair color
Blonde
Skin
White
Height
6'4″/1.92 m/192 cm
Weight
82 kg/180 lb.
Profession
Footballer
Position
Goalkeeper
Current Club
Manchester United
Jersey No.
1
Youth Career
Atlético Madrid (2003-8)
Senior Career
Atlético Madrid B (2008-09)
Atlético Madrid (2009-11)
Manchester United (2011- present)
National Team
Spain
College
Not Available
Father
Jose De Gea
Mother
Marivi Quintana
Siblings
Not Available
Relationship status
Married
Wife
Edurne Garcia
Children
Yanay de Gea
Net Worth
$75 million
Salary

$24 million

Merch
Funko Pop, Trading Card, Man United Jersey
Last Update
May, 2023
David De Gea | Net Worth, Salary, And Contract
At 32, footballer David De Gea has amassed an unimaginable fortune and maintains a reputation as one of the best goalkeepers.
With a hefty net worth of $75 million from his sports career, Gea proved that hard work and perseverance pay off.
Additionally, David became the highest-paid goalkeeper globally as his annual base salary reached $24 million by 2020.
Come to think of it, Gea started playing football at the age of 13, and by 2003, he initiated his youth career with Atletico Madrid.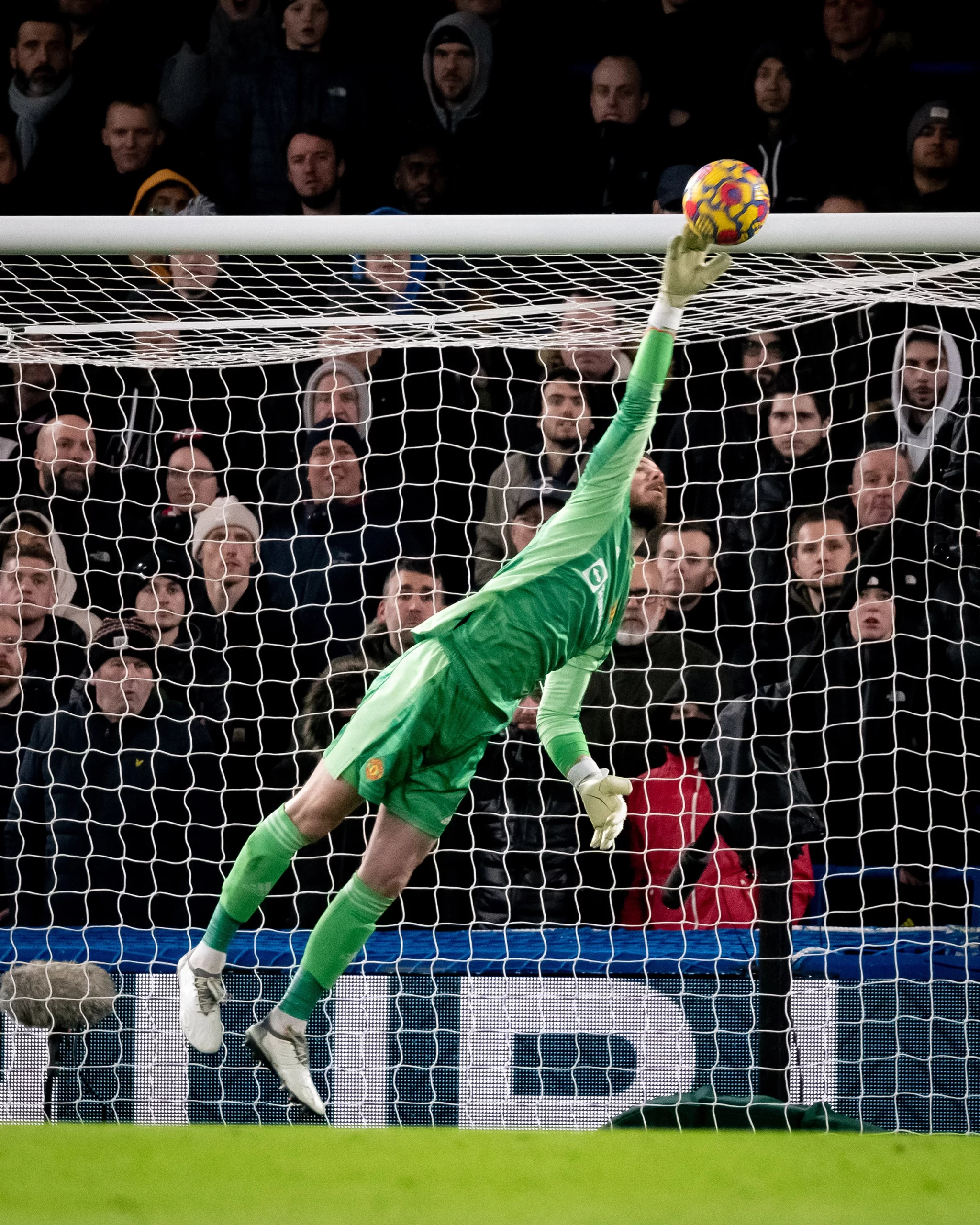 Furthermore, the dynamic goalkeeper joined Manchester United for the 2010-11 season with a contract offer of approximately $25.86 million, including additional costs.
He agreed to sign the five-year deal making him the second most expensive keeper behind Gianluigi Buffon (worth $38.79m in 2001 to Juventus).
Moreover, De Gea secured back-to-back wins for United and was awarded the man of the match for his performance against Liverpool, making eight excellent saves in a 3-0 victory during the 2014-15 season.
Although he came close to joining Real Madrid in a $34.5m move in September 2015, the deal collapsed.
Following Gea's outstanding performances and a keen interest in winning games, he was offered an improved new deal to stay with the English club for at least 2023.
Likewise, David also made it to Forbes, being the #67 highest-paid-athletes with a salary of an average of $23 million annually.
David De Gea's earnings are bountiful from his football career, but he makes extra bucks from endorsements and sponsorships.
Read About the former Manchester United player Ronaldo's Controversy With The Club After The Exclusive Interview With Piers Morgan>>
David De Gea | Endorsement And Investment
Apart from David Gea's massive earnings from his career, he also makes an impressive amount from sponsorships. According to Forbes, he reportedly makes $3 million from brand endorsements alone.
Likewise, David De Gea garners 14.1 million followers on his Instagram. Hence, he also earns an ample amount from the sponsorship posts as well.
A successful man is undoubtedly a savvy businessman. Thus, De Gea must have doubled his earnings from his investments as well.
David De Gea | Cars & Lifestyles
David created a dynamic profile with his back-to-back jaw-dropping performances that led Man United and Spain to victory. As a result, David De Gea's net worth has escalated to multi-millions.
Furthermore, David earns ample money and lives a lavish life with his family.
David De Gea's car collection is pretty plausible. Whether it be small businesses or going to training in Carrington, the international player has always showed up in a car in style since 2011.
Thus, you can guess David lined up his car collection from a British classic to Audi. He was spotted sporting a stunning Aston Martin Vantage worth $146,000 as he arrived for his training.
Likewise, months later, the player was seen with his wife, Edurne Gracia, for a spin.
Similarly, it is a necessity for a 6'4″ tall man to have a lot of legroom in the car, and his Mercedes-Benz Vito must have made him feel at home.
He was seen cruising the minivan with his partner back in 2018, looking very comfortable.
Likewise, in 2015, Manchester United started to drive Chevrolet cars to keep their sponsors on board.
Hence, David opted for a Captiva SUV worth around $32k. The cunning goalkeeper took advantage of United's sponsorship, bagging himself a Chevrolet Camaro, which starts at $37k.
Additionally, in 2017, David De was spotted in a Mercedes-Benz GLE class coupe whose price starts at around $74k. Audi RS5 car also made it to David De Gea's car staple in 2015, which begins at $74k.
We all can agree that an Audi is not a status symbol. Thus, no matter how significant growth David De Gea's net worth sees, his true wealth is his small family, wife, Edurne, and daughter, Yanay.
David De Gea | Lifestyle & Vacation
With a whopping asset of at least $75 million, David De Gea lives his best life in Manchester.
David reportedly put his six-bedroom mansion in South Manchester for sale at the cost of $3.3m. This only added momentum to the rumors that the United player is set to leave the club.
Furthermore, David De Gea's luxury home features a sauna, games room, gym, home cinema, and more.
Likewise, in 2017, he put his property n Bowdon, Trafford, on the market for $4.5m.
Furthermore, the five-bedroom house in a highly sought-after residential area, set in 1.25 acres of manicured gardens.
As of now, De Gea is happy in Manchester with his wife and his baby girl, Yanay. The family of three has started a new chapter of their life in a luxury home in Manchester.
Thanks to David de Gea's net worth, the pair could enjoy some exquisite vacations. However, they seem to have shifted their interest in raising their baby girl in luxury and comfort.
David De Gea | Charity Work
Apart from earning pretty bucks, Spanish footballer David De Gea is equally involved in philanthropic works such as donations.
The world has been suffering a great deal since 2020. Manchester United's number one player contributed $310,000 to the local authority in Madrid to help tackle the growing crisis in Spain anonymously in March 2020.
Man United's shot-stopper's home country was one of the worst affected by the pandemic at the time. Hence, he reportedly donated to pay for medical bills and support vulnerable people.
Isabel thanked De Gea for his massive contribution, which she assured would be the key to fighting COVID-19. She ended her tweet by writing, "eternally grateful, proud of you."
The global pandemic was not the first time David de Gea hopped on for donations during calamities. His philanthropic contribution of $208,000 to the victims of the Spanish storm in 2019 was considerable as well.
The devastating Spanish storm in 2019 claimed seven lives. Thus, Span's Red Cross affirmed the cash donation by the goalkeeper, thanking him via social media handle, "David de Gea, thanks for your solidarity."
Despite the massive cash flow, David de Gea remains humble as ever and has contributed to the betterment of society.
David de Gea | Career, Stats& Achievements
Club Career
David De Gea's multi-million fortune was not made overnight, and to build this massive persona as the best goalkeeper, he put in some hard work. Eventually, De Gea became one of the most celebrated players globally.
De Gea started his club career at age 13 and went on to play for Atletico Madrid until 2011. In 2011, his career shifted after he signed a five-year contract with Manchester United.
For Atletico de Madrid's senior team, he made 84 appearances, making 23 clean sheets.
Following David's success, he was the most 'sought-after goalkeeper of all time, as Manchester United and Real Madrid almost reached a deal worth $34.5 million.
However, the agreement collapsed due to delayed paperwork. David De Gea signed a four-year deal with United the same year, noting to extend it a year further.
He has been playing for Manchester United since 2011 as a first-choice goalkeeper. He has made 507 appearances for the club so far and 174 clean sheets while conceding 552 goals.
International Career
David debuted for the national team on June 7, 2017, against El Salvador, ending the game with a clean sheet.
De Gea played for Spain's squad for the 2018 FIFA World Cup in Russia to be at fault for Portugal's second goal in the first game.
The promising goalkeeper later criticized the Adidas Telstar 18 match ball, claiming it to be 'real strange' and 'it could have been made a lot better after failing to save several shots in the 2018 World Cup.
Qatar World Cup 2022
After his bad season with Manchester United, Luis Enrique did not call De Gea for the national duty. He was not included in the 26-man squad for the Qatar World Cup.
That means we won't be witnessing exceptional saves from this masterclass.
Trivia
David De Gea became the first player ever to win Manchester United's Player of the Year for a third consecutive season in May 2016.
De Gea is praised for his speed which enables him to function as a sweeper-keeper.
David De Gea is married to a Spanish singer, Edurne Gracia & welcomed their first child, a baby girl, in March 2021.
He loves heavy metal music; Avenged Sevenfold is one of his favorite bands.
De Gea was confirmed as farsighted but is known for his excellent ball control and vision.
His father, Jose De Gea, is a former goalkeeper signed by Getafe, while his mother, Marivi Quintana, is a house manager.
Quotes
"I don't obsess over mistakes because they happen, so I just keep working and training hard. I just keep helping the team, which is key."
"The fans of Manchester United are one of the best in the world. I felt the support them from the first day, and I am really happy with them."
"We are Manchester United, and we want to fight for everything."
David De Gea | Social Media Presence
De Gea is active on different social media platforms. He is available on Twitter under the handle @D_DeGea, on Instagram @d_degeaofficial, and on Facebook @David De Gea.
Instagram: 14.1m followers
View this post on Instagram
Twitter: 14.1m followers
Facebook: 14m followers
David De Gea | Popularity
David is popular for his impossible saves at Manchester United. No other player besides David in the premier league has made more saves in a single match.
The above graph shows the popularity of David De Gea all around the globe.
David De Gea | FAQs
Did David De Gea get injured?
David de Gea gestured to the Spain bench after appearing to have a problem when taking a goal-kick during a 1-1 draw against Sweden in 2018.
Spain's head coach, Moreno, later revealed that de Gea had pain in the abductor's muscle but received treatment at half-time and wanted to keep playing.
Why is David De Gea Missing?
United's goalkeeper, David de Gea, missed the West Ham game after quarantine as he was on paternity leave following the goalless draw at Chelsea on 29 February.
However, Gea is already in the field. The last match for Gea was against Liverpool in the English Premier League, a 2-4 home loss.
He will be playing on 18 May 2021 against Fulham at Old Trafford.
Also Read About Xander Schauffele's Bio >>