In our latest research, we have discovered that the Baltimore Orioles pitcher, Dean Kremer, is not married, so he does not have a wife.
However, he definitely has a loving girlfriend whom he has been dating for years.
Let's get to know Dean Kremer's girlfriend, Marlee Penka-Shack, more closely. Who is she, and what's she up to these days?
Dean Kremer, an Israeli-American, is a pro baseball pitcher for the Baltimore Orioles in the Major League Baseball (MLB).
He was born on January 7, 1996, to parents Adi and Sigal Kremer. His journey to the MLB started being picked by two different teams.
Initially drafted by the San Diego Padres in 2015, Kremer later signed with the Los Angeles Dodgers in 2016 after being selected in a later round.
After that, he proudly represented Team Israel in the 2017 World Baseball Classic.
In 2018, Kremer topped all minor league pitchers in strikeouts, showcasing his pitching excellence and dominance over opponents.
In September 2020, Dean Kremer's Orioles debut as the first Israeli MLB pitcher reflects his dedication and historic achievement.
Furthermore, he also continued his international journey by pitching for Team Israel in the 2023 World Baseball Classic in Miami, showcasing his commitment to his heritage and the sport.
Dean Kremer Wife: Is He Married To Girlfriend Marlee Penka-Shack?
Currently, Dean Kremer, the baseball pitcher, is not married. But he's happily in a relationship with his girlfriend, Marlee Penka-Shack.
Dean Kremer and his girlfriend, Marlee Penka-Shack, share a love story that's as delicious as the culinary creations they whip up in their kitchen.
Together, the couple runs an Instagram account, @offseason_bites, with 687 followers as of October 2023. It is a love-filled journey through their shared passion for food, one recipe at a time.
Their social media pages reflect their long-lasting love story. Scrolling through, you'll discover snapshots of their adventures, laughter, and shared memories.
Well, their profile clearly shows that they've been through a lot together, and their love has only grown stronger.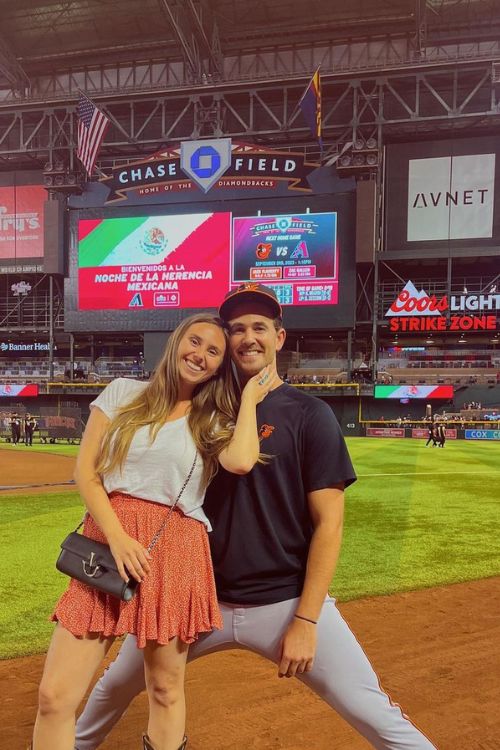 In the world of cuisine, Dean and Marlee have found their unique niches. While Dean describes himself as the master of savory dishes, and Marlee as the true expertise lies in the world of baking and desserts.
Their kitchen is a place where their love thrives, a perfect blend of his saltiness and her sweetness.
But Marlee isn't just Dean's cooking partner; she's his steadfast support in life and in the game.
Whether Marlee's cheering him on from the stands during his matches or standing by his side during challenging times, she's a constant source of motivation.
When doubts and insecurities creep in, Kremer's girlfriend is there, reminding him to believe in himself and never give up.
In Dean Kremer and Marlee, we see a sweet and lasting love story, a recipe for a lifetime together.
Who Is Marlee Penka-Shack?
Marlee Penka-Shack was born to her parents in Phoenix, Arizona. Due to the limited information available, her age, date of birth, parents, and family details remain private.
Moving toward her professional life, Marlee Penka-Shack is a shining star in the realm of marketing and event operations.
Graduating Magna Cum Laude from the prestigious University of Arizona in just three years, Marlee's academic journey was as remarkable as her career.
She earned a degree in Communication, coupled with a minor in E-Society, all while actively participating in the PR Club, Lambda Pi Eta, and the National Communication Association's Honor Society.
Her accomplishments and academics reflect her passion, drive, and creativity, which fuel her success.
Marlee's professional journey is equally impressive. She gained skills in golf operations and partnership marketing at the Hurricane Junior Golf Tour.
Moreover, she travelled to Atlanta, demonstrating a hands-on event management approach while operating golf tournaments.
Her role as a Marketing Coordinator at SmartPractice highlights her leadership, team management, and marketing campaign skills.
Likewise, Penka-Shack's community commitment is evident through her work with the Cactus Crew at Salt River Fields at Talking Stick.
She played a key role in marketing for the Arizona Diamondbacks and the Colorado Rockies, elevating fan experiences with giveaways and great customer service.
Marlee's exceptional dedication and "Can Do" attitude set her apart, showcasing her unwavering commitment to marketing and event operations.
Marlee Penka-Shack, a creative thinker, is an unstoppable force in her field with academic honours and professional achievements.