Basketball is one of the most-watched sports in the world. And, a sports maniac cannot resist knowing the most prominent NBA players.
Among those NBA players, Deonte Burton is one hell of amazing talent who adds flavors to the game.
Deonte is a professional basketball player who plays for the Oklahoma City Thunder of the NBA. He serves as a shooting guard in the field.
He conquered Second-team All-Big 12 award in 2016 when he was just in his rookie year.
Moreover, Deonte also remained a collegiate player for the Marquette and Lowa- State combined. He was also enrolled to play for the teams like Wonju DB Promy, and Oklahoma City Blues.
He was undrafted in the 2017 NBA draft. Deonte signed in officially with the Minnesota Timberwolves in 2017 when he had no option but to play for Minnesota.
What awards has Deonte grabbed in his name to date? How was his life before getting to the NBA? What is his life like now? This article is prepared in a way that will answer all of these questions. But for that, you have to stay still and read till the end.
Before digging deeper into his life, let's take a smart sneak peek into the quick facts about Deonte Burton.
Deonte Burton | Quick Facts
| | |
| --- | --- |
| Full Name | Deonte Burton |
| Birth Date | January 31, 1994 |
| Birth Place | Milwaukee, Wisconsin |
| Nick Name | Bane |
| Religion | Not Known |
| Nationality | American |
| Ethnicity | American-African |
| High School | Centennial High School Vincent High School |
| Horoscope | Aquarius |
| Father'sName | Charles Burton |
| Mother'sName | Barbara Malone |
| Siblings | five brothers Demario, Omar, Charles, Prentiss, Keylow, and sister Nicole |
| Age | 29 Years Old |
| Height | 1.93 m (6 feet 3 inches) |
| Weight | 109 kg (240 lb) |
| Squad No | 30 |
| Hair Color | Black |
| Eye Color | Black |
| College | Marquette (2013-2015), Lowa State (2015-2017) |
| Build | Athlete |
| Marital Status | Single |
| Girlfriend | Not known |
| Position | Shooting guard and Small forward |
| Profession | NBA player |
| Net Worth | over $1 million |
| Salary | $1,663,861 |
| Currently Plays for | Oklahoma City Thunder |
| League | NBA |
| Active Since | 2016- present |
| Social Media | Twitter, Instagram |
| Oklahoma City Thunder's Merch | Books, Jersey |
| Last Update | February, 2023 |
Deonte Burton | Early Life and Family
Deonte was born on January 31, 1994, to his parents Charles Burton and Barbara Malone, in Milwaukee, Wisconsin.
In siblings names, he has five brothers, Demario Burton, Omar Burton, Charles Grafton, Prentiss Grafton, and Keylow Rogers. Deonte has a sister, too, namely, Nicole Grafton.
First, he attended Harold S. Vincent High School in Milwaukee and completed his ninth standard there. Following that, he went on to attend Centennial High School in Compton, California.
Eventually, Deonte had to come back to Milwaukee when his mother got diagnosed with cancer to stay with the family and take care of each other.
Moreover, Deonte was rated a four-star by Scouts, Rivals, 247 Sports, and ESPN in September 2011.
He was hired by many other teams such as Memphis, and Rutgers but he chose to accept the scholarship offer from Marquette University in Milwaukee again to stay close to his family in his time of need.
But as a matter of distress, after all the deeds and wishes, his mother could not survive cancer and passed away in 2014.
Here's one Instagram post where Burton has stated the grief he has faced, losing his mother.
Deonte Burton | College Career
Freshman Year
Deonte remained a rotation player off the bench during his first year of college. He scored 6.9 points per game.
And also, received the honor of being on the Big East All-Rookie team. He notched the season's top 23 points appearing in 13 games over the Xavier Musketeer's men's basketball team.
Sophomore Year
Deonte could not play more for his sophomore year as he made up his mind to take transfer to another college.
However, he performed in eight games scoring 6.4 points. Following that, he went on to attend Lowa-state university during the mid-season.
Junior Year
As he switched his college in the mid-season, Deonte was sent off the bench for six months in 2015-16.
He only could take an active part when he becomes fully eligible for the group. Nevertheless, he dropped down in 26 games and made seven starts.
Despite the highs and lows, he amassed 9.7 points, 3.9 rebounds, and 16 blocks. He was also awarded the Big 12 Newcomer of the Year.
After all the recognitions, he opted to go for the NBA Draft just if he got drafted, what would be his rankings, but he withdrew his name in the fullness of time.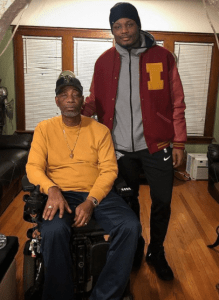 Senior season
Deonte just flared up for his senior year, where he started playing for the Lowa State Cyclones.
He went on to collect 15.1 points and 6.2 rebounds for 35 games. He led his team to victory over Oklahoma with 31 points and Kansas with 29 points.
In the final analysis, Deonte was titled the Second-team All-Big 12. Moreover, he was a part of Reese's All-Star Game. He also participated in the Portsmouth Invitational Tournament, the oldest collegiate basketball in the US.
College Stats
| | | | | | | | | |
| --- | --- | --- | --- | --- | --- | --- | --- | --- |
| Season | School | Games | Games Started | Total Rebounds | Assists | Steals | Blocks | Points |
| 2013-14 | Marquette | 32 | 3 | 69 | 17 | 35 | 14 | 222 |
| 2014-15 | Marquette | 8 | 0 | 11 | 2 | 10 | 3 | 51 |
| 2015-16 | Iowa State | 26 | 7 | 101 | 27 | 24 | 16 | 252 |
| 2016-17 | Iowa State | 35 | 35 | 218 | 62 | 60 | 49 | 527 |
| Career | Overall | 101 | 45 | 399 | 108 | 129 | 82 | 1052 |
| | Marquette | 40 | 3 | 80 | 19 | 45 | 17 | 273 |
| | Iowa State | 61 | 42 | 319 | 89 | 84 | 65 | 779 |
Here's a video showing Burton's dunk against Samford while he was playing for Maequtte:
Deonte Burton | Scouting Report
Burton had quite an appealing scouting report. He was considered a strong prospect. His physical ability was praised, regarding him as a well-built combo guard that can score in many ways.
Similarly, his rebounding and defensive abilities were praised. He was considered a very good shot blocker for a player of his physicality.
Burton was referred to as a strong gifted athlete with powerful long arms which would make a great addition to any team.
Here's a video of Burton dunking against a West Virginia player while he played for Iowa State:
Deonte Burton| Professional Career
Wonju DB Promy (2017–2018)
Burton was not selected by any of the teams in the 2017 NBA draft. Thus, he went undrafted for the year.
But eventually, he inked a deal with the Minnesota Timberwolves. In due course, he switched the team and joined the Wonju DB Promy in the Korean Basketball League.
Oklahoma City Thunder/Blue (2018–present)
However, Burton got a two-way contract offer from the Oklahoma City Thunder in 2018. And now, he is officially signed as an NBA player and gets an opportunity to play alongside Dennis Schroeder, Andre Roberson, and Jerami Grant.
Deonte Burton| Age, Horoscope, and Body Measurement
Burton is 26 years old as of 2020. He is a well-matured, powerful, and handsome man. He was born on January 31, 1994; thus, he falls under the horoscope, Aquarius.
However, Burton matches the traits of an Aquarius. He is a free-spirited soul, takes his time, and carves his own path.
He does not really like someone interfering in his personal matters. Burton loves freedom and is independent in decision-making.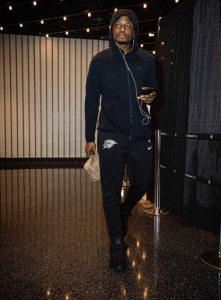 Other than that, Burton has a height of 6 feet 3 inches and weighs around 340 lb. He has a very macho kind of personality. Burton is a Gentleman, and he is a perfect fit for the sport.
Deonte Burton | Personal Life
Talking about Burton's personal life, it seems a bit difficult to get hold of it. He enjoys his private life and keeps it lowkey.
However, there are no such rumors about his girlfriends, hook-ups, patch-ups, or affairs. And not to mention, neither he looks like a Casanova or womanizer, nor there exists such a list of his girlfriends.
Maybe, for the time being, he wants to concentrate on his career, goals, and ambitions. Or, it may be the other way around. Burton must be waiting for his Miss.
Perfect, who can match his level, ideology, likes, and dislikes? Hopefully, he finds the one real soon. Look at one of his Instagram posts that totally justifies what we are talking about.
And again, to give it a third thought, Burton might be in a secret relationship with someone, and not been revealed yet. After all. It's his life and his wish.
Besides all of these, Burton has carved two tattoos. One is on his back, where he has spelled his hometown, "MILWAUKEE."
And another one is somewhere on his foot, where he has carved a ribbon, which symbolizes awareness of breast cancer.
He also wears pink sneakers in order to pay homage and specify his gratitude towards his mother. Burton shared a special bond with his mother, and he was a momma's boy.
You may be interested in reading Alize Johnson's Bio: Age, Early Life, Career, Net Worth
Deonte Burton | Net Worth
Despite grabbing awards like the big 12 New Comer of the Year, he is still struggling hard to reach the final spot where he wished to be. Nevertheless, he is still an outstanding player.
And, looking at the positive side, he has really achieved a position at a young age while others are still dreaming of being part of the NBA league.
Without any fuss, if we have to mention Burton's salary, inlining with hoopshype.com, he makes an earning of $1,416,852 as an annual average base salary.
He is offered $1,170,000 as a guarantee in 2020-21 after signing a deal with Oklahoma City Thunders.
Moreover, according to online sources,
Deonte Burton has a net worth of approximately $1.5 million as of 2023.
Talking about his assets, he does have a home and branded cars. But he has not revealed the exact details of the house and the cars that he owns.
Anyway, all that's seen and obvious is he is enjoying a luxurious lifestyle with his hard-earned money. After all, hard work pays off.
Deonte Burton | Trivia
He is earning 183.37 percent more than in 2018/19.
Burton ranks as the 416th best-paid NBA player this year while he was in the 477th position last year.
He is rated 175th best guard in NBA this year while he was ranked as the 214th best guard last year.
Burton stands in the 14th position when it comes to ranking the next player from Oklahoma City Thunder while he was in the 17th position last year.
Keith Kreiter is his agent, who is from Edge Sports.
Kevin Durant and James Harden are his favorite basketball players in the NBA.
Deonte Burton | Social Media Presence
Burton is quite a socialite when it comes to social media presence. He is abundantly available on Instagram and Twitter. He does not have a profile on Facebook, though.
Be that as it may, Burton has filled his Instagram profile with 925 posts, which ultimately states that he is a media personality.
He does like to give an update on him. He does not have millions of followers, but his fanbase is loyal and supportive.
The links to his social media profile are mentioned below. Feel free to scroll down a little bit and give him a follow.
Twitter- @DeonteBurton with 3379 followers
Instagram- @godzgift_30 with 55.9k followers.
Visit the website of Euro Basket to see new updates about Deonte Burton.
Common Queries about Deonte Burton
How much is Deonte Burton's vertical jump?
Deonte Burton's vertical jump is measured at 39.5 inches.
What position does Deonte Burton play?
Deonte Burton is a small forward and a shooting guard.