There is an anonymous quote on the internet, "No dreamer is ever too small: no dream is ever too big."
It seems like this really got applied in the 27-year-old basketball player Alize Johnson's life. Withstanding his young age, Alize Johnson, the basketball giant, has aced it all.
Now, let's find out who Aliz Johnson is? Aliz Johnson is an American professional basketball player who is placed as a power forward/small forward in National Basketball Association (NBA) for Indiana Pacers.
Johnson, the juvenile player, who has not even reached his mid 20's yet, just started with his professional career, has already managed to remain in a hype. What a high-flyer!
We shall dig out more about his ups and downs in the journey of life right here in this article, but we have listed some go-getter quick facts about him before that. Please have a glance at it
Quick Facts:
| | |
| --- | --- |
| Full Name | Alize DeShawn Johnson |
| Birth Date | April 22, 1996 |
| Birth Place | Williamsport, Pennsylvania |
| Nick Name | Zay |
| Religion | Unknown |
| Nationality | American |
| Ethnicity | African |
| Education | Frank Phillips, Missouri States |
| Horoscope | Taurus |
| Father's Name | David Hill |
| Mother's Name | Chanelle Johnson |
| Siblings | David, Davion, Nasza, Davesha, Destiny, Davida, Alana |
| Age | 27 Years Old |
| Height | 6 ft 7 in. (2.01 m) |
| Weight | 212 lb (96 kg) |
| Shoe Size | Not Known |
| Hair Color | Black |
| Eye Color | Black |
| Body Measurement | Not known |
| Build | Athlete |
| Married | No |
| Girlfriend | Not Known |
| Position | Power forward/ Small forward |
| Profession | NBA Player |
| Free Agent | 2023 / UFA |
| Net Worth | $4 million |
| Salary | $1,127,658 yearly on an average |
| Est. Earnings | $4,551,16 |
| Currently Plays for | Indiana Pacers |
| League | NBA |
| Active Since | since 2018 |
| Social Media | Facebook, Twitter, Instagram |
| Merch | Rookie Card, Basketball Card, Autographed Card |
| Last Update | June, 2023 |
Alize Johnson | Early Life, Family and Education
Alize DeShawn Johnson was born on April 22, 1996, in Williamsport, Pennsylvania, to his separated parents David Hill and Chanelle Johnson.
Not much limelight has been given to his biological father, David hill, but we will surely mention the bond he shares with his mother.
And yes, according to the online sources, he also has a stepfather named Adam Edwards.
The extremely talented basketballer Alize Johnson is blessed with three younger brothers and four younger sisters named David, Davion, Nasza, Davesha, Destiny, Davida, and Alana.
Besides that, he is also the cousin of a professional basketball overseas player Chevon Troutman. During the freshman year, he was just a 5 ft. 9 in. the guy who played as a point guard.
By the time his school days ended, he was all grown up to be a tall, dark, and energetic 6 ft. 4 in basketball freak.
He excelled in the basketball game in his schooling days by averaging 24.1 points, 15.0 rebounds, and 6.3 assists per game.
Alize did not see any better opportunity coming except St. Francis and St. Peters. He also played for the Pennsylvania team.
You can find career stats, game logs, awards, achievements, and biographical info of Alize Johnson on the BasketballReference website.
Alize Johnson | Childhood and Struggles
Alize Johnson was brought up by a single mother. He had a very challenging childhood as he had to be the man of the house. He had to look after his seven younger siblings.
Aliz Johnson always shared a strong bonding with this mother. Johnson always claimed his mother his best friend and favorite go-to person when in good times or bad times.
"I'd run to the store if my brothers needed milk or take them to the park, simple stuff," he says, "because I was just a kid."
When Alize was in fourth grade, he made $7 every week sweeping the floors at Hairquarters Barber Shop.
When he attempted to give the hard-earned money to his single parent, she refused to take it but yet surely respected the genuine motion.
There is a saying, "If the seeds are good, there will be sleek leaves," and I guess this turns out a fact for him.
Also, it's a wonder that he never complained about his hardships and instead groomed himself to a better and stronger self each day.
He never played victimhood after all these hustles. Needless to say, there seems a lot to learn from him. Alize appreciates his stepfather, Adam Edwards, for having a magnificent effect on his life.
In any case, before Adam joining the Johnson family frame. Alize Johnson was always willing to take the responsibilities of his family on his young shoulders.
And a big reality check, he has been volunteering them to date. Alize Johnson's mother Chanelle says-
"Obviously, having seven kids wasn't the smartest thing to do—teen pregnancy, that lifestyle,"
Talking about Alize's mother, Chanelle, she gave birth to Alize when she was just sixteen. She had her own rough phases in her life. Obviously, she was not high on drugs, but there were those men around her.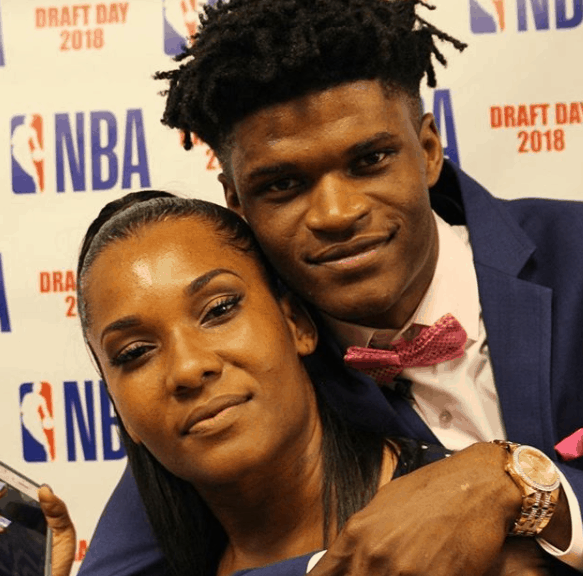 While Chanelle was nurturing her family, she returned to class to get her degree back and eventually attended the same university Alize did.
She owned her certificates from Pennsylvania College of Technology with a two-year degree in human administrations and is now a business administration director at Hope Enterprises, Inc.
Also, not beating around the bush, there is no such gossip about Alize Johnson's girlfriend or marriage on the internet.
But you never know, the giant basketballer Alize Johnson is a charming soul that can dare and dream of attracting any beauty.
To bring up something more about Alize for his fans, there are a few more hearsays grounded about Alize Johnson compared to Jimmy Buttler, who plays for the Miami Heat of NBA.
Also, interested ones can unleash the bio of another great basketball player, another Jaylen Adams, who plays for the Portland Trails Blazers of the NBA.
Alize Johnson | College Career
From 2014 to 2016, Alize was enrolled in Frank Phillips College. But due to a lack of better opportunities in Division I, he moved to Missouri State University to accomplish his athletic and academic career.
He did play college basketball for the Missouri State Bears of the Mission Valley.
On April 21, 2017, Johnson announced the 2017 NBA draft; it was not that he hired an agent to grab this opportunity; he was so driven by his love and passion for basketball.
But if we see it as a consequence, this move was well on getting feedback from the NBA sides to see the interest.
Johnson took his name back from the draft and got back to MSU for his senior year regarding the draft. Alize was also welcomed for a private workout with Boston Celtics.
Earlier during 2017-2018, Johnson was also summoned to the Adidas National Basketball Camp with the likes of Michael Porter Jr. and another top-level NBA player.
Alize Johnson was regarded as the Most Valuable Player in the camp among all the other players. Consequently, he improved his draft stock, which amazingly came into account by multiple NBA teams.
Talking about the NBA teams, you can also bounce into the mastermind basketball player Devon Hall who plays for the Oklahoma City Thunder of the NBA.
Alize Johnson | Professional Career
June 21, 2018- This must be on the count number one overwhelming moment for Johnson. He was chosen by Indiana Pacers with the 50th pick in the NBA draft.
On July 6, 2018, he played the initial game for the Pacers at the 2018 NBA Summer League in Las Vegas against the Houston Rockets, where he scored 15 points, 4 rebounds, and 2 assists in 16 minutes of play.
In the finale, Johnson began scoring 12 points, 14 rebounds, and 4 assists. Johnson played in 4 games during the 2018 Summer League.
On July 17, 2018, Johnson agreed to sign a two-way contract worth $2255316 with the Pacers.
In the 2018-19 NBA preseason, Johnson successfully made a group high score of 17 points, 8 rebounds in a 30–106 rout over the Sacramento Kings.
"The energy was there from the moment I walked into the building. I was ready to go out there and prove that I belong." – Alize Johnson quotes.
Alize Johnson | Net Worth and Salary
According to the online sources, the past salaries for the team Indiana Pacers for the 2018-19 season remained $838,464 ($852,285*).
We can pretty much assume that the team members are striking it rich almost.
Thus, without any fuss in accordance with the online reports, As a Forward, Alize DeShawn Johnson allegedly makes money around $1,127,658 as his yearly pay from the team itself, Indiana Pacers.
"Alize DeShawn Johnson has an accumulated net worth of over $4 million as of 2023."
Moreover, to speak of his assets, Alize Johnson's first significant procurement after getting drafted into the NBA by the Indiana Pacers was a 2018 Chevy Suburban—not for himself, but rather for his mom, Chanelle.
He amazed her with the brand new shiny vehicle, and Chanelle also keeps flaunting the picture of this black beauty on her social media account.
Look at this Instagram post of Johnson; we can bet surely say," What an amazing mother-son duo they are! "
Also, Johnson has been seen revealing pictures with this extraordinary ravishing red whip.
Read about the article on "The fifth-greatest NBA shooting guard of all time," as rated by ESPN, Allen Iverson.
Alize Johnson | Career highlights and awards
2017: MVC Newcomer of the Year, First-team All-MVC
2018: First-team All-MVC
2021: All-NBA G League Second Team
Alize Johnson | As a Social Activist
Ever since Johnson was a kid, he always wanted to give it back to his hometown in any way. He was always inclined to reduce poverty and eradicate social issues.
In 2018, he established his own foundation named "Where There's a Will, There's a Way," which helped feed more than 100 families in Williamsport for Thanksgiving.
It seems like a perfect example of a generous soul, Alize Johnson.
If we try searching on the internet, we can also find this foundation as "The Alize Johnson Foundation," which carries the slogan of Where there is a will, there is a way.
Coming to the second season of the NBA, he was not only emphasized improving him on the court but also was willing to give something off the court.
Johnson gave $1,50,000 to construct three NBA- regular size basketball courts at Flanigan Park, corner of Walnut Street, and Little League Boulevard in Williamsport.
As the city netizen and rookie player Johnson always wanted the coming generations not to face the same struggles as a child.
He wanted the youth to feel free, come, and utilize the space for molding their passion.
You can find the latest news, player profile, stats, scouting report of Alize Johnson on the SportsForecaster website.
Alize Johnson | Unknown Facts
He's scoring 68.98 percent more than in 2018/19.
Alize stood as 463rd best-paid NBA player last year.
He stood as the 428th best-paid NBA player this year.
Alize stood as the 182nd best-paid forward this year.
Alize stood as the 180th best-paid forward last year.
He stood as the 16th best-paid player of the Indiana Pacers this year.
He stood as the 18th best-paid player of the Indiana Pacers last year.
His agent is Happy Walters of Catalyst Sports & Media.
Alize Johnson | Career Stats
Social Media Presence:
If you are a real Johnson Fan, you really cannot miss out on this information. The intriguing part for Johnson's fans out there to keep a sneak peek into his personal life.
Can we find Johnson on each possible social networking site? The answer is Yes.
Alize Johnson seems fairly active on each of the possible networking sites and surely loves to keep his fans intact with his posts and stories.
Facebook: 2201 followers
Twitter: 8196 followers
Instagram: 102k followers
Additionally, if you want to know more about Johnson, you can also give his mother, Chanelle Edwards, a follow on her Facebook account.
Some FAQs:
When did Alize Johnson make his Pacers debut?
Johnson made his debut for the Pacers on July 6, 2018, at the 2018 NBA Summer League against the Houston Rockets. He scored 15 points, had 4 rebounds, and had 2 assists in his debut match.
What is the Alize Johnson jersey number?
Alize Johnson currently wears jersey number #24 for the Brooklyn Nets.
What is Alize Johnson NBA 2k21 rating?
Alize Johnson has an overall 2K Rating of 74 on NBA 2K21.
Why isn't Alize Johnson playing?
Alize Johnson is currently dealing with an ankle injury, so he will be inactive for few days.