Hannah Jeter is an American model and television host best known for her appearances in the Sports Illustrated Swimsuit Issue. Also, she is the wife of former American MLB player Derek Jeter.
Derek Sanderson Jeter was a former professional baseball shortstop for the New York Yankees of MLB.
He was the chief executive officer (CEO) and part-owner of the Miami Marlins of MLB from Sept. 2017 to Feb 2022.
The New York Yankees was Jeter's home for his 20-year MLB career. In his first year of eligibility, 2020, he was elected to the Baseball Hall of Fame with (99.75%) votes.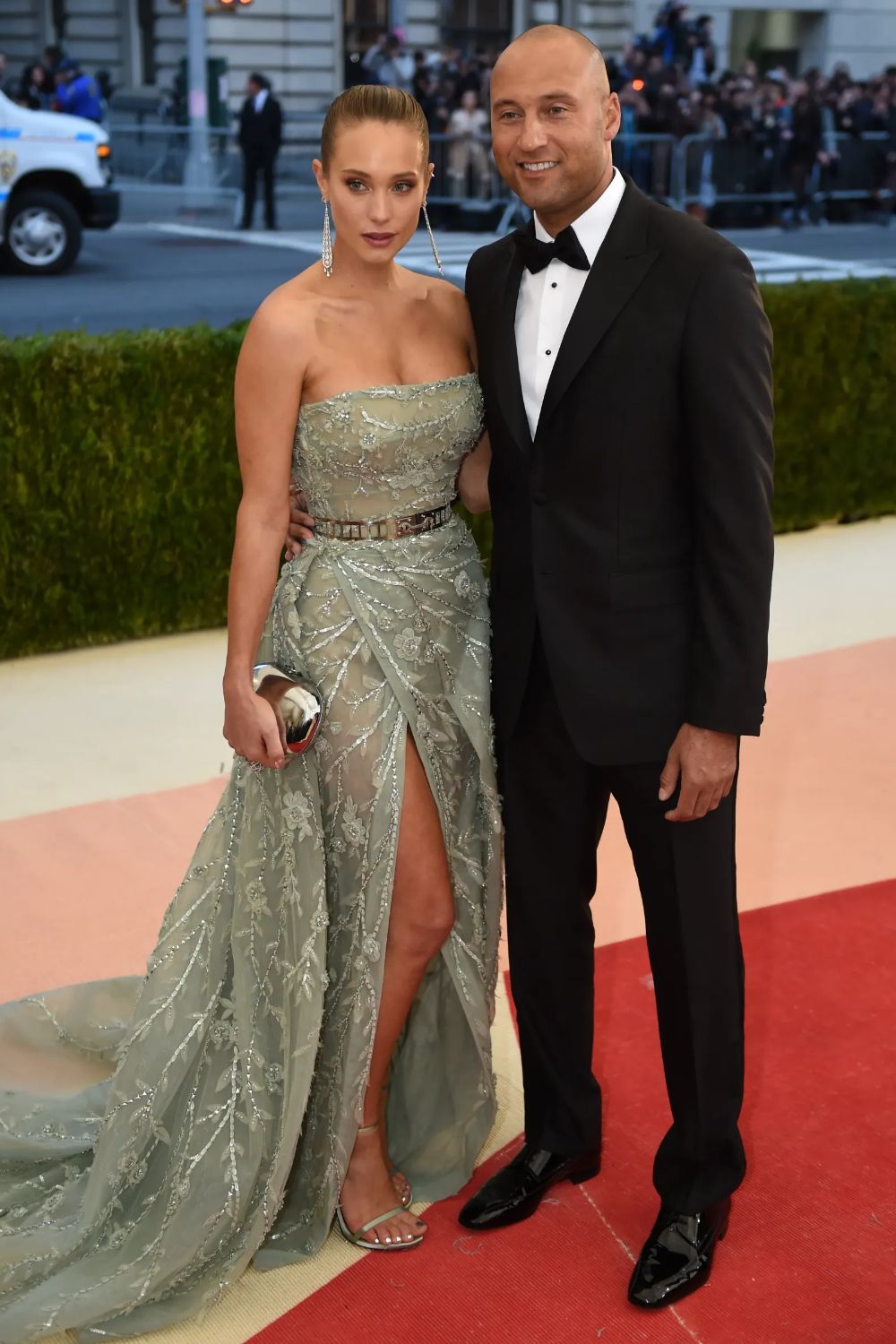 Derek Jeter, a five-time World Series champion, will join the Fox Sports MLB coverage as the broadcaster for the 2023 season starting from 30th March.
Now let's go for the information on the Sports Illustrated Swimsuit model, Hannah Jeter.
Before diving into her career and more, here are some quick, interesting facts about Hannah Jeter.
Quick Facts
Full Name
Hannah Bethany Davis Jeter
Nickname
Hannah
Birthdate
5 May 1990
Birthplace
Saint Thomas, U.S. Virgin Islands
Residence
Unknown
Nationality
American
Ethnicity
White
Religion
Unknown
Horoscope
Taurus
Age
33 Years Old
Father's Name
Conn Jay Davis Sr
Mother's Name
Deborah L. 'Debi'
Sibling
Two
Sibling Name

Rachel Davis (Sister)
Conn Jr (Brother)

Relatives
Glenn Davis (Uncle)
High School
St. Thomas School
College
Unknown
Ex-Boyfriends

Chad White (2009)
Richard Akiva (2010)

Marital Status
Married
Husband
Derek Jeter
Children
Three Daughters
Children Name

Bella Raine Jeter
Story Grey Jeter
River Rose

Height
5'8/1.74 m/174 cm
Weight
57 kg/ 125 lb.
Eye Color
Green
Hair Color
Light Brown
Profession
Fashion/Runway Model
Agency

IMG Models (Worldwide)
Unique Models (Copenhagen)
Ginny Edwards Maxwell (Mother Agent)
MIKAs (Stockholm)

Net Worth
$3-$5 Million
Social Media
Instagram, Twitter, Facebook
Last Update
May 2023
Early Life & Education
Hannah Jeter was born in Saint Thomas, Virgin Islands, on May 5, 1990, to Deborah L. Debi and Conn Jay Davis Sr.
She grew up in a warm and welcoming atmosphere with her brother Conn Jr. and her sister, Rachel.
She was a student at St. Thomas School, but her higher education details are not available at the moment.
Hannah Jeter dreamed of becoming a professional tennis player as a small girl. Also, she was a part of the National Volleyball Team of the Virgin Islands.
She's also a Caribbean National Tennis Team champion and competed in the Caribbean Tennis Circuit.
She leaped at the chance to model after a local scout found her while playing on the Caribbean Tennis Circuit.
Age & Height
Born in 1990, Hannah Jeter is 33 years old. The model is slender and attractive, with a height of 1.74 m and a weight of 125 lb.
Jeter put immense effort into maintaining her diet and getting the ideal model shape.
She looks more goddess-like, with luscious blonde hair and stunning green eyes.
A Dive Into Hannah Jeter's Modeling Journey
Hannah Jeter worked as a model for several prominent organizations, including the American fashion designer Ralph Lauren.
She walked in the Ralph Lauren Spring/Summer runway show of 2006. Levis, Tommy Hilfiger, American Eagle, and Avon are some of her previous commercial projects.
The model graced the covers of two Italian magazines D in 2006 and Mexico's Elle in August 2009.
Similarly, she also appeared on the FHM (For Him Magazine) magazine covers in September 2012 and April 2013 in France and South Africa.
In 2009, she appeared in three episodes of the American medical drama 'Rush' as 'Baby G.'
On July 17th, 2014, it aired on the USA Network. However, on October 2, 2014, the USA Network canceled this drama series.
She's also featured in Teen Vogue, Maxim, V, Elle, Marie Claire, and Glamour, among other publications.
Including Victoria's Secret, American Eagle Outfitters, Tommy Hilfiger, and Levi's, among others.
TV Shows & Commercials
Jeter has starred in broadcasts as the DirecTV Genie and commercials for the same business.
Her appearance in the 2015 Sports Illustrated Swimsuit Issue is her most notable modeling accomplishment.
She had a cameo role in the Comedy Vacation in 2015 as a flirtatious young woman driving a red Ferrari. She also presented Project Runway: Junior from 2015 to 2017.
Hannah featured as herself in "The Captain," an American sports documentary miniseries on her husband, Derek, by ESPN Films, which premiered at the Tribeca Festival in June 2022.
Net Worth
Hannah Jeter has accumulated significant wealth throughout her career as a model.
She has worked with several well-known modeling and fashion agencies. With modeling as her primary career, Hannah's net worth is believed to be $3-$5 million as of 2023.
Her monthly earnings are around $50k, with a yearly income of approx. $600k.
She intends to work in the modeling and entertainment industries in the future, which is why her net worth is expected to rise in the years to come.
Who Is Hannah Jeter's Husband?
The stunning model, Hannah Jeter, is married to the former MLB player Derek Jeter.
Derek Jeter, the renowned athlete, is a former professional baseball shortstop, businessman, and baseball executive from the United States.
Jeter played with the New York Yankees throughout his entire 20-year MLB career.
Although Derek wasn't inducted but was selected into the Baseball Hall of Fame in his first year of eligibility in 2020.
Jeter, a five-time World Series winner, is considered one of the most important contributors to the Yankees' late-90s and early-2000s success due to his hitting, base-running, fielding, and leadership.
He became the Yankees' starting shortstop in 1992, winning the Rookie of the Year Award and helping the team win the 1996 World Series against the Atlanta Braves in the finals.
Similarly, Jeter consistently contributed to the Yankees' success throughout his career.
Because of his tremendous play in playoffs, Jeter acquired the nicknames "Captain Clutch" and "Mr. November."
Jeter is also involved in various commercial sponsorships and was among his generation's most highly marketed sportsmen.
He was announced as the newest Fox Sports broadcaster during the network's live Super Bowl LVII pregame show in Glendale, Arizona.
He will join the Fox Sports MLB coverage for the 2023 season, which will probably begin from 30th March 2023.
How Did The Couple Meet?
The modest pair met in 2012, and Davis Jeter said it was through a familiar acquaintance when Hannah was dining with her mother in New York.
But here's the kicker: the model had no idea who Derek Jeter was then. The pair met during the off-season and spent some time away from New York together.
Derek Jeter's wife also mentioned wanting to know the former Yankee player on her terms rather than searching on websites.
In August 2012, the two were first seen together at a New York club and dinning in Tampa, Florida.
The lovely couple kept their relationship a secret for the next two years, seldom appearing in public.
In August 2014, when endorsing the ALS Ice Bucket Challenge, Jeter made a rare reference to his relationship with the SI swimsuit model, urging Hannah Davis to join in.
Thus, after much dating time, finally, on November 3, 2015, Deter Jeter confirmed his engagement with Hannah Davis.
A Glimpse Into Their Marriage
After much waiting, in July 2016, the couple married in a small ceremony at Meadowood Napa Valley Resort in St. Helena, California.
Davis wore a mermaid gown with a sweetheart neckline, tulle halter high neck, and plunging back to the ceremony she had designed.
Likewise, Davis used tulle and hand-appliqued Chantilly lace to cover the garment.
Guests included Jeter's close pals Jorge Posada, Andruw Jones, and Tino Martinez, as well as Davis Jeters' nephew, who acted as the ring bearer at the small ceremony.
Does The Couple Have Children?
The beautiful Hannah Jeter is a mother to three beautiful daughters.
On February 13, 2017, Davis Jeter confirmed that she and her husband were expecting their first child, a daughter, in an editorial for The Players Tribune.
The baby was finally delivered on August 17, 2017, and was named Bella Raine Jeter.
Similarly, the couple announced their second pregnancy when Hannah came out in September 2018 with a baby bulge.
In January 2019, the couple had their second child, Story Grey Jeter. Later in 2021, Hannah delivered her third daughter, River Rose.
Unlike their extraordinary lives, the couple wishes their children to live everyday life. As a result, the couple has not shared pictures of their daughters on social media.
The couple also mentioned that they don't want their relationship defined by fame but rather as parents.
Derek, in 2022, took his daughters to Yankee Stadium for the ceremony celebrating his induction into the National Baseball Hall of Fame.
Social Media Presence
Being a model by profession, Hannah Jeter has uploaded numerous posts about her activities on social media.
One can find gorgeous pictures of her wearing beautiful dresses from various well-known designers.
Instagram: 736k Followers
Twitter: 166.8k Followers
Search Graph
Hannah's graph illustrates the average mobility from Oct. to Jan. 2023.
The graph illustrates her search rate for the past 12 months.
Frequently Asked Questions (FAQS)
How many episodes of Project Runway did Hannah Jeter host?
Hannah Jeter hosted 20 Project Runaway: Junior episodes from 2015-2017.
Who did Derek Jeter date?
Deter Jeter dated the singer Joy Enriquez after Alex Rodriguez introduced them at the All-Star Game in July 2001.