Alyssa Thomas brother, Devin Thomas, is an alum of Wake Forest University and a winner of the Estonian Cup. Devin has played the majority of his career overseas.
The little brother of Alyssa Thomas was one of the big names in high school and continued his perilous form in college. For kids of former basketball players, the team sport is engrained in their DNA.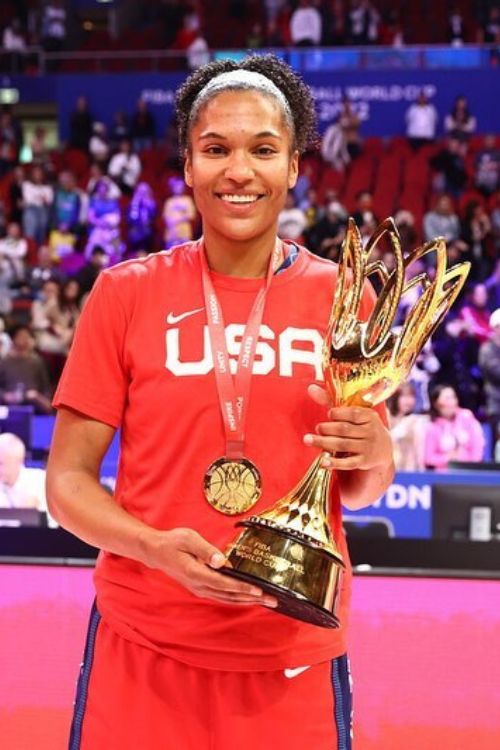 The sibling duo also have a sister named Lexi Thomas, who, unlike them, has taken an academic route. And like her parents, Lexi is a graduate of Millersville University.
Alyssa Thomas and her teammate DeWanna Bonner, also the highest-paid WNBA players, put on their A-Game as they defeated Indiana Fever Friday night.
It was the debut game for the no.1 overall pick Aliyah Boston, but the veterans of the game, Alyssa and DeWanna, were ready to rain on her parade.
Alyssa Thomas Brother Devin Thomas
Alyssa Thomas' brother, Devin Thomas, has played the majority of his basketball in Europe. The younger brother of Alyssa Thomas is a graduate of Wake Forest University, having previously shattered records at high school.
Devin Thomas, born on May 17, 1994, is the only brother of Alyssa Thomas. While at Central Dauphin High School, Devin set records as a leader in points and rebounds.
He was the 2012 McDonald's All-America nominee and named a three-star recruit by ESPN. And despite all these records and achievements, Devin went undrafted in 2016.
Though he joined Minnesota Timberwolves for the Summer League, that didn't help him further his career in NBA, a few months later, Devin jetted off to begin a basketball career overseas.
Devin Thomas Basketball Career Overseas
Devin's basketball career overseas began with the Turkish side TED Kolejliler. He played one season with them, starting in 27 games, averaging 11.4 points.
A year later, he moved to Spain to play for Surne Bilbao. Devin shared the news of his signing on his Instagram, captioning the post, "Still the same mission…Just a different path."
Like Kolejliler, Devin played one season with Bilbao before moving to Isreal to play for Hapoel Eilat. He didn't stay for too long before moving to Lavrio, a Greek side.
Devin found some stability with the Argentine side Peñarol in 2019. He played 11 games for Penarol before joining the Estonian side BC Kalev.
While at BC Kalev, Devin won the Estonian Cup, starring in 38 games. For the 2021-22 season, Devin joined the Kosovo basketball team, Sigal Prishtina, and since then, he hasn't given any updates about his professional career.
Alyssa Thomas Parents: Tina And Bob Thomas
Alyssa Thomas' parents, Tina and Bob Thomas are former basketball athletes.
The couple played basketball at Millersville University and were the coaches for her daughter in her formative years. It was Tina who pushed her daughter to pursue basketball.
One of the successful WNBA players, Alyssa, wasn't much interested in basketball growing up. The oldest of three kids of, Tina and Bob, had her eyes set on becoming a soccer athlete.
Her mom, Tina, is currently the basketball coach of the Milton Hershey Women's Team. In an interview with the school website, Tina stated her love for basketball increased after Alyssa started playing the sport at elementary school.
The basketball couple, Tina and Bob, along with being parents to Alyssa and Devin, are also parents to Lexi Thomas.
The youngest of three siblings, Lexi was previously said to be interested in playing basketball. But it looks like she had a change of heart.
Lexi is available on Instagram with the username @_lexithomas_ and recently completed her graduation from Millersville Univeristy.