DJ Rodman is one of the college players playing basketball, aiming for the significant National Basketball Association (NBA).
Playing for the Washington State Cougars of the Pac-12 Conference, Rodman has maintained outstanding performance throughout, which has earned him lots of admirers.
Likewise, Dennis Thayne "DJ" Rodman Jr (DJ Rodman) is the son of the great Dennis Rodman, a member of the Basketball Hall of Fame.
Therefore, it puts DJ in a great responsibility to continue his father's legacy and gain the same love and respect that his father has earned through this sport.
While we know that DJ is the son of the most excellent rebounders of all time, Dennis Rodman, there is much more to learn about him.
And with not much fluffiness, let's get into the life of the future superstar DJ, who we all are eager to see in the NBA arena.
Let's have a quick peek into some quick facts about DJ.
DJ Rodman | Quick Facts
Full Name
Dennis Thayne "DJ" Rodman Jr
Date of Birth
April 25, 2001
Birth Place
Newport Beach, California
Religion
Christianity
Nationality
American
Ethnicity
American-African
Zodiac Sign
N/A
Age
22 years old
Shoe size
Not available
Height
6 ft 6 in (198 cm)
Weight
98 kg (215 lbs)
Hair Color
Black
Eye Color
Dark Brown
Jersey Number
11
Body measurements
Not Available
Biceps size
16 inches
Tattoo
Not yet
Father's Name
Dennis Rodman
Mother's Name
Michelle Moyer
Siblings
(Two Sisters) Trinity Rodman and Alexis Rodman
Education
Kaiser Elementary School
Corona del Mar (Newport Beach, California)
JSerra Catholic High School (San Juan Capistrano, California)
Profession
Basketball Player
Position
Forward
Plays in
Pac-12 Conference
Net Worth
$100 K
Social Media
Instagram, Twitter
Dennis Rodman Merch
Jersey, Tshirts
Last Update

May, 2023
DJ Rodman | Early Life, Family, and Education
On April 25, 2001, DJ Rodman was born on the laps of father Dennis Rodman, a legendary basketball player, and mother, Michelle Moyer. Born in Newport Beach, California, DJ's full name is Dennis Thayne "DJ" Rodman Jr.
Talking about education, DJ completed his primary schooling at Kaiser Elementary in Costa Mesa, California, and attended Ensign Intermediate School in Newport Beach for middle school. Likewise, he went to Corona del Mar High School in Newport Beach.
However, he didn't complete his high school in Corona del Mar. He then transferred to JSerra Catholic High School in San Juan Capistrano, California. Then for his further studies, he joined Washington state. He plans to major in communications from the university.
His father's basketball career immensely influenced DJ's early life. Growing up in a legendary basketball player's house, it was justifiable for DJ to develop an interest in the sport from a young age.
DJ started playing from his high school days. First, he played for Corona del Mar for a season. Then, after he transferred to JSerra Catholic High School, he completed two seasons there with an impressive performance and stats.
After completing high school, he committed in May 2019 to play college basketball for Washington State.
Likewise, he has two siblings growing up. Being a single brother of two sisters, he received great love and care.
His sister Trinity Rodman is also a sportsperson. She plays professional football (soccer) for Washington Spirit in the National Women's Soccer League (NWSL). She plays forward in the team.
Moreover, DJ's other sister Alexis Rodman keeps her private life secret. So, we know nothing about her career.
DJ Rodman | Age, Height, and Weight
The forward for Washington State is 22 years old. Likewise, listed with the height of 6 ft 6 in (198 cm), the Californian weighs 98 kg (215 lbs).
DJ Rodman | Career
Having started his basketball career in high school, DJ has immensely grown up both based on physical growth and growth in the game.
Initially, he played for Corona Del Mar High School. Putting up an impressive performance in his sophomore season at Corona Del Mar High School, the forward maintained an average of 19.6 points per game and led his team towards a 22-8 record.
He also led his team to clinch the Pacific Coast League Title. Likewise, the team advanced to the CIF-SS Division I-A quarterfinals. However, he didn't play other seasons for the high school.
DJ then transferred to JSerra Catholic High School. He spent his junior and senior seasons there. For JSerra, too, Rodman's stats were appreciable.
As a junior, he averaged 6.1 points and 6.1 rebounds, whereas as a senior, he developed the stats of 24.2 points, 8.9 rebounds, and 1.2 assists per game.
College Career
After completion of his high school, his studies as well his career had to advance a standard. Then, in May 2019, he committed to play college basketball for Washington State. His choice of college was highly influenced by its basketball team.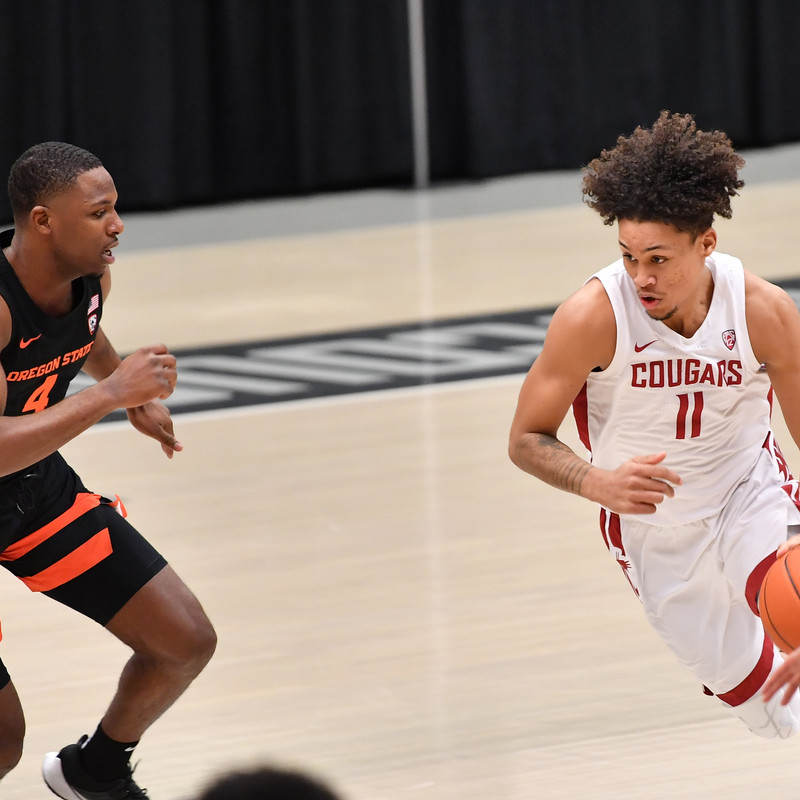 Initially, he didn't start for the team. He got a lot of sparse playing time. His playing time increased when one of the essential players in the team, Tony Miller, suffered an ankle injury.
Freshman Season
He made his collegiate debut against Seattle University on November 7, 2019, in the first match of the season. That was an excellent match for the Californian. He bagged five points and grabbed two rebounds.
Likewise, his debut in one of the biggest college basketball tournaments, the Pac-12 Conference, happened on January 2, 2020. He played 19 minutes against USC in his debut match.
Similarly, he bagged a season-high eight points in a match against Oregon. However, the match was upsetting for them, as they lost. Rodman Jr. averaged 1.7 points and 1.9 rebounds per game during his freshman season.
However, the season was not complete and was postponed due to the COVID 19 pandemic.
Sophomore Season
His sophomore season was happening as well as excellent. Again, he proved himself as one of the most efficient players for the team. He played 19 games that season, where he started on 10 of them.
However, it was not all good for the forward that season. DJ missed eight games due to an injury that he suffered in the middle of the season. He finished his sophomore season averaging 6.1 points and 3.7 rebounds in 23.3 minutes per game.
He proved himself to be the most efficient shooter in the team as he scored double figures six times in the season. The structure of DJ Rodman's has a strong base, and thus, the shaping of his career is firm.
We hope to see DJ Rodman playing for one of the teams in the NBA soon. The world is waiting for the son of the two-time NBA all-star, five-time NBA champion, and the member of Basketball Hall of Fame Dennis Rodman to debut, and we hope he impresses everyone in the NBA arena.
Also related: Bryce Maximus James: Who is LeBron James's son?
DJ Rodman's Father, Dennis Rodman
Dennis Rodman is an American former NBA player who played for teams like the Detroit Pistons, San Antonio Spurs, Chicago Bulls, Los Angeles Lakers, and Dallas Mavericks.
Dennis is nicknamed "The Worm" in the basketball fraternity, known for his fierce looks, exceptional rebounding, and defensive capabilities.
NBA, the competition in which he played his professional basketball, recognizes Dennis as "arguably the best rebounding forward in the NBA history."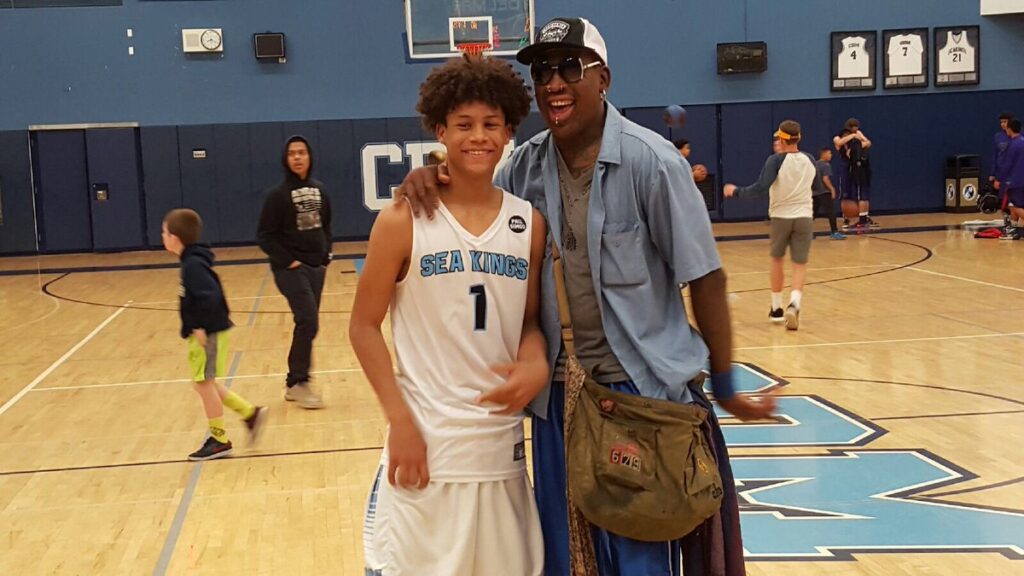 Apart from being a basketball legend, Dennis Rodman is a professional wrestler and an actor.
Also, Dennis came into international controversy, or let us say, international limelight, due to his visits to North Korea and being friends with the North Korean Leader Kim Jong Un.
Dennis Rodman'S Difficult Early Life
Dennis Rodman was born as Dennis Keith Rodman on May 13, 1961, to mother Shirley and father Philander Rodman Jr., who was in the American airforce and later fought in the Vietnam War.
Rodman has a huge family. He has many brothers and sisters. According to his father, Philander, he has a total of 28 children. Rodman is the eldest of all of Philander's children.
His father left his family at an early age, and his mother took care of the family on her own.
"I haven't seen my father in more than 30 years, so what's there to miss … I just look at it like this: Some man brought me into this world. That doesn't mean I have a father".
Dennis wrote in his 1996 autobiography Bad As I want to Be.
Rodman attended South Oak Cliff High School, where he had no lucks qualifying for any sports teams whatsoever. He was deemed "unable to lay up" because he was either left out or, if selected in the basketball team, was benched.
He then joined South Eastern Oklahoma University for his further studies, where he had a great time playing and achieving for the basketball team as well as for himself.
Now, after a quick sneak at DJ's father's early life, let us come back to DJ Rodman's earnings and net worth.
DJ Rodman | Net Worth and Earnings
DJ, playing college basketball in the Pac-12 Conference, hasn't yet started his professional career and thus doesn't get paid that much to play the sport. He doesn't have any endorsements and affiliations, so we don't have much information regarding how much DJ earns.
However, from his father's worth and earnings, we can assume the Californian's net worth.
The net worth of a five-time NBA champion and a member of basketball Hall Of Fame Dennis Rodman's son, DJ Rodman, is $100 K – $150 K.
Also read: Everything about Damian Lillard Daughter – Bio & Twins
DJ Rodman | Social Media Presence
Rodman is quite active in social media. The basketballer loves updating his followers on his social media with information regarding his match and personal life.
He frequently posts pictures of him in his team's jerseys, playing matches, shooting, and many more on his Instagram handle. Likewise, he also posts pictures with his mother and sisters and shows love towards them through social media.
The forward has about 39.1 K followers (as of 2021) on his Instagram, and his sister Trinity Rodman loves commenting and making fun of her brother's posts which seems fun.
FAQs
What team does DJ Rodman play for in the NBA?
DJ Rodman, the son of Dennis Rodman, one of the best rebounders, doesn't play yet in the NBA. Though junior Rodman is a great player, he hasn't yet been drafted in the NBA. DJ plays college basketball for Washington State in the Pac 12 Conference.
Will DJ Rodman go pro?
Rodman is playing in the Pac-12 Conference. However, his ultimate goal is the NBA. So, it is likely that he will declare for this year's draft. But, still, he considers his game to be a work in progress and thus will wait a year or two to declare for the draft.