The San Francisco 49ers tight end, George Kittle, is not known to have a brother but has a sister named Emma Kittle.
The brother-sister duo have a strong bond and have been supporting each other.
Born to an athletic father, both the Kittle siblings were into sports from their childhood.
Emma chose to play volleyball and basketball, while George started playing football under the guidance of his father.
George Krieger Kittle, born October 9, 1993, is an American football tight end who plays in the NFL.
He attended Iowa City West High School, Cedar Falls High School and Norman High School and played football and basketball.
During high school, he was a two-time varsity letter winner in football and basketball.
After graduating high school, he committed to play football at the University of Iowa under his father, Bruce Kittle.
George was one of the 19 collegiate tight ends to receive an invitation to the NFL Scouting Combine.
And living up to the expectations, he performed well in the combine, and the 49ers selected Kittle in the fifth round of the 2017 draft.
Moreover, playing with the San Francisco team, the tight end has earned several accolades, including the First-Team All-Pro and 4-time Pro Bowl.
George Kittle Sister: Emma Kittle
George's elder sister, Emma Kittle, is also a collegiate athlete. Emma played volleyball and basketball during her collegiate year at the University of Iowa.
Volleyball was a stranger to the Kittle family as most of them were basketball and football players.
During high school, she led West High School to the state volleyball tournament and was named the 2009 Female High School Athlete of the Year by the Press-Citizen.
For her collegiate career, she initially attended the University of Iowa but soon transferred to the University of Oklahoma.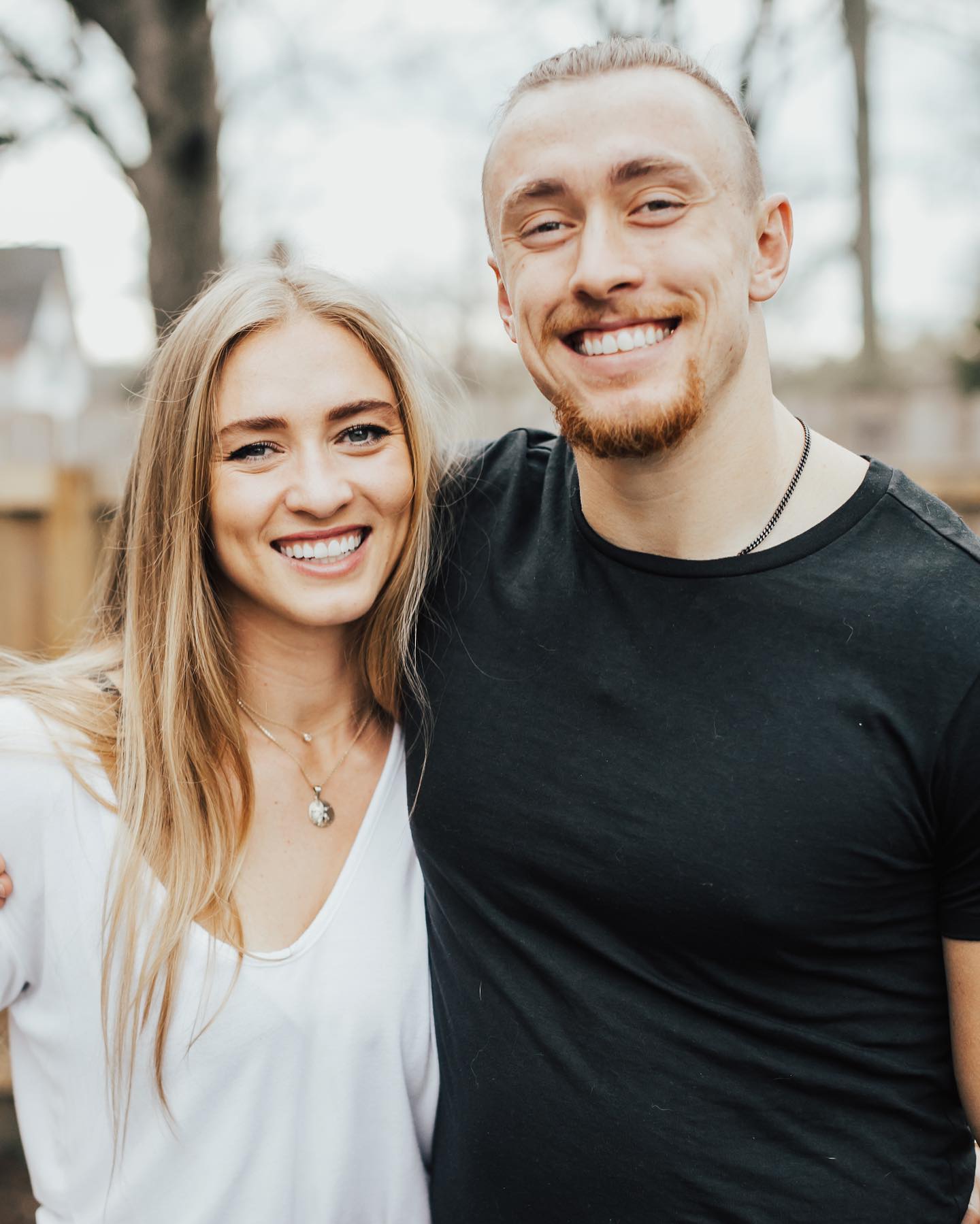 After college, she pursued law and devoted full-time to the Law School Admission Test. But, she found her passion in yoga and started Thunderbird Performance.
Emma put her extensive training in Vinyasa, Kundalini, Sculpt, Yin, and Pranayama, and tailors effective yoga sessions for her clients.
Besides Thunderbird Performance, she runs the "Hidden Pearls Podcast" with her father and brother, George.
Emma Kittle Is Married To A Baseball Player
George's elder sister, Emma Kittle, tied the knot to Cody Ponce, an athlete, on June 2, 2023, in Sante Fe, New Mexico.
Cody, born April 25, 1994, is an American professional baseball pitcher for the Hokkaido Nippon-Ham Fighters of the Nippon Professional Baseball (NPB).
He attended California State Polytechnic University and started his professional career with the Milwaukee Brewers as their second-round pick of the 2015 MLB draft.
Played in the minor league affiliate teams for several years, and he made his MLB debut on August 2, 2020, with the Pittsburgh Pirates.
On December 5, 2021, Ponce signed with the Fighters and had an impressive first season in the Japan league.
The Tight Siblings Together At TEU
Emma was present at Tight End University in Nashville, founded by George, Travis Kelce and Greg Olsen.
At TEU, George taught tips and tricks on playing in his position at the highest level possible. Similarly, Emma also had two yoga classes.
Moreover, she helps her brother achieve holistic wellness and other high-profile clients like Theo Von.
Additionally, her brother credits his success to her and praises her work.
"She's the best, man. She's kinda like lady-like and motherly, but like a sensei kind of…"
George added, "She's like a vibe surfer or something… And she was always interested in the next, like staying on the pulse of yoga."