Keyontae Johnson's two older sisters, Brianna and Ebony, are his only siblings, and he has no brothers. The NBA prospect comes from a family that has served the country.
The 23-year-old player of Kansas State Wildcats, Keyontae Johnson, grew up in a strict and disciplined household.
He also grew up in one that taught him to never give up on his dreams.
Johnson has been well and truly supported throughout his entire basketball journey. In 2020, when he collapsed to the ground, not many believed he would continue his basketball journey.
His family never lost hope. And today, he is one of the names in the NBA Draft. Jordan Miller and Amari Bailey are the other two youngsters declaring they are heading for the draft.
Keyontae Johnson Sisters, Brianna, And Ebony
Keyontae Johnson has two older sisters, Brianna and Ebony. The basketball sensation isn't only supported by his two sisters but also by many of his cousins.
They are constantly showing their support through social media for their younger brother.
The youngster is a matter of pride for his family. From his dangerous collapse to now making his way to the NBA draft, his family has stood right beside him.
Brianna Is A Graduate Of Virginia State University
The oldest sister of Keyontae Johnson, Brianna celebrated turning 28 in March. Brianna graduated from Virginia State University in 2017 with a Mass Communication and Sociology degree.
Like her brother, Brianna graduated from Norview High and resides in Hampton, Virginia. On her Facebook handle, Brianna is seen promoting various products.
Most of the products range from skincare to health drinks. Brianna hasn't given many personal details on her social media and limits herself from posting much.
Ebony Is A Mother To A Three-Year-Old
Ebony, 23, is a year older than Keyontae and is a mother to a beautiful baby girl.
On March 14, Ebony shared a birthday tribute post for her daughter, Laila Renne, who turned three. Earlier this year, Ebony even had a photo shoot with her daughter and talked about how she loves being a mother.
Ebony is available on Instagram with the username @ebonywebony__ and has dedicated her Instagram handle to sharing snaps of her daughter.
Keyontae Johnson Parents: Marrecus And Sharnika Johnson
Keyontae Johnson's parents, Marrecus and Sharnika Johnson, come from military backgrounds.
His father, Marrecus Johnson, is a retired United States Navy-Chief Petty Officer, and his mom worked in the City of Portsmouth, Sheriff's Office, Internal Affairs Division.
Born in Jacksonville, Florida, Keyontae didn't see his dad for a few days after his birth as Marrecus was stationed at Naval Station Navalport. Marrecus retired from the Navy in 2018 after 21 years of service.
If there is one thing that Marrecus and Sharnika believed to be a priority in their son's life, then it is discipline. If they found him doing something disrespectful, the couple wouldn't waste a second to discipline him.
Sharnika Johnson Is A Cancer Survivor
At times, when Marrecus wouldn't be home for a long duration, Sharnika would make sure to engage her kids in various activities. Sports usually took the top spot.
The Johnson family are thought and have gone through many adversities together. If Sharnika stood by her son until he didn't come out from an induced coma, then he did the same for her at 15.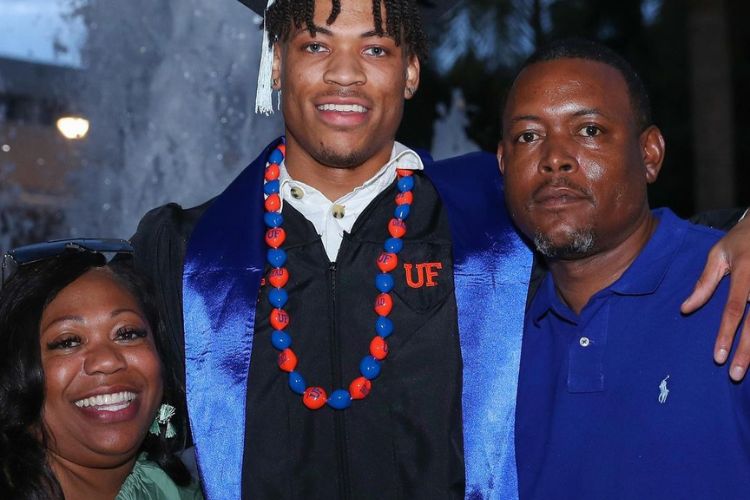 Sharnika is a breast cancer survivor, having been diagnosed with the deadly disease in 2015 while it was at Stage 3.
Keyontae made sure to return home as much as possible to be by her side during her chemotherapy session.
The family has stood tall against every problem that comes their way, and now they see their son standing on the verge of greatness.