The American quarterback, Tommy DeVito, has one younger brother named Max DeVito.
When it comes to Tommy's relationship with his younger brother, he is fortunate to have a close bond with him.
Both siblings do look alike. Also, they give an impression of the happiest version of themselves through their displayed pictures.
Likewise, both siblings have a similar interest, as the quarterback's younger brother is also into the sport.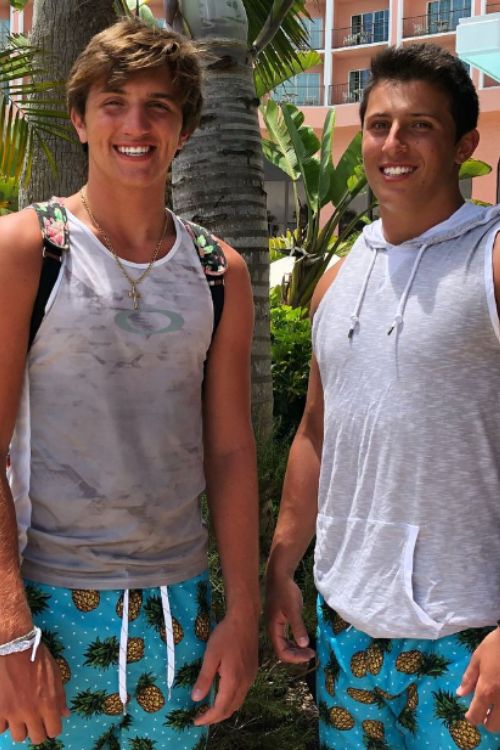 Highlighting Tommy's professional career, he is one of the most promising athletes in the NFL.
Although the athlete failed to be drafted in the 2023 NFL Draft, he is on his journey to honing his skills and tactics.
Nevertheless, Tommy has been playing as a free agent for the NFL's New York Giants and debuted on October 29, 2023, against the New York Jets.
Prior to this, the quarterback had a successful collegiate career at Syracuse University from 2018 to 2021.
Likewise, Tommy also played for the University of Illinois Urbana Champaign in 2022.
Furthermore, the athlete's surfaced net worth is between $1-$3 million, which he generates from his football career.
Does QB Tommy DeVito Have A Brother? Parents And Family
The quarterback, Tommy, is an elder brother to his only sibling, Max DeVito. Both siblings are just two years apart from each other.
Max was born on July 10, 2000, making him two years younger than his brother, Tommy, who was born on August 7, 1998.
Likewise, Max has a passion for football and played football at the Salve Regina University.
Moreover, in May 2023, Max graduated with a Masters in Business Administration.
Tommy And His Younger Brother Max Share A Strong Bond
The professional athlete and Max are very supportive of each other. Both siblings frequently spend time together whenever they can.
Additionally, they also showcase their strong bond by sharing pictures of them on their social handle very often.
Very soon, Max might make a debut in the NFL if he chooses to establish a career in the stated field.
Besides, Tommy's younger brother, Max, is very private regarding his personal life.
Even on his Instagram, all his posts are with his friends, family, and games. So, we can assume that Max does not have a girlfriend.
Tommy DeVito Parents, Tom And Alexandra
Tommy was born on August 7, 1998, to his father, Tom DeVito, and his mother, Alexandra DeVito.
The athlete grew up in Cedar Grove, New Jersey, along with his younger brother and family.
While growing up, Tom and Alexandra provided every needed facility to their two kids.
Regarding the occupation of Tommy's parents, not much information is available. However, it is evident that both his father and mother left no stone unturned in raising him and Max.
Similarly, Tom and Alexandra are beyond proud and happy to witness their two sons achieving success at such a young age.
Besides, the professional athlete adored his deceased grandma a lot. Even he gained inspiration from her.
It was before his debut that he lost his beloved grandmother forever. However, Tommy came to know about such tragic news after his games.
Insight Into Tommy DeVito Ethnicity And Personal Life
Tommy belongs to a multi-ethnic family. His father, Tom, is Italian.
On the other hand, Tommy's birth mother, Alexandra, is German. So, the athlete is of Italian-German descent.
Regarding the athlete's academics, Tommy attended Don Bosco Preparatory High School in Ramsey, New Jersey.
Later, he went to Syracuse University, where he majored in Sociology, besides playing football. After that, Tommy joined the University of Illinois Urbana Champaign.
Moreover, there have also been concerns about Tommy's relationship. Unfortunately, no cues are available regarding his love life as he lives a secret life outside his gaming field.
Until now, the athlete has been showcasing his professional achievements rather than his personal life.
On top of that, the quarterback is also not linked with any romances and dating rumors.